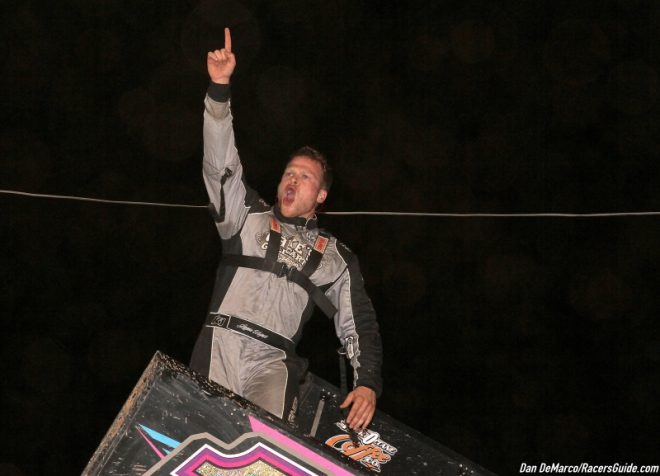 LOGAN WAGNER CAPTURES SPRINT CAR WEIKERT MEMORIAL, MASON ZEIGLER AND RICK ECKERT CLAIM LATE MODEL PORTION

Danny Dietrich and Eckert Claim the Bull Trophies As Top Drivers for Both Nights
Story By- Justin Snyder/Port Royal Speedway
Photos By: Dan DeMarco/RacersGuide.com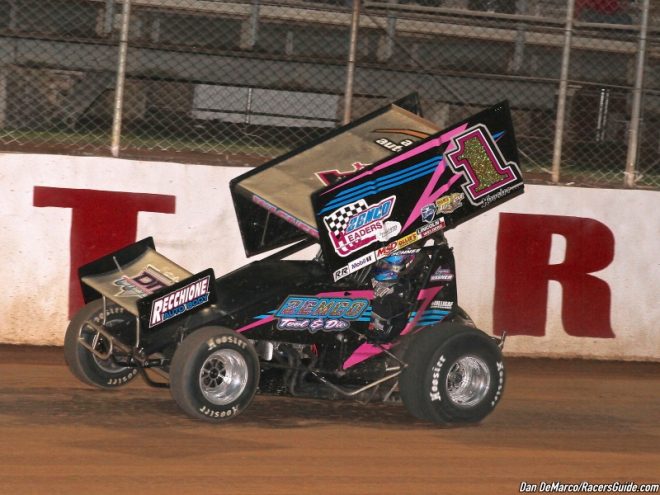 PORT ROYAL, Pa- Logan Wagner felt like he let one get away from him. After leading 23 laps on night one of the Bob Weikert Memorial Saturday night, Wagner got passed by Danny Dietrich following a late restart and finished second.
He could've wallowed and blamed the broken left rear shock that made his car hard to handle and he could've made excuses about cautions and bad luck. However like the old saying says, 'When you get kicked off the bull, you get back on'
Wagner passed his father Mike Wagner on lap 14 and held off a hard charging Dietrich to claim the 10 thousand dollar payday and gain a little redemption in front off a packed grandstand during a late night that saw rain attempt to play foil.
"Everything worked on in our favor tonight," said Wagner, a Harrisonville native and current speedway point leader. "We positioned ourselves well and we run well and my whole crew gave me a car that was made to win."
Freddie Rahmer was fast time and high point man following the heat races and he drew a 10 invert, putting AJ Flick and Mike Wagner on the front row for the feature event.
Flick jumped out to the early lead, with the Logan Wagner making a quick move from his 5th starting position to third on the opening lap.
As Flick was setting a blistering pace on an extremely fast race track, the elder Wagner and his son settled in behind him. However, Lucas Wolfe was making early moves as he moved into the top 5 of lap 5.
One lap later, Flick approached the tail end of the field of turn 3 and a lap later Wolfe moved past Ryan Taylor for 4th as he attempted to make it 3-straight Weikert Memorial victories.
However, the rally would be short lived as a lap later, Wolfe came to a stop in turn 3 with a flat tire and brought the field to the caution flag. Wolfe would rejoin the field following repairs.
On the restart, Mike Wagner made his move. He pulled under Flick in turn 1 and made the pass stick coming out of turn 2. Logan Wagner would follow as well on lap 10, however Greg Plank came to a stop in turn 1 to bring out the second caution of the night and negating Logan's pass.
Following the restart, Logan Wagner once again made the pass of Flick for second and set his sights on his father. Ryan Taylor and Kyle Reinhardt followed suit. On lap 14 Flick's night would also come to an end following a shredded right rear tire that sent him into the backstretch guard rail.
Following a red flag for fuel, rain drops began to fall from the sky for the second time on the night. However, speedway officials deemed the track ok and cars once again pushed off for the restart.
One lap later, Logan made his move on his father, sliding through the bottom in turn's 3 and 4 to claim the lead for good and lead lap 15.
"I knew we had the car to beat and under that red I told my guys I was just being patient and was waiting to make my move," said Wagner. "The car was so good that I just had to get up there and I knew once we got out front it be smooth sailing if I hit my marks and did my job."
Once out front, Wagner took off, building over a 3 second lead by lap 20. As Wagner was cruising around the top of the speedway, Dietrich was looking to make it a repeat of night 1.
After starting 9th in the field, Dietrich cracked the top 5 on lap 17 and passed Taylor for 4th on lap 18. Wagner hit lap traffic on lap 22, and one lap later Dietrich passed Reinhardt for 3rd. The following lap Dietrich passed the elder Wagner for second in turns 3 and 4 and he set his sights on Logan.
Dietrich attempted to catch the Zemco sprinter, but with Wagner sailing around the top of the speedway and taking it easy, he had nothing for them. Wagner would take the checkered flag by 1.208 seconds over Dietrich, who would claim the Steer Head trophy following a tie breaker with Wagner for being the best after 2-nights.
Lance Dewease, Reinhardt and Mike Wagner rounded out the top 5.
Not only did the win make up for a tough night 1 loss, but it was redemption following last year's Weikert Memorial that saw Wagner blow a tire while leading with 6-laps to go.
"I think that video recap of last years race has about 22 thousand views and after losing that one I think 20 thousand of them were me." said Wagner. "This is pretty easily the biggest win of my career and I couldn't be happier than to be standing here in victory lane on Bob Weikert night in front of all these fans."
While second wasn't what he was looking for, Dietrich was just happy to be on the podium and be going home with the coveted bull trophy
" We got the bull and that's all we really wanted," said Dietrich. "We got a win last night and we been coming up here all year to bring trophy home and I can't be any happier."
"Logan has been extremely fast here all year and he's tough to beat. So hats off to those guys and I'm happy for my guys to have a pretty successful weekend."
Jared Esh, Dylan Cisney, Taylor, Wolfe and Ryan Smith rounded out the top 10.
Feature Finish, 30 Laps: 1. Logan Wagner; 2. Danny Dietrich; 3. Lance Dewease; 4. Kyle Reinhardt; 5. Mike Wagner; 6. Jared Esh; 7. Dylan Cisney; 8. Ryan Taylor; 9. Lucas Wolfe; 10. Ryan Smith; 11. T.J. Stutts; 12. Freddie Rahmer; 13. Tyler Reeser; 14. Justin Whittall; 15. Blane Heimbach; 16. A.J. Flick; 17. Jeff Miller; 18. Kody Lehman; 19. Kyle Smith; 20. Greg Plank; 21. Tyler Bear; 22. Nicole Bower; 23. Joey Hershey; 24. Anthony Macri; 25. Dustin Baney; 26. Steve Buckwalter. DNS: Rick Lafferty.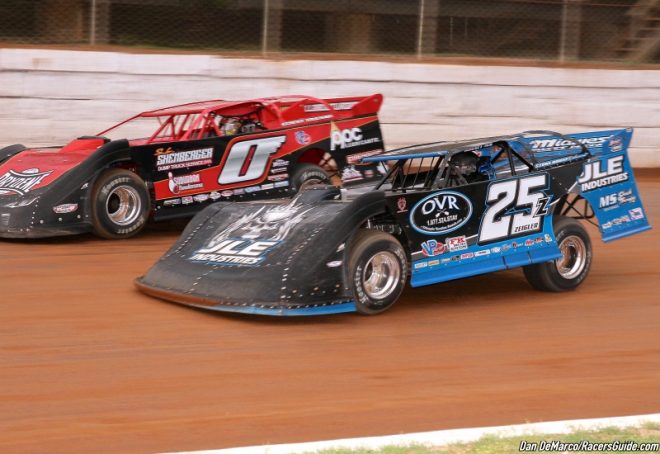 LATE MODELS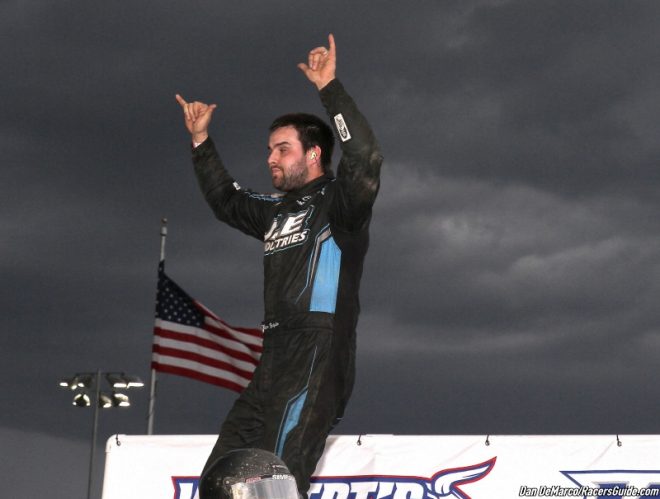 It was bonus racing for the River Valley Builders Super Late Models as they had 2 feature events for $5,000. The first feature event was a make-up from night ones rain delayed event.
Mason Zeigler claimed his first career Super Late Model victory at the Speed Palace over Jason Covert and Rick Eckert.
Covert and Zeigler led the field to the green with the Covert jumping out the early lead. Five laps later, Eckert, using the top of the speedway in turns 3 and 4, cleared both Zeigler and Covert to take the lead by a nose at the flag stand
Covert would take the lead back a lap later and he an Eckert would drive side by side all around the track for the next 4 laps.
Meanwhile, Zeigler was licking his chops behind the two leaders, waiting for the time to make his move. On lap 11, Zeigler passed Covert for second on the backstretch and set his sights on Eckert.
On lap 16, Eckert had caught the tail-end of the field and Zeigler was all over him. As the 2 pulled through turns 3 and 4, Zeigler attempted to cross under Eckert for the lead and the two were dead even at the line with Eckert holding the slightest of leads.
Zeigler used the momentum to pull past Eckert in turns 1 and 2 and take the lead for good.
"I been coming here for a while and Rick has snookered me a time or 2 for a few victories," said Zeigler. "I been telling him that one of these days I was going to get him back and that was my chance."
With 7 laps remaining, there was a caution for a slowing Hayes Mattern just past the flag stand.
Eckert and Covert would jostle for position over the remaining 7 laps, but it was smooth sailing for Zeigler as he claimed the first feature of the night by a distance of 1.857 seconds.
Covert, Eckert, Gregg Satterlee and Dylan Yoder rounded out the top 5.
"The track is phenomenal. These guys do great things and give us a great surface," said Zeigler. "I'm just glad to get this first win and see if we can't do it again tonight."
The second late model feature of the night was sweet redemption for Eckert as he parked it in victory lane for the $5,000 and claimed the coveted Steer Trophy for the Late Model portion of the Weikert Memorial for the second consecutive year.
Covert set fast time earlier in the night, while Eckert claimed top point honors following the completion of the heat races. He drew a 7 invert for the feature, putting Tyler Bare and Dylan Yoder on the front row.
As the green flag dropped, Yoder looked to take the early lead, but tracing action was halted due to a 6-car pile up in turn 1.
Yoder once again jumped out the lead form the outside row when the green flag dropped. As Yoder began to put distance between himself and the field, Eckert was beginning his march to the front.
By lap 2 he had moved into 4th place and Covert was following his lead as he slid into 5th a lap later.
Yoder was setting a quick pace and would ride the top of the speedway, hitting lap traffic on lap 16. That same lap, Eckert moved past Tim Smith Jr. for 3rd in turns 3 and 4.
It looked as if nobody was going to have anything for Yoder, however the caution came out on lap27 due to debris on the backstretch coming off the car of Michael Norris.
Following a return to green field action, Eckert would slide past Zeigler on the restart in turn 1 and 2 setting up an 8 lap dash to catch Yoder.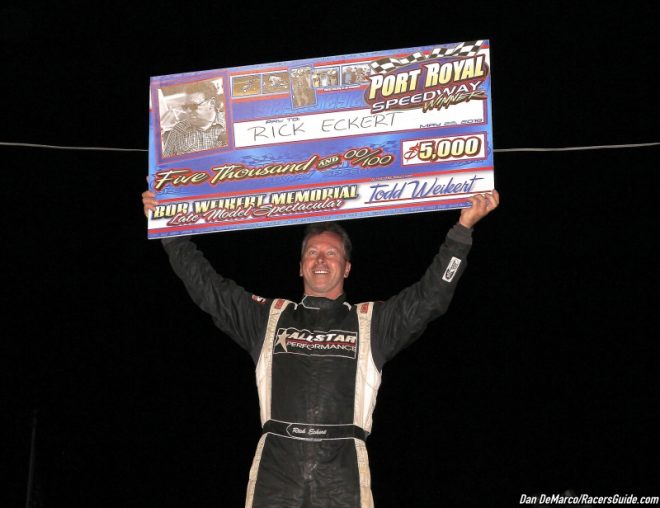 "We've been really fast all year, but just haven't really had a good car for the end of races, " said Eckert. "Luckily I got by Mason there on that restart and that allowed me ample time to catch Yoder and make a move."
With 5 laps to go, Eckert made the winning pass in turn's 3 and 4 and nobody had anything for the veteran driver. He would cross the finish line to the checkers by a 2.180 second margin over Yoder, Covert, Dan Stone and Norris.
"My car was decent but I knew I wasn't going to catch them without some help," said Eckert. "Luckily we got that late caution and I was able to string together a few good laps and it allowed us to be sitting here in victory lane."
For Yoder, it was yet another bridesmaid finish of second on the season and allowed him to stretch his current River Valley Builders series point lead.
"Man I wish Eckert would just stick to racing World of Outlaws Late Model races and let us get a win or 2 here," said a dejected Yoder. "I guess we can't be too upset with a second, but I really wanted that one and we'll just go on to next week and be one spot better hopefully."
RIVER VALLEY Builders Super Late Model Feature 1- 1. Mason Zeigler 2. Jason Covert 3. Rick Eckert 4. Gregg Saterlee 5. Dylan Yoder 6. Michael Norris 7. Austin Hubbard 8. Tyler Bare 9. Andy Huas 10. Gary Stuhler 11. Shaun Jones 12. Bryan Bernheisel 13. Nick Dickson 14. Dan Stone 15. Brett Schadel DNF- Trent Brenneman, Hayes Mattern, Ralph Morgan, Rance Garlock, Jeff Rine, Dillan Stake, Tim Smith Jr., Matt Cosner, Austin Berry
RIVER VALLEY BUILDERS Super Late Model Feature 2- 1. Rick Eckert 2. Dylan Yoder 3. Jason Covert 4. Dan Stone 5. Michael Norris 6. Gary Stuhler 7. Mason Zeigler 8. Austin Hubbard 9. Kyle Hardy 10. Jeff Rine 11. Tim Smith Jr. 12. Ralph Morgan 13. Glenn Elliott 14. Austin Berry 15. Mike Lupfer 16. Bryan Bernheisel DNF- Tyler Bare, Trent Brenneman, Andy Haus, Gregg Satterlee, Nick Dickson, Kyle Lee, Dillan Stake, Brett Schadel, Shaun Jones