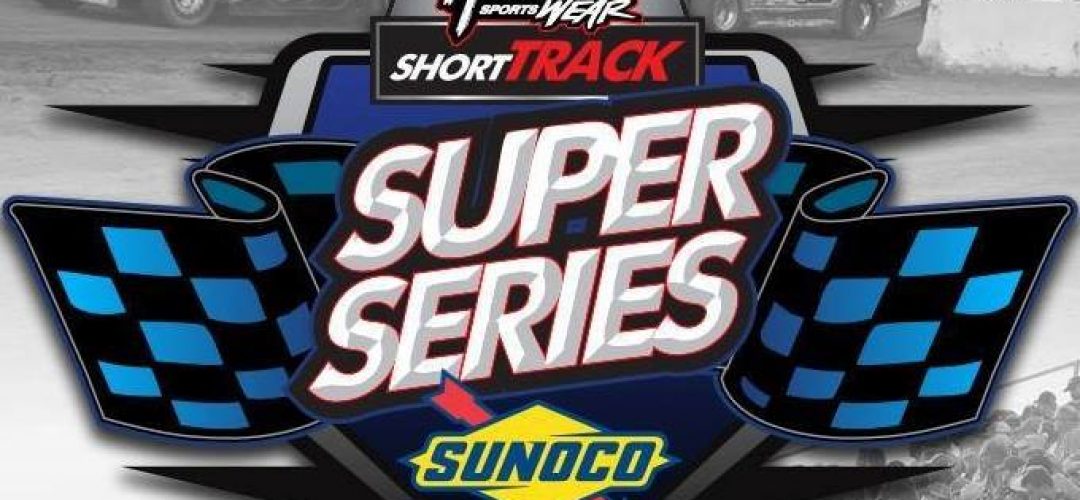 News from Delaware's Historic Georgetown Speedway
Media Contact: Brett Deyo – georgetownspeedway@gmail.com or 302.563.4896 (GTWN)
Bouc & Robinson Lead 50th Camp Barnes Benefit Stock Car Race Victors Thursday at Georgetown

Written by Chris Moore
GEORGETOWN, DE – About time.
After several near triumphs, broken racecars, and being towed off after wrecks, Danny Bouc exercised his Georgetown Speedway demons for his first career victory at the Sussex County half-mile oval.
"It's been four or five years in the making, I can't thank Craig and Leslie Pondish enough," uttered an elated Bouc in Victory Lane. "They've given me everything I needed; it just hasn't worked out down here (until tonight)."
The win netted the Pipersville, Pa., native a $5,500 payday in the 50th running of the Camp Barnes Benefit Stock Car Race to kick off the Mid-Atlantic Championship weekend at the historic Southern Delaware facility.
Bouc fired from the outside of the front row following the redraw, with Neshanic Station, N.J.'s Matt Stangle occupying the pole position.
Stangle would lead the opening lap, before Bouc took command. Bouc used the outside groove in turns one and two to drive around Stangle and assume the top spot.
While Bouc tried to pull away, action was already red hot at the back half of the top ten. Bechtelsville, Pa.'s Jeff Strunk was quickly on the charge and into the top five.
While Strunk went at it with East Greenbush, N.Y., native David Schilling, another New Yorker in Rocky Warner was battling just behind them with Ringoes, N.J.'s Ryan Godown for the sixth spot.
Strunk slid by Schilling for the fourth spot at the completion of lap 10 and set his sights on the top three.
The race's first and only yellow flag would fly on lap 11 as Delaware's Ryan Riddle came to a stop at the top of the fourth turn.
On the restart, Strunk's assault would continue as he drove around fellow Pennsylvania star Mike Gular to take the third spot.
Bouc continued to pace the field by a 10 car-length advantage over Stangle and Strunk for several laps while another hard charger was beginning to make his presence known.
Covington Township, Pa.'s Alex Yankowski had risen into the seventh spot from 14th and was in a three-car fight with Schilling and Branchburg, N.J.'s Ryan Krachun for the final spot inside the top five.
Yankowski and Krachun would slide by Schilling and settle the final spot in the top five amongst themselves. Yankowski finally moved past Krachun on lap 22 to take the fifth spot.
As the rest of the top five was settled, the action began to heat up for the top spot. Bouc, who had led all but one lap of the 30-lap feature, was closing in on lapped traffic.
"I saw them ahead of me and they were mixing it up pretty good," Bouc said of his gaining on lap traffic. "I tried to pace myself because I knew I didn't want to get racing with those guys."
With Bouc pacing himself, Stangle and Strunk were seizing the opportunity and closing in on the leader.
Stangle dropped to the bottom to show a nose to Bouc on lap 27. Stangle tried again on lap 28, but this time washed up the track and allowed Strunk to pounce and dive underneath him.
Now with two laps to go, Strunk showed a nose on the bottom groove to Bouc and tried one more time in the first turn on the final lap but came up short.
Bouc raced away with the Camp Barnes Benefit Stock Car Race victory and the $5,500 paycheck.
Strunk, the Glenn and Bonita Hyneman owned No. 126 would settle for second, and Stangle rounded out the top three in his family-owned No. 6.
Mike Gular settled for fourth in his Terry Fasnacht-owned No. 2A and Alex Yankowski rounded out the top five in his family-owned No. 84y.
Finishing sixth through 10th, respectively, were Johnstown, N.Y.'s Rocky Warner in the Tadd Parks-owned No. 1; Savannah, N.Y.'s Matt Sheppard in his Hurlock Auto & Speed Supply No. 9S; Ryan Krachun settled for eighth aboard his family-owned No. 29; Ryan Godown came home eighth aboard his R&M Motorsports No. 26; and Middletown, N.Y.'s Anthony Perrego rounded out the top-10 in the Brian Smith-owned No. 44.
In the first Super Late Model feature of the season at Georgetown, Georgetown native Ross Robinson claimed the emotional victory in the Camp Barnes Benefit Stock Car Race, claiming his own $5,500 victory after 25 lap.
"It feels good to be home," proclaimed an elated Robinson in Victory Lane. "It means a lot to have the Camp Barnes race back home."
Robinson started from the inside of the second row with Rick Eckert and Danny Snyder occupying the front row.
Danny Snyder quickly darted around Eckert on the top side to take the lead and Robinson quickly went to work on Eckert for the runner-up spot.
Robinson ducked underneath Eckert and took the second position on lap three. Mark Pettyjohn would follow Robinson, sliding Eckert back to fourth.
The race's first yellow flag flew on lap five when Donald Lingo, who had just taken fourth from Rick Eckert, slowed to a stop after a broken driveshaft ended his night.
The restart was all Robinson needed as he used the outside groove to drive Snyder on the restart and take the lead away.
Robinson would lead by a comfortable margin for a majority of the race until Rick Eckert, who had suddenly come to life after struggling in the opening laps, was hot on Robinson's heels for the lead.
Eckert got a nose underneath Robinson on multiple occasions, but never could gain enough momentum to get by and take the lead.
In the final two laps, Robinson used a pair of lap cars to his advantage, blocking off a passing lane for Eckert and held on for the Camp Barnes victory.
Eckert would settle for second and Trevor Collins rounded out the top three. Brian Bernheisel came home fourth after starting in 12th and Jamie Lathroum rounded out the top five.
Ryan Godown Jr. claimed his second Blue Hen Dispose-All Crate 602 Sportsman feature win of the season, leading all 20-laps for the $1,500 payday.
Scott Hitchens chased Godown Jr. to the line, settling for the runner-up finish. Logan Watt rounded out the podium cars while Dakota Kohler and Eric Kormann were the rest of the top five.
Trevor Collins claimed his first win of the season in First State Chevrolet RUSH Late Models competition. Collins drove around Nick Davis in the early going and set sail for a dominant victory.
Nick Davis would settle for second and Ben Scott rounded out the podium cars.
Kerry King was victorious in Southern Delaware Vintage Stock Car action after starting on the pole, King led all 12-laps for the victory. Michael Patchett was the winner of the Sportsman portion of the event.
Crowd favorite Kirk Lawson topped the Little Lincoln feature after a wild race that included a front row tangle. Dylan Betts and Todd Sammons were the other podium finishers.
Matthew Smith outdueled brother Robert Smith by half a car-length to win the Delaware Super Truck feature. Robert Smith came home second, and David Smith helped the Smith boys sweep the podium on Thursday night.
Joe Waters dominated the Delmarva Charger 12-lap feature after starting in sixth for his first career Camp Barnes victory. Geoff Carey, who started last, came home second and Jesse West rounded out the top three.
Racing at Georgetown Speedway resumes tonight, as Qualifying Night takes place for the annual 'Mid-Atlantic Championship Weekend.' The Bob Hilbert Sportswear Short Track Super Series (STSS) Fueled By Sunoco Modifieds and the Super Late Models will run qualifying events for their Saturday features. The PA/NJ spec Small-Block Modifieds will also run a full program culminating in a 30-lap, $5,000-to-win (with Gambler's Fee) feature affair. Also on the card are the First State Chevrolet RUSH Late Models, Southern Delaware Vintage Stock Car Club, Delaware Super Trucks, and Delmarva Chargers.
Georgetown Speedway, originally constructed by Melvin L. Joseph in 1949, is located at the intersection of Route 113 and Speedway Road in Georgetown, Del., just miles from the Delaware beaches and less than a 40-minute drive from Ocean City, Md.
A website is live for the speedway at www.thegeorgetownspeedway.com. Like Georgetown Speedway on Facebook, follow @thegtownspdwy on Twitter, e-mail georgetownspeedway@gmail.com or contact the speedway hotline at 302.563.GTWN (4896).
50TH CAMP BARNES BENEFIT STOCK CAR RACE RESULTS SUMMARY – GEORGETOWN SPEEDWAY OCTOBER 27, 2022
J.W. Brown Logging Modified Feature Finish (30 laps): DANNY BOUC, Jeff Strunk, Matt Stangle, Mike Gular, Alex Yankowski, Rocky Warner, Matt Sheppard, Ryan Krachun, Ryan Godown, Anthony Perrego, David Schilling, Stewart Friesen, Ryan Watt, Jordan Watson, Mike Mahaney, Billy Pauch, Jr., Mat Williamson, Joseph Watson, Ronnie Johnson, Brandon Grosso, Mike Trautschold, Andy Bachetti, H.J. Bunting, Louden Reimert, Jimmy Horton, Ryan Riddle.
Did Not Qualify: Austin Hubbard, Rick Laubach, John Willman, Craig Von Dohren, Cale Ross, Kevin Sockriter, Tom Solderich, Sean Weiss, Carson Wright, Brad Roberts, Matt Smith.
Super Late Model Feature Finish (25 laps): ROSS ROBINSON, Rick Eckert, Trevor Collins, Bryan Bernheisel, Jamie Lathroum, Amanda Robinson, Michael Lake, Trevor Feathers, Mark Pettyjohn, Danny Snyder, Gary Stuhler, Cory Lawler, Nathan Long, Robert Paczkowski, John Burton, David Dill, Rob Schirmer, Donald Lingo Jr., Jim McBee, David Smith.
Steel-Block Bonus ($500): David Dill (16th)
Blue Hen Dispose-All Crate 602 Sportsman Feature Finish (20 laps): RYAN GODOWN JR., Scott Hitchens, Logan Watt, Dakota Kohler, Eric Kormann, Jordn Justice, Joe Toth, Brian Calabrese, Greg Humlhanz, Thomas Sherby, Bobby Watkins, James Hill, Brandon Watkins, Jacob King, Billy Hartwig III, Brian Rodgers, Aaron Headley, Zac Weller, Trent Willey, Ryan Sharlane, Tom Moore, Jr., Ryan Simmons, Michael White, Richie Walls, Jr., Adam White, Tim Millman.
Did Not Qualify: Sean Metz, Luke Bunting, Greg Reed, Cody Manmiller, Howard Huepfel, Mia Guy, Tracy Gauger, Jim DeArmitt, Jeff Marker, Trey Hicks
First State Chevrolet RUSH Late Model Feature Finish (20 laps): TREVOR COLLINS, Nick Davis, Ben Scott, Austin Hubbard, Joe Warren, Matt Hill, David Parsons, David Smith, Derek Magee.
Southern Delaware Vintage Modified Feature Finish (12 laps): KERRY KING, DJ Cameron, Brayden Ritter.
Southern Delaware Vintage Sportsman Feature Finish (12 laps): MICHAEL PATCHETT, Roscoe Clough, Nathan Austin, Jamie Schirmer, Chris Killen, Cale Pettyjohn, Jamie Eichholz, Garritt Reagan, Maddy Jefferson, Glen Lyon, Dave Schamp, Terry Chaney.
Little Lincoln Feature Finish (12 laps): KIRK LAWSON, Dylan Betts, Todd Sammons, Scott Calhoun, Tim White, Jordan Herbert, Kelly Hastings, Justin Zook, Mel Joseph, Jr., James Harmon, Wayne Seaton.
Delaware Super Truck Feature Finish (12 laps): MATTHEW SMITH, Robert Smith, David Smith, Dan Streebig, Zack Phillips, Troy Hopkins, Dale Elliott, Tony Guinta, Scott Trice, Jesse West, Travis Bellew, Cameron Benson, Thomas Jackson, Hiram Lasher, Jerry Hill.
Delmarva Charger Feature Finish (12 laps): JOE WATERS, Geoff Carey, Jesse West, Ron Faulkner, Ashley Merritt, Jeff Merryman, Jay Lowman, John Bailey, Robbie Strain, Dan Stein, Jr., Billy Cummings, Randy Merritt, Garrett Smith.