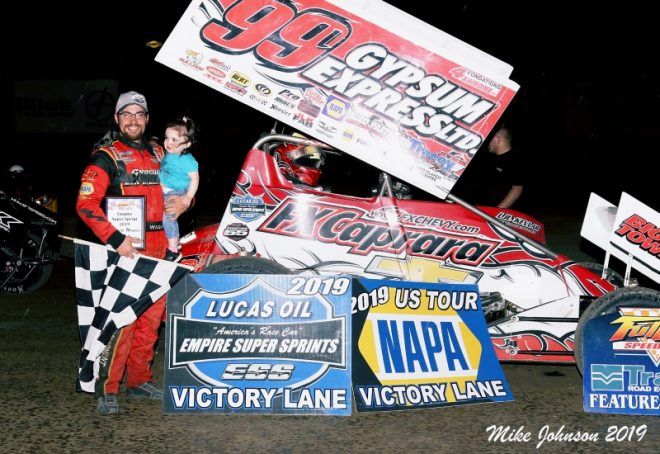 Lightning Strikes Twice With Larry Wight Going To Fulton Speedway Victory Lane Before The Storm
Story By: Dave Medler/Fulton Speedway
Photos By: Mike Johnson/RacersGuide.com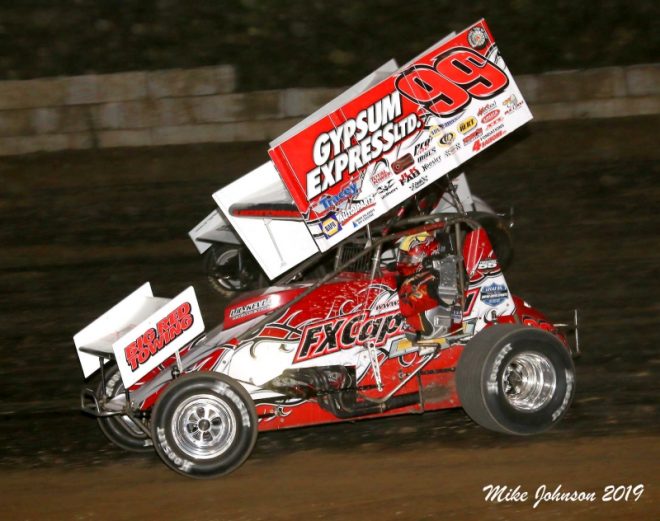 FULTON, NY – Saturday night at the Fulton Speedway there was lightning in the sky and on the track that saw 'Lightning' Larry Wight go to victory lane for the fourth straight week before a line of lightning and heavy rain moved in ending the racing program.
Larry Wight unloaded his FX Caprara Chevy, Gypsum Express, LJL Kevlar Racing Engines, No.99L Sprint Car on a hot streak winning the first three Tracey Road Equipment DIRTcar Modified features at the speedway coming into Saturday night.
After the heat races and with bad weather all around the area, the Lucas Oil Empire Super Sprint officials decided to forego the dash and B-Main and start everyone in the feature.
Chuck Hebing would grab the early advantage setting a quick pace out front to start the Empire Super Sprints 25-lap A-Main while behind him the rest of the field used every groove on the speedway fighting for positions.
With 5 laps complete, Hebing was starting to see his half-a-straightaway lead rapidly dissipate as Larry Wight and Friday night Brewerton Speedway winner Jason Barney were closing quick on the leader.
On lap 6, Wight not only ran down Hebing, but passed him for the lead before the yellow flag waved. The pass was negated as the majority of the cars have to complete a lap before a caution for it to be official.
A restart after a lap 8 caution would see Wight use a power move up high exiting turn-two to fly by Hebing to be scored the new leader.
By lap 10 Wight was flying out front leading by almost a full straight while behind him, Hebing, Paulie Colagiovanni, Shawn Donath and Barney raced for second through fifth.
With 10 laps to go Wight was on cruise control maintaining his big lead leaving Hebing, Colagiovanni, Barney and Matt Tanner to battle it out from second on back.
Over the remaining laps and no yellows, Wight had his car working perfectly as he sliced through traffic using every groove on the speedway going under the checkers 3.182 seconds ahead of second place Jason Barney. Paulie Colagiovanni, Matt Tanner and Chuck Hebing finished third through fifth.
During victory lane interviews rain started to fall with lightning in the sky in the distance before heavy rains moved in ending the race night.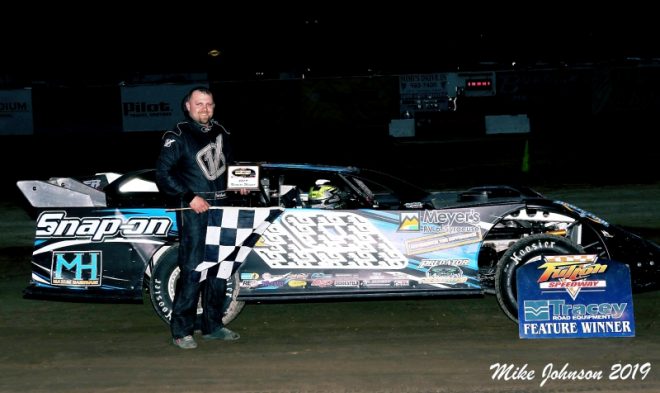 The only other feature that was completed was the 20-lap Billy Whittaker Cars & Trux RUSH Late Models who raced before the ESS feature.
Kevan Cook would jump out to the lead at the drop of them green and lead the opening laps until Dale Caswell found bite on the bottom of the speedway and bolted by Cook to take the lead on lap 7.
When the race reached the halfway point, Caswell, Cook and Chad Homan were in a three-car breakaway at the front with Max Hill and Bret Belden showing in the top-five.
Over the second half of the race Cook and Homan could stay with Caswell but Caswell was to quick as he picked up the popular win. Bret Belden and Kyle Sopaz came home fourth and fifth.
Keep checking the Fulton Speedway website and Facebook pages to see when the Modified, Sportsman and Novice Sportsman postponed features will be run.
This Saturday, June 1, fan and racer pre-race & post-race favorite food and beverage stop, RFH's Hideaway located just minutes south of the speedway on Route 57 will present a night of the fastest,family affordable fun racing in Central New York.
On the race schedule will be the Tracey Road Equipment DIRTcar Modifieds, DOT Foods DIRTcar Sportsman, Billy Whittaker Cars & Trux RUSH Late Models, E&V Energy Novice Sportsman. The highly competitive Can-Am Mod Lite Series will be making a stop to race on the 'Highbanks.'
Adult grandstand admission is $12 with everyone 18 years old and younger is admitted free. Pit admission is $27 Participant, $30 Non-Participant. Grandstands open at 5:00 pm with racing at 7:00 pm.
Any questions you might have and for marketing opportunities contact Cory Reed at (315) 593-6531 orcory@fultonspeedway.com.
For all the latest news go to www.fultonspeedway.com and like the track Facebook and Twitter pages.
A-Verdi Storage Containers & Penn Power Group May 25 Results
(Lucas Oil Empire Super Sprints 25 Laps) – LARRY WIGHT, Jason Barney, Paulie Colagiovanni, Matt Tanner, Chuck Hebing, Kyle Moffit, Shawn Donath, Scott Holcomb, Dave Axton, Todd Gracey, Billy VanInwegen, Tommy Wickham, Jonathan Preston, Brett Wright, Sam Reakes IV, Dan Douville, Chad Miller, Denny Peebles, Matt Hoyt, Josh Azzi, Tyler Cartier, Kelly Hebing, Emily VanInwegan.
(Billy Whittaker Cars & Trux RUSH Late Models 20 Laps) – DALE CASWELL, Kevan Cook, Chad Homan, Bret Belden, Kyle Sopaz, Max Hill, Chris Fleming, Matt Kitts.