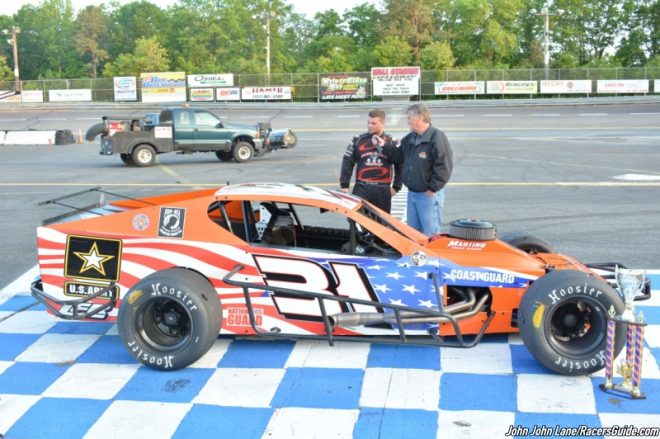 MAURIELLO AND COSS TAKE EMOTIONAL WALL MODIFIED WINS
Story By: Jeff Gravatt/Wall Stadium
Photos By: John John Lane/RacersGuide.com
WALL TOWNSHIP, N.J. ~ All American Auto Group Modified stock car drivers Eric Mauriello of Brick and Roger Coss of Lafayette earned highly emotional wins at Wall Stadium Speedway Saturday night. Mauriello's Memorial Day weekend triumph came in a car that prominently featured the American Flag while Coss' win came in a car owned by the family of his late car-owner Jeff Willet. Willet passed away after a battle with cancer just a few weeks ago.
In the first main event, rain postponed from May 11, Toms River's Derek Hopkinson jumped to the lead and fought off Jackson's Steven Reed and Mauriello in the early going. Mauriello advanced to first near lap 40 and then fought off Ron Frees of Lanoka Harbor, Hopkinson and Reed to the finish. Andrew Krause of Holmdel was fifth.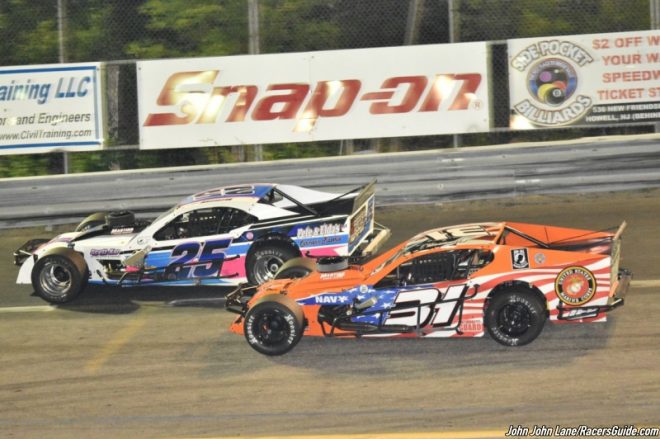 "Steve Ferrara and the entire team really believe that this weekend is about all who gave their lives for our country," Mauriello said. "I am proud to drive a car that looks like this on this weekend and even more proud to put it in the winner's circle."
Like the first Modified main event the second one was also a slug fest with Brick's Dom Fattaruso leading the way early. Joey Merlino of Pine Hill soon took his turn at the front before Neptune's Chris Andretta took command before half way. Andretta fought off Merlino in the middle of the 40-lap race before Mauriello advanced to second for the final quarter of the event.
Mauriello then tried hard to make it a clean sweep on the night but spun exiting turn two with three laps remaining. Coss then advanced to second on the restart and charged to the front when Andretta's car stumbled exiting turn four. Andretta, Fattaruso, Shaun Carrig of Little Falls and Mauriello wrapped up the top five.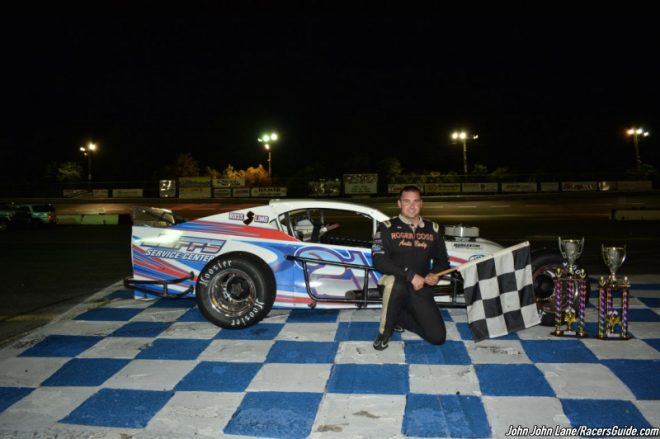 "This win is for Jeff Willet," Coss said upon exiting his car. "Jeff and his family have done a lot for me and for everyone in this sport over the years. I miss him very much. This win is for Jeff."
Carsten DiGiantomasso of Jackson won his second Center State Engineering Sportsman 25-lapper of the young season as Christian LaCicero of Lavallette fought off Jarret DiGiantomasso of Jackson for second. Micheal Rising of Little Egg Harbor and Brick's Robert Sutphin were fourth and fifth.
Howell's Rob Silver took the lead early and never looked back in the 25-lapper for the Green Flag Driving Experience Legend Cars. Sean Verwys of Stroudsburg, Pa., Peter Bruno of Little Silver, Jim Downey of Cliffwood Beach and Joe Przybylinski of Fairfield were second through fifth.
Jackson's Shanon Mongeau won the 25-lapper for the Mike's Performance Center Limited Late Models over Chris Silvestri of Hazlet. Jim Moorman of Brooklawn, Jackson's Greg Gastelu and Michelle Moorman completed the top five.
Joey Bailey won the 25-lap race for the visiting Three Quarter Midgets over Buddy Sload and Ryan Tidman.
The 2019 Saturday night regular season continues this Saturday (June 1) evening with the Surfside Collision 4 Cylinder Stocks racing in twin 25-lap main events while the O'Shea's Auto Repair Factory Stocks, Sportsman cars and the Limited Late Models all compete in single 25-lap feature races. Demolition Derby action will also be featured for the first time this season.
The "Pack the Track" night card will feature a $10 admission for all adults while student admission is just $5. On this "Carnival Night" grandstands will open at 5:00 p.m. Qualifying starts at 5:45 p.m. and main event action starts at 7:00 p.m.
Saturday night racing action continues through early October with schedule details at wallspeedwayracing.com.
Wall Stadium is located on Route 34 in Wall Township, N.J., just one mile north of Garden State Parkway exit 98 and Interstate 195 exit 35B. The speedway hotline number is 732-681-6400 and email address is ckmotorsports@aol.com.
RACE RESULTS
1ST MODIFIED FEATURE – 40 Laps – 1. ERIC MAURIELLO, BRICK, 2. Ron Frees, 3. Derek Hopkinson, 4. Steven Reed, 5. Andrew Krause, 6. Tyler Truex, 7. Ken Matlach, 8. Jason Treat, 9. Shaun Carrig, 10. Joey Merlino, 11. Eddie McCarthy, 12. Robert French, 13. Ed Delage, 14. Chris Andretta, 15. Joey Jarowicz, 16. Dom Fattaruso, 17. Kevin Davison, 18. Roger Coss
2ND MODIFIED FEATURE – 40 Laps – 1. ROGER COSS, LAFAYETTE, 2. Andretta, 3. Fattaruso, 4. Carrig, 5. Mauriello, 6. Treat, 7. Merlino, 8. Matlach, 9. Jarowicz, 10. Davison, 11. McCarthy, 12. Hopkinson, 13. Mike Brennan, 14. Buddy Miller, 15. Krause, 16. Ricky Collins, 17. Truex, 18. Reed, 19. Frees, 20. Adam LaCicero, 21. French, 22. Delage
SPORTSMAN FEATURE – 25 Laps – 1. CARSTEN DIGIANTOMASSO, JACKSON, 2. Christian LaCicero, 3. Jarret DiGiantomasso, 4. Micheal Rising, 5. Robert Sutphin, 6. Shanon Mongeau, 7. Tommy Martino, 8. Larry Thompson, 9. Kyle Scisco, 10. John McCormack
LEGEND CARS FEATURE – 25 Laps – 1. ROB SILVER, HOWELL, 2. Sean Verwys, 3. Peter Bruno, 4. Jim Downey, 5. Joe Przybylinski, 6. Roger Nickerson, 7. Kevin Pritchard, 8. Joe McGrath, 9. Quinn Trimmer
LIMITED LATE MODEL FEATURE – 25 Laps – 1. SHANON MONGEAU, JACKSON, 2. Chris Silvestri, 3. Jim Moorman, 4. Greg Gastelu, 5. Michelle Moorman, 6. Mike Tillett