Brandon Sheppard Will Step Into The No. 1 Rocket Late Model Next Season, Swapping Rides With WoO LMS Champion Josh Richards
Story By: MARK RICHARDS RACING MEDIA
Photos By: HEATH LAWSON / RACERSGUIDE.COM
SHINNSTON, W. Va. — November 22, 2016- Two-time Dirt Track World Championship winner Brandon Sheppard has been hired to drive the Valvoline/Seubert Calf Ranches No. 1 Rocket chassis house car next season.
Sheppard is essentially swapping rides with four-time World of Outlaws Craftsman Late Model Series champion Josh Richards, who announced last week that he was taking Sheppard's seat in the Best Performance No. b5 dirt late model.
The No. 1, which is fielded by Rocket chassis founder Mark Richards, also sees the addition of crew members Austin Hargrove and Joel Rogers and new sponsor Gunter's Honey. WoOLMS Crew Chief of the Year Danny White returns to his role with the No. 1.
Sheppard previously drove the No. 1 car full time for Mark Richards Racing during the 2012 season. Since then, Sheppard has won the 2013 UMP DIRTcar Late Model National Championship, the 2013 UMP DIRTcar Summer Nationals Championship, the 2013 Dirt Track World Championship with Mark Richards Racing, the Lucas Oil Late Model Dirt Series Rookie of the Year award and this year's $100,000-to-win Dirt track World Championship.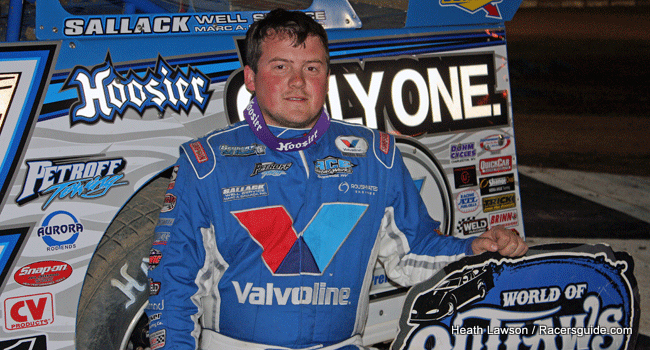 Sheppard will chase his first World of Outlaws Craftsman Late Model Series championship, while also competing in crown jewel events and major races that don't conflict with the WoOLMS schedule.
"Brandon was one of our top choices," said Mark Richards. "He did an outstanding job for us during the 2012 season, our marketing partners and I are quite comfortable with him and he has been a loyal Rocket Chassis supporter/customer for many years now. I really do consider him one of the top young talents in dirt late model racing today and we're thrilled to have him come aboard."
"I can't express how excited I am to have this opportunity with Mark (Richards) and Steve (Baker) at Rocket chassis," Sheppard said. "It truly is an honor to sit in the blue No.1 and I'd like to thank Mark, Steve, along with Valvoline, Seubert Calf Ranches and the other marketing partners for having the confidence in me to represent them."