Hearn Strikes Late For Malta Score
Race Report By: Tom Boggie /Albany Saratoga Speedway Media
Photos By: Dave Dalesandro /MSI Photo
MALTA, NY – Brett Hearn hasn't won over 900 races by giving up when things look hopeless.
After watching Keith Flach open up what looked to be an insurmountable lead Friday night, Hearn used lapped traffic to steal Flach's momentum and come away with his second win of the season in the 35-lap modified feature that highlighted Albany-Saratoga Speedway's "Friday Night Lights."
Flach, who was also looking for his second win of the season, started eighth, quickly made his way to the front and moved into the lead on lap 13. From there, he used the outside groove to build up a big lead.
But Flach got into heavy traffic on lap 25, which allowed Hearn, who had started 14th, to begin to close in.
When Flach found his path blocked by Brian Gleason with five laps to go, Hearn made his move, ducking under Flach coming out of the second turn, inching ahead, and then clearing Flach to come away with his 133rd career victory at Albany-Saratoga Speedway.
"In a situation like that, I just want to go where he doesn't go," said Hearn after the victory. "He had a good rhythm going on top and I had to hope that the lapped cars would get him off his rhythm, which they did. I just had to be patient on the bottom, and once I got into the open, I could go back to the top."
Jessey Mueller finished third, followed by Marc Johnson and Ronnie Johnson.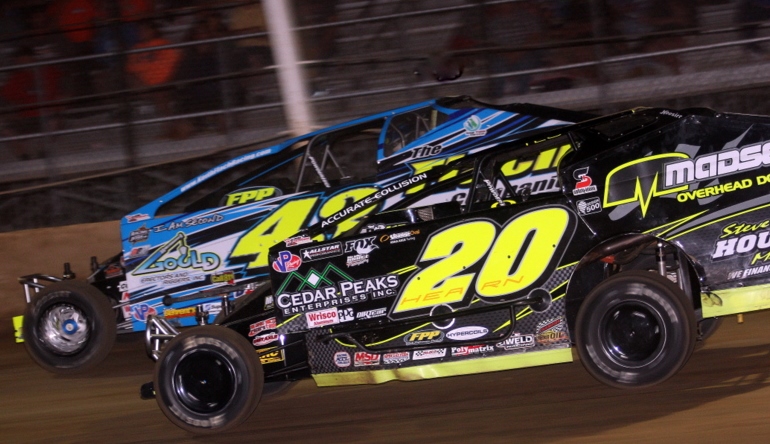 Hearn has been fast from the drop of the green flag, and in the early stages of the race, he put some of his toughest competitors behind him.
"In the first six or so laps, I passed Marc Johnson, Tremont [Ken Tremont Jr.] and Jessey Mueller, who's been really fast lately," said Hearn. "Getting by them early was important."
The King of Dirt Sportsman Series was also on the card Friday night, with Tim Hartman Jr. coming away with the victory, which paid $1,000 to win.
Hartman first had to win a battle with James Meehan to put the Parillo Services car into second place, and he then took off after leader Andrew Buff. On lap 22, Hartman finally got the lead away from Buff and with the entire race being run under green-flag conditions, came away with his second win of the season, ending a string of four straight fourth-place finishes.
Following Hartman Jr. across the finish line were Buff, Connor Cleveland, Robert Bublak Jr. and Meehan.
Brandon Gray and Walt Brownell put on a whale of a show in the 25-lap pro stock feature.
Gray started on pole and set the pace for the first 19 laps, but then things got interesting.
Brownell, who had been second for the whole race, used a restart on lap 20 to get the lead, but the yellow came out again one lap later, and this time, Gray had the momentum and moved back out front.
A spin by Scott Towslee on the final lap set up a one-lap shootout, and Gray and Brownell didn't disappoint the crowd. They came out of the fourth turn side by side, made hard contact and Gray took the checkered flag, while Brownell pinballed past the flagstand, dropping to third behind Rob Yetman, who had charged from the rear after getting a flat tire on lap two.
EJ McAuliffe drove to his first career limited sportsman victory in the 20-lap feature in that division. Stephen Kneer moved into the lead on lap five, but his big lead was negated when the caution came out on lap 15.
On the restart, McAuliffe went to the top and three laps later, rocketed into the lead. That's where he stayed, with Kneer second and Jason Buff third.
Randy Miller recorded his seventh victory of the year in the street stock feature, elbowing past defending track champion Al Relyea coming out of the fourth turn on the final lap.
MODIFIEDS: Brett Hearn, Keith Flach, Jessey Mueller, Marc Johnson, Ronnie Johnson, Ken Tremont Jr., Neil Stratton, Don Ronca, Rich Ronca, Demetrios Drellos, Hector Stratton, CG Morey, Jack Lehner, Bodie Bellinger, Matt Depew, Brian Gleason, Bobby Hackel IV, Elmo Reckner, Matt Pupello, Matt DeLorenzo, Jackie Brown, Ray Hoard, Justin Barber, Lou Torres, Jim Nagle, Kenny Aanonsen Jr.
KING OF DIRT SERIES SPORTSMAN: Tim Hartman Jr., Andrew Buff, Connor Cleveland, Robert Bublak Jr., James Meehan, Jake Scarborough, Chris Johnson, Dave Constantino, Jack Speshock, Jeremy Pitts, David Schilling, Jason Gray, Daryl Nutting, Chad Edwards, Nick Heywood, Scott Duell, Joey Scarborough, Adam McAuliffe, Pat Jones, Nick Lussier, Nick Fretto, Derek Bornt, Mike Coffey Jr., Joe Williams, Michael Sabia, Ricky Quick, Jon Miller, Jim Osgood, Marty Kelly III, Rob Maxon.
PRO STOCKS: Brandon Gray, Rob Yetman, Walt Brownell, Jason Corbin, Brandon Emigh, Dave DePaulo, Kenny Martin, Jason Meltz, Dan Older, Darrell Older, Norm Loubier, Dan Madigan, Mike Baker, Josh Coonradt, Yates Lansing, Matt Roberts, Scott Towslee, Nick Arnold, Chuck Dumblewski, Ed Thompson, Kim Duell, Chris Wemple.
LIMITED SPORTSMAN: EJ McAuliffe, Stephen Kneer, Justin Buff, John Stowell, Michael Wagner Fitzgerald, Derrick McGrew Jr., Josh Rozelle, Paolo Pascarella, Jim Mattison, Scott Bennett, Emily Quinn, Jerard LeClair, Bob Schmidt, Ron George Jr., Thomas VanVorst, James Hinman, Travis Billington, Rob Lanfear, David Boisclair.
STREET STOCKS: Randy Miller, Al Relyea, John Filarecki, Scott Lawrence, Adam Tranka, Jimmy Duncan, Damon Anderson, Phil Arnold, Steve Cosselman, John Hayes, Zach Seyerlein, Harold Chadderton, Jason Barrett.