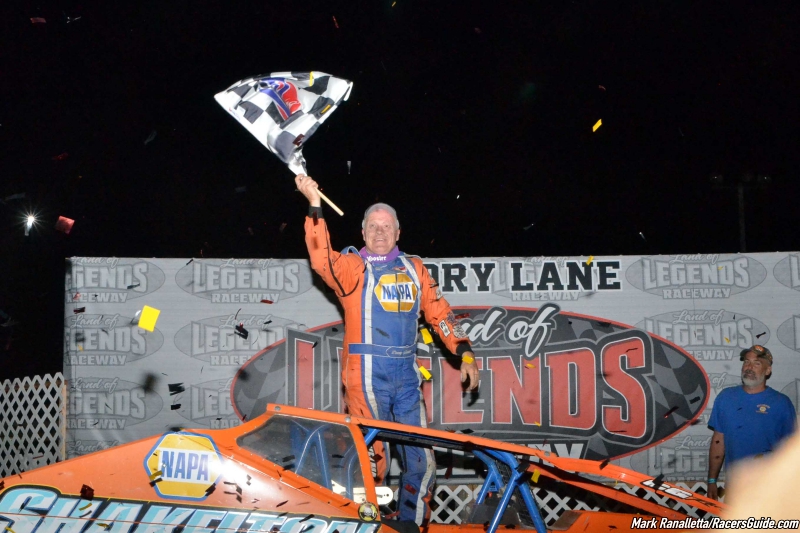 Flag-To-Flag Firsts For Fairgrounds Favorites Danny Johnson & Chuck Hebing
'Doctor' dominates SDS showdown, 'Cobra' cruises uncontested in LOLR 360 Series shootout
Story By: Tom Skibinski/LOL Raceway
Photos By: Mark Ranalletta/RacersGuide.com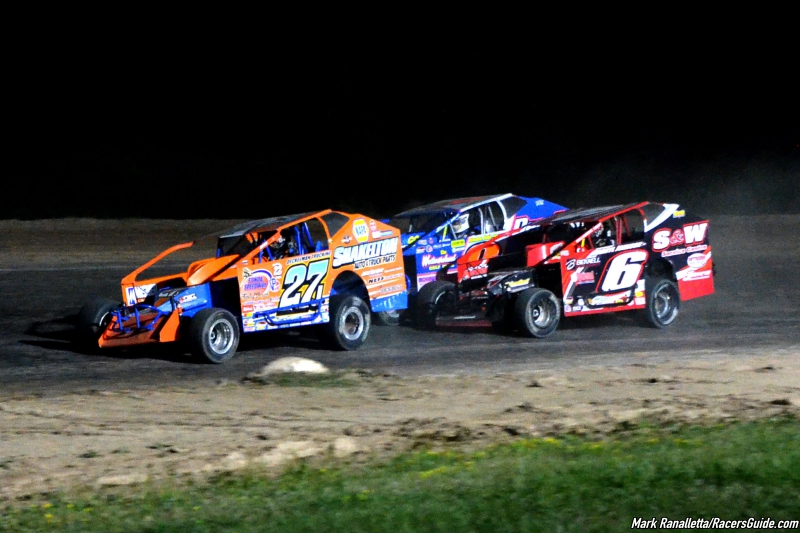 Canandaigua, NY – Another hot day. Another red hot performance staged by open-wheel all-stars Danny Johnson and Chuck Hebing as the veteran chauffeurs posted convincing victories in their homecoming to wine country on Thursday.
The Independence Day holiday special marked the return of both the Super DIRTcar Series for Big-Block Modifieds and 360 Sprint Classic Series for Lucas Oil Empire Super Sprints to Land Of Legends Raceway on July 5.
The 'Super Spectacular' twin-bill also resulted in a return to victory lane for former hometrack hotshot Johnson and sprint car standout Hebing, with the 'Doctor' scoring his 81st career win at the Ontario County Fairgrounds oval while the 'Cobra' registered his 8th sprint car triumph in Canandaigua.
"The car was good all night and good at Cornwall last (series) race, hopefully we get on a roll and keep going," remarked Johnson, 58, after collecting $6,000 for his first series win in five tour starts this season. The two-time SDS champion set fast time in his group qualifying, copped his heat race and then drew the pole-position before leading all 100 laps in the headline 'Liberty 100' presented by Honeoye Auto Parts.
"I'm just ecstatic for George and his wife Tammy and everybody that's helped out, just a fantastic night for all of us," said Johnson, after logging his 87th series (2nd all-time) victory —5th at LOLR— aboard the familiar orange no. 27J Shakelton Auto & Truck Parts-Deckelman Trucking/Bicknell entry with a Kevin Enders-prepared powerplant under the hood. It was also the first SDS win for Johnson's first-year car owner George Shakelton in his first-ever trip to the hallowed half-miler now under the promotion of Paul Cole.
Pole-sitter Hebing was just as convincing in the 25-lap ESS A-Main, leading from start-to-finish and winning by a dozen car-lengths to pocket $2,500 and hoist his third ESS trophy at the fairgrounds.
"Our crew does a heckuva job here, our fans are good here and the new promoter is taking care of this race track, which was great tonight," beamed Hebing, 54, who also captured five checkered flags in Big-Block Modified competition at Canandaigua from 1995-2002. "Its an awesome track for me, good to be back home."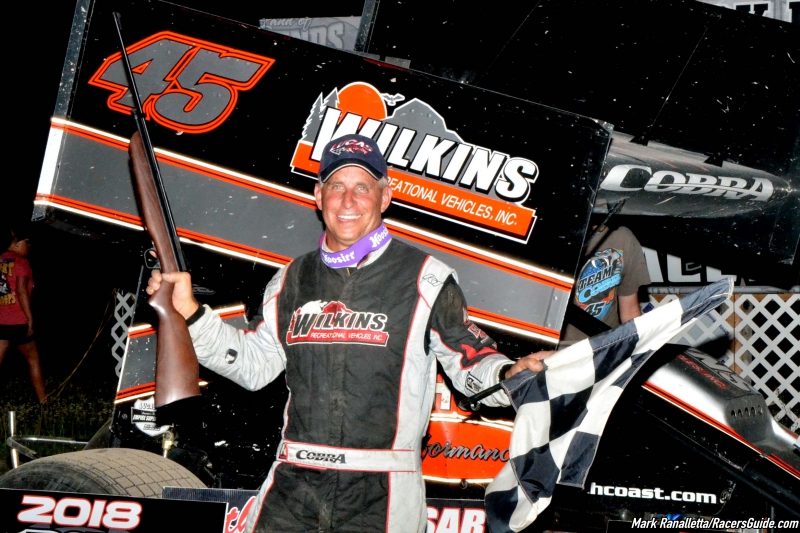 Following a one-year layoff from the series, the Modified main amounted to a customary clash between Super DIRTcar Series stars and hometrack heroes, with LOLR regulars holding down five of the top-six spots in series points entering the event. Johnson paid little attention to the pre-race hype, leaving fairgrounds faithful Matt Sheppard, Peter Britten, Billy Dunn, Max McLaughlin, Jimmy Phelps and Erick Rudolph in the dust from the drop of chief starter Dave Farney's initial green flag.
A left-rear flat tire on Kyle Coffey's mount incurred an early caution period on lap four yet when series follower Billy Whittaker stopped on the homestretch infield to force out a second yellow flag 40 laps later, older sibling Alan Johnson (15th) was the last driver scored on the lead lap as the 'Doctor' continued to operate on all cylinders.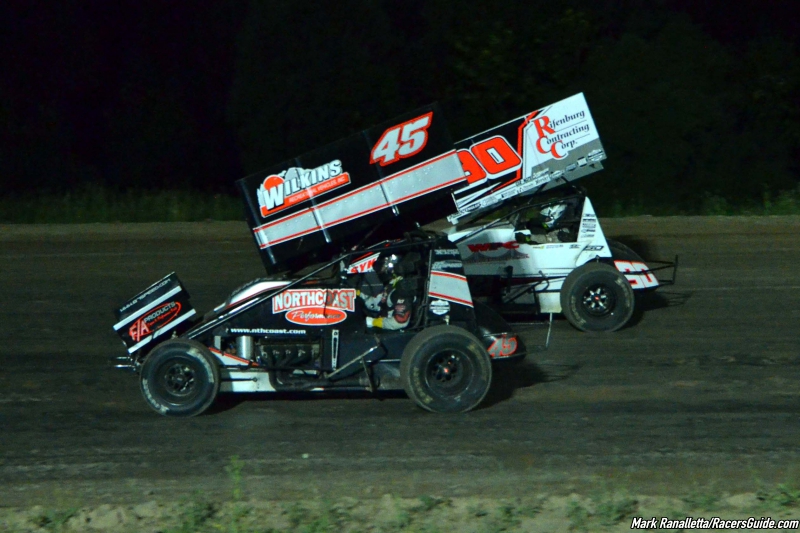 Young Canadian challenger Mat Williamson worked his way around Pat Ward for second on lap 17 while NASCAR Camping World Truck Series contender Stewart Friesen and Sheppard diced for third and fourth-place slots from lap 35 on. Sheppard finally secured the show position on the lap 56 restart following the caution for Whittaker and set his sights on the front-runners for the second half.
Johnson maintained his advantage throughout despite heavy traffic forcing the Rochester native to change his line as the laps dwindled. Williamson closed to within five car-lengths on a couple occasions yet held on for a 10-car deficit as the lead duo crossed the finish line. Sheppard was unable to defend his sacred home soil when the final checkered flag fell, settling for third ahead of weekly foe Britten. Friesen, Brett Hearn, Tim Fuller, Dunn, McLaughlin and Phelps completed the final top-10.
"We've come here for many years, what a place to do it," added Johnson, alluding to his landmark 600th career victory that his crew informed public address announcer Shane Andrews of in victory lane. "Its nice to have a great car like this, and it was definitely the car. Can't be any more happier with what we had tonight."
"The driver can only drive what he can drive, if the car ain't good it ain't good and I had an excellent car tonight. The middle (lane) was really good for me although a couple spots low in turns three and four were tough to get through. 100 laps was a long race, just glad to finally see it get over," added Johnson, a four-time points champion at LOLR, who won his first-ever Big-Block feature at Canandaigua in 1979 with the 80th added in July of 2013. His latest winning BRP car utilized a unique 'four-coil, short rear-end radius rods, left-side panhard bar' set-up that took advantage of Canandaigua's uncharacteristic black slick track conditions from top to bottom to get the job done.
Hauling east from across the border in St. Catharines, Ont., Williamson was content with a runner-up tally after participation in the show was an uncertainty earlier in the week.
"Picked up this motor on Tuesday, put it in yesterday (Wed.) but still weren't even going to come here, just didn't have it in the car the right way, the way we wanted, and it had some oil leaks," divulged Williamson, 28, with a pair of series wins to his credit at Merrittville (Ont.) Speedway (2015) and last year at the Charlotte (NC) Dirt Track in November. "We worked things out, finally got the motor in last night and the hard work paid off. Can't thank Doug (Holmes, engine builder at Finger Lakes Auto Machine, Auburn) enough for providing such a powerful piece."
"This place is just awesome, there are so many grooves to race on. Its smooth and slippery, not dusty … makes you wanna come back often."
"Danny's one hell of a race car driver, tough to beat a guy like that, he's got a lot of laps at this place and the guy (Sheppard) in third isn't too bad either. I'm pretty happy to be with both these guys here (podium) and happy we had a good car tonight. I know we're good enough to run with these (series) guys now, we have a good car with a good shock package. Still, I'll take a second to (Danny) any day," added Williamson, with 10 wins circuit-wide in 2018.
Himself currently the winningest driver in the Northeast with 19, Sheppard's third-place finish increased his SDS points lead while keeping the Waterloo driver atop Canandaigua's standings ahead of Phelps, Rudolph, Dunn and Justin Haers. He also garnered the overall Billy Whittaker Cars & Trux Fast Time award worth $100.
"Was a good night for us but Danny and Mat were really good, they were the class of the field by far," stated Sheppard, who turns 36 next week in quest of a fourth straight Super DIRTcar Series Championship. The second-generation standout has also claimed the past seven track titles at LOLR. "We were pretty darn good too, just ddin't have anything to run with them so its no big deal. We'll work on our car and program, and hopefully get a little better."
"Its a good start to a long week and a long weekend. The track was slick tonight and Utica is probably going to be the same on Sunday. Hopefully we can learn something from tonight that we can apply to Utica. We have a big weekend here so we'll just keep on rolling," added Sheppard, who has two SDS wins in 2018 at Cornwall (Ont.) Motors Speedway and Brewerton Speedway along with a non-point series victory at Volusia Speedway durig the Florida DIRTcar Nationals in February.
Super DIRTcar Series '18 journies east to Vernon, N.Y. for round six on Sunday, July 8 when Utica-Rome Speedway stages the Freedom Fighter 100. The tour continues Tuesday at Outlaw Speedway in nearby Dundee.
A two-time Empire Super Sprints points champion annually ranked among the area's top sprint car pilots, Hebing ran flawlessly from start to finsih as he bested a stellar field of 39 winged machines to garner his 35th career ESS victory.
Hebing placed third in the second of four heats, then followed up by selecting #1 in the traditional pre-race redraw among the top-12 preliminary race qualifiers. At the drop of the initial green, Hebing stormed ahead of his 25 trailers and never looked back despite a rare red flag producing the only slowdown.
"I've been going down to Pennsylvania playing on some heavy tracks, so this is my kind of surface," noted Hebing, while posing in the LOLR winner's circle beside his black no. 45 Wilkins RV-Cobra Motorcoaches & Homes/X-1 sprinter powered by a potent Roush-Yates Ford engine.
"I enjoy racing different places but not busting my butt so much. Saw Jason Barney (reigning ESS champ) got going on the bottom (May race) and when I see his #87 on the board I better make sure I test out the bottom. I tried out all the lanes tonight. Lapped cars are tough, they're just as fast as we are once you get rolling so it was a tough deal out there the whole race," added Hebing, who also has five Patriot Sprint Tour wins at Canandaigua and finished behind winner Barney and runner-up Bryan Howland in the May 5 event.
Hebing flew out to three-quarters of a straightaway lead after only five laps yet that margin suddenly vanished the next time around when Parker Evans and Steve Glover tangled in turn four to require the red flag. Glover got airborn and briefly tipped on his side atop Evans' car to force the early race stoppage with Hebing scored out front of Matt Tanner, Mark Smith, Chad Miller, Barney and seven-time ESS points king Steve Poirier.
The remaining 20 laps ran off caution-free with Hebing pulling away at will. The 'Cobra' built up a two-thirds straightaway advantage 10 laps in and hit traffic three circuits later. Eventual second-place finisher Tanner and Smith attracted just as much attention in their battle for runner-up laurels while Poirier ultimately slipped past Barney for fourth on lap 23.
Combined with his third-place finish in May, Hebing leads Barney, 120-116, in the LOLR 360 Sprint Classic Series point standings followed by Poirier (110), Joe Trenca (91) and Matt Billings (84). Hebing will be back for round #3 of the 360 Sprint Classic Series when ESS returns on Aug. 4, while the Patriot Sprint Tour show on Aug. 29 closes out the inaugural 4-race mini-series offering a $4,000 prize fund.
Thursday's sprint show was also the second event in the 5-race Donath Motor Worx CNY Speedweek. Danny Varin won the Tuesday opener at Can-Am Speedway while Brewerton Speedway(Fri), Fulton Speeday(Sat) and Utica-Rome Speedway(Sun) were scheduled to close out the 6th Annual speedfest.
The scariest accident of the night at LOLR unfolded when the no. 48A sprinter of Alysha Bay lost the left-front wheel heading down the frontstretch to begin the second B-Main. The 'safety yellow' Bay mount shot straight off the track between turns one and two, vaulting unhindered over the embankment and directly into the surrounding trees. No injuries were reported yet her father Darryl Ruggles' borrowed ride suffered severe front-end damage and the car needed to be loaded onto a flatbed to enable removal from the fairgrounds property.
The second half of the season continues at Land of Legends Raceway with the 'Saturday Spectacular' on July 7 featuring another fabulous five-star card of Pepsi Big-Block Modfied, Donath Motor Worx Sportsman, Mike Emhof Motorsports 305 Sprint, Big Dog Country Street Stock and New Legends Sportsman action. Race time is set for 7 p.m. on Scout Night presented by Pampered Parents with pit gates unlocking at 4:00, grandstand seating opening at 5 p.m. and hot laps getting underway at 6 o'clock.
Be sure to follow the point standings and breaking news online by visiting www.LandOfLegendsRaceway.com. Advance sale tickets are also available for purchase online throughout the final two months. Log into the website (LandOfLegendsRaceway.com), hit the red "Buy Tickets" button on the homepage, then make a selection from the list of dates & events highlighted.
Land of Legends Raceway is located at the Ontario County Fairgrounds, east of the city on Town Line Road (County Road 10), with easy access off either Exit 43 (Manchester, Route 21 South) or Exit 44 (Farmington, Route 332 South) of the New York State Thruway, just ½-hour southeast of Rochester.
Land of Legends Raceway Event Summary – July 5, 2018
Honeoye Auto Parts presents Super Spectacular
Super DIRTcar Series Race #5
Pepsi Big-Block Modified "Liberty 100"
*Feature (100 laps): 1. 27j-Danny Johnson($6,000), 2. 6-Mat Williamson, 3. 9s-Matt Sheppard, 4. 21a-Peter Britten, 5. 44-Stewart Friesen, 6. 20-Brett Hearn, 7. 19-Tim Fuller, 8. 3rs-Billy Dunn, 9. 6h-Max McLaughlin, 10. 98h-Jimmy Phelps, 11. 42p-Pat Ward, 12. 11j-James Sweeting, 13. 3-Justin Haers, 14. 91-Billy Decker, 15. 14j-Alan Johnson, 16. 8-Rich Scagliotta, 17. 96-Jean-Francois Corriveau, 18. 23-Kyle Coffey, 19. 77-Lance Dusett, 20. 22g-Gil Tegg Jr., 21. 21p-Derrick Podsiadlo, 22. 63-Adam Roberts, 23. 25-Erick Rudolph, 24. 5h-Chris Hile, 25. 109-Billy Whittaker, 26. 48too-Dave Rauscher, 27. 7x-Steve Paine, 28. 34-Andrew Ferguson, 29. 12-Brian Sage, 30. r2-Rusty Smith.
Heats (8 laps/5 qualify)
#1: Dunn, Sheppard, McLaughlin, Decker, Haers, Dusett, Corriveau, Rauscher, Brachmann(DNS).
#2: D.Johnson, Phelps, Paine, Sweeting, Podsiadlo, Roberts, Whittaker, Daugherty, Wright.
#3: Williamson, Friesen, Ward, A.Johnson, Britten, Coffey, Tegg, Smith, Maier(DNS).
#4: Hearn, Rudolph, Fuller, Ferguson, Scagliotta, Hile, Tittle, Sage.
Consolation (10 laps/6 qualify)
#1: Roberts, Dusett, Hile, Coffey, Whittaker, Tegg, Corriveau, Rauscher, Tittle, Daugherty, Sage, Maier, Smith, Wright(DNS), Brachmann(DNS).
Provisionals: Rauscher, Corriveau, Smith, Sage.
Group Time Trials (35 cars)
#1: Matt Sheppard 18.382sec. (97.922mph), Billy Dunn 18.680, Max McLaughlin 18.725, Justin Haers 18.917, Billy Decker 19.053, Dave Rauscher 19.056, Lance Dusett 19.455, Jean-Francois Corriveau 19.952, Chad Brachmann (-NT-).
#2: Danny Johnson 18.670 (96.411 mph), Steve Paine 18.819, Jimmy Phelps 18.897, Derrick Podsiadlo 18.934, James Sweeting 18.950, Justin Wright 18.987, Adam Roberts 19.076, Billy Whittaker 19.117, Jeff Daugherty(-NT-).
#3: Stewart Friesen 18.741 (96.046 mph), Mat Williamson 19.002, Alan Johnson 19.034, Peter Britten 19.048, Kyle Coffey 19.171, Pat Ward 19.228, Gil Tegg Jr. 19.799, Rusty Smith 19.970, Jimmy Maier 20.143.
#4: Brett Hearn 18.846 (95.511 mph), Tim Fuller 18.904, Erick Rudolph 18.915, Andrew Ferguson 19.399, Brian Sage 19.491, Rich Scagliotta 19.512, Butch Tittle 19.593, Chris Hile 19.736.
DNQ: Z-Butch Tittle, 3b-Chad Brachmann, 19w-Justin Wright, 22-Jeff Daugherty, 31m-Jimmy Maier.
360 Sprint Classic Series Race #2
Donath Motor Worx CNY Speedweek
Lucas Oil Empire Super Sprints
*A-Main (25 laps): 1. 45-Chuck Hebing ($2,500), 2. 90-Matt Tanner, 3. 55-Mark Smith, 4. 28fm-Steve Poirier, 5. 87-Jason Barney, 6. 988-Joe Trenca, 7. 88c-Chad Miller, 8. 00-Danny Varin, 9. 33m-Mike Mahaney, 10. 9-Josh Pieniazek, 11. 36-Matt Billings, 12. 56-Billy VanInwegen, 13. 10c-Paulie Colagiovanni, 14. 22-Jonathan Preston, 15. 14-Coleman Gulick, 16. 10-Jeff Cook, 17. 53-Shawn Donath, 18. 91-Scott Holcomb, 19. 197-Ryan Harrison, 20. 82-Jared Zimbardi, 21. 123-Yan Bilodeau, 22. 14b-Brett Wright, 23. 2-Dave Axton, 24. 121-Steve Glover, 25. 7x-Dan Douville, 26. 61-Parker Evans.
Heats (10 laps/5 qualify)
#1: Colagiovanni, Miller, Gulick, Donath, Douville, Holcomb, Flint, Axton, Azzi, Susice.
#2: Smith, Varin, C.Hebing, Cook, Mahaney, B.VanInwegen, Evans, Juliano, E.VanInwegen, Bennett.
#3: Barney, Preston, Tanner, Wright, Billings, Bilodeau, Kinney, Peebles, Hutchinson, Ruggles.
#4: Poirier, Pieniazek, Trenca, Harrison, Glover, Bay, Zimbardi, K.Hebing, Durand.
B-Main (10 laps/2 qualify)
#1: Evans, Holcomb, B.VanInwegen, Flint, Axton, Susice, Azzi, Bennett, E.VanInwegen, Juliano.
#2: Bilodeau, Zimbardi, Ruggles, K.Hebing, Peebles, Hutchinson, Durand, Kinney, Bay.
Provisionals: B.VanInwegen, Axton.
Robert Finley Sr. Memorial Dash (4 laps): Donath, Harrison, Wright, Cook.
DNQ: X-Dan Bennett, 1j-Derrick Juliano, 2h-Steve Hutchinson Jr.,3-Denny Peebles, 10h-Kelly Hebing, 17z-Josh Azzi, 18-Ryan Susice, 19k-Paul Kinney, 41j-Josh Flint, 48a-Alysha Bay, 48jr.-Darryl Ruggles, 56d-Emily VanInwegen, 76sd-Sean Durand.
NEXT EVENT: Saturday Spectacular, July 7 @ 7pm; Pampered Parents presents Big-Block Modified/Sportsman/305 Sprint/Street Stock/New Legends Sportsman on Scout Night.
Track Instant Info
Website: www.LandOfLegendsRaceway.com
E-Mail: info@LandOfLegendsRaceway.com
Twitter: @LandofLegendsNY
Facebook: @LandofLegendsNY
Instagram: @LandofLegendsNY
Land of Legends Raceway is proud to salute several sponsors and corporate partners that continue to help bring its fans the best Saturday night racing show in the Northeast. Listed alphabetically are division sponsors Big Dog Country 103.5FM Radio, Donath Motor Worx, Mike Emhof Motorsports, Pepsi/Geneva Club Beverage; event sponsors Admar Construction Equipment & Supply Company, A-Verdi Storage Containers, Daldry Canvas, Geneva Club Beverage/Mountain Dew, Honeoye Auto Parts/Auto Value, L&L Transmission & Towing, Pampered Parents, Phelps Cement Products, Pilat Graphic Design, Proctor Enterprises, Product 9, Tradition Automotive Group; promotional partners Champion Power Equipment, D.C. Rauscher Inc., Dig Safely New York 811, Hoosier Racing Tire, Ontario County Fairboard, Sherwin-Williams Paint Stores, Star Headlight & Lantern Co., VP Racing Fuels.