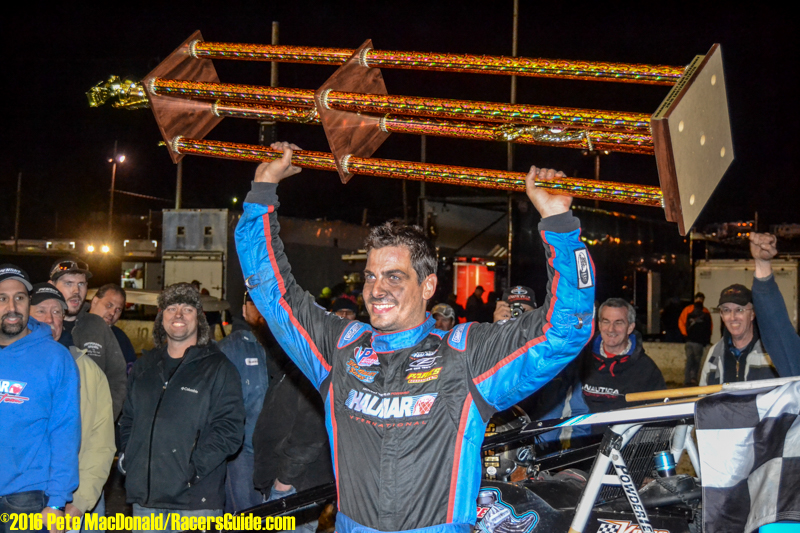 Friesen Finally Wins The One That Got Away at Eastern States
Story & Photos By: Pete MacDonald/RacersGuide.com
In 2010 just a couple of weeks fresh off of winning his first Super DIRT Week 200-lapper at the NYS Fairgrounds, Stewart Friesen looked like he was well on his way to his first Eastern States 200 win at the Orange County Fair Speedway in Middletown, NY. Unfortunately a scoring error on a late race restart prohibited Friesen from winning one of the "Crown Jewels" in northeast Dirt Modified racing.
Fast forward to 2016.
Friesen set fast time on Friday over probably the best driver OCFS has ever seen in Brett Hearn. The Sprakers, NY resident led the first 89 laps of the 200 lap affair before pulling in to make his mandatory pit stop in which him and his Eric Mack led team decided to take two tires giving up track position for fresher rubber at the time.
As the race went on it seemed that Friesen could pass cars at will coming back through the field while Hearn who had only taken fuel on his pit stop on Lap-34 continued to lead the way after everyone else had made their mandatory stop.
The red flag would come unfurled on Lap-180 when Chris Shultz took a nasty ride down the front stretch knocking over one of the concrete dividers that separates pit wall from the racing surface. Shultz would eventually land on his side on pit wall heading into Turn 1 before climbing out much to the applause of the crowd that was on hand.
Then as the field was coming down for a restart on Lap 183 Friesen's race looked like it might have been over as his right rear went soft coming down the front stretch, after apparently running something over on the surface.
"We played out a good strategy we were going to wait until half way to pit, everything was working out perfect and when we got back to second there and under the red I peeked my head out to look at the right rear and the tire looked good and we must have cut it down after that. I kind of thought our day was over with there but we put a new Hoosier and Vahlco Wheel there and let her eat coming back through and we had enough", said Friesen post-race.
Friesen would then put on a charge after restarting 18th with 17 laps to go picking off cars one-by-one as the laps clicked off. Yellow flags surely helped as well due to the last 20 laps have to be run under green flag conditions.
The last 10 laps would be outstanding as Friesen would now be back up to third passing Anthony Perrego for second on Lap 194 setting his sights on the leader Hearn. Friesen would gain roughly a car length a lap on Hearn as the laps winded down on the 5/8ths mile hard clay. When the white flag flew Friesen had caught Hearn getting even with him down the backstretch and to his inside entering turn three. I'm not sure if Hearn and Friesen made contact or if Brett had a tire going down but as they came off of the fourth turn to get the checkers Friesen would be out in front taking home the $35,000 winners share of over a $100,000 Big-Block Modified purse. Anthony Perrego would sneak by Hearn for second while Rick Laubach and Dominick Buffalino rounded out the Top-5.
"I was just trying to run fast and consistent laps there, I knew his tire was about smoked from when I was running second the first time so he was on thin ice and it just worked out good being able to fill that hole entering turn three and I just cant thank everyone that helps us out", spoke Friesen while being mobbed in Victory Lane by well wishers.
"Finally! This is probably the hardest race to win because anything can happen, everything does happen and it feels darn good to get it", replied Friesen after being asked about what happened in 2010.
I can be reached at racersguide@gmail.com or found on Twitter @PMacDonald51! Thanks for reading!