NAPA AUTO PARTS NIGHT ON THE HILL;  DUANE HOWARD TOPS GRANDVIEW MODS; EASTERN STORM ROLLS ONTO LINCOLN SPEEDWAY WEDNESDAY NIGHT, JUNE 14
Story By: BOB MILLER / TOTH SERIE MEDIA
Photos By: DAN DEMARCO & PAUL ARCH / RACERSGUIDE.COM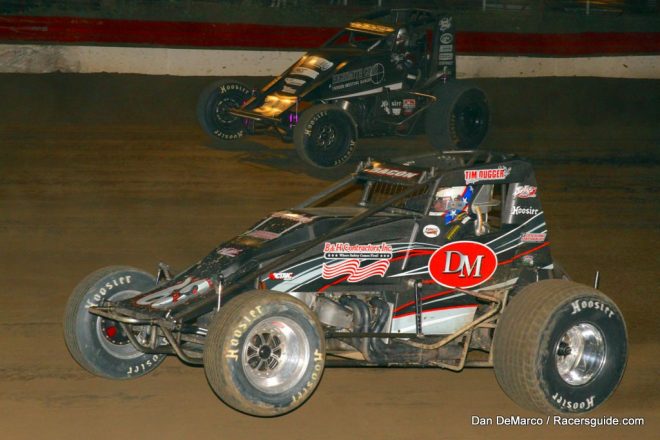 BECHTELSVILLE, PA – JUNE 14, 2017 – It was a hot NAPA Auto Parts Thunder on the Hill Racing Series night at Grandview Speedway and a packed house witnessed Broken Arrow, Oklahoma's Brady Bacon collecting the USAC AMSOIL National Sprint Car Series win, claiming the $6,000 to win Jesse Hockett Classic.    Oley, PA's Duane Howard claimed the win in the 30 lap $3,000 to win NASCAR 358 Modified feature, an event presented by Pioneer Pole Buildings.
This year's Jesse Hockett Classic marked Bacon's 18th career USAC AMSOIL National Sprint Car Series and his first NAPA Auto Parts Thunder on the Hill Racing Series win.  A field of thirty-two USAC sprints cars and thirty-two 358 Modifieds took part in the program.   Even with extremely warm temperatures and a 50% chance of rain, the show did go on.
Greenfield, IN's CJ Leary charged from the top starting spot battling with current USAC AMSOIL National Sprint Car Series Point Leader, Justin Grant.  Leary and Grant pulled away from the 23-car starting field gaining a sizable advantage before a lap 7 yellow.
Leary maintained control on the restart, with Grant hot on his heels and Chad Boespflug close for third.  But as the leaders pulled away from the pack, a three-car battle for fourth-place ensued as Bacon challenged Dave Darland and Kevin Thomas, Jr.
Just prior to half-way a turn-1 flip ended Carlisle, PA's Chandler Leiby run.  The red flag for Leiby, and an incident grandstand side halted the action for a lengthy period of time.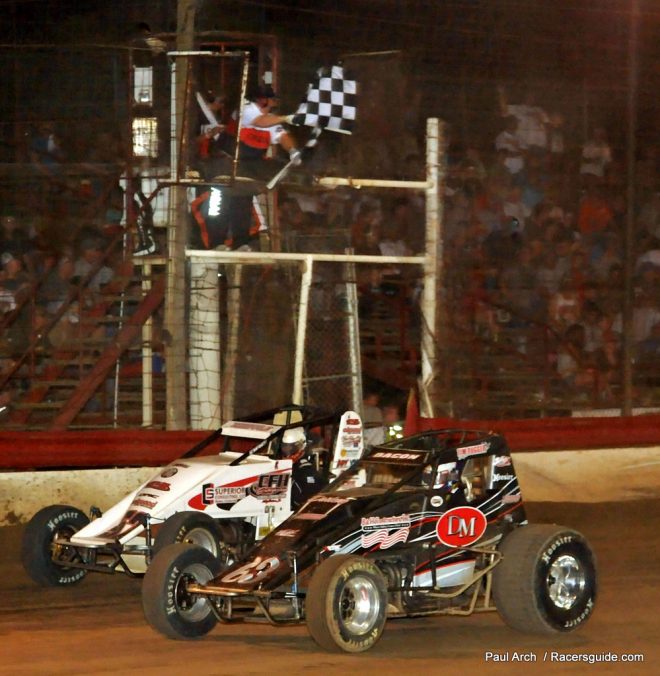 The open red, allowed crews to adjust their cars moving furiously around the open-wheel beasts and preparing for the second half of the feature event.
On the restart, Leary held the top spot, but all eyes were on Brady Bacon.  Bacon charged three-wide with Grant and Kevin Thomas, Jr.
Bacon overtook Leary holding the inside line on lap 24 but Leary held on rim-riding the top side.  Bacon charged alongside Leary as the two diced side-by-side for nearly 10 laps.  Leary overtook Bacon with four-laps remaining, but an altercation with a lapped car slowed Leary and gave Bacon the opportunity to pounce forward for the $6,000 victory.  Leary settled for second, Chris Windom finished in a hard-fought third place, Kevin Thomas Jr. came home in fourth and Justin Grant finished fifth.
The Eastern Storm continues on Wednesday at the Lincoln Speedway featuring the USAC Non-wing sprints cars and the 358 wing sprint cars.  Gates open at 5 PM with race time set for 7:30 PM.
Oley, PA's Duane Howard claimed his 10th Thunder on the Hill Racing Series win leading the Norm's Save Station No. 357 to the checkered flag in the non-stop 30-lap 358 Modified feature event.
Mike Gular quickly took the lead from his front row starting position and battled back-and-forth with John Willman.  Howard moved into the second-position on lap nine with Craig VonDohren and Jeff Strunk quickly on his tail.
The leaders hit lapped traffic on the 14th circuit, and Howard closed quickly on Gular as VonDohren hammerd the cushion around the top side.  Howard's No. 357 slipped inside Gular with 10-laps remaining and VonDohren followed closely winding up the top side of the 1/3-mile oval.
Howard held on for the win, VonDohren came home second, Gular third, Jeff Strunk in the fourth position and Ryan Godown rounded out the top five finishers.
The NAPA Auto Parts Thunder on the Hill Racing Series returns to action on Tuesday, July 4 for Pennsylvania Sprint Car Speedweek.  The 410 Sprint Cars compete in a double header with the NASCAR 358 Modifieds. Gates open at 4 PM with race time set for 7:30 PM.
For more information visit www.thunderonthehillracingseries.com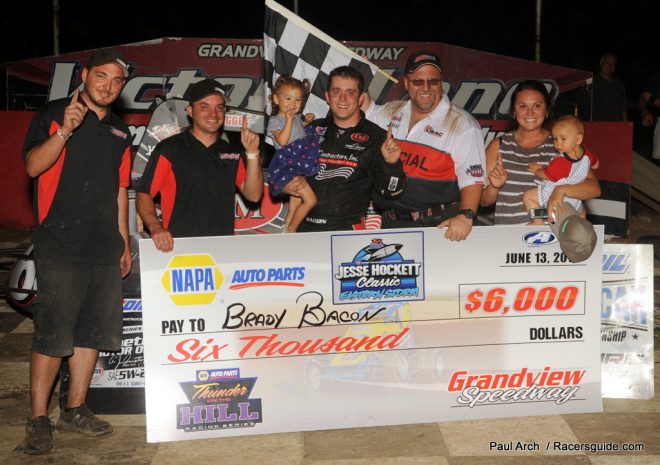 AMSOIL USAC Time Trials:
Chase Stockon – 13.830 2. Brady Bacon – 13.854 3. Kevin Thomas Jr. – 13.871  4. Kyle Moody – 13.892  5. Thomas Meseraull – 13.893  6. Jarrett Andretti – 13.905  7. Robert Ballou – 13.978  8. Dave Darland – 13.993  9. Justin Grant – 14.062  10. Trevor Kobylarz – 14.100  11. Tony DiMattia – 14.106  12. Kyle Robbins – 14.141  13. Jerry Coons, Jr. – 14.148  14. Chris Windom – 14.153  15. Isaac Chapple – 14.182  16. Alex Bright – 14.196  17. Chad Boespflug – 14.210  18. Aaron Farney – 14.217  19. Joey Biasi – 14.228  20. Tyler Courtney – 14.241  21. C.J. Leary – 14.266  22. Carmen Perigo – 14.365  23. Matt Westfall – 14.419 24. Chandley Leiby – 14.530  25. Shane Golobic – 14.531  26. Danny Dietrich – 14.596  27. Dustin Smith – 14.653  28. Austin Burke – 15.095  29. Kyle Lick – 15.219  30. Chad Wilson – 15.234  31. Steve Wilbur – 15.248  32. Trey Hivner – 15.691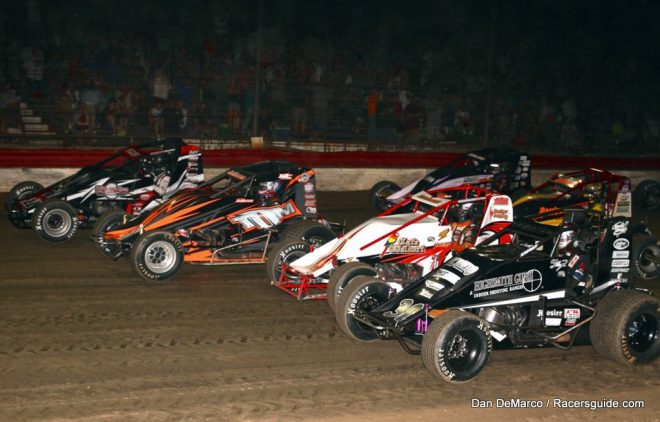 Heat 1 (8 Laps) – 1. Isaac Chapple  2. Chandler Leiby  3. Chad Boespflug  4. Tony DiMattia
Heat 2 (8 Laps) – 1. Tyler Courtney  2. Alex Bright  3. Justin Grant  4. Jarrett Andretti
Heat 3 (8 Laps) – 1. Aaron Farney  2. Matt Westfall  3. CJ Leary  4. Kevin Thomas, Jr.
Heat 4 (8 Laps) – 1. Chris Windom  2. Dave Darland  Joey Biasi  4. Trevor Kobylarz
B-Main (12 Laps) – 1. Chase Stockon  2. Robert Ballou  3. Brady Bacon  4. Thomas Meseraull  5. Kyle Robbins  6. Jerry Coons, Jr.
A-Main (40 Laps) – 1. Brady Bacon  2. CJ Leary  3. Chris Windom  4. Kevin Thomas, Jr.  5. Justin Grant  6. Robert Ballou  7. Chase Stockon  8. Jerry Coons, Jr.  9. Tyler Courtney  10. Jarrett Andretti  11. Matt Westfall  12. Aaron Farney  13. Thomas Meseraull  14. Alex Bright  15. Kyle Robbins  16. Dave Darland  17. Chad Boespflug  18. Isaac Chapple  19. Tony DiMattia  20. Trevor Kobylarz  21. Chandler Leiby  22. Joey Biasi
358 Modifieds
Heat 1 (10 Laps) – 1. Craig VonDohren  2. Duane Howard  3. Doug Manmiller  4. Jeff Strunk  5. Danny Erb  6. Ryan Beltz
Heat 2 (10 Laps) – 1. Brett Kressley  2. Rick Laubach  3. Danny Bouc  4. Frank Cozze  5. Ryan Godown  6. Blaine Bracelin
Heat 3 (10 Laps) – 1. Kenny Gilmore  2. John Willman  3. Mike Gular  4. Ryan Watt  5. Chris Esposito  6. Jared Umbenhauer
CONSOLATION:  (10 Laps) – 1. Kyle Borror  2. Brian Hirthler  3. Ryan Grim  4. Brandon Grosso  5. Clay Butler  6. Mark Kratz
Feature (30 Laps) – 1. Duane Howard  2. Craig VonDohren  3. Mike Gular  4. Jeff Strunk  5. Ryan Godown  6. Doug Manmiller  7. Kenny Gilmore  8. Rick Laubach  9. John Willman  10. Danny Bouc  11. Danny Erb  12. Brett Kressley  13. Kyle Borror  14. Frank Cozze  15. Ryan Watt  16. Chris Esposito  17. Jared Umbenhauer  18. Brandon Grosso  19. Ryan Grim  20. Clay Butler  21. Brian Hirthler  22. Ryan Beltz  23. Blaine Bracelin  24. Mark Kratz
2017 Thunder Racing Series  Schedule:
Pennsylvania Sprint Car Speed Week – Tuesday, July 4 7:30 PM – 410 Sprint Cars & 358 Modifieds*
3rd Annual Thunder Cup Arctic Cat All-Star Circuit of Champions – Thursday, August 17 7:30 PM – 410 Sprint Cars & Sportsman    SMOKE ON THE HILL . . . .  410 Sprint car entries  Tony Stewart and Rico Abreu