[xyz-ihs snippet="Posts-Ad"]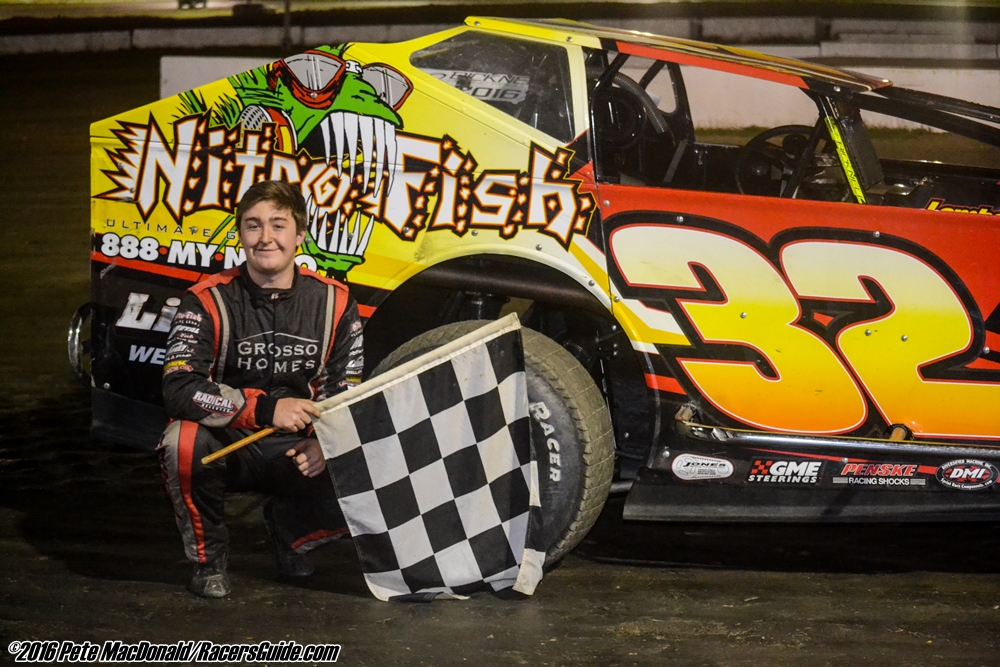 Young Brandon Grosso Seeks Three Championships This Season
Story By: Fred Hahn/RacersGuide.com – Photos By: Harry Meeks & Pete MacDonald/RacersGuide.com
Not long ago Brandon Grosso, the son of former Modified racer Rick Grosso, was winning in the Quarter Midget ranks. Now at just the age of 16, Brandon has already won his first Sportsman championship two weeks ago at the Big Diamond Speedway in Minersville, PA. Now this young star has his eyes set on both the Crate Modified and Sportsman championships at New Egypt Speedway located in Plumstead Township, NJ.
For Brandon, New Egypt is not just another Speedway but the same speedway his father and grandfather built. In 1998, the Grosso family opened NJ's newest, and last, oval track built on the former site of the famed 1/3 mile paved Fort Dix Speedway of the 1950's, later known as New Egypt Speedway and Central Jersey Speedway.
Last year Brandon was also dabbling in the SpeedSTR midget class out at the Kutztown Pennyslvania Fairgrounds racing at the Action Track USA. However, towards the end of last season, Brandon decided to focus solely on the Crate Modified and Sportsman divisions. That decision paid off as Brandon started to rack up the wins at tracks like Georgetown, Big Diamond, Bridgeport and of course New Egypt Speedways. Then to start the 2016 season, Brandon won three out of four races at Big Diamond. Brandon also quickly grabbed wins at New Egypt, to put himself into title contention in two different classes going into their final point show.
Many fans and racers alike feel that Brandon is the next "real deal," and anticipate a move up into the Modified ranks to compete against the best racers around. If fact, when asked about how this season has gone, Brandon stated; "Better than I expected. We currently have a Modified 358 being built that will be raced next year."
As many predicted, Brandon seems poised to start tackling the 358 Modified racing ranks. Whether Brandon pulls off the trifecta or not, many veteran drivers would love to have the season that this 16-year-old has put together for himself. This young rising star's future sure is bright, as not many drivers today can claim the early success this Montgomery, NJ resident has had in just two seasons of racing "big cars" in the NJ area.
For those NJ racing fans that may have cut back on racing as of late, or have had their favorite driver retire, now is the perfect time to get back out to the track and cheer on tomorrow's stars like Brandon Grosso. There is no better time than good old fashioned "Championship Night" racing to enjoy some of the best racing around.
[xyz-ihs snippet="Posts-Ad"]