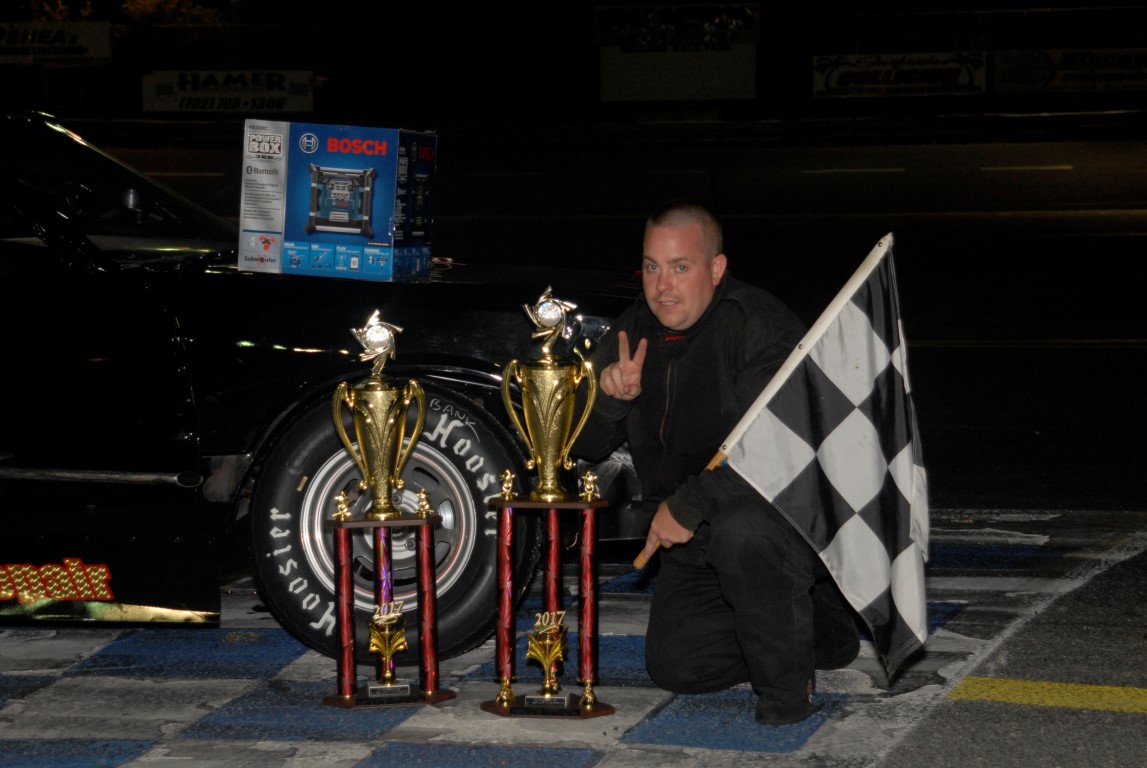 WOHL WINS FACTORY STOCK 50 AT WALL STADIUM SATURDAY
Story By: Jeff Gravatt/Wall Stadium Speedway
Photos By: John John Lane/RacersGuide.com


WALL TOWNSHIP, N.J. ~ Elliott Wohl made his second win of the year a big one as he topped the 50-lap championship race for O'Shea's Auto Repair Factory Stock cars at Wall Stadium Speedway Saturday night. The race, sponsored by Montano Motorsports, was contested to honor the memory of 1st Lieutenant Ronald Winchester who lost his life serving our nation in Iraq in 2014.
Starting near the front in a field started straight up from time trial qualifying the Beachwood resident needed just a few laps to race past pole sitter Whitey Miller of Jamesburg for the lead. From that point on Wohl held his ground despite a few cautions for minor incidents.
As Wohl led the way the race for second was hotly contested as Miller, Mike Montano of Fort Myers, Fla., Eatontown's Ron Booth and Union's Joey Helberg all ran in the runner-up spot before Manchester's Scott Riggleman finally nailed it down. Helberg, Montano and Miller wrapped up the official top five.
"Qualifying well was important tonight," Wohl said after the win. "Once the race got started I got out front quickly. That was a big key. Near the end of the race some lights started coming on on the dash. This was a long race for this car."
In a Factory Stock 25-lapper rain postponed at lap eight the previous week Montano raced to his first ever victory. Picking up the race on the eighth lap Montano was the leader and fought off Wohl all the way to the checker. Booth, Riggleman and Wall's Bob Haberstick completed the top five.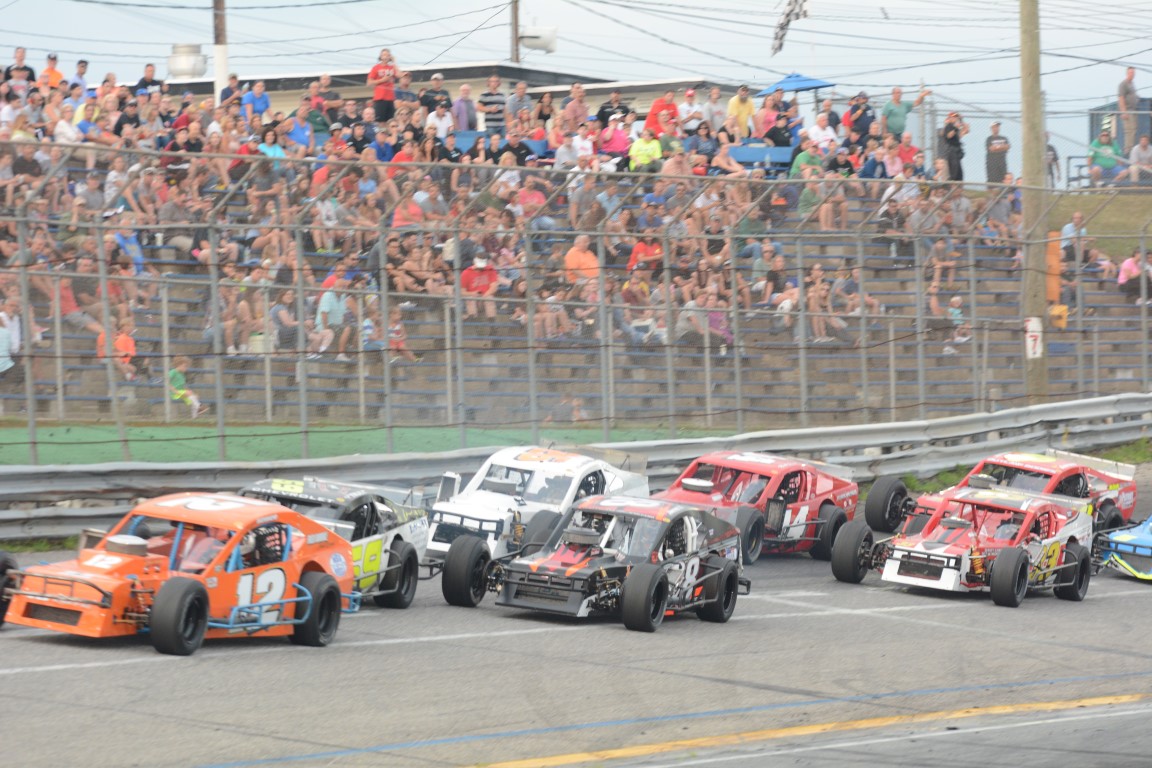 Taking the lead early and then fighting off the competition rookie driver Kyle Scisco of Jackson raced to his second straight 25-lap Snap On Sportsman stock car win. As in his first win of the year one week earlier Scisco fought off Tyler Truex of Mayetta. Defending champion Kevin Davison of Howell, rookie Carsten DiGiantomasso of Jackson and Nick Shaw of Warren wrapped up the top five.
Fred Cannock of Port Monmouth raced through the pack and into the lead in the closing laps to win the 25-lapper for the Surfside Collision Factory Stocks. Wall's TJ Graves, Brian Osborn of Howell, Frank Ciancitto of Brick and Jackson's JD Duvall were the top five.
Defending Green Flag Driving Experience champion Louie Keraitis of Toms River won the 25-lapper for the Legend Cars passing Howell's Robert French in the closing laps. Peter Bruno of Little Silver, Danny Doyle and Brick's Roger Nickerson were third through fifth.
Point leader Cole Ormsbee of Wall won his second 25-lapper for the Elite Maintenance Limited Late Models on Saturday. Brian Doyle of Ronkonkoma, N.Y. was a hard charging second with Greg Miranda of Hazlet, Bayville's Mike Tillett and Harry Schaeffer wrapping up the top five.
Rob Lane was a winner in a special 4 cylinder Demolition Derby while Norm Lane won the 8 cylinder car event.
Racing returns this Saturday night. The July 22 Saturday night card will feature the Freehold Ford Modifieds in a 40-lap main event and Legend Cars in Twin 25-lappers. Sportsman cars and the 4 Cylinder Stocks will also race in 25-lappers. Grandstands open at 5:00 p.m., qualifying starts at 5:45 p.m. and main event action starts at 7:00 p.m.
More information on Wall Stadium and the 2017 Saturday night schedule can be obtained by visiting the website at wallspeedwayracing.com.
Wall Stadium is located on Route 34 in Wall Township, N.J., just one mile north of Garden State Parkway exit 98 and Interstate 195 exit 35B. The speedway hotline number is 732-681-6400 and email address is CKMotorsports@aol.com.
– THE END –
RACE RESULTS
FACTORY STOCK FEATURE – 50 Laps – 1. ELLIOTT WOHL, BEACHWOOD, 2. Scott Riggleman, 3. Joey Helberg, 4. Mike Montano, 5. Whitey Miller, 6. Ron Booth, 7. Gerry Koenig, 8. Steve West, 9. John Bowers, 10. Bryan O'Shea, 11. Tom Rajkowski, 12. Tim Majek, 13. Waylon Speer, 14. Nancy Riggleman, 15. Richie Byrne, 16. Tim O'Shea, 17. Matt Badessa, 18. Rob Haberstick, 19. John Carpenter, 20. Theresa Collins
FACTORY STOCK FEATURE – 25 Laps – (rain postponed) – 1. MIKE MONTANO, FORT MYERS, FLA., 2. Wohl, 3. Booth, 4. Scott Riggleman, 5. Haberstick, 6. Helberg, 7. Bryan O'Shea, 8. Rajkowski, 9. Tony Bartone, 10. Collins, 11. Nancy Riggleman, 12. Bowers, 13. Carpenter, 14. Byrne
SPORTSMAN FEATURE – 25 Laps – 1. KYLE SCISCO, JACKSON, 2. Tyler Truex, 3. Kevin Davison, 4. Carsten DiGiantomasso, 5. Nick Shaw, 6. Mike Carr, 7. Roland DeMartino, 8. Jake Nelke, 9. Matt Langbein, 10. Mike Tidaback, 11. Joe Cocca, 12. Eric Lane, 13. Jarrett DiGiantomasso, 14. Todd Dige, 15. Robby Walton, DQ Rob Silver
4 CYLINDER STOCK FEATURE – 25 Laps – 1. FRED CANNOCK, PORT MONMOUTH, 2. TJ Graves, 3. Brian Osborn, 4. Frank Ciancitto, 5. JC Duvall, 6. Darren Burdge, 7. Jay Conrad, 8. Jeff Loesch, 9. Bruce McLaren, 10. Chris Silvestri, 11. Richard Smith, 12. Joe Barbaria, 13. Bill Schwaz, 14. Jennifer Schultz, 15. Heidi Shaw, 16. Nicole Razzano
LEGEND CARS FEATURE – 25 Laps – 1. LOUIE KERAITIS, TOMS RIVER, 2. Robert French, 3. Peter Bruno, 4. Danny Doyle, 5. Roger Nickerson, 6. Jim Van Wickle, 7. Tom Stavola, 8. Nick Van Wickle
LIMITED LATE MODEL FEATURE – 25 Laps – 1. COLE ORMSBEE, WALL, 2. Brian Doyle, 3. Greg Miranda, 4. Mike Tillett, 5. Harry Schaeffer, 6. Bill Vanderveen, 7. Jim Moorman, 8. Brian Russell