HBR Switches from Troyer to Teo Saturday Night at the Fulton Speedway; Battles Mechanical Issues During Modified Feature
Story and Photos By: MATT NOLES / RACERSGUIDE.COM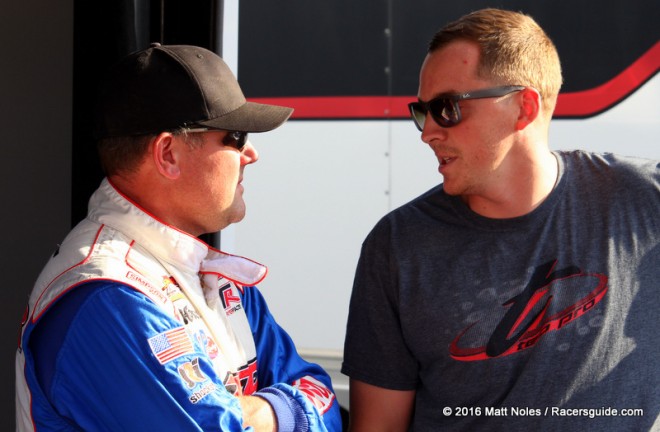 SPRAKERS, NY- August 1, 2016- Winston Churchill once surmised that in order to improve, one must be willing to change.
After being synonymous with Troyer Race Cars for as long as can be remembered, HBR and their franchise driver, Jimmy Phelps, unloaded a new Teo Pro Car Saturday night at the Fulton Speedway much to the disbelief of the dirt modified community.
Though the announcement came earlier in the week, there were certainly more than a few skeptics given the amount of history and success between HBR and Troyer. All questions were answered and all doubts were erased the moment the hauler of the familiar No. 98H arrived on Saturday evening. As they say, seeing is believing.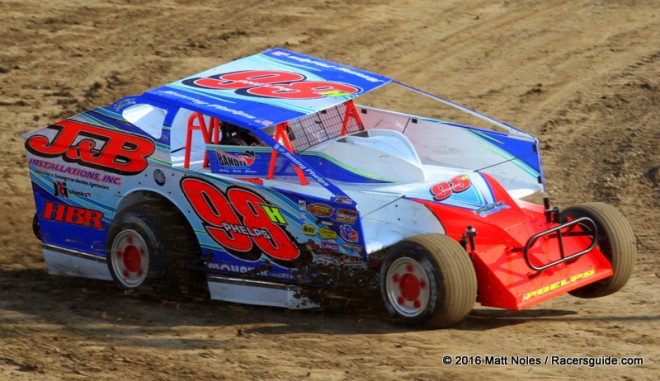 With rumors of the reason behind the change running rampant throughout the pit area, Phelps didn't allude to any hard feelings between the two organizations. "We're looking to try to get better," stated Phelps after the modified feature on Saturday night. "We just felt that there were some things that we needed to improve upon and we felt that we needed to head in a different direction to get to where we want to be."
With a hotly contested point battle with Larry Wight at both the Brewerton and Fulton Speedways, most drivers would think twice about completely changing their programs with the end of the season in sight. Phelps, as he often comes across, doesn't seem to be too terribly concerned.
"It's tough to do anything midseason really," He continued. "But the fact that we're in a title hunt doesn't even really come into play that much because obviously our goal is to try to get better everywhere and if it hurts us a little bit we'll rebound one way or the other; it's all about learning."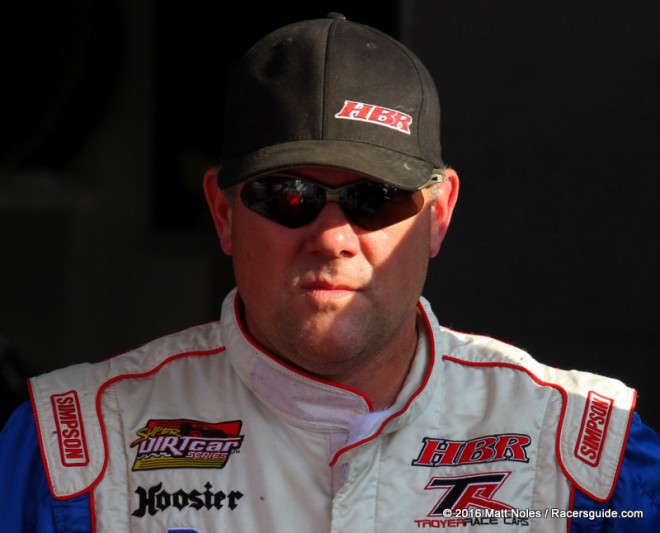 Expectations seemed to fall short for the HBR team with a 12th place finish at the conclusion of the 35-lap modified feature on Saturday night. "We had a bit of a rough night tonight," stated Phelps. "We had some mechanical issues that really kept us from performing well so it's tough to say where we're at with this new car. We fought a few problems tonight that would've hurt us no matter which chassis we had."
With an open mind, and a full week of racing ahead with two Super DIRTcar Series events on Monday and Tuesday, Phelps is keeping his options open and not committing to one chassis or the other at this time. "I don't know what we're going to run for the rest of the year honestly," remarked Phelps. "We have an open mind right now and for the first time in a long time, we have a lot of options. We'll have to see what's working and what isn't and that's what we'll unload."
For the time being, all efforts are being focused on preparing for the next two Super DIRTcar Series stops at Merrittville and Ransomville. "We're keeping an open mind and keeping our options open," concluded Phelps. "For now, we're just going to head back to the shop, do our homework and prepare for Monday and Tuesday. We'll see how it all goes."
Matt Noles is a contributing writer for Racers Guide and Dirt Track Digest. He currently resides in Sprakers, New York and can be reached via e-mail at matt_noles@yahoo.com.