Watson Scores One For The Delaware Destroyers; Picks Up Win In Front Of Huge Hometown Crowd
By: Pete MacDonald
I took my first trip to Georgetown Speedway since 2009 on Tuesday night for the Short Track Super Series South Beach Blast. It was nice to see that the place hasn't changed a bit, it still has that old school feel to it, much like Delaware International Speedway which is right down the road.
34 Modifieds, 19 Crate Sportsman, 20 Super Trucks and 12 Chargers entered the evening's festivities. For those who don't know what a Super Truck is in the state of Delaware it's pretty much a 4 Cylinder Ford Ranger with a roll cage in it and they put on the best show of the night.
Was nice to see Modified drivers represented from six different states on Tuesday (Massachusetts, New York, New Jersey, Pennsylvania, Delaware and Maryland). 12 of the 25 drivers in Tuesday's feature represented the First State.
Nine drivers came into Tuesday with a legit chance at the SSTS South Title. Among the title contenders, David VanHorn(who entered the night with the point lead) appeared to break a motor while running in the top five, Billy Pauch Jr. pulled off with overheating issues , Rick Laubach who broke a motor in his Gary Spotts owned 91 after hot laps and was forced to run Brian Kressley's 19b, Craig VonDohren who slowed up high in turn four with a broken axle, and Jamie Mills to pulled off rather rapidly while leading.
Leading the Modified feature was by far not the place to be on Tuesday night. Neal Williams jumped out the lead in the RacersGuide.com number 323 until Jamie Mills motored his way past on lap three. Mills would abruptly pull off the race track on lap six handing the lead back to Williams. Williams would continue to lead and  appeared to be have the car to beat until the caution came out for David VanHorn who broke a motor. On the ensuing restart I noticed the motor in Williams' car start to break up slowing him down. For a while though it seemed that the motor breaking up was actually helping Williams run the bottom a lot better than he had before. Finally the MSD box in the 323 quit working and Williams relegated the lead to eventual winner Jordan Watson.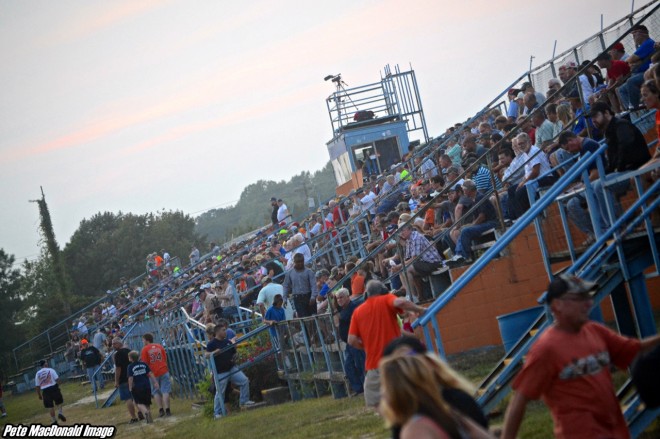 Watson's win was worth $5,280.
A huge crowd was in attendance, those people down in Delaware sure do like their dirt racing and people rarely ever talk about the two dirt tracks they have left.
Was nice to see Jimmy Horton finally have a good run in the family owned 43. Horton rallied from his 15th starting spot to just edge out Ryan Watt for third in the closing laps.
The race track was superb all throughout the night, it started to slicken off at just the right time during the modified feature creating side by side racing.
Both Jimmy Horton and Matt Jester encountered problems towing to Georgetown on Tuesday, Horton broke down on I-295 while Jester suffered problems just feet shy of the race track gates.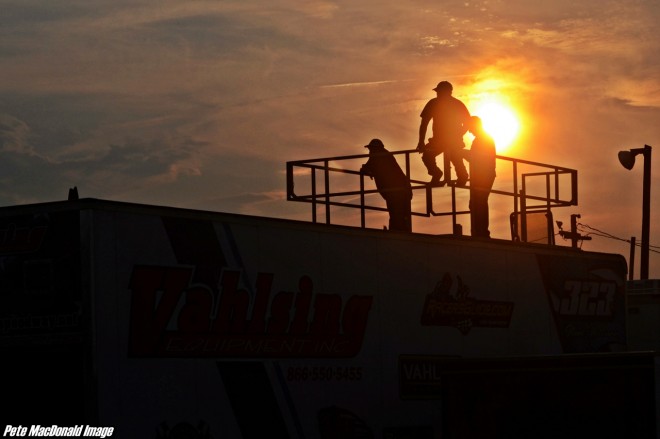 What did you think of the Beach Blast at Georgetown? Let us know over on the Racers Guide Discussion Forum, I can be emailed at racersguide@gmail.com or on Twitter @PMacDonald51
[xyz-ihs snippet="Posts-Ad"]