2016 Season Full of Noteworthy Achievements, Memorable Gestures
Story By: JEFF PAPPONE / INDYcar SERIES MEDIA
Photos By: RACERSGUIDE.COM PHOTO STAFF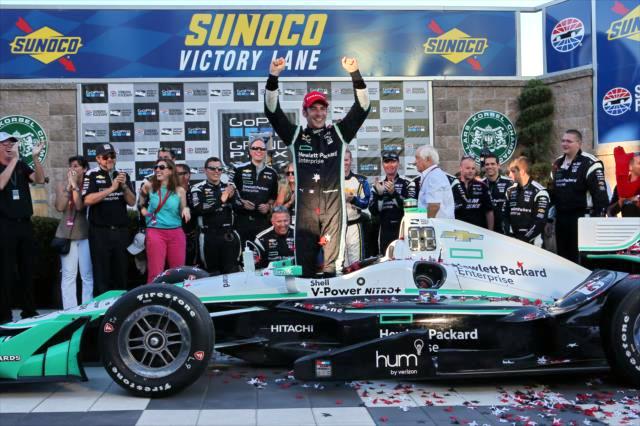 Indianapolis Ind.- September 29, 2016- With the 2016 Verizon IndyCar Series in the books and the champion crowned in the season-ending GoPro Grand Prix of Sonoma, it's time to look back on some of the performances that stood out.
Team Penske's Simon Pagenaud will officially be presented the Astor Cup and a $1 million prize as the series champion at the INDYCAR Championship Celebration on Oct. 4 in Indianapolis. Additional official awards will be handed out as well, but there are a few other drivers who deserve unofficial recognition for their performances in 2016.
Most Dominant Weekend
Nobody put a bigger stamp on a race weekend than No. 9 Target Chip Ganassi driver Scott Dixon did in the Verizon IndyCar Series' return to Watkins Glen International. The 36-year-old topped the timesheets in every practice before posting a pole time that was an amazing 5.61 seconds quicker than the previous lap record held by Ryan Briscoe.
Once the green flag waved on the INDYCAR Grand Prix at The Glen presented by Hitachi, the four-time series champion made himself scarce, pulling a huge gap and easily managing the race from the front. To add insult to injury, Dixon cruised to his fourth Verizon IndyCar Series win at The Glen with plenty of fuel to spare, while the rest of the drivers struggled to make their Sunoco E85R ethanol last. He took the checkers more than 16 seconds ahead of Josef Newgarden.
"These are the weekends that you definitely don't forget, just in the sheer fact of we had such a smooth one," Dixon said after his 40th win moved him into fourth overall in career Indy car victories. "I love coming to upstate New York and this track is one of the old-school great American tracks that we're lucky enough to come back here and race."
Best Comeback Performance
James Hinchcliffe In 2015, No. 5 Arrow Schmidt Peterson Motorsports Honda driver James Hinchcliffe watched the Indianapolis 500 from a hospital bed due to a massive accident in practice for the "Greatest Spectacle in Racing." A year later, Hinchcliffe faced down the famed 2.5-mile Brickyard oval to score his maiden Verizon IndyCar Series pole position on the final run of the Fast Nine Shootout session. His average four-lap speed was 230.760 mph.
It was a popular result that also helped put an end to the talk about Hinchcliffe's near-fatal accident and shift the focus elsewhere. Although he understood that people were talking about his crash because they cared, Hinchcliffe was happy that the dramatic pole run changed the channel.
"I came into this month hoping we'd have a new story to talk about after what happened last year, and I think we did it," Hinchcliffe said. "When you're coming back to this place, you want to focus on the here and now and not remember or focus on hitting the wall at 125 Gs."
Grit Award
With a freshly installed plate and 13 screws keeping his broken clavicle together, it would be easy to understand if No. 21 Fuzzy's Ultra Premium Vodka/ECR Chevrolet driver Josef Newgarden gave the Iowa Corn 300 a pass.
Battling high G-forces around the tight 0.894-mile Iowa Speedway where arm and shoulder strength are key to speed, Newgarden was untouchable. He led 282 of 300 laps in an impressive performance just four weeks after a crash at the Texas Motor Speedway left him with a fractured right clavicle and a broken bone in his right hand.
"I forgot about that," Newgarden said about the pain. "I hate having a cop-out. I don't want people to think that I'm having a harder time because of the injuries. It was tough. This place is already difficult, it is one of the most difficult places we go to, but I wasn't going to lose control of this thing."
Most Welcome Gesture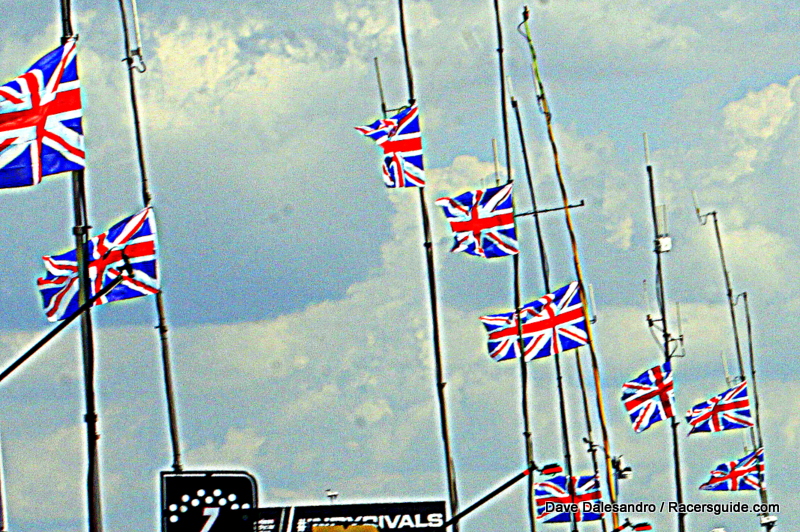 There's no doubt that the return to Pocono Raceway following the loss of Justin Wilson after a 2015 accident there was going to be the most emotional weekend of the Verizon IndyCar Series season. It didn't get any easier when three-time Indianapolis 500 starter Bryan Clauson was fatally injured during a midget race in Belleville, Kan., two weeks before the ABC Supply 500.
To mark the race, the Andretti Autosport team showed that INDYCAR is one big family after leading a move to have British flags displayed on all the timing stands along pit lane. The Union Jacks flying above the pit boxes not only lifted everyone's spirits but also reminded all of the void they feel since Wilson's accident.
"It's just a memory that you wish was different," Dixon said. "It is hard. You obviously think about Justin and (wife) Jules and (daughters) Jane and Jess, the whole family. You just wish things were different, that's all you can do."
Hard-Luck Kid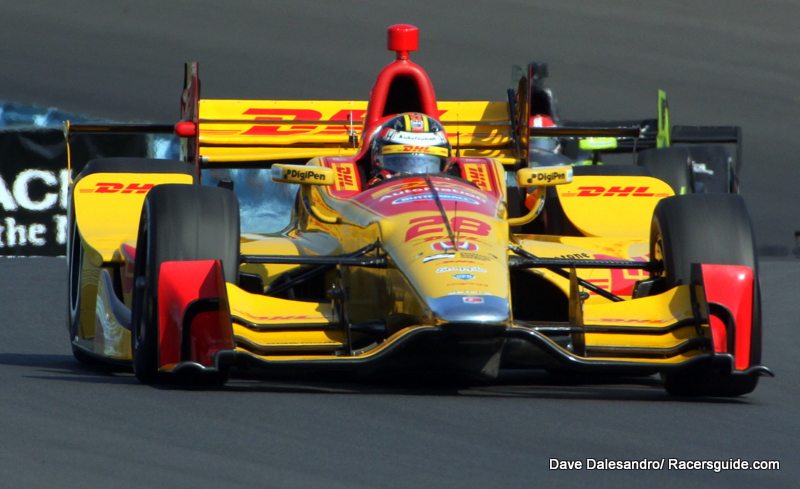 Ryan Hunter-ReayIf there was bad luck to be had on track in 2016, odds were that Ryan Hunter-Reay was somewhere in the vicinity. The 2014 Verizon IndyCar Series champion showed winning form on many race weekends, only to see the racing gods decide it wasn't his day.
Take the 100th Indianapolis 500, where Hunter-Reay looked to be a favorite in the historic race and led almost half of the first 117 laps before his teammate, Townsend Bell, ran into him in the pit lane and ruined his day. In August, the No. 28 DHL Honda driver drove through the field in the ABC Supply 500 at Pocono Raceway but went home empty-handed again after his engine mysteriously lost power as he led with 36 laps to go. Although the engine woes put him a lap down late in the race, Hunter-Reay got back on the lead lap and climbed through the field to third by the checkered flag.
"This is the type of year it's been for us," he said after the Pocono race. "Really heartbreaking. The No. 28 DHL Honda really deserved to be in contention for the win there at the end. I had to come through the field twice. The car was a rocket ship. It's a shame."
Rookie Shines on Brightest Stage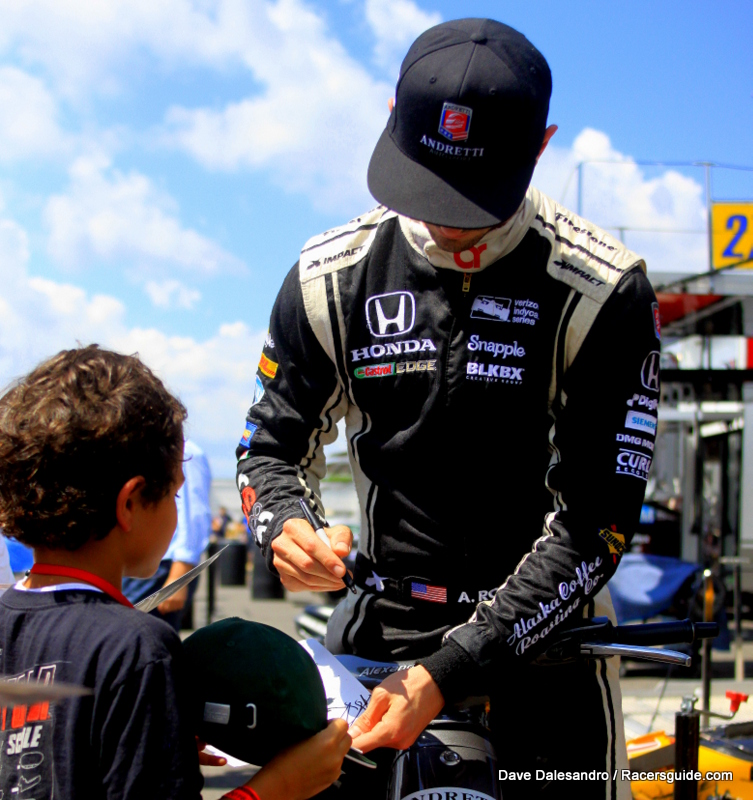 When a rookie wins the biggest race of the 2016 Verizon IndyCar Series season, there's no reason to look any further for the best performance by a first-year driver, but there was much more than that to Alexander Rossi's victory. In one of the biggest surprises of the year, No. 98 NAPA Auto Parts/Curb Honda driver outdueled experienced racers and put in an jaw-dropping fuel-saving performance to take the checkered flag in May's historic 100th Running of the Indianapolis 500 presented by PennGrade Motor Oil.
The drama began as several drivers at the front began to peel off into the pits for late splash-and-go stops, while Rossi moved into the lead and just kept going. The No. 98 coughed and sputtered as he fought hard to save enough Sunoco E85R to finish the final three laps. Newly fuelled Andretti Autosport driver Carlos Munoz put his foot down trying to erase Rossi's 16-second lead, but the No. 98 driver made it work, taking the checkered flag on fumes.
"We ran out in Turn 4 and we were clutching it and coasting it down the back straight," Rossi said after taking the checkered flag by 4.4975 seconds over teammate Munoz. "I have no idea how we pulled that off. I'm at a loss for words but it will change my life, for sure."