United Racing Club Offers Clarification of Long Time Club Policy
Press Release By: TIM MORAN / URC SERIES MEDIA
Photos By: JEFF STERE / RACERSGUIDE.COM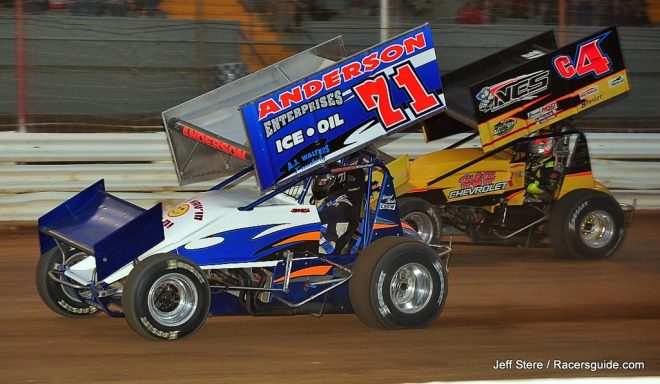 Williams Grove Pa.- June 8, 2017- On Friday night as the Capitol Renegade United Racing Club was racing at the Williams Grove Speedway, car owner and driver Josh Weller experience a broken U-Joint in his #63 URC Sprint Car during hot laps.  The unique set up at Williams Grove (2 URC heats, 3 410 Heats, 2 URC heats) allowed Josh Weller a chance to swap heat races and allow more time to get the U-Joint fixed.  Weller who was slated to start position #6 in heat race #2, approached driver JJ Grasso about swapping heat races.  Grasso was slated to go off in position #6 in heat race #3.  The swap would allow Weller to fix the car in time to line up in his new heat race.  Heat race #3 which was after the 410 heats.
After this was brought to the attention of the URC Board, the URC Board Members held an emergency URC Board Meeting on Saturday around 4pm held in the trailer of Tom Whittall.  Present was URC President Rick Weller, URC Vice President Curt Michael, URC Treasure Tom Whittall and board members Tim Moran, Dave Betts, Mark Sasso and Joe Michalski.  Missing was URC Board Member Howard Swanson.  (Please note both the President and Vice President are non-voting members)
The long-standing policy of being allowed to swap heat races was discussed and addressed.  Since there have been previous occurrences of heat race swapping and there was no direct rule in the rule book, the board members brought to a vote a rule addressing this issue.  The rule was put into effect beginning on Saturday night at Selinsgrove Speedway.
The new rule addressing this issue reads:
If a URC Member driver cannot start in their heat race due to a mechanical issue the driver will have the option to start at the rear of the last heat race or can go directly to the B-Main where they would also start last. 
The URC Member who cannot make their heat race and wishes to take either option the driver will need to notify a URC Official and make them aware of the change before their heat race is set to push off.
This rule will be in effect for the rest of 2017 and URC members may propose a new rule pertaining to this situation so the membership can vote on it for the 2018 season.