UNOH All Stars set for triple header weekend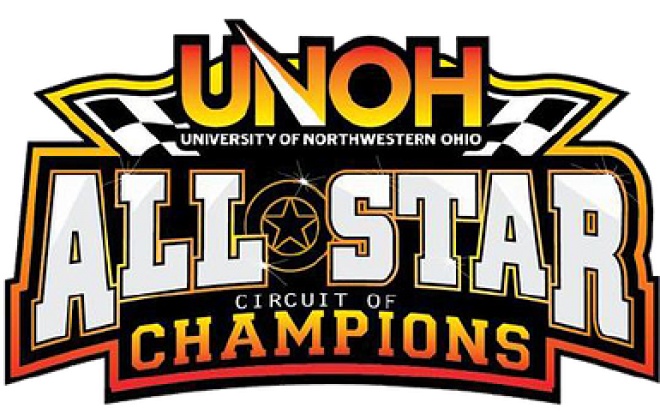 First ever appearance at Plymouth followed by 2 events at Fremont
FOR IMMEDIATE RELEASE
Tuesday, May 12, 2015
By Brian Liskai
FREMONT, Ohio – The University of Northwestern Ohio All Star Circuit of Champions will get back to action with a huge triple-header weekend of racing May 22-24.
It all begins Friday, May 22 when the series invades the three-eighths mile banked dirt oval of Plymouth Speedway in Plymouth, Ind., for the Earl Gaerte Classic. It marks the first time in the track's history that 410 cubic inch powered winged sprint cars will compete at "The Playground of Power." It also marks the first ever appearance at the track for the All Stars
"The King of the Outlaws" Steve Kinser, a 20 time World of Outlaws champion and National Sprint Car Hall of Fame inductee, who utilized Gaerte Engines during his early years of racing, will battle the All Star regulars and other regional stars at all three events on the Memorial Day weekend.
The Plymouth event is co-promoted by Fremont Speedway Promoter Rich Farmer and Thunder Motorsports. Farmer, who also owns the Kistler Racing Products FAST (Fremont Attica Sprint Title) Championship Series is also offering an extra $100 bonus to any driver in the top 10 in FAST points to compete at the Earl Gaerte Classic.
"There's a lot of firsts for the Plymouth race. The first time winged 410 sprints have competed at the track. The first time the All Stars have been there and the first time Steve Kinser has competed there," said Farmer.
The UNOH All Stars will then travel less about 3 hours to the east to "The Home of the All Stars" Fremont Speedway for events on Saturday, May 23 (Abdoo Brothers Demolition Night) and Sunday, May 24 (Budweiser Night). The finale at "The Track That Action Built" will pay the feature winner $10,000 and there will be a "meet and greet" with drivers signing autographs prior to the racing each night.
The UNOH All Stars have competed at Fremont Speedway 116 times in the organization's history. After the double-header Memorial Day weekend event, the series comes back to "The Track That Action Built" on June 25 and June 27 as part of the 33rd Annual Ohio Sprint Speedweek and another double-header for the traditional Jim Ford Classic on Sept. 18 and 19.
A bus trip has also been organized so fans can camp at Fremont Speedway and travel to Plymouth. The round trip bus trip and a ticket into the night's racing at Plymouth is just $40. Reservations are being taken now by contacting Farmer at fremontspeedway@yahoo.com. But fans better act quickly as there's less than a handful of tickets remaining for the bus trip.
Last year for the traditional Memorial Day weekend double-header at Fremont Speedway local racer Caleb Griffith scored his first ever All Star win on Saturday with Australian James McFadden driving to the $10,000 finale on Sunday for his first career series victory.
The local Fremont stars always give the invading All Star teams a handful when they come to town. So far in 2015, Fremont winners include Parker Price-Miller (his first ever 410 winged sprint car win); Chris Andrews and five time track champion Byron Reed. Of those three, Price-Miller has one career All Star win, that coming this year at Wayne County Speedway. Andrews has a career All Star win and Reed has 10 career series victories and has 27 career victories at Fremont.
Current All Star point leader Dale Blaney has recorded 18 of his of his 116 career series wins at Fremont including four wins at the track in 2014. Blaney, a five time All Star champion, has a victory in All Star competition this year, that coming May 1 at Lernerville Speedway. Out of the 11 All Star events in 2015, Blaney has six top five finishes and 9 top 10 runs.
Cody Darrah sits second in the series points and has a win this season at Port Royal Speedway. He has recorded three straight top three finishes and has six top 10 finishes.
Ryan Smith is third in the All Star points and picked up his first career series win at Attica Raceway Park earlier this season. He has recorded 3 top five finishes and four top 10 runs.
Four time All Star champion Chad Kemenah is fourth in the series points and recently picked up his 28th career All Star victory at Mercer Raceway Park. Kemenah has 11 career wins at Fremont, including three All Star victories, his last at the track coming in 2005. Kemenah has four top five finishes with the All Stars in 2015 and 6 top 10 finishes.
Sheldon Haudenschild is fifth in the All Star points and has recorded one top five and two top 10 finishes with the series.
Danny Holtgraver sits sixth in the series points and has four top fives and six top 10 finishes of the 11 All Star events in 2015.
Four time All Star champion Tim Shaffer is seventh in the series points and has one top five and five top 10 runs in 2015. Shaffer has 13 career wins at Fremont Speedway of which 8 have been All Star events.
Eighth in points is Price-Miller. Besides his first All Star win, the teenager has recorded three top 10 finishes in 2015.
Ninth in the All Star points is Andrew Palker who has recorded two top five finishes in 2015.
Rounding out the top 10 in All Star points is two time series champion Greg Wilson. Wilson has recorded two top five runs in 2015 and three top 10 finishes. He has 11 career wins at Fremont including two All Star victories.
Besides Reed (who has a second and third place finish at Fremont besides his win) and Andrews giving the invading All Stars a run for the money, other local drivers who have done well to protect the home turf include:
Cap Henry who sits third in the track's point standings and three top four runs in the three events thus far. He has two career wins at Fremont.
Dean Jacobs who is fourth in the track's points, has two wins this season at Attica Raceway Park and has 6 career wins at Fremont. Jacobs has recorded two top 10 finishes at Fremont so far this season.
Stuart Brubaker who is fifth in the track points. Brubaker, a multi-time 305 sprint champion at Fremont, has recorded two top 10 finishes so far in 2015 at the track.
Sixth in points is Broc Martin who has recorded a season-best 7th place finish at Fremont. He is followed in the points by rookie Nate Dussel, who has recorded a season-best 9th place finish so far in 2015.
Rounding out the top 10 in the Fremont Speedway points is Duane Zablocki (a pair of top 10 finishes) and Brian Smith (a season-best fifth place finish).
Besides the Fremont top 10, expect challenges from two time track champion Craig Mintz, who has recorded back-to-back finishes of third and second at Fremont. Also, rookie T.J. Michael, who has a season-best fifth place finish on his resume thus far, along with Brian Lay (a seventh place his best in 2015), Jody Keegan, D.J. Foos (a fifth place his best in 2015), Rob Chaney (a sixth place his best in 2015), Gary Taylor (a sixth place his best in 2015 and recently a second against the World of Outlaws at Eldora), rookie Tyler Gunn (a 13th his best finish in 2015 at Fremont), and 2014 rookie of the year Dain Naida (an 11th his best finish in 2015).
For more information go to www.fremontohspeedway.com, www.plymouthspeedway.net and www.allstarsprint.com