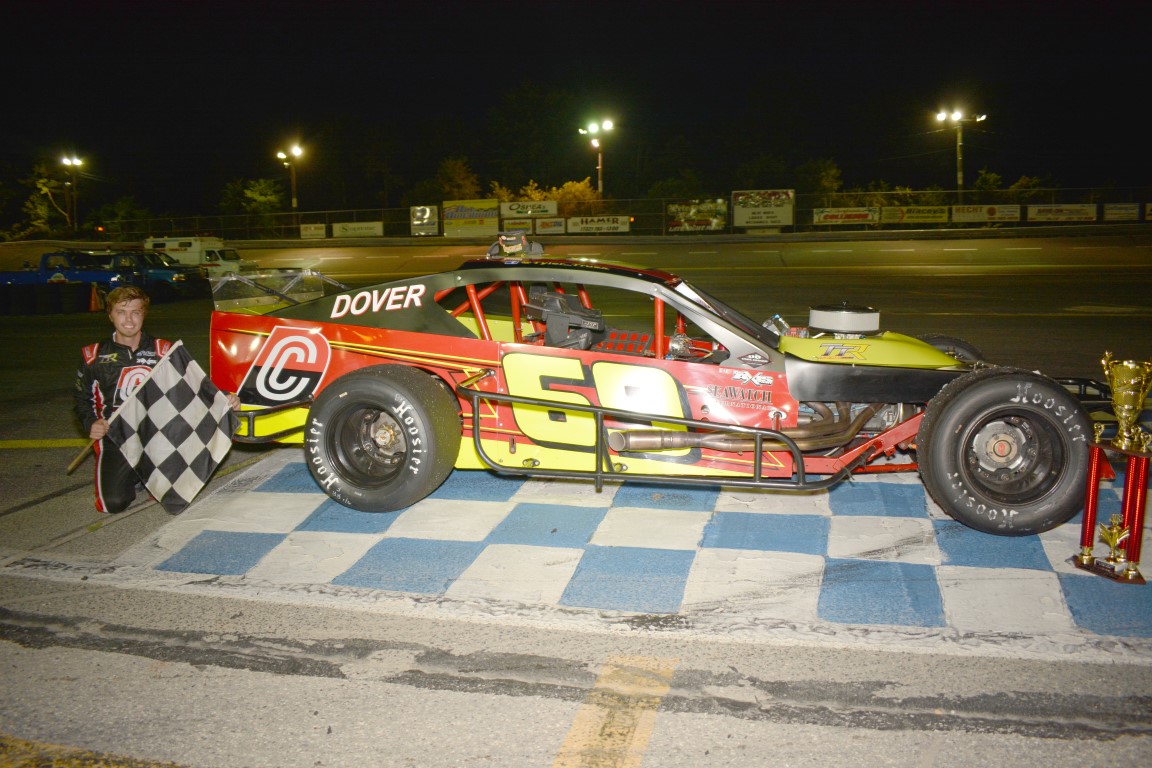 TRUEX GRABS FIRST MODIFIED WIN,
MONTANO TOPS FACTORY STOCK THRILLER AT WALL SATURDAY
Story By: Jeff Gravatt/Wall Stadium
Photos By: John John Lane/RacersGuide.com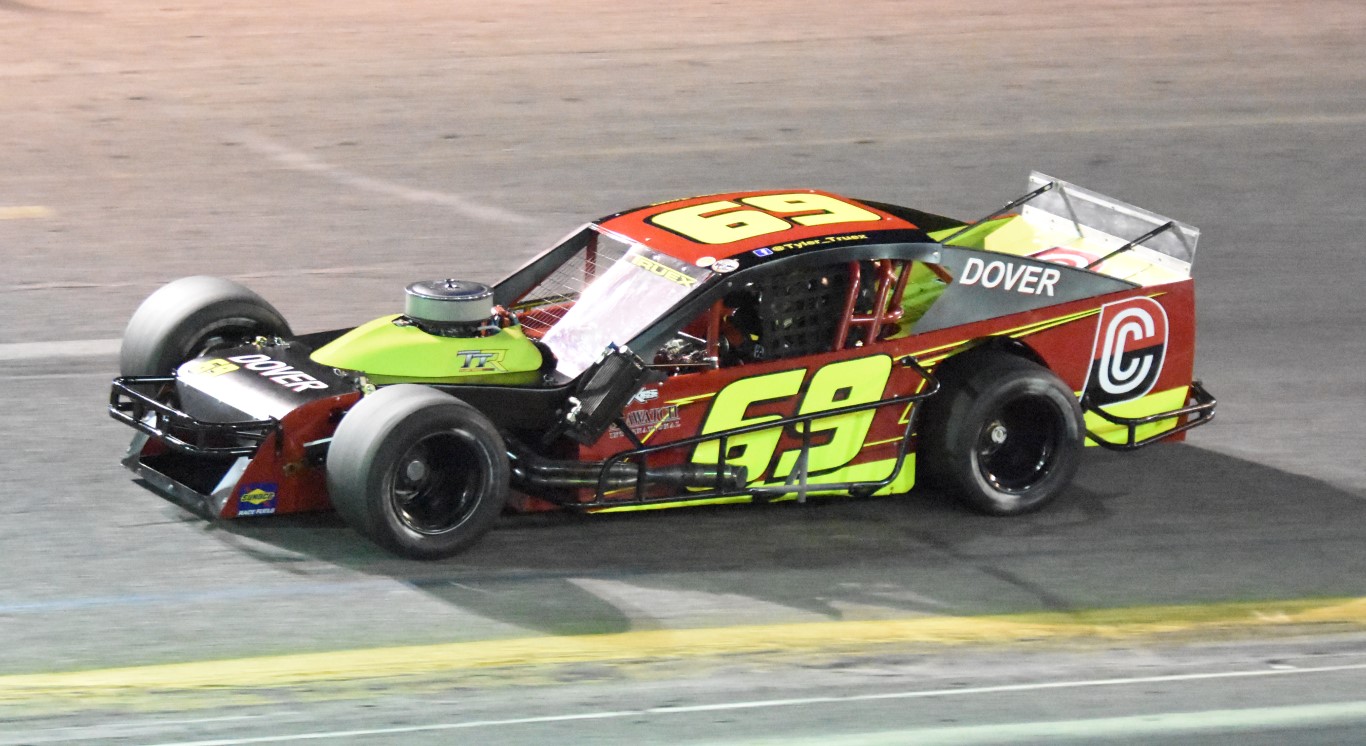 WALL TOWNSHIP, N.J. ~ Tyler Truex of Mayetta won his first ever Pete and Elda's Bar/Carmen's Pizzeria Modified stock car 40-lap main event at Wall Stadium Speedway Saturday night. The All American Auto Group Racing Series victory came in the 2017 Sportsman champion's rookie Modified season.
Truex jumped to the lead early and was forced to fight off some of the division's best drivers. Early on Steven Reed of Jackson and Holmdel's Andrew Krause were on Truex's rear bumper before Krause was forced to pit because of a faulty radiator cap. Truex then fought off Reed until just past halfway when defending champion and current point leader Jimmy Blewett of Howell slipped into second. Blewett then chased Truex the rest of the way but Truex seemed to have plenty of steam to the checker flag. Reed held on for third at the stripe with Shaun Carrig of Little Falls and Freehold's Chas Okerson wrapping up the top five.
"I'm speechless," Truex said after the impressive win. "The hard work the people behind the scenes do for me is unbelievable! It seemed to take forever but we finally won a Modified race here! So happy to take my family back to victory lane in the Modified division here at Wall Stadium! The history, family tradition, fans and support I have is unbelievable. No words can explain how thankful I am to each and every one of you! Thank you!"
Current championship point leader Mike Montano won the 50-lap race for the O'Shea's Auto Repair Factory Stocks in what many called the most exciting race of the season. Montano jumped out to the lead early but then had to wrestle with Beachwood's Elliott Wohl for the top spot. Wohl chased Montano until lap 15 and then took over the lead with an outside lane pass.
Montano never gave up and stayed right with Wohl as the pair sliced through lapped traffic. A lap 45 restart put Montano in the outside lane next to Wohl and the duo then raced side-by-side for the final five laps with Montano edging Wohl at the finish line by inches. Ron Booth of Eatontown crossed the finish line third, but when his car failed post-race inspection because of a problem with his front suspension Scott Riggleman of Manchester was promoted to the spot. John Bowers of Pt. Pleasant and Howell's Steve west completed the top five.
Neil Rutt III of Toms River won his third straight 25-lapper for the Surfside Collision 4 Cylinder Stocks, racing through the pack to move out front near the halfway point. Jeffrey Loesch of Neptune City, Howell's Brian Osborn, Darianne McLaren of Edison and Hazlet's Chris Silvestri completed the top five.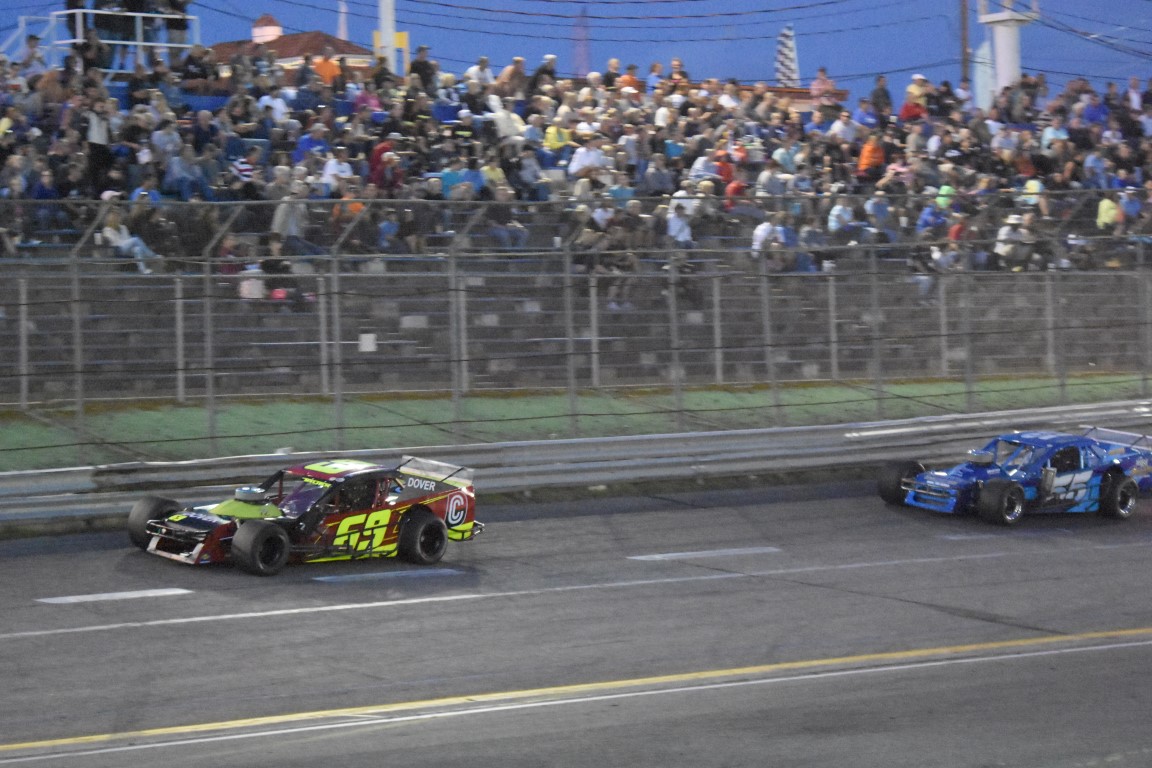 Shanon Mongeau of Manchester continues to be undefeated as he raced to victory in the 25-lap race for the Mike's Performance Center Limited Late Models. Ken Matlach of New Hyde Park, N.Y. offered stiff competition before settling for second. Mike Tillett of Bayville, Carteret's Harry Schaeffer, and Dom Casola of Holmdel wrapped up the top five.
The Limited Late Models were scheduled for two main events on the night, but when a tire order failed to arrive at the speedway, which meant that there would not be enough tires for the entire field for both races, the second feature was scrubbed.
The All American Auto Group Racing Series continues this Saturday evening (Sept. 8) on "Ladies Night." The Pete and Elda's Bar/Carmen's Pizzeria Modifieds will race in a 40-lapper and the Center State Engineering Sportsman cars, the Green Flag Driving Experience Legend Cars, the Factory Stocks and the 4 Cylinder Stocks will all compete in a 25-lappers. A special Mechanic's Race will be contested and many of the lady drivers at the speedway will participate in an autograph and meet and great session. Ladies in the grandstand will enjoy a discounted $10 admission ticket. Grandstands open at 5:00 p.m., with qualifying set for 5:45 p.m. and feature race action set for 7:00 p.m.
Saturday night racing action continues through October 6 with schedule details at wallspeedwayracing.com. A Halloween themed racing event is set for October 20 and the annual Turkey Derby is set for Thanksgiving weekend.
Wall Stadium is located on Route 34 in Wall Township, N.J., just one mile north of Garden State Parkway exit 98 and Interstate 195 exit 35B. The speedway hotline number is 732-681-6400 and email address is ckmotorsports@aol.com.
RACE RESULTS
MODIFIED
FEATURE – 40 Laps – 1. TYLER TRUEX, MAYETTA, 2. Jimmy Blewett, 3. Steven Reed, 4. Shaun Carrig, 5. Chas Okerson, 6. Roger Coss, 7. Ricky Collins, 8. Andrew Krause, 9. Eddie McCarthy, 10. Tom Catanzaro, 11. Joey Merlino, 12. Chris Reynolds, 13. Jason Treat
FACTORY STOCK
FEATURE – 50 Laps – 1. MIKE MONTANO, FREEPORT, N.Y., 2. Elliot Wohl, 3. Scott Riggleman, 4. John Bowers, 5. Steve West, 6. Tom Rajkowski, 7. Shanon Mongeau, 8. Tony Bartone, 9. Tim Majek, 10. Richie Byrne, 11. Whitey Miller, 12. Robert Ptaszynski, 13. Nancy Riggleman, 14. Theresa Collins, 15. John Browny, 16. Bob Haberstick, 17. Robert DePonte, 18. Anthony Pancoast, 19. Bryan O'Shea, 20. Gerry Koenig, 21. Josh Merlino, 22. Kenny Green, 23. Matt Malachatka, DQ Ron Booth
4 CYLINDER STOCK
FEATURE – 25 Laps – 1. NEIL RUTT III, TOMS RIVER, 2. Jeffrey Loesch, 3. Brian Osborn, 4. Darianne, McLaren, 5. Chris Silvestri, 6. Jennifer Schultz, 7. TJ Graves, 8. JC Duvall, 9. Nicole Razzano, 10. Frank Ciancitto, 11. Billy Both, 12. Richard Smith, 13. Mike Lavery, 14. Neal Rutt Jr., 15. AJ Jadacki, 16. Cody Burbank
LIMITED LATE MODELS
FEATURE – 25 Laps – 1. SHANON MONGEAU, MANCHESTER, 2. Ken Matlach, 3. Mike Tillett, 4. Harry Schaeffer, 5. Dom Casola, 6. Daryn Miller, 7. James Moorman, 8. Joe Mongeau