Kenny Tremont Jr. Claims KoD Win, Champions Crowned
Story By: Phil Allaway/Lebanon Valley Speedway
Photos By: Mark Brown/RacersGuide.com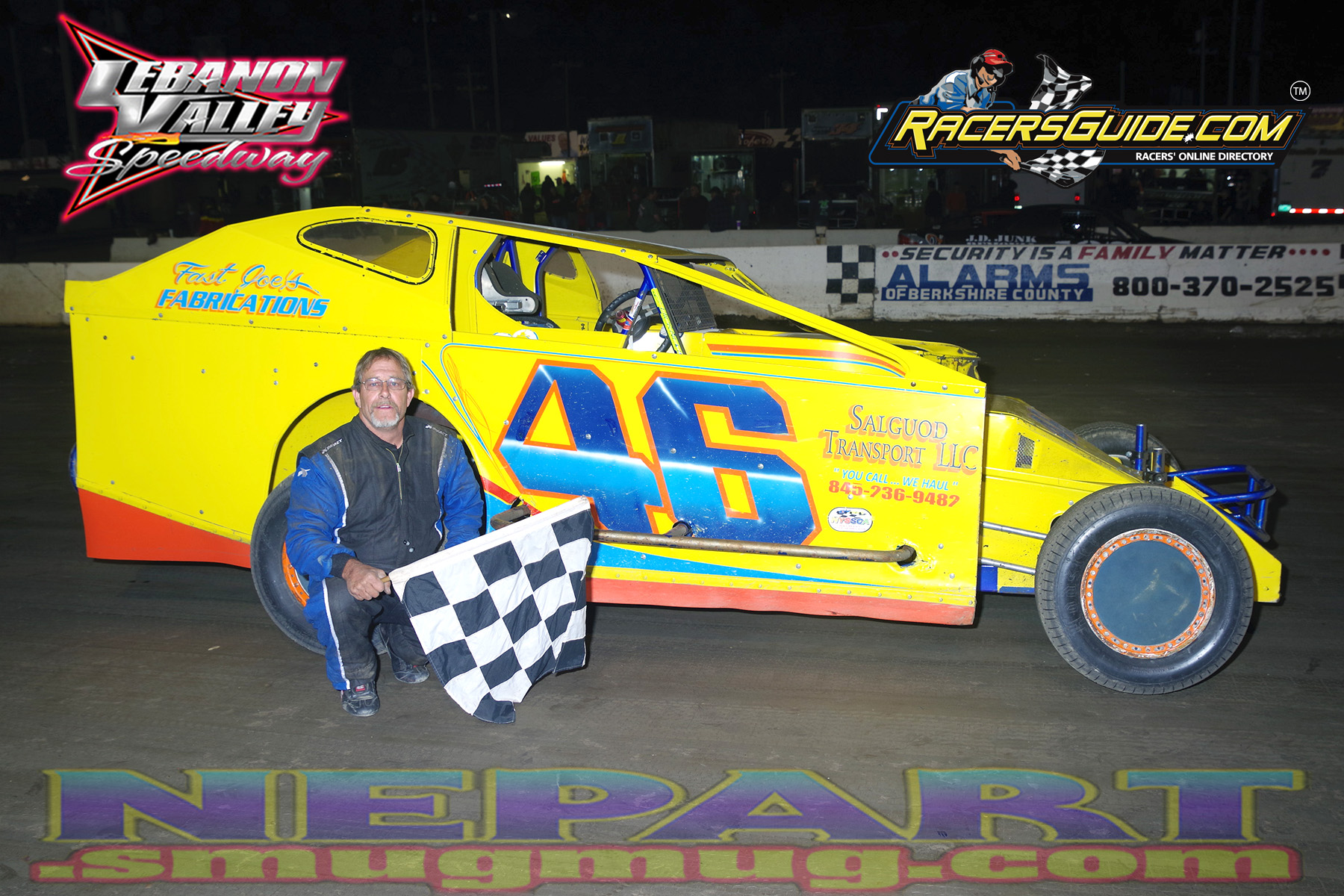 The final night of the racing season at Lebanon Valley Speedway saw some great racing action, but also an incredible amount of feistiness. Drivers wanted to get all they could before the curtain came down.
By virtue of the redraw, Demetrios Drellos scored the pole for the 35-lap King of Dirt Small Block Modified feature. Once the green came out, Drellos used short-run speed to open up a gap on Brett Haas. Within a few laps, Haas began to turn the tables.
When Drellos reached the rear of the field, he could not get past the slower car of Randy Shantel. That allowed Haas to sweep past on the outside to take the lead on lap 13.
Shortly afterwards, Shantel spun out and brought out the first yellow of the race. That allowed favorites Kenny Tremont Jr. and J.R. Heffner, who started in row No. 6, into the fray.
On the restart, Tremont took third from Jason Herrington and set out to run down Haas and Drellos. The veteran racer and the Queensbury upstart spent lap after lap side-by-side in a pleasing duel for those in attendance. Despite battling for lap after lap, Tremont's speed was not enough to get past Drellos.
With seven laps to go, Haas ran up on Bryan McGuire and had trouble getting past. Haas attempted to pass on the inside, but McGuire wanted the inside line for himself. Contact was made and McGuire spun, bringing out a yellow. At the same time, Drellos cut a left front tire and was forced to pit, moving Tremont up to second. Drellos would resume and eventually finish 13th.
Tremont's strength on Saturday night was his restarts. It took only turns 1 and 2 for Tremont to get past Haas and take the lead. Heffner followed into second.
The race ended with two Green-White-Checkers due to crashes. First, Brandon Pitcher and Jessey Mueller got into the wall in turn 2. On the next restart, Brian Peterson, Brian Sandstedt, Jack Lehner and Chad Pierce piled up in turn 1.
On the final restart, Heffner got a terrible start, allowing Tremont to pull away and take a clear victory. He also took the spoils as Lebanon Valley's Small Block Modified champion for the third straight year. It is Tremont's 17th overall championship on the high banks.
Afterwards, Tremont was very pleased.
"I'm not sure how things would have gone if we didn't have [the lap 29] restart," Tremont said. "Thankfully, [the caution] grouped everyone back up. We were able to get after it then. [The car] would take right off."
On the restart, Herrington was able to move up to second, but Haas got past him on the final lap for to take the runner-up position. Heffner had to settle for fourth, while Allison Ricci finished in a strong fifth.
In Sportsman, Michael Sabia simply had to finish sixth or better to claim the championship. For much of the race, that looked like it was going to happen.
Lem Atkins started on pole, but quickly lost the advantage to Cody Ochs, who had dominated his heat race earlier in the evening.
Pro Stock veteran Jon Routhier made a rare Sportsman start in a car normally campaigned by Chris Curtis. However, Routhier's appearance did not last long as he got wrapped up in a crash with Mike Gramolini, Carmon Carnibucci and Gerard LeClair.
On lap 12, the whole season got turned upside down. Rob Maxon was able to run down Ochs and take the lead. Ochs, trying to get the lead back, dove hard to Maxon's inside in turn 3. Contact was made and Maxon spun in front of the field. Everyone scattered and one driver made contact with Maxon. That driver was Sabia, who was running fifth and was on the move. Sabia would finish a lap down in 14th.
Ochs was sent to the rear for causing the crash. As a result, John Virgilio assumed the lead with Atkins back up to second and Whitey Slavin, who entered the night 16 points behind Sabia, in third.
From here, Virgilio was able to pull away from the pack to take the win on-track. However, Virgilio's No. 14 came up underweight at the scales. As a result, he was disqualified and Atkins claimed his first win in quite a few years.
Slavin finished and unofficially claimed the Sportsman title. However, his engine was protested. The title will not be official until the engine is independently inspected, which has not happened as of press time.
Nikki Ouellette finished third, followed by Frank Hoard Jr. Chris Lynch was fifth.
In Pure Stock, Al Relyea, Ray Hall Sr. and Jeff Meltz Jr. each took victories. Ed Hatch had clinched the Pure Stock championship last week. In 4-Cylinders, Kenny Stager won overall and in Dual-Cam, while James Street won in Single-Cam. Chris Vandeputte won the Dual-Cam title, while Single-Cam is still under review.
DiCarlo's Auto Body King of Dirt Small Block Modified Series Feature Results (35 laps, UNOFFICIAL due to protest): 1) Kenny Tremont Jr., 2) Brett Haas, 3) Jason Herrington, 4) J.R. Heffner, 5) Allison Ricci, 6) Frank Harper, 7) Frank Hoard, III, 8) Neil Stratton, 9) Marc Johnson, 10) Ricky Davis, 11) Jessey Mueller, 12) Michael Sabia, 13) Demetrios Drellos, 14) Chad Pierce, 15) Sean Mandel, 16) Elmo Reckner, 17) Brian Sandstedt, 18) Brian Peterson, 19) Jack Lehner, 20) Bryan McGuire, 21) Brandon Pitcher, 22)Timothy Davis, 23) Alan Houghtaling, 24) Randy Shantel, 25) Ryan Charland. DNS: Jeremy Wilder, Jason Tompkins
Sportsman Feature Results (20 laps, UNOFFICIAL due to protests): 1) Lem Atkins, 2) Whitey Slavin, 3) Nikki Ouellette, 4) Frank Hoard Jr., 5) Chris Lynch, 6) Kevin Ward, 7) Rob Maxon, 8) Colin Clow, 9) Cody Ochs, 10) Harold Robitaille, 11) Gerard LeClair, 12) John Miller, 13) Jake Granacker, 14) Michael Sabia, 15) Angelo DiCarlo, 16) Alan Houghtaling, 17) Rob Lanfear, 18) Carmon Carnibucci, 19) Mike Gramolini, 20) Jon Routhier. DQ: John Virgilio (Weight)
Pure Stock Feature No. 1 Results (10 laps): 1) Al Relyea, 2) Jesse Murphy, 3) Tom Murphy, 4) Clem Tuffolo, 5) Jordan Miller, 6) Adam Schneider, 7) Mark Dwyer, 8) Chris Murphy, 9) Karen Verhagen, 10) Rocco Procopio, 11) Scott Morris, 12) Joe Walcott, 13) Aaron Fachini
Pure Stock Feature No. 2 Results (10 laps): 1) Ray Hall Sr., 2) Zach Sorrentino, 3) Nick Reilly, 4) Tim Meltz, 5) Evan Denue, 6) Mike Eichstedt, 7) Jay Martin, 8) Keri VanDenburg, 9) Brian VanDenburg, 10) Clifford Booth, 11) Luke Van Allen, 12) Dave Fachini
Pure Stock Feature No. 3 Results (12 laps): 1) Jeff Meltz Jr., 2) Ed Hatch, 3) Gary O'Brien, 4) John Devine, 5) Shawn Perez, 6) Dave Stickles, 7) Bill Deak Jr., 8) Dom Denue, 9) Zach Seyerlein, 10) Tim Thompson, 11) Brian Walsh, 12) Mike Arnold, 13) Jeff Kreutziger, 14) Jeff Meltz Sr.
4-Cylinder Results are not available at this time due to an overall review of the race by track officials.