Retiring Stewart's Greatness Blossomed During INDYCAR years
Story By: PHILLIP B. WILSON/ INDYcar SERIES MEDIA
Photos By: INDYcar SERIES PHOTO STAFF
Indianapolis Ind.- November 24, 2016-Team Menard had been testing at Walt Disney World Speedway in Orlando, Fla., for about a week when a confident, young driver was summoned for his first Indy car test.
Team manager/crew chief Larry Curry had rationalized the new Indy Racing League, on the verge of its inaugural season in 1996, was created in part to provide a chance to up-and-coming hopefuls who had shown promise in sprint cars and midgets.
Tony Stewart introduced himself rather predictably.
"I was testing Eddie Cheever and Scott Brayton," Curry said Wednesday of that memorable session. "In 36 laps, Tony was quicker than both of 'em. It was unbelievable.
"I got on my cell phone and called (team owner) John Menard and said, 'We'd better sign this guy. This guy is the real deal.' The rest is history."
Everyone in NASCAR knows Stewart today as a three-time series champion who will retire this weekend after 49 Sprint Cup wins including two Brickyard 400s. But before hopping into those stock cars, the Hoosier hero from Columbus, Ind., made a mark in the IRL, the forerunner of what is now the Verizon IndyCar Series.
Menard instructed Curry to hire Stewart after that test. The deal was consummated at dinner.
"We wrote up an agreement on a restaurant napkin at Charley's Steak House in Orlando," Curry said. "I would give anything if I still had that damn napkin!"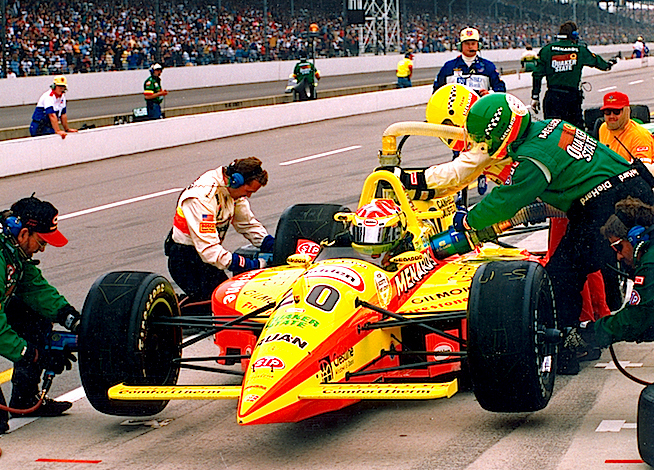 Stewart won three Indy car races in 26 starts and delivered a 1997 series title for Menard and Curry. Diehard racer that he is, "Smoke" also drove in NASCAR's Grand National Series (what is now the Xfinity Series) the same three years he drove Indy cars, including in 1998 for the powerful Joe Gibbs Racing organization.
Stewart still yearned for more success in an Indy car when Gibbs made him a lucrative offer to drive in Sprint Cup in 1999. Curry was with Stewart that day.
"Tony and I went out in the hallway," Curry said. "At that point in time, Tony didn't really want to do it. He wanted to stay in Indy cars. It's like I told him, it was one of the hardest things I think I've ever had to say: 'Tony, you're the absolute best driver I've ever had in an Indy car. I certainly hate to see you go and do something else. But as your friend, I'm telling you, you go do that and you'll set yourself up for life.'
"Tony asked me to call John (Menard) and see if John would match the offer. If he matched it, I believe Tony would have stayed. But John didn't match it."
Stewart's affinity for the Indianapolis 500 led to his return to Indianapolis Motor Speedway for two one-off runs, in 1999 for Tri-Star Racing (ninth place) and his final start in 2001 for Chip Ganassi Racing (sixth place).
In addition to his three Verizon IndyCar Series victories, Stewart concluded his career with seven podiums and eight poles. Curry doesn't second-guess his advice.
"As it ended up, this was still the right thing for him to do," Curry said. "He has become every bit as successful a driver as I always thought he would. Certainly he has set himself up for life. He's earned every dollar of it."
On the eve of Stewart's retirement as a 45-year-old driver who is also now a team, racetrack and grassroots sprint car series owner, his longtime friend can't help but be sentimental about what has been accomplished.
"It's difficult to think of how fast this time went by," Curry said. "We haven't seen the last of Tony in a race car, but he's going to go race when he wants to race.
"Some people automatically think that will be in a Sprint Cup car. Hell, I wouldn't be surprised to see Tony try an NHRA Top Fuel dragster. You know he almost won the 24 Hours of Daytona, then his schedule got to where he couldn't consistently do it. I could see him wanting to run a sports car race or two."
According to Curry, Stewart has said he won't return to race in the Verizon IndyCar Series.
"I asked him about that right away and he politely told me no," Curry said. "He's got a lot of respect for what the new drivers are doing in the series. If he was going to go try that, he would want to commit to it and do more than just Indy, he would need to do other races and see how these things drove and how the guys he would race against would drive. I don't think he can commit to that."
Curry is convinced Stewart could drive anything to victory. The former team manager laughs about how Stewart was initially given the worst equipment but still outperformed his teammates.
"He was unbelievably talented," Curry said. "It's like I used to tell people, I know we ran up front all the time and sat on poles and led races, but trust me, this guy made all of us look good."
An inevitable comparison is made to A.J. Foyt, the Indy 500's first four-time winner and all-time leader in Indy car race victories (67) who proved he could win in anything.
"He's as close a guy in our era right here as any of us could have ever seen of a young A.J. Foyt," Curry said. "I really do think he can get into anything and drive it well and drive it to the front."
The old friends have stayed in touch over the years with a chat every other week or so. Eventually, Curry gained enough trust to make a confession about that test 20 years ago in Orlando.
"He kept going quicker and quicker, and I got cold feet," Curry said. "So I told him, 'Hey, I'm seeing a glitch in the oil pressure. We're going to have to quit running.' There wasn't no glitch in the oil pressure. Larry Curry was just getting scared off whether this kid was in over his head. He was hauling ass. I kept worrying this thing could get away from him in a hurry.
"I told him the truth years later. 'Remember that rookie test? Yeah, we could have kept running, but you kind of scared me. You were going incredibly quick and you were making it look way too easy.'"