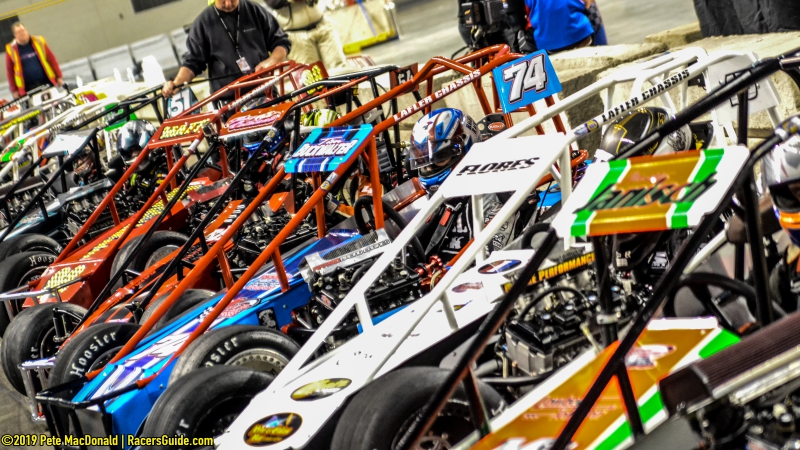 TICKETS ON SALE FOR FIRST INDOOR SYRACUSE RACE WEEKEND MARCH 8-9; ERICK RUDOLPH, JUSTIN BONSIGNORE, ANDY JANKOWIAK PRE-RACE FAVORITES FOR SERIES TITLE; THREE QUARTER MIDGETS, CHAMP KARTS, SLINGSHOTS RACE COMPLETE SHOWS BOTH FRIDAY AND SATURDAY NIGHT
Story By: Ernie Saxton/Indoor Auto Racing Championship
Photos By: Pete MacDonald/RacersGuide.com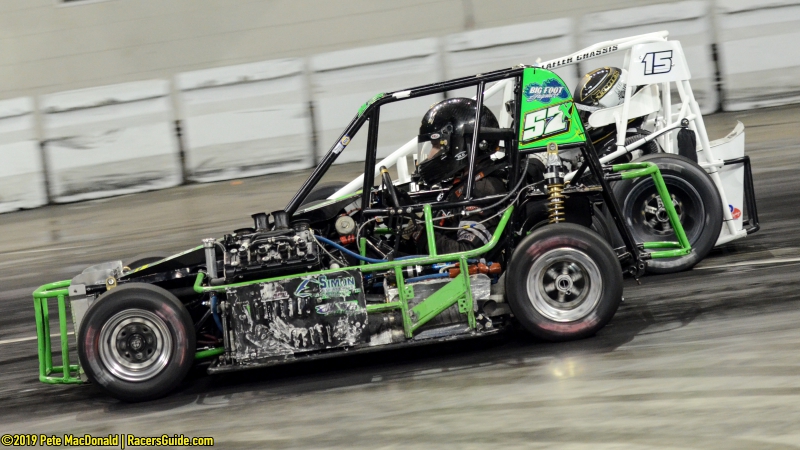 SYRACUSE, NY February 1, 2019 . . . Flush with the success in venues in Allentown, PA, and Atlantic City, NJ, the Indoor Auto Racing Series Fueled By VP Race Fuels wraps up the 2019 season in Syracuse, NY. The first time event will be held inside the recently opened New York State Fairgrounds Exposition Center on Friday and Saturday, March 8th and 9th.
The first Indoor Three Quarter (TQ) Midget car event in Central New York in 17 years will be the fourth and fifth legs of the series and help decide a tight point race between former champions Erick Rudolph and Justin Bonsignore.
The Syracuse program will include two complete programs with qualifying and feature events for the three division program which includes the TQ Midgets, Slingshots and Champ Karts each night. Doors open at 6 PM each night with racing beginning at 7:30 on Friday and 7pm on Saturday.
"The new building is perfect for our Indoor Racing Series and in just the right spot for many of our competitors," said promoter Len Sammons. "Many of the teams that competed in Niagara Falls back in the day, now have an event closer to their home. Those events were also very popular with the fans so a big crowd is expected." Ticket sales for the Syracuse event, which were available for the first time on January 29th, were considered brisk.
Rudolph, a three-time series champion from Ransomville, N.Y. enters the Syracuse event second in points. Current leader Ryan Flores of Troutman, N.C. however will be working his full-time job on the Syracuse race weekend. Flores will be in Phoenix, AZ, changing front tires on the NASCAR Monster Energy Cup Series No. 12 Penske Ford driven by Ryan Blaney.
That will put Rudolph, the 2018 dirt Modified track champion at Canandaigua, N.Y.'s Land of Legends Raceway, on top of the points before a lap is turned in Syracuse. The 2018 series champion, Justin Consignor will have two point shows in Syracuse to make up the current 21 point difference between them. Consignor, the 2018 NASCAR Whelan Modified Tour champion, sold his No. 51 TQ Midget after the most recent event in Atlantic City, but he'll now drive the car for new owner Bob Webber Jr. who owns N.H.'s Star Speedway.
Recent Atlantic City Gambler's Classic winner Andy Jankowiak of Tonawanda, N.Y. will enter the final two points races third in the standings just 40 points behind Rudolph.
Two drivers familiar to N.Y.'s Oswego Speedway Supermodified fans, Tyler Thompson, of Oswego, 2018 Supermod and ISMA Series Rookie of the Year, and Joey Payne, of Fairlawn, NJ. four time career Supermodified winner and the all-time Oswego non-wing Supermodified one lap track record holder are entered for the TQ Midget events.
Thompson will be in the Simmons Racing No. 98T he has run throughout the Series while Payne will suit up in his own No. 45 that his son Anthony drove to his first victory in last year's weekend finale in Albany, N.Y.
Two well-known N.Y. state Modified talents will be seeking their first ever TQ Midget Indoor Series victory. Asphalt Modified ace Patrick Emerling of Orchard Park will be driving the Baker No. 31, a car he made his debut in during the Atlantic City race weekend. Marc Johnson of Guilderland, the 2017 Albany-Saratoga Speedway DIRTcar Modified champion, will be driving a new car owned by Ken Sebring and built by Kluth Motorsports. This car was very fast in its debut in Atlantic City.
Four other highly regarded TQ chauffeurs Eddie Strada of Hamlin, PA, Anthony Sesely of Matawan, N.J., Matt Janisch of Nazareth, PA, and Tim Buckwalter of Royersford, PA are among the many pre-race favorites to win the inaugural races.
The headline three-quarter midgets annually competed inside the Niagara Falls Convention Center from 1984 through 2002 when the building was made into a casino. The Indoor Auto Racing Series made its debut in New York last year with an event held inside Albany's Times Union Center.
More than 30 of the Slingshot and Champ Karts are expected to compete for starting spots and feature wins both days.
The New York State Fairgrounds Expo Center opened during the recent 2018 Labor Day Fair. The huge state of the art $33 million project was built without obstructing poles and state-of-the-art LED lighting.
Grandstand seating will be available on both the front and backstretch. From their seats, fans will able to be able to see the entire speedway plus the pit area which will be located on the far side of the building.
The Exposition Center has a different seating configuration than the Allentown and Atlantic City venues in that grandstand patrons enter at track level, then walk up to seating areas as they do at most outdoor speedways.
"Because of the way the Expo Center is configured, the best seats would appear to be higher up in the arena rather than on the front-row which is usually our premium seats," Sammons explained. "There isn't a bad seat in the house, but if I was picking one I'd sit from the middle to the top if I had a choice."
Entries for all three divisions are limited, but a few slots remain in all three divisions.
Information including a direct link to E-Tix for advance tickets is available at indoorautoracingseries.com. At this location you'll be able to pick your choice seat from three sections located on both the front and the backstretch. Tickets can also be purchased by calling E-Tixs directly at 1-800-514-3849. Tickets will also be available each day of the event starting at 10 am at the Expo Box Office, but prices increase by $5 each on the days of the event.
Event sponsorship packages to meet every budget are available by calling the series office at 609-888-3618 or by dropping Danny Sammons an email at danny@aarn.com