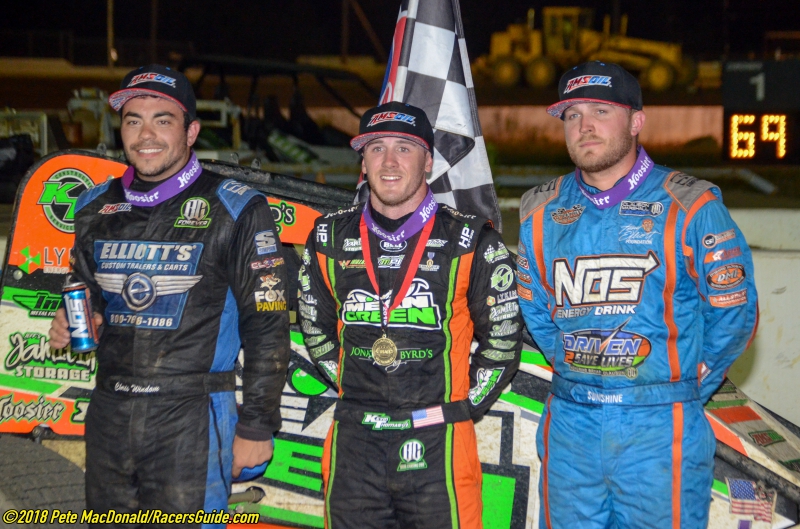 THOMAS-COURTNEY-WINDOM ENGAGE IN HISTORICALLY TIGHT POINTS RACE
Story By: Richie Murray – USAC Media
Photos By: Dan DeMarco & Pete MacDonald/RacersGuide.com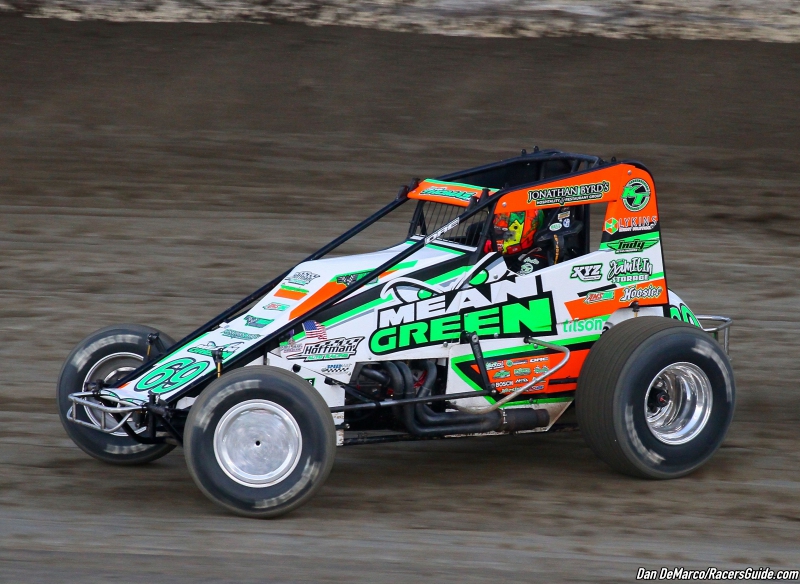 The 2018 USAC AMSOIL National Sprint Car season comes down to just five races in the month of November. That's five opportunities for things to go perfectly right and five opportunities for things to go perfectly awry. Over the years, we've seen our share of both.
Over the next two weekends, the series will indulge in the final five events of the season at Arizona Speedway on November 2-3 and California's Perris Auto Speedway on November 8-9-10. The common refrain has always been "How the west was won." But in this case, it's been "How the championship was won…out west."
Kevin Thomas, Jr. leads Tyler Courtney by 34 coming into the final stretch while the distance between Thomas and third-place Chris Windom is separated by only 62 points, the third such closest title race between the top-three at this point in the season since the USAC National Sprint Car series began concluding its season out west in 2004 – behind only 2015 (43 pts.) and 2012 (57 pts.). Since 2004, only two title races have ended with a race closer than that between the top-three – 2011 (34 pts.) and 2017 (58 pts.).
It's a tight race that could go in any one driver's favor and, since 2004, some have played out in the leader's favor while some years have featured a comeback of epic proportions. Let's dig into the stats for those years.
Between 2004 and 2006, the champs saw their lead in the standings shrink out west, but had enough of a cushion to handle their business. Jay Drake's 2004 lead dwindled from 141 to 74, Levi Jones in 2005 went from 78 to 13, while Josh Wise's fell from 113 to 88. Jones took his second title in 2007, upping the interval from 71 to 85 by the finale.
In 2008, Jerry Coons, Jr. took a miniscule two-point lead over Jones into races at Perris and Manzanita. Consistency was his magic wand down to the wire, clicking off five-straight top-fives to close out his only career USAC National Sprint Car title by 86 markers over Jones.
The following year, in 2009, Jones found himself in the driver's seat, leading Dave Darland by 27 points going into Perris and Tulare. Jones reeled off four top-fives in the final five, including a win on a preliminary night of the "Oval Nationals" at Perris to take his third title by 224. Meanwhile, Cole Whitt slipped into second as misfortune befell Darland's hopes of a second series title. Jones was back at it a year later in 2010 with a little less pressure, bumping up his lead from 91 to 179 to notch title number four.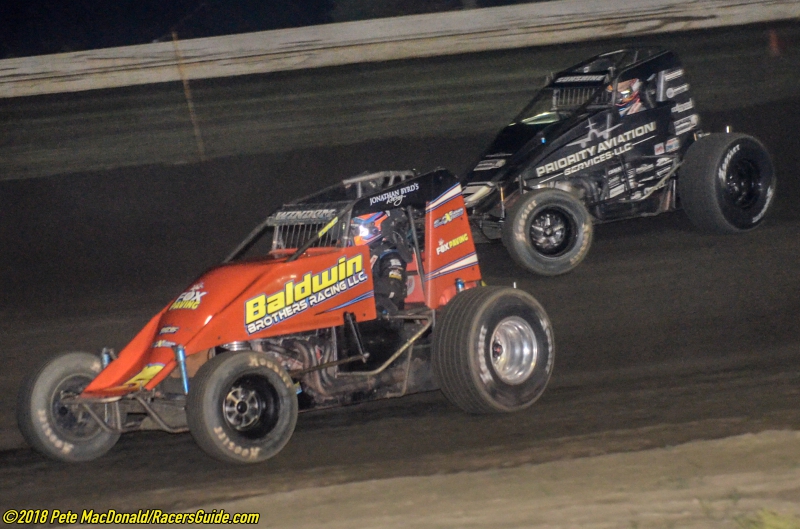 In 2011, Jones was back at it once again, up by 44 and on the verge of a third consecutive championship. No driver of his era was more consistent in locking down a title than him and he proved it once again with a 4th, 3rd, 3rd, 3rd and a victory in the season finale at Kings Speedway in Hanford, Calif. to become the sixth, and most recent, driver to win the finale and the series title in one fell swoop, which he did by 99 over Chris Windom.
In 2012, Bryan Clauson came firing on all cylinders to conclude the season, erasing Darland's 23-point advantage that included a prelim night win at Perris. Though Darland won at Canyon to open the western swing, it is one costly night that basically determined his fate – a 17th place finish the next night at Canyon. Clauson won by a narrow margin of five over Darland despite missing a chunk of races earlier in the year due to his Indianapolis 500 commitments.
It was the Bryan and Dave show once again in 2013, but the roles were reversed this time around as Clauson held a mere 13-point lead with four to go at Canyon and Perris. Clauson got a win at Canyon, then tallied up a 7th, 4th and 2nd to win over Darland by 63.
Clauson was in contention for a third-straight title in 2014, but Brady Bacon was determined to get his first, upping his 51-point lead to 56 by the end of the swing following finishes of 2nd, 8th, 7th and 3rd. Bacon duplicated the feat in most-dominating fashion in 2016, jumping up his interval from 233 to 314 based on night-after-night of top-five runs.
Robert Ballou got his first a year later in his historical 13-win year, winning three of the final six to up the ante from 19 to 87 points over Darland to become the champ. Just last year, Windom was the next in line to become a first-time champ, deleting a 29-point lead by Grant in the western swing opener at Arizona and bringing it home by a scant six points. The top-three were separated by just 58 at season's end with a red-hot and closing Kevin Thomas, Jr. claiming third.
It seems pretty simple. The mathematical solution is to get yourself up front night-after-night at all five races. One off night could spell failure, especially with three individuals in this heated contest. And that seems to be the one thing that separates Thomas, Courtney and Windom. All have been able to finish on a consistent basis this year, hence, the reason they are at the position they're in right now. One missed setup, one bike, one night of disarray. The one who avoids those will live without regret, but will that be enough to win the title? Let's find out for ourselves, shall we?
The 51st "Western World Championships" from Arizona Speedway in San Tan Valley, Ariz. on November 2-3 will feature the USAC AMSOIL Sprint Car National Championship with the USAC/CRA Sprint Cars as well as the USAC Southwest Sprint Cars.
The 23rd Budweiser "Oval Nationals" California's Perris Auto Speedway on November 8-9-10 features three-straight nights of USAC AMSOIL National & CRA Sprint Cars, concluding with a $25,000-to-win prize on the final night.
All five remaining races will all be streamed live on http://www.SpeedShiftTV.com/ and live audio will be on the USAC app.