ZEIGLER AND LANIGAN SHARE FRIDAY TWIN 25 WINS
Story By: ELDORA SPEEDWAY MEDIA
Photos By: PAUL ARCH / RACERSGUIDE.COM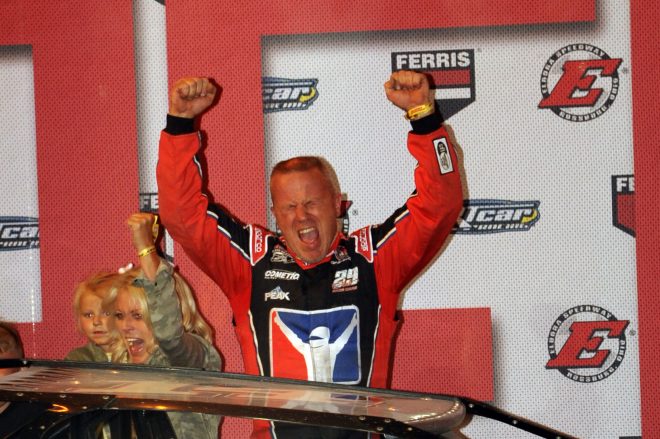 ROSSBURG, OHIO —June 10, 2017-  Veteran Darrell Lanigan, the 2003 Dream winner, and 24-year old Mason Zeigler each held off late charges to pick up $10,000 victories Friday night at Eldora Speedway during the second night of preliminary 25-lap features for the 23rd annual Dirt Late Model Dream presented by Ferris Mowers.
Lanigan, of Union, Kentucky, survived a penalty on the initial start of the first feature, moving him from the fourth-starting position to the sixth-starting position. It made little difference.
The driver of the Clint Bowyer Racing #14 immediately jumped to 3rd-place on the opening lap, took second position on lap three and drove around the outside of early leader Zach Dohm to take the lead on lap four.
"The car was awesome tonight," Lanigan said. "I got penalized there at the beginning. I really didn't know you weren't allowed to go all the way up to the top. I thought as long as you stayed in position you were alright. The car was really good and once we got through them cars and got into clean air it was awesome."
Lanigan finished runner-up to Brandon Overton on Thursday night and the pair of top- two finishes lines him up well for Saturday night's Dream finale.
"We brought a really good piece up here," Lanigan said. "It's been a while since I've been up here and it is definitely nice to be back up here."
Chris Madden, who finished runner-up to Scott Bloomquist in Thursday night's second features, battled around Bloomquist in the middle stages of Friday's first feature and closed quickly on Lanigan as the laps wound down but had to settle for a runner-up finish, 1.318 seconds behind Lanigan.
"I think two more laps and I would have had him," Madden, of Gaffney, South Carolina said. "We had another great race car. Got beat by the guys that started up front. Same thing as last night. We just need more than 25 laps. I am looking forward to tomorrow for sure."
Bloomquist, of Mooresburg, Tennessee, passed Dohm for the final podium spot in the first feature, but the six-time Dream winner claimed he was just using the night as a test.
"We tried a couple different things tonight," Bloomquist said. "We were pretty good last night and we got a good night to test and more than likely we will go back to what we were running last night."
Dohm finished in fourth for his best Eldora finish, while 2012 Dream winner Shane Clanton rounded out the top five. Rounding out the top ten in feature one were Kyle Bronson, Donald McIntosh, defending Dream winner Dennis Erb. Jr., Overton and Frank Heckenast, Jr.
Tim McCreadie, of Avon, New York, jumped out to a commanding lead early in the second 25-lap feature but Zeigler, who started in the fourth-position, chased him down and made a daring pass in lapped traffic to take the lead on lap 13.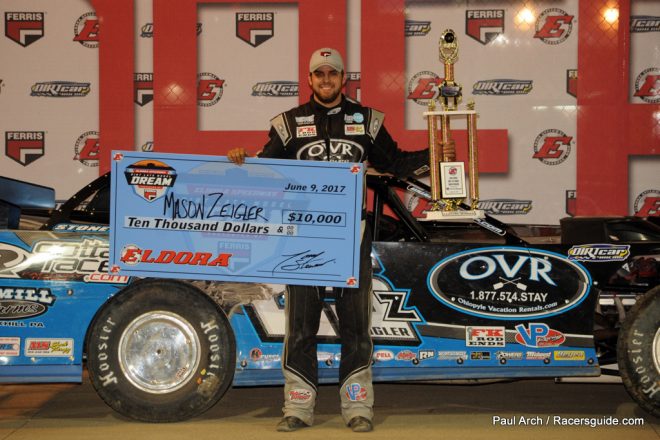 McCreadie kept Zeigler, of Chalk Hills, Pennsylvania, in his sights as the lead duo fought the heavy lapped traffic, and as they did 1997 Dream winner Jimmy Mars was chasing them down using the bottom groove of the high-banked, one-half mile oval. Mars moved to the runner-up spot on lap 22 and was pressuring Zeigler as the duo raced under the white flag.
"The lapped cars don't know you are back there but it's tough," Zeigler said. "I just tried to stay cool and not try to slide them and make a big mistake and open the door for Jimmy."
Mars tried to drive under Zeigler on the final lap but his attempts came up short and Zeigler came up with the biggest win of his young career. It was Zeigler's second career Eldora win, following up his win in last fall's UMP Fall Nationals.
"We had an opportunity to win the Dream (actually the World 100) back in '14 and I threw it away just driving over my head, and I about did it again," the driver from Chalk Hills, Pennsylvania said. "I knocked the front tow out and Jimmy was really coming there at the end."
Mars led early and then faded late on Thursday night. Friday night he rallied late after a slow start. The turnaround left the Mennominie, Wisconsin driver scratching his head.
"I didn't feel real good at the beginning but then towards the end the car got real balanced and felt pretty good," Mars said. "You always want another lap but we have to take a second tonight. I just don't know what was going on there at the beginning. We will just have to scratch our heads and figure out how to speed this thing up."
McCreadie settled for third-place for the second straight night.
"We were a good bit better last night," McCreadie said. "We need to be a little better. I was married to that little brown streak up there (in the high-groove), once it got to where you didn't have it up there in turn two we were a sitting duck. I think we can be a lot better tomorrow."
Chris Simpson drove a steady race to finish in fourth-place ahead of Brandon Sheppard. Two-time Dream winner Billy Moyer, Dale McDowell, Billy Moyer, Jr., Earl Pearson and Don O'Neal completed the top ten.
Dennis Erb, Jr. (17.952) was fastest qualifier of the 76 cars that took time. Heat races were won by Erb, Timothy Culp, McIntosh, Clanton, Sheppard, Bobby Pierce, Moyer and Mars. The two B-mains were won by Devin Gilpin and Jacob Hawkins.
Saturday night The Dirt Late Model Dream presented by Ferris Mowers with its $391,000 total purse concludes with the traditional six heat races, B-mains, B-scrambles and the 100-lap, $100,000 to-win main event.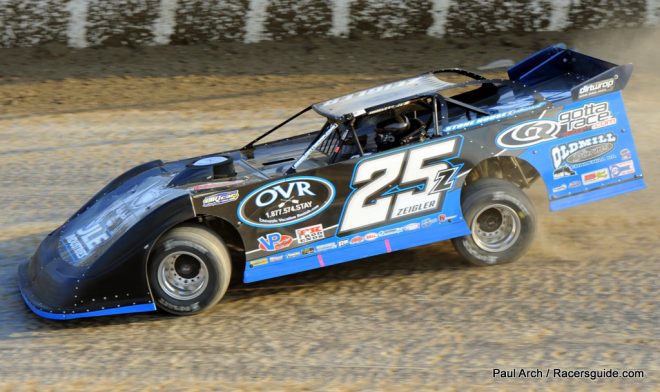 Race Results / Event Box Score
23rd Annual Dirt Late Model Dream by Ferris Mowers
 Night 2 – June 9, 2017
Qualifying
1.28-Dennis Erb Jr. , 17.819; 2.71C-RJ Conley, 17.902; 3.0-Scott Bloomquist, 17.933; 4.1P-Earl Pearson Jr., 18.005; 5.7M-Donald McIntosh, 18.009; 6.9-Devin Moran, 18.094; 7.22-Chris Ferguson, 18.128; 8.15-Steve Francis, 18.180; 9.99JR-Frank Heckenast Jr. , 18.203; 10.5-Don O'Neal, 18.214; 11.c8-Timothy Culp, 18.275; 12.157-Mike Marlar, 18.282; 13.91-Tyler Erb, 18.303; 14.7W-Ricky Weiss, 18.309; 15.14-Darrell Lanigan, 18.311; 16.4G-Kody Evans, 18.327; 17.44-Chris Madden, 18.375; 18.1-Brandon Sheppard, 18.381; 19.0J-Jake O'Neil, 18.383; 20.32P-Bobby Pierce, 18.386; 21.4B-Jackie Boggs, 18.395; 22.21-Billy Moyer, 18.412; 23.25C-Shane Clanton, 18.459; 24.88-Andrew Reaume, 18.481; 25.55-Jeep VanWormer, 18.491; 26.7R-Kent Robinson, 18.493; 27.31-Nick Latham, 18.494; 28.25Z-Mason Zeigler, 18.497; 29.40B-Kyle Bronson, 18.556; 30.32S-Chris Simpson, 18.615; 31.71-Hudson O'Neal, 18.660; 32.21JR-Billy Moyer Jr. , 18.674; 33.18B-Shannon Babb, 18.711; 34.39-Tim McCreadie, 18.759; 35.116-Brandon Overton, 18.784; 36.17M-Dale McDowell, 18.833; 37.1CJ-Rusty Schlenk, 18.835; 38.71R-Rod Conley, 18.855; 39.1M-Mike Mataragas, 18.893; 40.28M-Jimmy Mars, 18.908; 41.17-Zack Dohm, 18.940; 42.1GK-Ryan King, 18.957; 43.22S-Gregg Satterlee, 18.983; 44.51-Joey Moriarty, 19.019; 45.18-Chase Junghans, 19.061; 46. 15H-Jon Henry, 19.063; 47. 29-Spencer Diercks, 19.063; 48.49-Jonathan Davenport, 19.069; 49.33-Jesse James Lay, 19.107; 50.93-Brian Harris, 19.114; 51.101-Casey Roberts, 19.137; 52.20C-Jacob Hawkins, 19.160; 53.83-Scott James, 19.174; 54.3s-Brian Shirley, 19.178; 55.25-Jason Feger, 19.195; 56.C9-Steve Casebolt, 19.201; 57.1N-Casey Noonan, 19.222; 58.50-Shanon Buckingham, 19.225; 59.48-Tim Lance, 19.232; 60.10-Eddie Carrier Jr. , 19.266; 61.20S-Rodney Sanders, 19.269; 62.101T-Forrest Trent, 19.280; 63.79-Troy Worrick, 19.302; 64.16B-Tyler Bruening, 19.380; 65.12-Jason Jameson, 19.422; 66.7B-Jeff Babcock, 19.501; 67.1G-Devin Gilpin, 19.519; 68.2-Nick Hoffman, 19.554; 69.6-Blake Spencer, 19.625; 70.27-Jeffrey Beyers, 19.635; 71.111-Matt Lux, 19.639; 72.1C-Kenny Collins, 19.668; 73.5N-Dustin Nobbe, 19.717; 74.97-Brett Miller, 19.767; 75.5*-Bryant Dickinson, 19.868; 76.444-Brian Ligon, 21.151; 77.20-Jimmy Owens, 99.991; 78.33M-Tim Manville, 99.992; 79.95J-Jerry Bowersock, 99.993;
Heat 1 –  (10 Laps)
1. 28-Dennis Erb Jr. [4] ; 2. 17-Zack Dohm[6] ; 3. 44-Chris Madden[2] ; 4. 99JR-Frank Heckenast Jr. [3] ; 5. 18B-Shannon Babb[5] ; 6. 12-Jason Jameson[9] ; 7. 33-Jesse James Lay[7] ; 8. 1N-Casey Noonan[8] ; 9. 5N-Dustin Nobbe[10] ; 10. 55-Jeep VanWormer[1]
Heat 2 –  (10 Laps)
1. 1-Brandon Sheppard[2] ; 2. 39-Tim McCreadie[5] ; 3. 7R-Kent Robinson[1] ; 4. 5-Don O'Neal[3] ; 5. 71C-RJ Conley[4] ; 6. 50-Shanon Buckingham[8] ; 7. 93-Brian Harris[7] ; 8. 7B-Jeff Babcock[9] ; 9. 97-Brett Miller[10] ; 10. 1GK-Ryan King[6]
Heat 3 –  (10 Laps)
1. c8-Timothy Culp[3] ; 2. 0-Scott Bloomquist[4] ; 3. 116-Brandon Overton[5] ; 4. 0J-Jake O'Neil[2] ; 5. 22S-Gregg Satterlee[6] ; 6. 1G-Devin Gilpin[9] ; 7. 31-Nick Latham[1] ; 8. 101-Casey Roberts[7] ; 9. 48-Tim Lance[8] ; 10. 5*-Bryant Dickinson[10]
Heat 4 –  (10 Laps)
1. 32P-Bobby Pierce[2] ; 2. 25Z-Mason Zeigler[1] ; 3. 1P-Earl Pearson Jr.[4] ; 4. 157-Mike Marlar[3] ; 5. 17M-Dale McDowell[5] ; 6. 20C-Jacob Hawkins[7] ; 7. 10-Eddie Carrier Jr. [8] ; 8. 2-Nick Hoffman[9] ; 9. 51-Joey Moriarty[6] ; 10. 444-Brian Ligon[10]
Heat 5 –  (10 Laps)
1. 7M-Donald McIntosh[4] ; 2. 40B-Kyle Bronson[1] ; 3. 91-Tyler Erb[3] ; 4. 20S-Rodney Sanders[8] ; 5. 4B-Jackie Boggs[2] ; 6. 1CJ-Rusty Schlenk[5] ; 7. 20-Jimmy Owens[10] ; 8. 18-Chase Junghans[6] ; 9. 83-Scott James[7] ; 10. 6-Blake Spencer[9]
Heat 6 –  (10 Laps)
1. 21-Billy Moyer[2] ; 2. 32S-Chris Simpson[1] ; 3. 9-Devin Moran[4] ; 4. 33M-Tim Manville[10] ; 5. 7W-Ricky Weiss[3] ; 6. 3s-Brian Shirley[7] ; 7. 15H-Jon Henry[6] ; 8. 71R-Rod Conley[5] ; 9. 101T-Forrest Trent[8] ; 10. 27-Jeffrey Beyers[9]
Heat 7 –  (10 Laps)
1. 25C-Shane Clanton[2] ; 2. 14-Darrell Lanigan[3] ; 3. 1M-Mike Mataragas[5] ; 4. 71-Hudson O'Neal[1] ; 5. 22-Chris Ferguson[4] ; 6. 29-Spencer Diercks[6] ; 7. 25-Jason Feger[7] ; 8. 79-Troy Worrick[8] ; 9. 111-Matt Lux[9]
Heat 8 –  (10 Laps)
1. 28M-Jimmy Mars[5] ; 2. 15-Steve Francis[4] ; 3. 21JR-Billy Moyer Jr. [1] ; 4. 49-Jonathan Davenport[6] ; 5. C9-Steve Casebolt[7] ; 6. 4G-Kody Evans[3] ; 7. 88-Andrew Reaume[2] ; 8. 16B-Tyler Bruening[8] ; 9. 1C-Kenny Collins[9]
B-Feature 1 –  (12 Laps)
1. 1G-Devin Gilpin[2] ; 2. 12-Jason Jameson[1] ; 3. 20-Jimmy Owens[7] ; 4. 1CJ-Rusty Schlenk[3] ; 5. 29-Spencer Diercks[4] ; 6. 101-Casey Roberts[10] ; 7. 31-Nick Latham[6] ; 8. 55-Jeep VanWormer[17] ; 9. 33-Jesse James Lay[5] ; 10. 18-Chase Junghans[11] ; 11. 25-Jason Feger[8] ; 12. 48-Tim Lance[14] ; 13. 1N-Casey Noonan[9] ; 14. 83-Scott James[15] ; 15. 5N-Dustin Nobbe[13] ; 16. 79-Troy Worrick[12] ; 17. 6-Blake Spencer[19] ; 18. 5*-Bryant Dickinson[18] ; 19. 111-Matt Lux[16]
B-Feature 2 –  (12 Laps)
1. 20C-Jacob Hawkins[2] ; 2. 50-Shanon Buckingham[1] ; 3. 10-Eddie Carrier Jr. [6] ; 4. 3s-Brian Shirley[3] ; 5. 15H-Jon Henry[7] ; 6. 4G-Kody Evans[4] ; 7. 88-Andrew Reaume[8] ; 8. 71R-Rod Conley[11] ; 9. 2-Nick Hoffman[10] ; 10. 93-Brian Harris[5] ; 11. 51-Joey Moriarty[14] ; 12. 101T-Forrest Trent[15] ; 13. 16B-Tyler Bruening[12] ; 14. 7B-Jeff Babcock[9] ; 15. 1GK-Ryan King[17] ; 16. 1C-Kenny Collins[16] ; 17. 97-Brett Miller[13] ; 18. 27-Jeffrey Beyers[19] ; 19. 444-Brian Ligon[18]
Twin 25 Feature 1 –  (25 Laps)
1. 14-Darrell Lanigan[4] ; 2. 44-Chris Madden[9] ; 3. 0-Scott Bloomquist[7] ; 4. 17-Zack Dohm[1] ; 5. 25C-Shane Clanton[3] ; 6. 40B-Kyle Bronson[2] ; 7. 7M-Donald McIntosh[6] ; 8. 28-Dennis Erb Jr. [8] ; 9. 116-Brandon Overton[10] ; 10. 99JR-Frank Heckenast Jr. [13] ; 11. c8-Timothy Culp[5] ; 12. 0J-Jake O'Neil[14] ; 13. 4B-Jackie Boggs[19] ; 14. 18B-Shannon Babb[17] ; 15. 20S-Rodney Sanders[15] ; 16. 20-Jimmy Owens[23] ; 17. 1CJ-Rusty Schlenk[24] ; 18. 71-Hudson O'Neal[16] ; 19. 1G-Devin Gilpin[21] ; 20. 1M-Mike Mataragas[12] ; 21. 22-Chris Ferguson[20] ; 22. 12-Jason Jameson[22] ; 23. 22S-Gregg Satterlee[18] ; 24. 91-Tyler Erb[11]
Twin 25 Feature 2 –  (25 Laps)
1. 25Z-Mason Zeigler[4] ; 2. 28M-Jimmy Mars[1] ; 3. 39-Tim McCreadie[2] ; 4. 32S-Chris Simpson[3] ; 5. 1-Brandon Sheppard[7] ; 6. 21-Billy Moyer[5] ; 7. 17M-Dale McDowell[18] ; 8. 21JR-Billy Moyer Jr. [12] ; 9. 1P-Earl Pearson Jr.[10] ; 10. 5-Don O'Neal[13] ; 11. 32P-Bobby Pierce[6] ; 12. 49-Jonathan Davenport[16] ; 13. C9-Steve Casebolt[20] ; 14. 15-Steve Francis[8] ; 15. 157-Mike Marlar[14] ; 16. 50-Shanon Buckingham[22] ; 17. 3s-Brian Shirley[24] ; 18. 9-Devin Moran[11] ; 19. 33M-Tim Manville[15] ; 20. 20C-Jacob Hawkins[21] ; 21. 7R-Kent Robinson[9] ; 22. 10-Eddie Carrier Jr. [23] ; 23. 7W-Ricky Weiss[19] ; 24. 71C-RJ Conley[17]