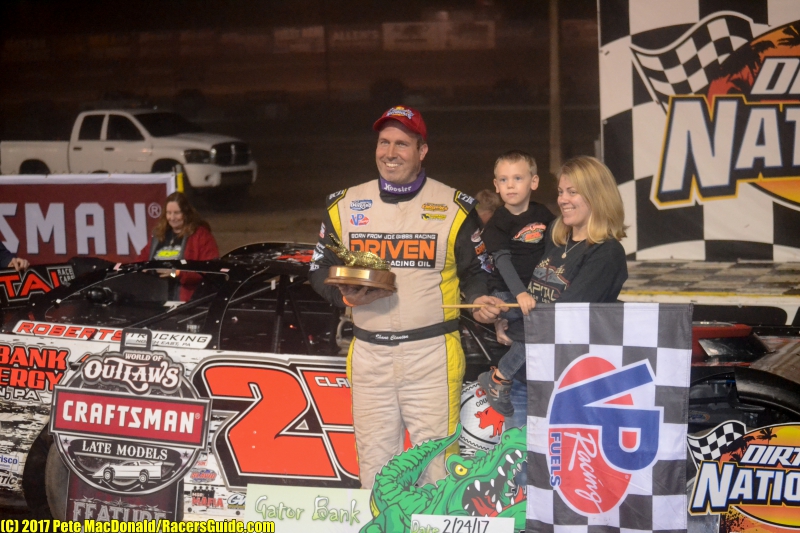 Way Out West
The Georgia Bulldog looks to repeat his past success in the Midwest
Story By: Kayla May/WoOLMS
Photos By: Pete MacDonald/RacersGuide.com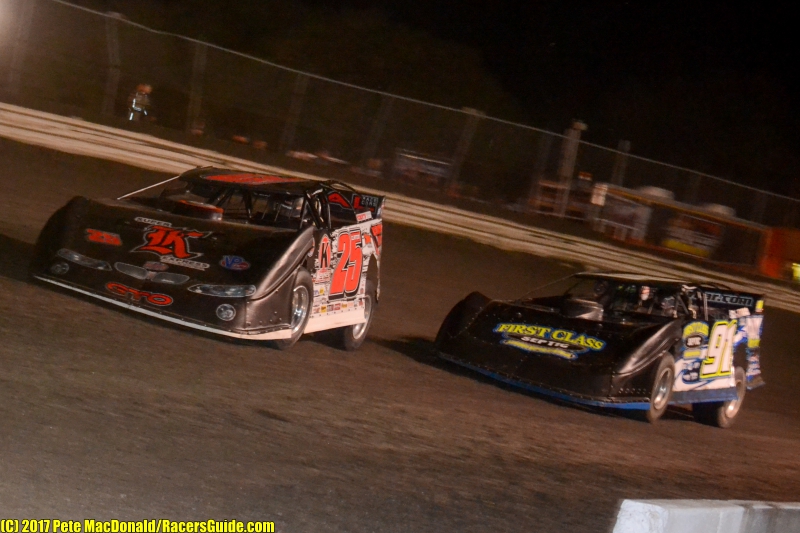 CONCORD, NC- July 3, 2017- On July 12 the World of Outlaws Craftsman® Late Model Series will head to Ogilvie Raceway for the second time ever. During the inaugural visit last year, 2016 Series Champion Josh Richards held off a late charge from 2015 Series Champion Shane Clanton, who found his way to second from a ninth-place start.
After the feature, Richards, who claimed his 10th win of the 2016 season, said, "I want to thank the track guys. It's a beautiful facility, and I wasn't expecting it to be this nice. It's a great place to come."
Clanton shook his head and smiled reflecting on the 2016 Outlaw race at Ogilvie. "It was close," he said. "Ogilvie is a place you have to carry momentum to. You have to be so close to the wall without hitting it, and a couple of people did hit it. Luckily, I was just good enough to be close to the fence and not knock the deck out of it like two other guys did."
The following day, on July 13 the Outlaws head 125 miles north to Hibbing Raceway for the third time. The event has appeared on the Series schedule for the last four seasons, but the 2016 edition was cancelled due to rain, making Clanton the last driver to win a Series event at the track.
"Hopefully we can do it again this year," said Clanton. "Our car was good that year, and we have been changing some stuff on the car since then. Hopefully we are a little bit better than we were last time and we can go there and win again. When you win one place you want to go back and win again, and sometimes you don't and it pisses me off. That's what gives us the drive we have to go to another track and win. That's what makes us so good."
To purchase tickets for the World of Outlaws Craftsman Late Model Series event at Ogilvie Raceway on July 12 click here. For more information on the event click here. For more information on Hibbing Raceway visit the track website here.
The World of Outlaws Craftsman® Late Model Series is brought to fans across the country by many important sponsors and partners, including: Arizona Sport Shirts (Official Apparel Company), Textron Off Road (Official Side-by-Side Vehicle), Craftsman (Official Tool), Extended Stay America (Official Hotel), Hoosier Racing Tire (Official Tire), Morton Buildings (Official Building), Sears (Official Home Store), The Kenny Wallace Dirt Racing Experience (Official Racing Experience, VP Racing Fuels (Official Racing Fuel) and DirtonDirt.com (Hard Charger Award); in addition to contingency sponsors, including: Cometic Gasket, Comp Cams, Edelbrock, JE Pistons, JRI Shocks, MSD, Penske Shocks, QA1, QuarterMaster, Superflow Dynos and Wrisco Aluminum (Exclusive Racing Aluminum); along with manufacturer sponsors, including: Capital Race Cars, Integra Shocks, Impact Racing Products, Intercomp, Racing Electronics, Rocket Chassis and TNT Rescue.
Founded in 1978, the World of Outlaws®, based in Concord, N.C., is the premier national touring series for dirt track racing in North America, featuring the most powerful cars on dirt, the World of Outlaws Craftsman Sprint Car Series and the World of Outlaws Craftsman Late Model Series. Annually, the two series race nearly 140 times at tracks across the United States and Canada. CBS Sports Network is the official broadcast partner of the World of Outlaws. DIRTVision® also broadcasts all World of Outlaws events over the Internet to fans around the world. Learn more about the World of Outlaws.