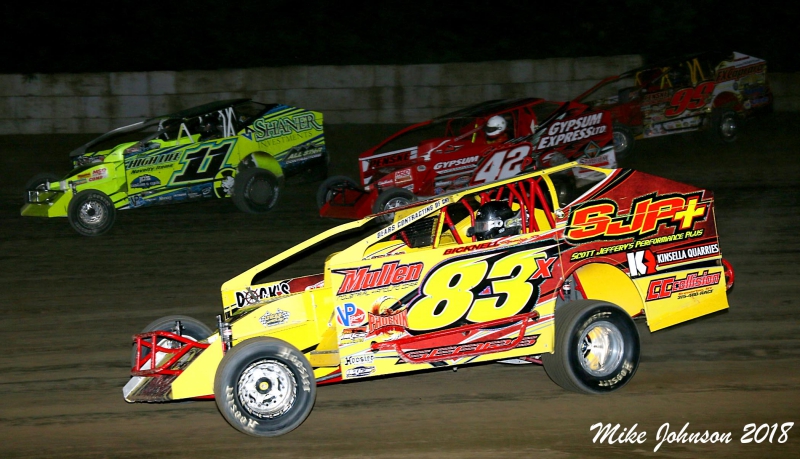 The Fulton Speedway Thanks SUNY Canton For Their Decade Of Support Of The Outlaw 200 Weekend
Story By: Dave Medler/Fulton Speedway
Photos By: Mike Johnson/RacersGuide.com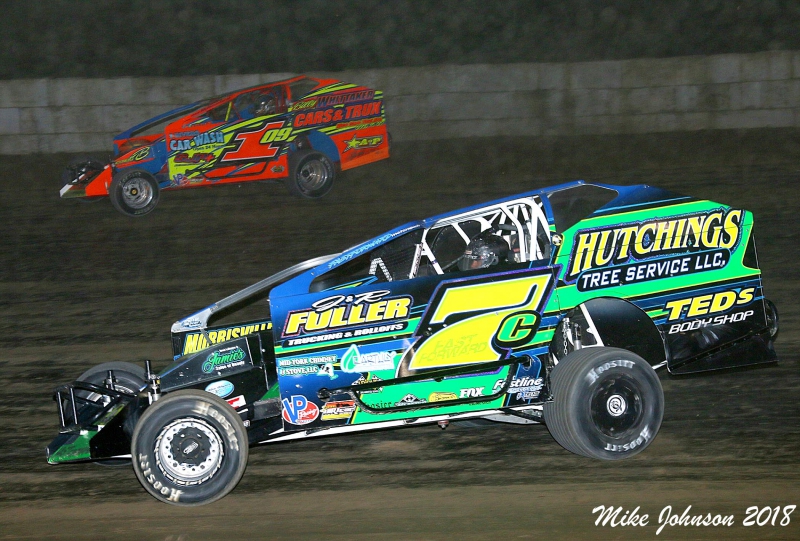 BALDWINSVILLE, NY – Less than two weeks it's one of the crown jewels in Northeast Motorsports, the Fulton Speedway 33rd Annual Outlaw 200 Weekend presented by SUNY Canton on September 28-29.
Even though the Fulton Speedway Outlaw 200 Weekend partnership with SUNY Canton is ending, this is a time for celebration. For their decade of unwavering support, SUNY Canton's Michael Perry (Executive Director-College Association, Inc.) has been named the grand Marshall and Brenda Winters (Controller College Association, Inc.) will be the honorary starter for the 33rd Annual Modified Outlaw 200.
For 10 consecutive years SUNY Canton has had a major presence as the division sponsor for the DIRTcar Sportsman at the Brewerton Speedway and Fulton Speedway, plus major events at both tracks thanks to Michael Perry and Brenda Winters.
Not only was Michael Perry, who has retired from the University and was the strong link between SUNY Canton and the speedways, he's also a huge race fan. Michael could be found at almost every race weekend at both tracks cheering on his favorite racers.
After Michael retired, Brenda Winters, also a race fan, filled Michael's big shoes as the relationship between the University and tracks never missed a beat because of her.
From track owners the Wight's and all the employees of the Fulton & Brewerton Speedways, we thank Michael Perry, Brenda Winters and SUNY Canton for all you have done.
SUNY Canton has long been known as one of the top schools in the State Universities of New York system of schools, and also in all of the Northeast. What SUNY Canton is, is a family atmosphere with class sizes that allow all professors and instructors to know their students on a one-to-one basis.
Everything they have to offer is too numerous to mention here, so please visit www.canton.edu to see all the opportunities they have. As they say at SUNY Canton, "Great Majors, Great Careers." As always please support those who support racing.
For ticket information, entry forms, camping cost and regulations and everything else you need to know for a fun 33rd Annual Outlaw 200 Weekend go to www.fultonspeedway.com . Once there click on the Outlaw 200 logo at the top of the page.
Any questions you might have and for future marketing opportunities please call (315) 593-6531 or cory@fultonspeedway.com . For all the latest news go to www.fultonspeedway.com
and like the track Facebook page www.facebook.com/FultonSpeedway
and the Twitter page @FultonSpeedway.
33rd Annual Outlaw 200 Weekend presented by SUNY Canton.
(Wednesday, September 26)
Camping Lot Opens for The Weekend – 5pm.
All camping transactions are made at the track upon arrival. Camping spots are first come-first served. No reserved camping spots.
(Thursday, September 27)
Ticket Sales & Will Call Open – 5pm-7pm
Early Hauler Parking – 5pm-7pm
(Friday, September 28)
Pit Stop Convenience Stores Northeast Late Model Alliance 50
Dig Safely NY Mod Lite Outlaw Championship
JB Logging & Firewood 4-Cylinder Open
E&V Energy Novice Sportsman Championship
15-Lap Modified Qualifiers (Winners earn 17thto 20th place starting spot in the Outlaw 200)
Industrial Tire of CNY Sportsman Shootout. Heats (8-Laps) Consolations (10-Laps)
Early Hauler Parking – 9am-2pm
Ticket Sales Open- Noon
Pit Gates Open – 3pm
Grandstands Open – 5pm
Hot Laps – 6pm
Heat Races Begin – 7pm
(Saturday, September 29)
33rd Annual SUNY Canton Outlaw 200 for Modifieds
Last Chance Qualifiers and 50-Lap Industrial Tire of CNY Sportsman Shootout
Pit Gates Open – 11am
Grandstands Open – Noon
Hot Laps – 3pm
Heat Races Begin – 4:30pm
Industrial Tire of CNY Sportsman Shootout Championship – Approx. 7:15pm
33rd Annual Outlaw 200 – Approx. 8:00pm