[xyz-ihs snippet="Posts-Ad"]
The 'Doctor' Gobbles Up the Field at Accord
Danny Johnson Survives a Late-Race Charge by Billy VanInwegen to Grab the Victory in Brett Deyo's 'Gobbler' at Accord; Takes Home $5,500 for His Efforts
Story By: MATT NOLES / RACERSGUIDE.COM
ACCORD, NY- December 6, 2015- They say that good things come to those who wait.
After rain postponed the third annual running of Brett Deyo's 'Gobbler' event last Saturday at the Accord Speedway, many faithful race fans were left wondering what it would be like to attend a dirt race in December. Needless to say, their questions were answered.
With Christmas carols playing over the public address system as fans and competitors filed into the Accord Speedway on Saturday afternoon, the 'Doctor' Danny Johnson made sure they didn't leave disappointed as the driver of the familiar No. 27J added another notch to his belt with a season-ending victory at the historic quarter-mile facility.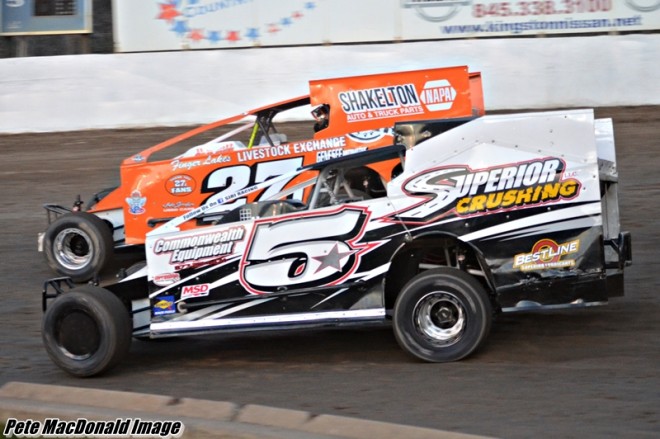 Johnson and Tyler Siri would set the pace for the 50-lap, $5,550-to-win modified main event with The Doctor grabbing the lead at the drop of the green flag. Johnson stretched out his advantage over Siri during the opening circuits with VanInwegen, Higbie, Dippel, Strunk and Bachetti making their presence known in the beginning stages of the feature.
An early caution for a multi-car incident in turn four would bunch the field back up and on the ensuing restart, Siri surprised Johnson when he grabbed the lead from the wily veteran as the field charged into turn one.
With VanInwegen immediately applying pressure to Johnson, Siri drove his Superior Crushing sponsored No. 5 modified to a comfortable advantage until another caution slowed the field at around the midway point of the event.
When the green flag flew again, Siri led the field into turn one with VanInwegen and Johnson continuing their high-speed game of cat and mouse with Johnson slamming the door on VanInwegen as the field exited turn two.
Another battle was brewing directly behind Johnson and VanInwegen as Dippel slid past Higbie with Strunk quickly following him through. Though Dippel may have had the advantage temporarily, it wasn't to last as Strunk drove into the fourth position in the latter stages of the event.
Back up front, Siri's advantage quickly disappeared faster than Wesley Snipes during an IRS audit as he caught heavy lapped traffic and with only a handful of laps remaining both Johnson and VanInwegen closed to within inches of his back bumper.
As the trio raced towards turn three, Johnson made contact with the left rear bumper of Siri sending him into a four-wheel slide that he was unable to recover from. After showing his displeasure while under caution, Siri's night came to a disappointing end when he was retired to the pit area for the remainder of the event.
One more caution would slow the field and on the final restart, VanInwegen held a narrow advantage on the outside of Johnson as the duo raced through turns one and two but the 'Doctor' was not to be denied as he retained the lead over the remaining laps and held on to collect the victory over Billy VanInwegen, Jeff Strunk, Tyler Dippel and Andy Bachetti to round out the top-five.
For Johnson, this was certainly a December to remember and he had over 5,000 reasons to smile as he climbed from his modified in victory lane. "We're really happy to end the season this way," stated Johnson post-race. "We were fast right off the hauler and we didn't change anything on the car all night."
Though the veteran driver from western New York made it look easy, his winning drive was really anything but that. "Siri got me on that first restart and Billy [VanInwegen] almost got me on the last one," continued Johnson. "If you want the truth, I thought he had me in two. We only have a small-block in this car and it's underpowered compared to what other guys are running."
Where the incident between then race-leader Tyler Siri and himself is concerned, Johnson wasn't entirely sure how it started. "Things happen so fast here and I was trying to get him on the bottom and he changed lanes," Johnson stated. "I know I got into him and I know I spun him but I can't tell you how it started. Billy was behind me pressuring me and I was pressuring him [Siri] and it just ended up being one of those racing deals."
With a career as notable and legendary as Danny Johnson's, one would think he had seen nearly everything there was to see behind the wheel of a modified. His victory on Saturday evening was even a first for him.
"This is the first time I can recall racing in New York in December," Johnson concluded. "We ran at Nazareth back in December of 1983 I think and we were in t-shirts for that race but to do this in New York this time of year, this is definitely a first."
ACCORD SPEEDWAY 'THE GOBBLER' RACE SUMMARY: DECEMBER 5, 2015
Modified Feature Finish (50 Laps): DANNY JOHNSON, Billy Van Inwegen, Jeff Strunk, Andy Bachetti, Tyler Dippel, Jerry Higbie Jr., Mike Ricci, Danny Tyler, Anthony Perrego, Chris Shultz, Jeff Heotzler, Jimmy Wells, Robbie Green, Bob McGannon, Dan Humes, Kurt Hundeland, Dom Roselli, Chuck McKee, Tyler Siri, Rich Eurich, Danny Creeden, Corey Lowitt, Jeremy Markle, Scott Ferrier, Dave Hinsch.
Open vs. Crate 602 Sportsman Feature Finish (25 Laps): TIM HARTMAN JR., Tyler Johnston, Allison Ricci, Leo Fotopoulos, Randy Green, Brian Krummel, Tyler Boniface, Dan Morgiewicz, Bobby Knipe, Kenny Hinsch, Greg McCloskey, Mike Travers, Collin DuBois, Rich Ricci III, Jeremy Pitts, Phil Goetschius Jr., Ken Ferrier, Adam McAuliffe, John Aumick, Stacey Jackson, Chris Stevens, Charlie Hendrickson Jr., Brandon Grosso, Danny Cross.
Street Stock Feature Finish (20 Laps): RAY TARANTINO, Kyle Welsh, Jim Maher, Chris Kanuk, Bruce Gordon, Joe Narok, Steve Williams, Ryan Brockner, Matt Larrivee, Bob Sleight, Josh Towner, Travis Brockner, Joel Murns, Buck Mills, Walt Henry, Chuck Culbertson, Mike Stebbins, Gary Ronk, Mike DuBois Jr., Curtis Ayers, Tim Southard.
Slingshot Feature Finish (20 Laps): MATT SHULTZ, Alan Kober, Alan Selemba, Hunter Lapp, Dale Kober, Cole Stangle, Josh Marcus, Billy Van Inwegen Sr., Corey Cormier, Justin Mills, Hunter Smith, Jared Miller, Josh Kendall, Joseph Smith, B.K. Rizzo, Ryan Neiger, Samantha Miller, Ryan McCarthy, Dylan Steuer, Cole Hentschel, Don Boonstra, Erin Paulison.
*Full DNQ list, lap money, bonus awards to follow
The Gobbler Photo Galleries Courtesy of Dave Dalessandro and Matt Noles are now up at http://racersguide.com/photos/
[xyz-ihs snippet="Posts-Ad"]