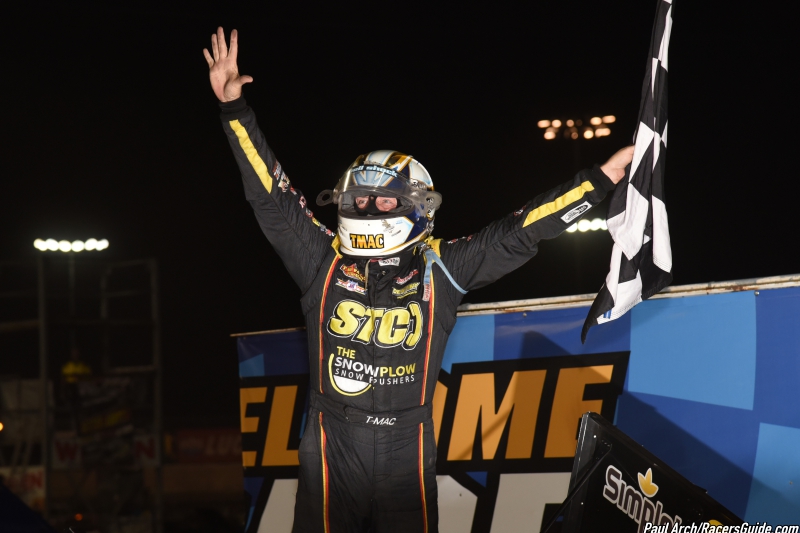 Terry McCarl Wins His Fifth Knoxville 360 Nationals
Story By: Bill Wright/Knoxville Raceway
Photos By: Paul Arch/RacersGuide.com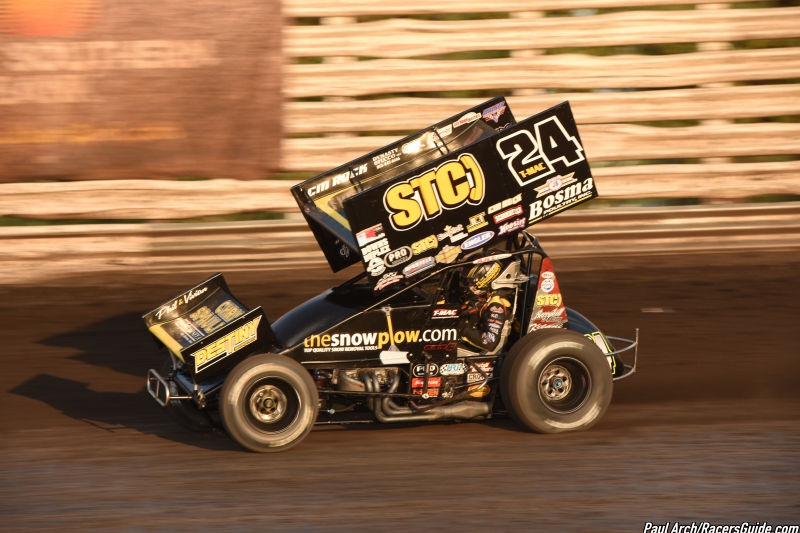 KNOXVILLE, Iowa (August 4, 2018) – Terry McCarl re-passed Carson Macedo with two to go to win his fifth career Knoxville 360 Nationals presented by Great Southern Bank Saturday night at Knoxville Raceway. The win was worth $15,000 to the Altoona, Iowa native aboard the TMAC Motorsports #24 "Franken-A.R.T." a combination of two 2013 A.R.T. chassis.
Joey Saldana took off from the pole to lead early over McCarl, Brian Brown, Greg Hodnett and Gio Scelzi. Carson Macedo, who got a bit of a slow start, entered the top five when he passed Scelzi on lap four. McCarl reeled in Saldana and passed him high in turn two to take the lead on lap five. With eight laps in the books, Brooke Tatnell contacted Jamie Ball, with the latter flipping hard in turn two. He was uninjured.
McCarl shot back in front when the green fell, ahead of Saldana, Brown, Hodnett, and Macedo. Macedo slid past Hodnett for fourth. Wayne Johnson, who was running tenth, slowed with a magneto issue, bringing caution on lap 11. That negated a Brown pass of Saldana for second. Macedo used the restart to get by Brown and take over third.
A red flag stopped things again when Scott Bogucki and Cole Duncan, who tipper over, tangled. Both were o.k. When the green flew again, Macedo slid by Saldana for the second spot and began reeling in the leader. Brown would get by Saldana for third with ten to go.
On lap 17, Macedo shot by McCarl to take the lead. Brown would follow him a lap later. The third place, McCarl, began searching the racetrack and found something on the low side. He reeled Brown back in and passed him for second with three to go. A lap later, he would shoot by the cushion riding Macedo to take the lead.
McCarl would prevail for the eighth time in his 360 career here over Macedo, Brown, Saldana and Thomas Kennedy. Hodnett, Gio Scelzi, Cory Eliason, Dominic Scelzi and Tim Kaeding rounded out the top ten. Sawyer Phillips was the D main winner, Jonathan Cornell took the C main, and Shane Golobic claimed the B. Crashes in both the C and B mains saw Tyler Blank and McKenna Haase take rides, but both were uninjured.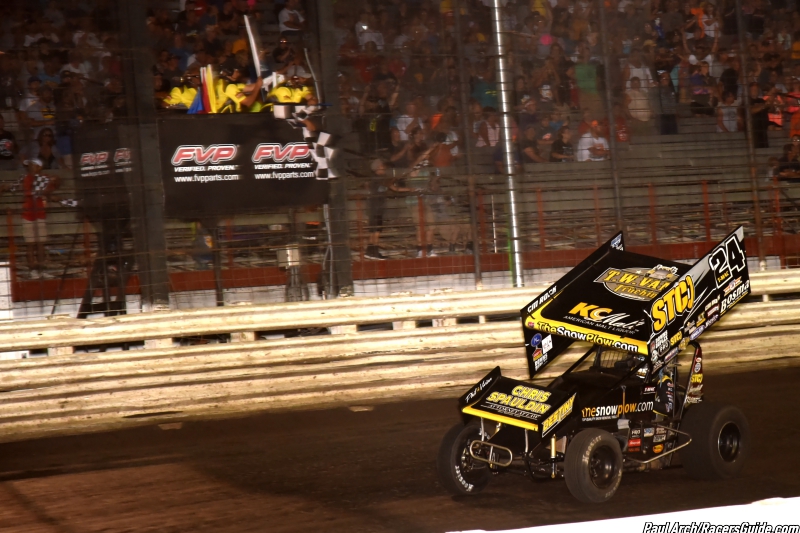 Macedo won a pair of awards. The highest finishing Rookie of the race also had his Jason Johnson Racing #41 voted as the "Best Appearing" car. Tatnell won a steering wheel from MPI for his hard-charger efforts (22nd to 11th).
"I used my tires up pretty hard there early racing with Joey," said McCarl in Victory Lane. "I was a little conservative and got loose there. Sometimes it's better to be leading and sometimes it isn't. When I dropped back to third, I had nothing to lose. It doesn't matter if you are third, fourth or fifth, you come to win. I was able to move around. The guys out front were kind of sitting ducks and couldn't move around like that. I found the bottom, and I was thinking, 'Please don't move down.' I have to thank Don Long and Jaymie Moyle. I'm so happy to win for them."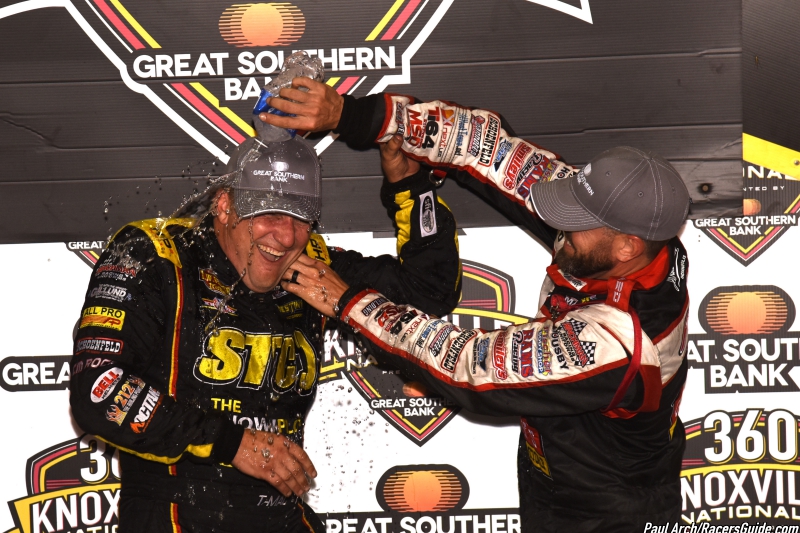 "My racecar was really fast," said Macedo. "I had a blast driving this car this weekend. I can't say enough about this whole family and this team. It's really cool. I initially got a little bit of a bad start, but I was able to get to the top and pick some guys off. Late in the race, I could really slide across, catch the cushion and drive off. When I got by Terry, I tried to get up there and stay as straight as I could. He found the bottom and was able to get by me."
"If they didn't like that race, I don't know what else we can do to put on a good show," said Brown. "I really thought once I got by Terry, I found the rubber a couple lanes down in three and four. Carson hadn't found it yet, and the next thing you know here comes Terry. He's a veteran here and he knows where to look. I was afraid to go to the bottom and lose my opportunity with Carson. My hat's off to my team."
Coming up next for the Lucas Oil American Sprint Car Series presented by Sawblade.com is the Sage Fruit Ultimate Challenge at Southern Iowa Speedway on Tuesday, August 7. Ticket and event info can be found online at http://www.oskychallenges.com.
For other news, notes, and information on the American Sprint Car Series, from the National Tour to any of the Regional Tours that make up the nearly 150 races across the ASCS Nation in 2018, log onto http://www.ascsracing.com, follow on Facebook, on Instagram, and on Twitter (@LucasOilASCS).
Race Results:
Lucas Oil ASCS National Tour
Knoxville Raceway – Knoxville, Iowa
28th 360 Nationals presented by Great Southern Bank
Saturday, August 4, 2018 – Night 3
Event Count: 91
A-Feature
A Feature (25 Laps): 1. 24-Terry McCarl, [3]; 2. 41-Carson Macedo, [7]; 3. 21-Brian Brown, [4]; 4. 26-Joey Saldana, [1]; 5. 21K-Thomas Kennedy, [8]; 6. 27-Greg Hodnett, [5]; 7. 71-Giovanni Scelzi, [2]; 8. 83-Cory Eliason, [18]; 9. 41S-Dominic Scelzi, [19]; 10. 3K-Tim Kaeding, [6]; 11. 14T-Brooke Tatnell, [22]; 12. 3S-Sammy Swindell, [11]; 13. 9-Ryan Giles, [23]; 14. 17WX-Shane Golobic, [21]; 15. 3-Nate VanHaaften, [13]; 16. 45X-Johnny Herrera, [24]; 17. 33M-Mason Daniel, [10]; 18. 7-Carson McCarl, [16]; 19. 53-Joe Beaver, [14]; 20. 44S-Trey Starks, [20]; 21. (DNF) 2C-Wayne Johnson, [12]; 22. (DNF) 28-Scott Bogucki, [15]; 23. (DNF) 12N-Cole Duncan, [17]; 24. (DNF) 5J-Jamie Ball, [9]
Lap Leaders: Joe Saldana 1-4; Carson Macedo: 17-22; Terry McCarl 5-16; 23-25;
CP-Carrillo Hard Charger: Brooke Tatnell +11
B-Feature (Top 4 advance to the A-Feature)
B Feature (15 Laps): 1. 17WX-Shane Golobic, [1]; 2. 14T-Brooke Tatnell, [3]; 3. 9-Ryan Giles, [2]; 4. 45X-Johnny Herrera, [5]; 5. 53D-Jack Dover, [8]; 6. 14-Tony Stewart, [7]; 7. 7W-Tasker Phillips, [11]; 8. 23-Seth Bergman, [9]; 9. 2-Bill Balog, [10]; 10. 99-Skylar Gee, [13]; 11. 15H-Sam Hafertepe Jr, [19]; 12. 70-Calvin Landis, [22]; 13. 17W-Harli White, [4]; 14. 94-Jeff Swindell, [17]; 15. 95-Matt Covington, [23]; 16. 28C-Jonathan Cornell, [20]; 17. 4-Jon Agan, [24]; 18. 18-Ryan Roberts, [18]; 19. 20-A.J. Moeller, [12]; 20. (DNF) 5H-Sammy Walsh, [15]; 21. (DNF) 44-Chris Martin, [21]; 22. (DNF) 55-Mckenna Hasse, [16]; 23. (DNF) 4J-Lee Grosz, [14]; (DQ) 7C-John Carney II, [6] John Carney light at the scales
C-Feature (Top 5 advance to the B-Feature)
C Feature (12 Laps): 1. 28C-Jonathan Cornell, [1]; 2. 44-Chris Martin, [2]; 3. 70-Calvin Landis, [11]; 4. 95-Matt Covington, [4]; 5. 4-Jon Agan, [9]; 6. 2M-Matt Moro, [6]; 7. 3P-Sawyer Phillips, [17]; 8. 13V-Seth Brahmer, [5]; 9. 23D-Devon Dobie, [8]; 10. 52-Blake Hahn, [23]; 11. 25-Dylan Peterson, [13]; 12. 47X-Dylan Westbrook, [15]; 13. 1-Travis Rilat, [19]; 14. 17-Mitchell Faccinto, [21]; 15. 63-Geoff Ensign, [22]; 16. 40-Clint Garner, [14]; 17. 35L-Cody Ledger, [20]; 18. 35-Skylar Prochaska, [10]; 19. 2X-Tucker Doughty, [24]; 20. 76-Brad Comegys, [12]; 21. (DNF) 7M-Chance Morton, [16]; 22. (DNF) 88-Scottie McDonald, [3]; 23. (DNF) 75-Tyler Blank, [18]; 24. (DNF) 8L-Tom Lenz, [7]
D-Feature (Top 8 advance to the C-Feature)
D Feature (10 Laps): 1. 3P-Sawyer Phillips, [1]; 2. 75-Tyler Blank, [3]; 3. 1-Travis Rilat, [12]; 4. 35L-Cody Ledger, [2]; 5. 17-Mitchell Faccinto, [11]; 6. 63-Geoff Ensign, [4]; 7. 52-Blake Hahn, [15]; 8. 2X-Tucker Doughty, [6]; 9. 13JM-Jordan Martens, [7]; 10. 29-Willie Croft, [10]; 11. 98-Chris Masters, [5]; 12. 86-Tony Bruce Jr, [14]; 13. 22M-Shawn Murray, [9]; 14. 49-Scott Kreutter, [20]; 15. 77X-Alex Hill, [17]; 16. 57-Billy Butler, [8]; 17. 07-Michael Bookout, [18]; 18. 2K-Kevin Ingle, [13]; 19. 1A-John Anderson, [19]; 20. 57B-Bobby Butler, [16]
2018 ASCS National Driver Points (Top 15): 1. Sam Hafertepe, Jr. 3,320; 2. Seth Bergman 3,230; 3. Blake Hahn 3,193; 4. Wayne Johnson 3,096; 5. Matt Covington 3,021; 6. Johnny Herrera 2,996; 7. Skylar Gee 2,919; 8. Scott Bogucki 2,851; 9. Travis Rilat 2,639; 10. Jamie Ball 2,597; 11. Chris Martin 2,590; 12. Harli White 2,576; 13. Alex Hill 2,320; 14. Roger Crockett 1,916; 15. Sammy Swindell 1,510