[xyz-ihs snippet="Posts-Ad"]
TALKING POINTS: RUN, RUN RUDOLPH, PAUCH JR. GOOD AT GRANDVIEW, BUNTING FAST IN THE FIRST STATE, DIETRICH DOES POSSE GOOD AND EASTERN STATES ON TAP
Story By: Pete MacDonald/RacersGuide.com – Photos By: RacersGuide.com Photo Staff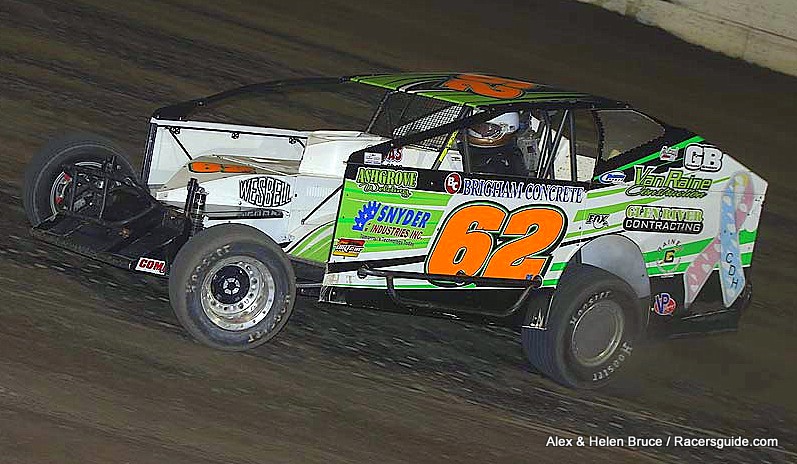 RUN, RUN RUDOLPH: Erick Rudolph had a stellar weekend this past weekend not only sweeping the 1000 Islands RV DIRTcar Northeast Nationals in Mr. DIRTcar 358 Modified and Super DIRTcar Series action at the Brockville Speedway in Brockville, ON, but he did it with the same car equipped with a 358 Small-Block engine.
PAUCH JR. GOOD AT GRANDVIEW: Billy Pauch Jr. and Ryan Watt duked it out late on Saturday during Mods at the Madhouse at the Grandview Speedway with "The Kids Kid" coming out on top for his second career Grandview Modified Feature win. The win was worth $5,000 and 43 Big/Small Block Modifieds were pit-side.
BUNTING FAST IN THE FIRST STATE: HJ Bunting picked up his second win of the year at the Georgetown Speedway on Friday night over Jimmy Horton. Horton who closed late in the going appeared to be faster than Bunting but couldn't find a way around him. Bunting's win was worth $3,000 and a guaranteed redraw spot in the Mid Atlantic Championship on November 4th and 5th.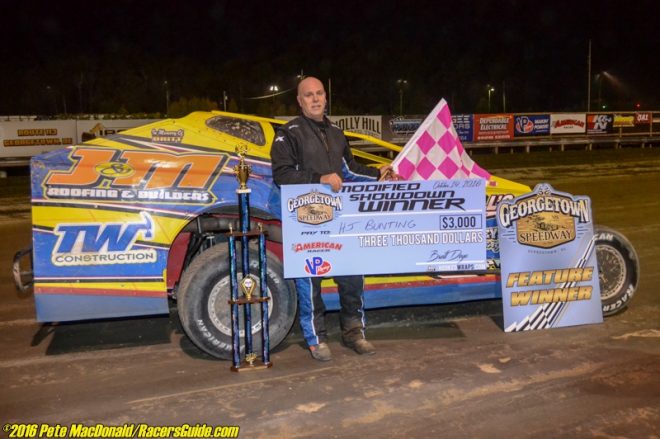 HARVICK'S HAPPY: I'm sure you are going to hear this stat a lot over the net few weeks but since the new NASCAR Sprint Cup Chase format was instituted in 2014, Kevin Harvick has yet to be eliminated. Harvick advanced to the Round of 8 by virtue of his win yesterday at Kansas, which will let him breathe a bit easier heading into Talladega this coming weekend.
DIETRICH DOES POSSE GOOD: Danny Dietrich did the Pennsylvania Posse fans proud this past Friday winning the Williams Grove National Open in Mechanicsburg, PA. Dietrich's win was worth $25,000 and came when he passed Joey Saldana with less than two laps remaining. Dietrich appeared to have used up all his good luck on Friday at The Grove because the next night at Port Royal, he failed to make the show.
EASTERN STATES ON TAP: This coming weekend the attention of many Northeast race fans turns to the "Hard Clay" at the Orange County Fair Speedway for the 55th Annual Eastern States Weekend on Friday, Saturday and Sunday. The highlight of the weekend will be the 200-Lap Big-Block Modified Feature held on Sunday Afternoon. If a driver can sweep both big and small block modified portions of Eastern States, he or she will leave Middletown with $60,000! Friday will feature the Sportsman along with time-trials for both big and small block modifieds along with heat races.
COBY CLOSES OUT NWMT SEASON WITH TITLE: Doug Coby picked up his third consecutive NASCAR Whelen Modified Tour championship on Sunday at Thompson Speedway Motorsports Park. Runner-up in points Justin Bonsigniore did all that he could do to help his title chances by winning Sunday's 150-lap affair. With the rumors flying about NASCAR merging both North & South Tours together for 2017, I look at it as a short term loss/long term gain as it will only help the series expand down the road.
I can be reached at racersguide@gmail.com or fount on Twitter @PMacDonald51. Thanks For Reading!
[xyz-ihs snippet="Posts-Ad"]