[xyz-ihs snippet="Posts-Ad"]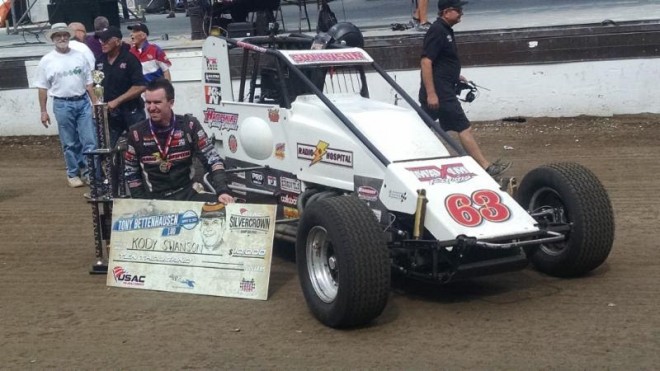 SWANSON MAKES IT BACK-TO-BACK "TONY BETTENHAUSEN 100" WINS
Springfield, Illinois…….Kody Swanson joined exclusive company
on Saturday
afternoon at the Illinois State Fairgrounds, as he became the seventh driver to go back-to-back in the "Tony Bettenhausen 100" with a spirited drive from 16th to a dominant win. It was the third win of the season for the defending series champion, which puts him at 11 career wins to tie Bobby East for 8th on the all-time list.
"Driving for a team like this with a crew chief like Bob Hampshire, I get to hear a lot of Jack Hewitt stories and what they were able to do back in the day. Today felt a little like that, coming from so far back and still being able to get it done. I've never thought of myself in regard to being with a group like the guys who have gone back-to-back in this race, or even the group of guys on the all-time win list, but it's been so much fun and we're just gonna enjoy this ride," Swanson said.
Swanson took ProSource "Fast Time" for the day, but was relegated to the 16th starting spot after using a push start to make his qualifying attempt. That gave Justin Grant, who was easily the most entertaining in hot laps and qualifying, the pole for the race. Shane Cockrum took the early lead from outside the front row, though.
Cockrum led two-time race winner A.J. Fike in the early laps, as Swanson already was into the top-ten on lap three. Chris Windom moved past Grant for third on lap five, and by lap eleven he passed Fike for the second spot. Terry Babb brought out the first caution on lap 14.
Swanson was seventh on that restart, as Windom assaulted Cockrum for the lead for a long stretch of green-flag racing. By lap 22, Swanson moved past Grant for fifth and reeled in the battle for third between Fike and Cottle. Windom started looking to the outside of Cockrum for the lead, crossing just .035-seconds behind on lap 24. A moment later, Swanson completed passes of both Cottle and Fike to take over third.
On lap 26, Windom again looked to the outside of Cockrum, this time trailing by just .027-seconds at the line, as early charger Steve Buckwalter poked inside the top-ten after starting 15th. On lap 30, ninth-starting Levi Jones entered the top-five as Fike started to free-fall through the feel with issues.
On lap 41, Windom finally completed the move for the lead on Cockrum, and he immediately stretched out his advantage as Swanson appeared to be saving his equipment in third. Windom's advantage was 4.687-seconds at halfway,as Swanson overtook Cockrum in traffic for second ahead of Cottle, Jones, and surging Buckwalter.
Windom's lead was drying up quickly, as Swanson had it down to 1.5 seconds by the end of lap 53. On lap 54, Jones took fourth from Cottle, as Jacob Wilson continued his fine run up into the sixth spot. Swanson wasted no time once he caught Windom, roaring past with the lead as they entered turn-one on lap 58. Just three laps later, the second caution of the day appeared for Brian Tyler and Steven Russell tangling in turn-four.
Windom tried to hang with Swanson on the restart with 35 laps to go, while Cottle worked past Jones and Cockrum into the third spot. Wilson tried to come along as well, going to the outside in turn-three on lap 68 only to get up into the marbles and pound the concrete, ending his day.
With 27 to go, the green flag flew again, and Jones quickly ducked to fourth under Cockrum, who was starting to fade. A lap later, Buckwalter came along, as well, to complete the top-five. An all-day tire-shake for Grant finally came to an end on lap 75, when he shredded a right-rear tire and stopped. He changed that tire but lost three laps in the process.
The final 21 laps went green, and Windom appeared to be slowing a bit, as Cottle slipped to second on lap 84. Cottle ripped off a quick lap, but Jones had also moved by Windom and tracked him down for second on lap 88. Jones bit into Swanson's lead for a few laps, but he leveled off as Swanson finished the final ten miles without issue en route to a 3.124-second victory in the DePalma Motorsports – Radio Hospital #63 Maxim/Hampshire.
"My team never gives up, and even when a freak thing sets us back, they battle and do everything they can. And when we know we're starting that far back, there's no doubt in us. I was teammates with Brian Tyler, and my predecessor in this car Jack Hewitt, could come from way back and win it. I'm nowhere near their caliber, but this car was good enough to get it done from back there. I told them that it was our turn to put on a show, and I knew we could do it. It's so cool what we've been able to accomplish in such a great series with events like this one. I had to be patient with those front two cars, and when it came time to go, we went," Swanson said.
Former two-time series champion Jones finished second in only his second race of the year aboard the Jack Rogers Realtors – Country Financial #57 Beast/Mopar.
"It sure does feel good to have that 63 in sight. You come here to win, but it's a good sign to get that close. I screwed up letting Cottle back by me and that cost me some time, but we just didn't get in as straight and smooth as the 63. It's not bad for just my dad and me, and a few guys who have supported me my whole career. We came up a little short, but it's hard to be upset about that very long. I'll be pumped up for Du Quoin and all the challenges it presents. We'll get her ready for that and try to get it done," Jones said.
Cottle completed the top-three with a great drive aboard the Curtis Williams – QS Components #81 Maxim/Williams Chevy.
"We managed the race pretty well, and right when we broke free and got to second, it was starting to run out of fuel. We had some sort of issue there with the pick-up about 20 to go, but I definitely felt fast enough to challenge him. I thought I had saved all I could, and it would have been fun to see what we truly had. It's really exciting to be this close in just a few races and with the tear the 63 has been on, but we'll go to my favorite track down at Du Quoin and see what we've got," Cottle said.
Jerry Coons, Jr. capped off a fine run with a fourth-place finish aboard the Nolen Racing – Columbus Container #20 Eagle/Chevy, and Buckwalter rounded out the top-five in the SET Racing – Heroes West Sports Grill #53 Beast/Chevy.
[xyz-ihs snippet="Posts-Ad"]