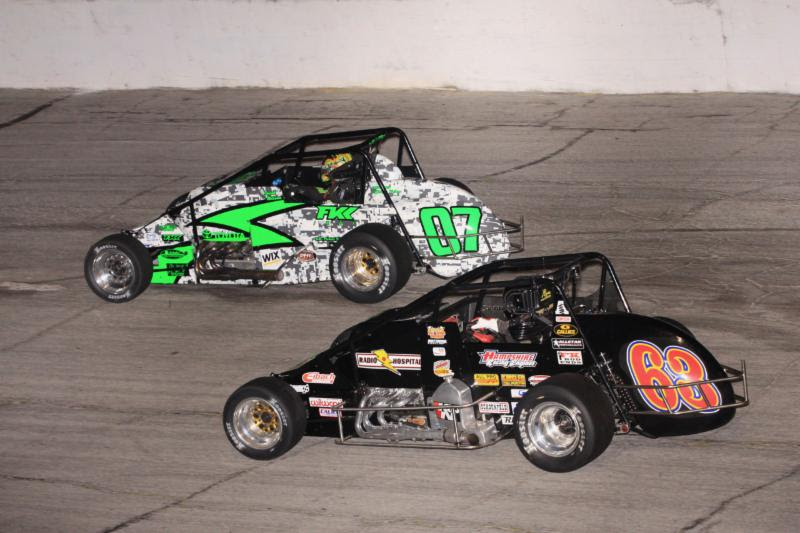 SWANSON BECOMES WINNINGEST SILVER CROWN DRIVER WITH SALEM SCORE
Story By: Richie Murray – USAC Media
Photos By: Rich Forman/USAC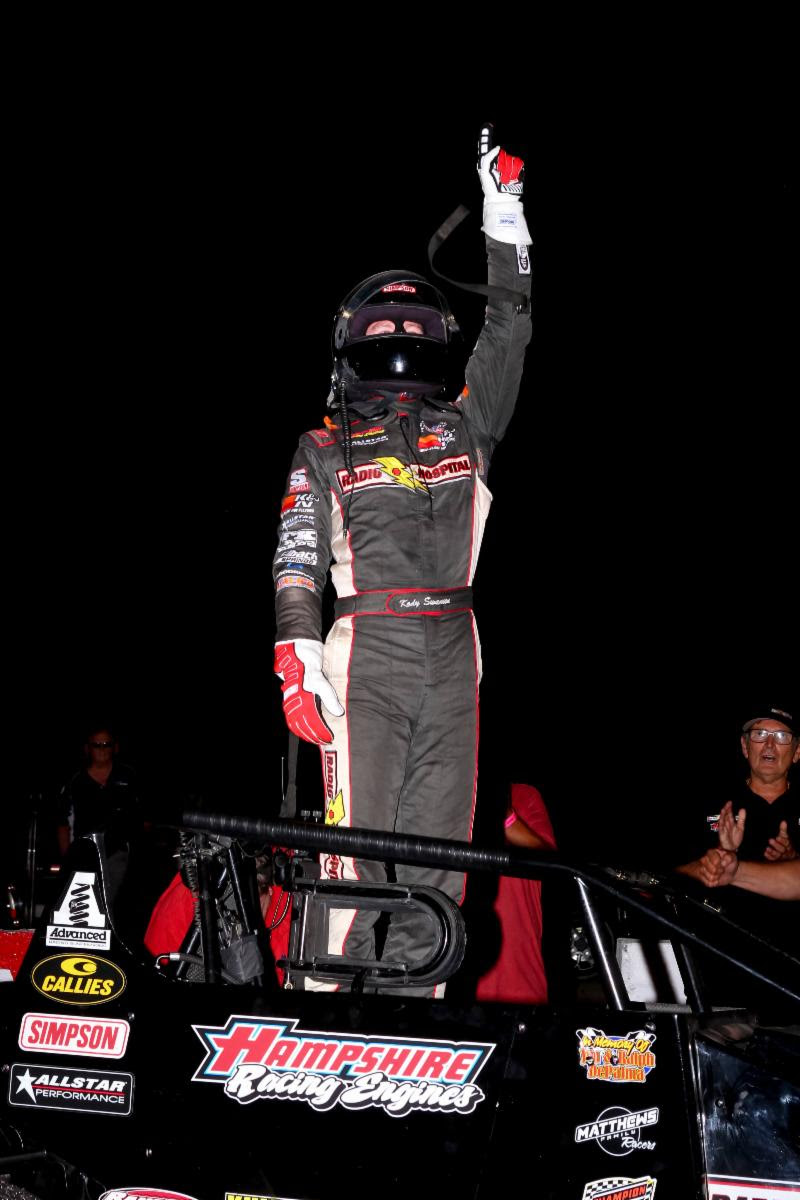 Salem, Indiana………On a night when he was in a class of his own on the Salem Speedway high banks, Kody Swanson put himself in a class of his own in the record books.
The Kingsburg, California native led the 59th "Joe James/Pat O'Connor Memorial" from start to finish in a landslide, perhaps the best on-track performance he's displayed of all 24 of his series victories, to surpass Jack Hewitt and become the USAC Silver Crown division's winningest driver.
Swanson set additional records, including notching his fifth consecutive series win, which passed the four-straight wins accomplished by Hewitt in 1986 and Tom Bigelow between 1975 and 1976. His third-straight "James/O'Connor" triumph slotted him into exclusive company as only the second driver to win that many consecutively. Pancho Carter won four-in-a-row between 1974 and 1977.
Twenty-one of those 24 wins have come behind the wheel of the DePalma Motorsports/Bob Hampshire-wrenched No. 63. Hampshire was also the crew chief on Hewitt's win streak and the majority of his Silver Crown wins over the years. Swanson is quick to credit his crew on the Lima, Ohio-based team. It's something he doesn't take for granted.
"It's so hard to believe," Swanson exclaimed. "It's what you dream about and what you wish for, but you never really give it a real chance. Silver Crown cars have long been my favorite, so to be on that list is special, let alone be at the top. But I didn't do it alone, though. Not a single one."
After all the preparation and anticipation between races, the anxiousness and butterflies dissipate once the green flag drops. It becomes all business. Swanson was proficient right from the outset, setting quick time in qualifying, then jumping out to the lead at the start.
David Byrne was pretty much the lone challenger to Swanson's throne early on, driving through an impressive shower of sparks that engulfed the nighttime sky to second by lap four and was routinely challenging for the race lead throughout the first third of the 75-lapper.
Following a lap 15 yellow for a slowing Matt Goodnight, Byrne remained relentless on the lone restart of the night, diving inside Swanson multiple times to no avail before slotting back in as the leader of the high-wire act displayed by Swanson's pursuers, followed by Bobby Santos, Chris Windom and Jerry Coons, Jr.
Between laps 30 and 40, Swanson extended his lead from a mere half-second to a 2.5 second challenge as he cut through the lapped traffic with the precision of a laser-guided missile.
On the 53rd lap, Windom grabbed second from Santos and began shrinking Swanson's lead ever so slightly over the next handful of laps. Yet, the shrinkage didn't last long, and Swanson opened up the lead once again, upping the interval to over six seconds and a near half-straightaway advantage that would simply not be overcome, challenging and lapping cars that were competing for the lead with him seemingly just moments earlier.
Swanson was flawless all night long, winning by just a tick under 8.5 seconds, and setting a new 75-lap track record in the process, over Windom, Santos, Coons and a career-best finish for Kyle Hamilton.
You couldn't script a better performance than Swanson showcased on a fairytale night in which the record books were cast aside, and a new edition was published. From dirt to pavement, this team seems to be on the same page much more often than not and Saturday night's performance at Salem certainly showed.
"Salem is such a tough and challenging racetrack, not only physically as a driver, but man it's hard on everything to have a car that will be good the whole race," Swanson said. "These guys go the distance for me every time and we do it together. My wife and I drive to the shop and put in the effort with them. As far as a team, we're all in it together. That's what makes it so special."
There are many things that make Swanson appreciate the efforts of his crew, including his spotter, and wife, Jordan. But it's the competition that keeps Swanson and crew challenging themselves to be better every time they hit the racetrack.
"Part of the reason every win is special in Silver Crown is because of who you're racing against," Swanson said. "Everyone's here. Our crew goes the extra mile and they're always trying something to get better because you know they are. Every win is special because they're all great competitors and they're here to win just like any of us. If you're going to beat them, you're going to have to put in the extra time and you're going to have to have a little bit of luck too."
——————————————-
USAC SILVER CROWN CHAMP CAR SERIES RACE RESULTS: August 11, 2018 – Salem Speedway – Salem, Indiana – Discover Scott County "Joe James/Pat O'Connor Memorial" presented by Kentuckiana Ford Dealers
QUALIFYING: 1. Kody Swanson, 63, DePalma-16.001; 2. Jerry Coons, Jr., 20, Nolen-16.186; 3. Bobby Santos, 22, DJ-16.264; 4. David Byrne, 40, Byrne-16.298; 5. Chris Windom, 17, Nolen-16.353; 6. Eric Gordon, 21, Armstrong-16.479; 7. Kyle Hamilton, 6, Klatt-16.493; 8. Justin Grant, 91, Hemelgarn-16.540; 9. Jacob Wilson, 07, WBR-16.566; 10. Dave Darland, 32, Williams/Wright-16.922; 11. Kyle Robbins, 7, KR-17.061; 12. Travis Welpott, 18, Welpott/Gorman-17.194; 13. Matt Goodnight, 39, Goodnight-17.329; 14. Patrick Lawson, 2, Lawson-17.434; 15. John Heydenreich, 43, Felker/Nix-18.008; 16. Mike Haggenbottom, 24, Haggenbottom-18.497; 17. Toni Breidinger, 80, Breidinger-19.065; 18. Cody Gallogly, 81, Williams-20.881; 19. Terry James, 16, Logan-NT
FEATURE: (75 laps, starting position in parentheses) 1. Kody Swanson (1), 2. Chris Windom (5), 3. Bobby Santos (3), 4. Jerry Coons, Jr. (2), 5. Kyle Hamilton (7), 6. Justin Grant (8), 7. Jacob Wilson (9), 8. David Byrne (4), 9. Dave Darland (10), 10. Travis Welpott (12), 11. John Heydenreich (15), 12. Mike Haggenbottom (16), 13. Patrick Lawson (14), 14. Eric Gordon (6), 15. Matt Goodnight (13), 16. Toni Breidinger (17), 17. Kyle Robbins (11), 18. Cody Gallogly (18), 19. Terry James (19). 24:06.27 (New Track Record)