With a last-lap pass, Matt Sheppard outduels Peter Britten for First Super DIRT Week big-block victory since 2009, Notches 39th victory of 2017
Story By: MATT NOLES / RACERSGUIDE.COM
Photos By: PETE MacDONALD / RACERSGUIDE.COM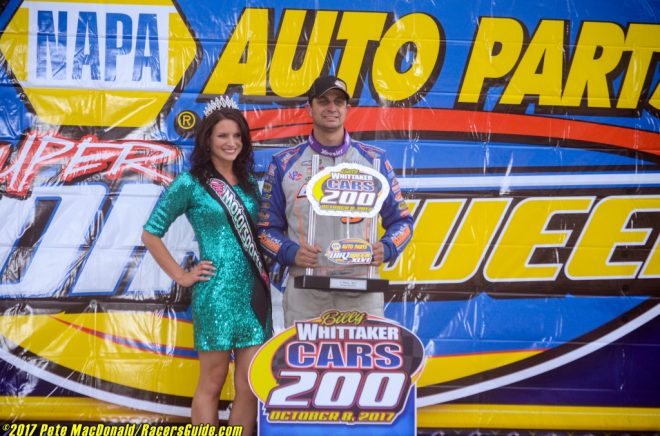 OSWEGO, NY- October 8, 2017- If you were looking for a more exciting or intriguing 200-lap race on a Sunday at Super DIRT Week, after the 2017 edition of the annual pilgrimage to dirt racing Mecca you'd be hard-pressed to find it.
With multiple pit-stops, three-wide racing all over the speedway surface and an avalanche of human emotion, the Billy Whittaker Cars 200 at Super DIRT Week XLVI had it all and more. What made it even more suspenseful and memorable aside from the incredible action was the outcome that the fans were privy to Sunday afternoon at the Oswego Speedway in Oswego, N.Y.
After falling back outside of the top-ten, 'Super' Matt Sheppard pulled the biggest rabbit out of his hat this weekend – leaving some to wonder how he can fit specific parts of his anatomy around the driveshaft – when he drove to the outside of Peter Britten on the final circuit of the Billy Whittaker Cars 200 and completed the weekend sweep for both the small-block and big-block portions of the weekend.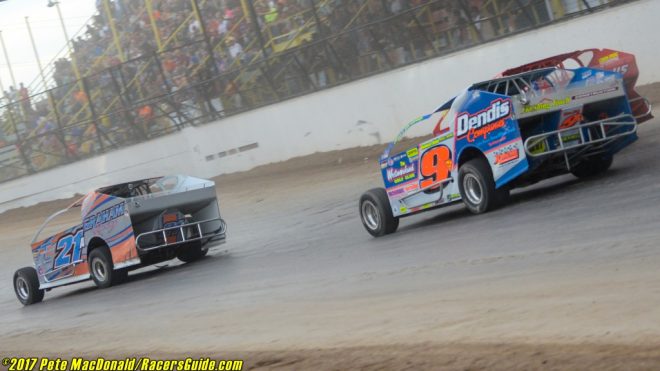 "I wasn't really sure if that move was going to stick," stated Sheppard in a post-race interview. "But I was going to give it a try. I'm sure happy that it did."
Sheppard's strategy from the onset of the event seemed to be the correct one; pitting early, getting fresh rubber and fuel and working his way back up through the field and back into contention in the second 100-laps.
"I thought we did everything right in the beginning of the race by pitting and putting tires on and cycling back to the front," continued Sheppard. "I thought we were going to be in good shape and then the track did a complete 180; suddenly it went from rubbered up to ice slick and fresh tires were way more important than track position."
Where track position was all-important during yesterday's small-block event, that case couldn't be made for Sunday.
"We started back-pedaling through the field," Sheppard stated. "We knew we had to put tires on but the big question was when. We wanted to leave ourselves enough time to get back to the front but at the same time we wanted to wait as long as we could so that we had that much fresher tires than the guys in front of us."
Lap-152 was about as late as Sheppard could wait and while other teams were only changing rear tires, the driver of the Dendis Companies sponsored No. 9s changed both rear tires and the right front. The results of their decision certainly paid for itself.
"I thought we had the time and if you put fresh rear tires on and you get the back of the car stuck, you want the thing to steer too." Sheppard explained with a laugh. "Everybody thinks that you need traction but traction doesn't do you any good if you can't turn."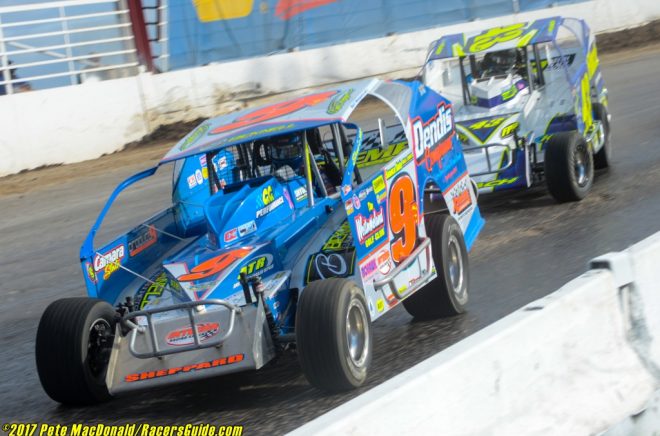 Speaking of tires, Sheppard proved that sometimes one left-rear Hoosier can be worth over $70,000 when he won both the small-block portion and the big-block portion of Super DIRT Week with the same rubber on the left side of his Bicknell chassis.
"We didn't have the right sized left-rear with us," Sheppard stated. "So, we ended up re-cutting and sanding the left-rear we won yesterday's race with and put it on during our last pitstop. We actually won both races on the same left-rear tire."
Though it took time for Sheppard to catch the top-five, he really started running them down and picking them off one-by-one with only 15-laps remaining on Sunday.
"I got up to fourth and I wouldn't say I had an easy time getting there," continued Sheppard. "But I was able to get up there pretty good. When I got up to fourth, the top-three guys were rolling really well and it took me a while to by Stewie [Stewart Friesen] and it was the same thing with Larry [Wight]; I could run him down but I wasn't really catching him all that fast; lapped traffic became the great equalizer."
An open race track with the top three able to carry their momentum around the speedway surface may have resulted in a different outcome on Sunday for Sheppard; luck as it so often does where racing is concerned, had other plans for 2009 Super DIRT Week champion.
"I don't know if my car was just a little more maneuverable in traffic or if the fresher tires were helping, but it seemed like when they got bogged down, I could maneuver a little better." Stated Sheppard. "I was able to get a big run out of two on Larry and then I was bottled up behind Peter [Britten]."
He stayed bottled up behind Britten for a handful of the closing laps but not on the one that counted most.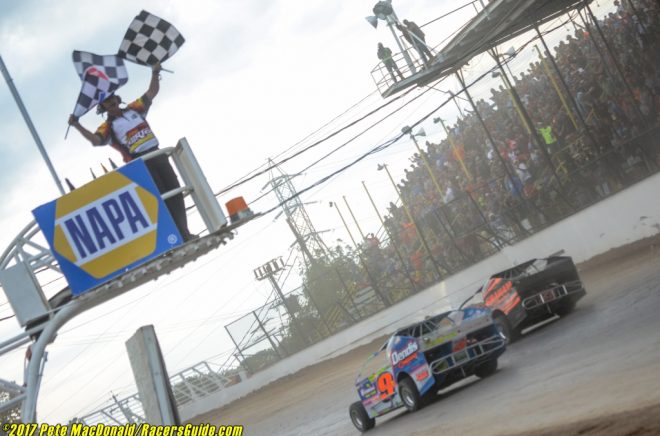 "He decided to protect the bottom and it just so happened that we had open race track," said Sheppard. "We took the white flag and I had a clean run at the top of turn one and I just sent it in next to him to see if I could get it to stick and it did. In hindsight, if Peter would've moved back up to where he was running originally, I probably wouldn't have gotten around him."
Yesterday Sheppard ended his 14-year drought in the Great Outdoors RV 150, today the defending Super DIRTcar Series big-block modified champion erased his winless streak in the Billy Whittaker Cars 200 in one brilliant and deft brush stroke. Breaking out the brooms has never been so good.
"This weekend was big for us," concluded Sheppard. "It's me making the decisions and spending a lot of money on this equipment to come here so running well and getting some of it back in return is just good for the program and it'll keep us going and get us heading into next year. Hopefully we'll get to have another season like this one."