Matt Sheppard Impressive in Saturday's Great Outdoors RV 150; Tim McCreadie Looks to Improve by One Position over 2016 Efforts; Billy Decker Excels at Long-Distance Races; Brett Hearn Can Never Be Counted Out; Stewart Friesen Looks for Sixth Super DIRT Week Triumph
Story By: MATT NOLES / RACERSGUIDE.COM
Photos By: RACERSGUIDE.COM PHOTO STAFF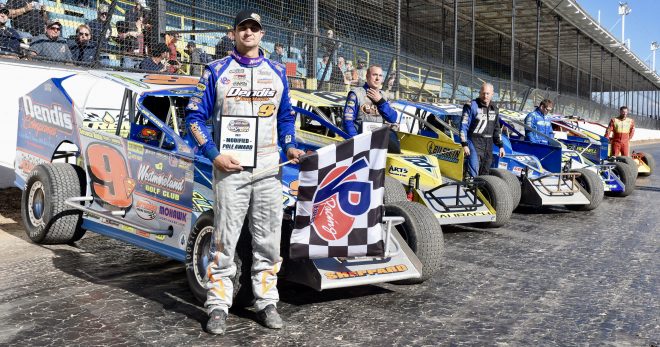 OSWEGO, NY- October 8, 2017- The 46th edition of NAPA Auto Parts Super DIRT Week at the Oswego Speedway in Oswego, N.Y., has produced more than a few surprises since the big-block modifieds took to the speedway on Wednesday afternoon.
With a track surface that is beyond improved from last year's initial attempt at covering the historic 'Steel Palace,' some things have certainly changed while others have stayed the same.
Matt Sheppard
The driver of the Dendis Companies sponsored No. 9s picked up right where he left off last year during qualifying on Thursday afternoon leaving little doubt that his family-run race team is nothing short of professional.
What's more was his impressive and somewhat surprising performance on Saturday's Great Outdoors RV 150 for the small-block modifieds. After the track surface took rubber and locked down, Sheppard proved that track position – more so than any other outside factor – very well may be what decides today's 200-lap affair.
By starting on the pole, 'Super Matt' has put himself in the best possible position to start the race. You can bet that the defending Super DIRTcar Series champion will do everything imaginable to ensure his Bicknell chassis is still atop the podium when the final flag falls.
Tim McCreadie
To say that McCreadie and the rest of the Sweeteners Plus team have experienced every conceivable range of racing emotions throughout the week would be a gross understatement.
After making an impromptu visit with the turn three wall on Thursday during practice before qualifying, the race was on to repair the well-known No. 39 before the onset of qualifying that afternoon. With the added issue of having to make the race on time and time alone, the pressure was intense at best.
When a late-race dogfight during last year's 200-lap show between himself and eventual race-winner Stewart Friesen left him out of contention at the end, the motivation to finally capture one of the few events that have seemed to always elude him has been stepped up to another level making him one to watch this afternoon.
Billy Decker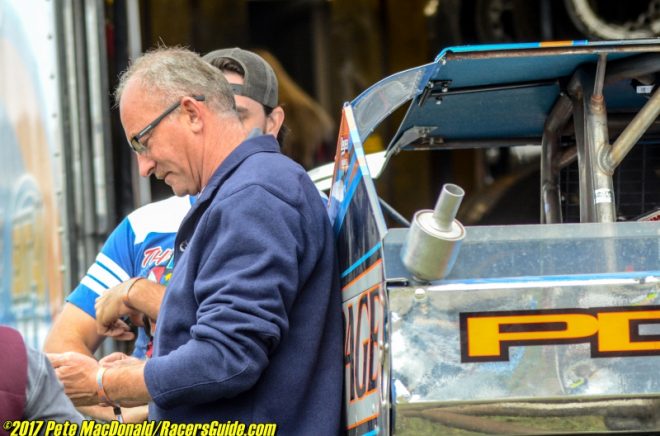 Disappointment is a strong word to use where Billy Decker is concerned. However, it's more than appropriate when describing his performance earlier in the week given how the Page Trucking No. 91 rolled off the trailer on Wednesday afternoon.
Decker – who has become synonymous with success in long-distance racing – was very nearly physically ill over their poor efforts heading into Thursday's time-trials. After thrown everything out the window and making massive changes to his Bicknell chassis after practice, the wily veteran returned to top form and qualified third and locked himself into the field on time.
With an almost supernatural understanding of what it takes both mentally and physically to win a 200-lap event during Super DIRT Week, Decker is once again on the short list of drivers to watch on Sunday afternoon.
Brett Hearn
Aside from a brilliant fourth-place finish during Saturday's Great Outdoors RV 150 for the small-block modifieds, Brett Hearn has been beyond frustrated for the entirety of Super DIRT Week XLVI. With speed difficult to find, the winner of over 900-career modified features will find himself firing from the 22nd position on the grid for today's Billy Whittaker Cars 200 at Oswego Speedway.
However – as he has shown numerous times over is illustrious career – Hearn can never be counted out in any race as long as his familiar No. 20 Shakleton Auto Parts Teo chassis is still on the lead lap and on the racing surface.
With more victories than many of his competitors have starts, Hearn will more than likely look to utilize his years of experience to devise some type of strategy to both outthink and outdrive his contemporaries. The only question is will the surface remain wide enough for him to do so. 200 circuits will surely tell the tale.
Stewart Friesen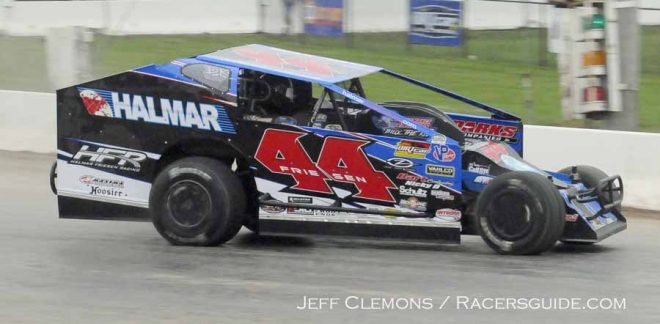 There has not been another driver as successful at NAPA Auto Parts Super DIRT Week since 2010 than Stewart Friesen.
With victories in 2010, 2011, 2014, 2015 and last year's inaugural event at the 'Clay Palace' in 2016, the odds are understandably in his favor. However – like Brett Hearn – speed and consistency have both been issues to contend with to the point that Friesen pulled out his DKM Cyclone chassis and put his faithful Teo chassis out to pasture for today's 200-lap contest.
After a masterful performance in 2014 – one that had more adversity than most drivers would be able to overcome – one can never count the driver of the Halmar sponsored No. 44 out; to do so would be detrimental at least and foolish at best. Look for 'Mr. October' to make a charge to the front from his 26th starting position on Sunday.
Super DIRT Week XLVI Billy Whittaker Cars 200 Starting Lineup
1. Matt Sheppard, 2. Rick Laubach, 3. Billy Decker, 4. Keith Flach, 5. Dominick Buffalino, 6. Tim McCreadie, 7. Max McLaughlin, 8. Danny Varin, 9. Billy Dunn, 10. Tim Fuller, 11. Mike Mahaney, 12. Erick Rudolph, 13. Justin Haers, 14. Kenny Tremont Jr., 15. Billy Whittaker, 16. Larry Wight, 17. Yan Bussiere, 18. Jimmy Horton, 19. Pat Ward, 20. Jimmy Phelps, 21. Adam Roberts, 22. Brett Hearn, 23. Rich Scagliotta, 24. Kody Graham, 25. Peter Britten, 26. Stewart Friesen, 27. JaMike Sowle, 28. Marc Johnson, 29. Michael Maresca, 30. Gary Tompkins, 31. Carey Terrance, 32. Alan Johnson, 33. Danny Johnson, 34. Tommy Flannigan, 35. Ryan Godown, 36. Frank Cozze, 37. Jessey Mueller, 38. Dan Humes, 39. Steve Paine, 40. Brandon Walters, 41. Tommy Sears Jr.