Super DIRTcar Series returns to Five Mile Point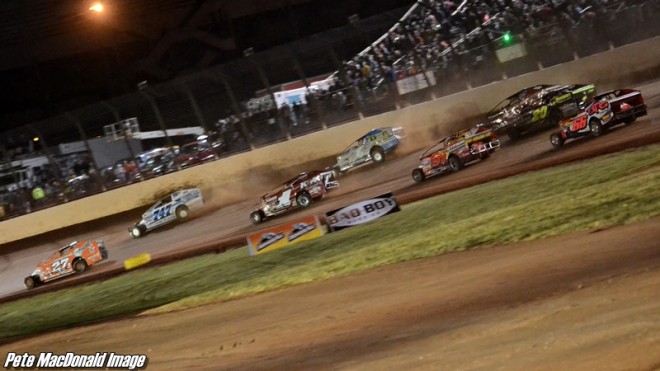 Big-Blocks help celebrate track's 65th anniversary
KIRKWOOD, N.Y. – July 11, 2015 – – The Super DIRTcar Series returns to Five Mile Point Speedway for the first time in nearly twenty years on Tuesday, July 14 for the "Greatest Racer 65", a 65thanniversary season event offering $30,000 in purse and awards, including $6,000-to-win.
Defending Super DIRTcar Series champion Billy Decker from near-by Unadilla, N.Y., driver of the Gypsum Wholesalers No. 91, won the last Super DIRTcar Series Big-Block Modified race at the Southern Tier quarter-mile in 1997.
Decker recently drove to his third Series win of the year at Mohawk International Raceway. "It will be a different type of race on a quarter-mile, but that's okay," he said. "I'm glad the series is returning to Five Mile Point. You just have to make adjustments and go racing."
As a part of its 65th anniversary celebration, Five Mile Point promoter Andrew Harpell has announced that five drivers have been added to track's "65 Greatest Drivers" list and will be honored Tuesday – including Bob McCreadie who had over 35 Super DIRTcar Series wins in his career.
Stewart Friesen of Sprakers, N.Y. another member of the speedway's "All-time 65" list, will be one of Decker's prominent competitors along with Matt Sheppard, Jimmy Phelps, Brett Hearn, Danny Johnson, Tim Fuller and Pat Ward.
"I broke into Modified racing full-time at Five Mile Point and won a couple of titles there," Friesen said. "I made a lot of money there – I like the place."
"The Southern Tier racing surfaces could play to our advantage," Friesen added, "although I haven't raced there on these Hoosier tires. I know Decker and Sheppard and Hearn have all raced there. It will be tough to win as always."
Pit gates will open at 3:30 p.m. with grandstand gates opening at 5 p.m. Hot Laps will begin at 6:15 p.m. with racing set for 7:30 p.m. Adult grandstand admission is $25, Seniors (65 years and older) are $22, Youth (ages 13-17) are $15. Kids 12 and younger will be admitted free!
For more information on the Super DIRTcar Series, visit www.SuperDIRTcarSeries.comwww.5milepointspeedway.com follow on Twitter@SuperDIRTcar, and like us on Facebook atwww.facebook.com/DIRTcar.
The Super DIRTcar Series and DIRTcar Racing in the Northeast Region is brought to fans by several sponsors and partners including Hoosier Racing Tire, VP Racing Fuels, Chevy Performance Parts, NAPA Auto Parts, Pole Position Raceway and Dig Safely New York. Contingency sponsors are ASI, Bicknell Racing Products, Bilstein Shocks, Brodix, ButlerBuilt, Cometic Gasket, Comp Cams, Edelbrock, FX Caprara, Fox Shox, Impact Race Products, Intercomp, JE Pistons, JRI Shocks, KSE Racing Products, Mobil 1, Motorsports Safety Systems, MSD Performance, Racing Electronics, Superflow, TNT Rescue and Wrisco Aluminum.
[xyz-ihs snippet="Horizontal-Google-Banner-Series"]
[xyz-ihs snippet="Horizontal-Google-Banner-Series"]