RICH SUPER DIRT SERIES HISTORY AT FIVE MILE POINT SPEEDWAY.
Press Release By: ANDREW HARPELL / FMP SPEEDWAY MEDIA
Photos By: DAVE DALESANDRO / RACERSGUIDE.COM

KIRKWOOD, NY – June 6, 2017-The huge month of June continues this Sunday, June 11th at Five Mile Point Speedway as Shakelton NAPA Auto & Truck Parts presents the DIRTcar Super Dirt Series Big Block Modified Tour invades for a 67 lap battle on the quarter mile oval.  Matt Sheppard is the defending race winner of this event.  Racing begins at 7 p.m.
Five Mile Point Speedway has a rich history of hosting Super Dirt Series Tour events over the years.  This season marks the 67th consecutive year of racing at the quarter mile oval in Kirkwood, NY.  This year will be the 25th running of the Super Dirt Series Tour at Five Mile Point Speedway.  Jack Johnson has won this event more than any other driver in those previous twenty-four events with his four wins.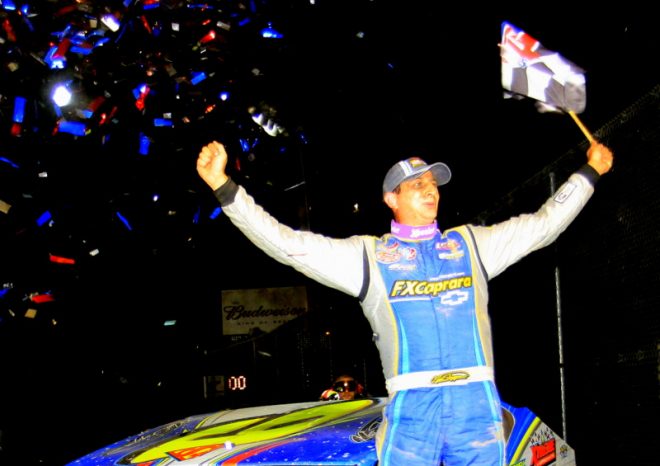 The Modified Big Block 67 lap winner will earn a cool $6,000 for the victory with nearly $30,000 in prize money up for grabs.  Last year's race winner Matt Sheppard used the victory to vault himself to the Super Dirtcar Tour Championship.  He is also the current leader of the point standings entering Sunday's race at Five Mile Point.  Bill Decker from Franklin, New York is currently second in the standings.  Decker, started his Modified career at Five Mile Point Speedway and is one of the voted Greatest 65 Drivers of All-Time at the speedway.  Another driver with that distinction is Stewart Friesen.  Friesen, a two-time Modified Track Champion at Five Mile Point Speedway won this event in 2015.
A number of the Five Mile Point Speedway weekly teams are expected to battle with the invaders again this year.  Kevin Bates, who has one feature win at the speedway this season is looking to do battle.  The Lake Ariel, PA driver is currently tied for the weekly Modified point lead at quarter mile oval.  The driver that he is tied with, Tyler Siri is also expected to be in competition on Sunday.  Siri is looking for his first victory of the 2017 season at the speedway.  The 2016 Five Mile Point Speedway Modified Summer Slam and "Rookie of the Year" Brad Szulewski is also making plans to be part of the star studded field on Sunday.
A strong field of the top Modified teams in the northeast are expected to converge on Five Mile Point Speedway this Sunday.  After nearly a month layoff for the Super Dirtcar Modified Series the teams will be anxious to get back to racing action.  Ryan Watt, was the winner of the last series event at the Bridgeport Speedway (NJ) in early May.  Although Watt is not a regular on the Super DIRTcar Series he has indicated he is making plans to be at Five Mile Point Speedway to try and go back to back with wins.
Joining the Modifieds will be the GRIT Series Crate Sportsman.  They will be running a $1,000 to win special event.  The Xcel 600 Modified North Regional Tour will be on hand as well as race 2 of the Fantastic Five FWD Four Cylinders.
Pit gates open at 3:30 p.m. this Sunday.  Grandstand gates open at 4:30 p.m. and racing gets underway at 7 p.m.  For more information please phone us at 607-775-5555 or log on to www.5milepointspeedway.com.  Five Mile Point Speedway where kids 12 and younger are always admitted FREE!
ALL TIME SUPER DIRT SERIES RACE WINNERS AT FIVE MILE POINT SPEEDWAY:  Matt Sheppard (2016), Stewart Friesen (2015), Bill Decker (1997), Doug Hoffman (1996), Kenny Tremont (1995), Billy Decker (1992), Doug Worthing (1991), Brett Hearn (1990), Danny Johnson (1989), Jimmy Horton (1986), Jack Johnson (1985), Chuck Akulis (1984), Doug Worthing (1983), Jack Johnson (1982), Carl Reynolds (1981), Carl Reynolds (1980), Chuck Akulis (1979), Jack Johnson (1978), Jack Johnson (1977), Will Cagle (1976), Will  Cagle (1975), Buzzie Reuitmann (1974), Larry Catlin (1973), Don Beagell (1972).