Big Diamond Speedway Short Track Super Series 'Anthracite Assault' Postponed To Sunday, July 16 Due To Rain, Ominous Forecast
Story By: BRETT DEYO / STSS MEDIA
Photos By: PETE MacDONALD / RACERSGUIDE.COM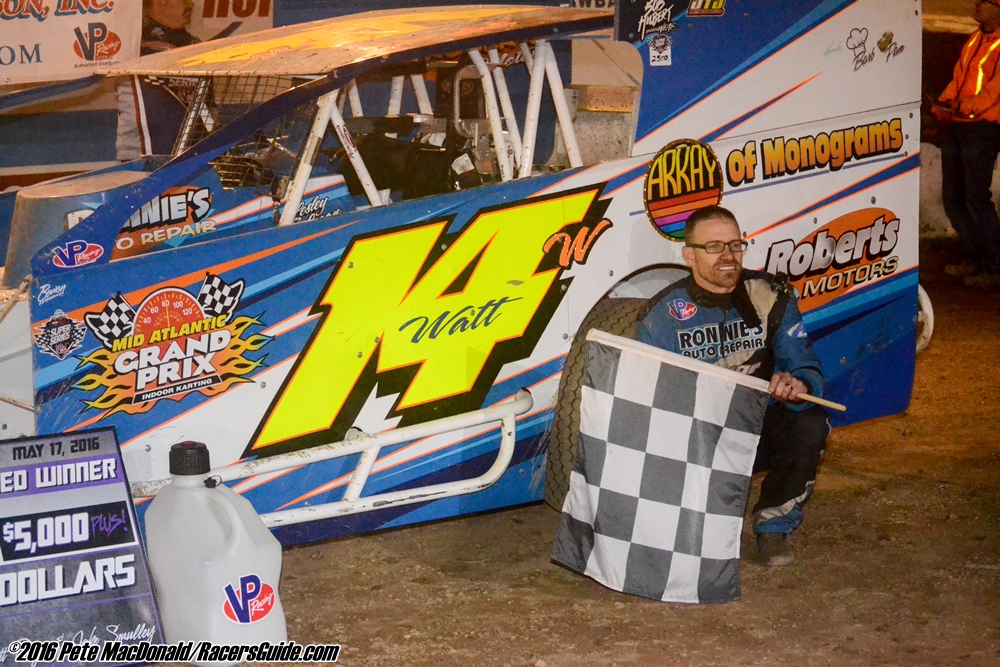 MINERSVILLE, PA- June 5, 2017- The annual 'Anthracite Assault' at Big Diamond Speedway has fallen to a forecast of significant rainfall in Pennsylvania's Schuylkill County for Tuesday, June 6.
Facing a 90-percent chance of rain and thunderstorms throughout the day and evening, Big Diamond management and Bob Hilbert Sportswear Short Track Super Series Fueled By VP organizers have postponed the event to Sunday, July 16.
The decision was made Monday evening in the interest of race teams traveling long distances to compete.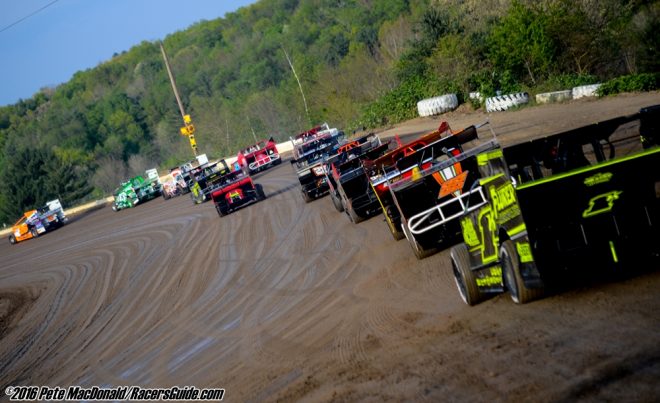 The 'Anthracite Assault' is unique in the only STSS event each year offering points toward both the Halmar International North Region and Velocita-USA South Region championship battles.
"Knowing this is a combination event and teams will be traveling long distances from both the north and south, we decided to make the decision early," said STSS coordinator Brett Deyo. "The forecast has trended increasingly worse. Hopefully we can save some time off for our racers and fans by making this announcement."
The program will move in its entirety to July 16, headlined by the 50-lap STSS Modified main paying $5,000 to win, $1,000 for 10th and $400 to take the green flag.
STSS Sportsman battle 25 laps for a $1,000 payday ($125 to take the green flag) and Big Diamond's full-fender Roadrunners take part in a points-paying main event on the docket, as well.
Unique to this event, Modifieds will utilize sail panels for the 'Anthracite Assault' – the only time all season at the three-eighths-mile oval.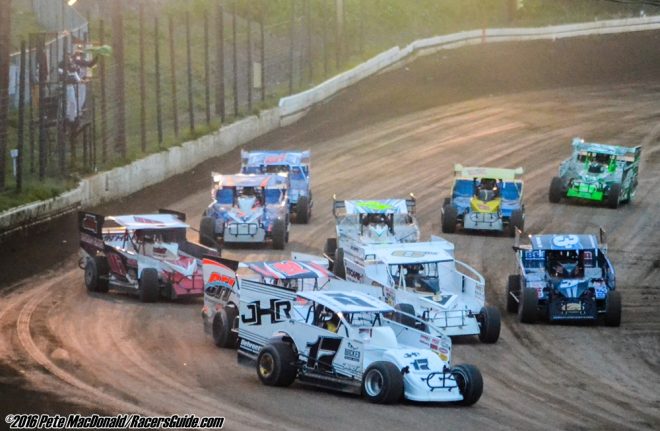 Rules, prices, times and general information for the 'Anthracite Assault' have been posted on the STSS website: http://bdmotorsportsmedia.com/anthracite-assault-rules-prices-general-info/
Big Diamond Speedway is a three-eighths-mile clay oval located in Minersville, Pa., just miles from Pottsville. The facility offers free parking, state-of-the-art concession areas and restrooms and not a "bad seat" in the house, with hillside grandstands overlooking the on-track action. The speedway GPS address is 392 Forest Lane Pottsville, PA 17901. The official website is www.bigdspeedway.com.
To learn more about the Short Track Super Series Fueled By VP or BD Motorsports Media LLC, visit www.shorttracksuperseries.com or www.bdmotorsportsmedia.com, call 845.728.2781 during business hours, e-mail bdmotorsportsmedia@gmail.com, "like" Short Track Super Series on Facebook or follow @ShortTrackSS on Twitter.
The 2017 Short Track Super Series is presented by American Racer/Lias Tire, VP Racing Fuel, Bob Hilbert Sportswear, Halmar International, Allstar Performance, ATL Racing Fuel Cells, Behrent's Performance Warehouse, Bicknell Racing Products, Dirt Track Digest, Fast Axle, Fox Racing Shocks, Hig Fab, Henry's Exhaust, HyperCo, Keizer Wheels, Kirkey Racing Fabrication, K&N, QA1, Race Pro Weekly, Racing Optics, Teo-Pro Car, Velocita, Weld & Wilwood.
Halmar International North Region
Saturday, April 8 – Orange County Fair Speedway/Middletown, N.Y. 'Hard Clay Open' – WINNER: ANDY BACHETTI
Sunday, May 28 – Thunder Mountain Speedway/Center Lisle, N.Y. – 'Lightning on the Mountain' – WINNER: ANTHONY PERREGO
Wednesday, June 21 – Afton Motorsports Park/Afton, N.Y. – 'Afton Action 50' (Rain Date: June 22)
Monday, July 3 – Accord Speedway/Accord, N.Y. – 'Battle of the Bullring 5' (Rain Date: July 4) – AMERICAN RACER CUP CHALLENGE EVENT
Sunday, July 16 – Big Diamond Speedway/Minersville, Pa. – 'Anthracite Assault' – COMBO (Rain Date: TBA)
Tuesday, August 15 – Albany-Saratoga Speedway/Malta, N.Y. – Recovery Sports Grill Stampede 'toga (Rain Date: August 16)
Tuesday, August 22 – Woodhull Raceway/Woodhull, N.Y. – 'Hustlin' the High Banks 53' (Rain Date: August 23) – AMERICAN RACER CUP CHALLENGE EVENT
Saturday, October 7 – Afton Motorsports Park/Afton, N.Y. – American Racer Cup Short Track SuperNationals 10 – Afton Motorsports Park/Afton, N.Y. (Rain Date: October 8)
Thursday, October 19 – Orange County Fair Speedway/Middletown, N.Y. – Behrent's Performance Warehouse 'Hard Clay Finale' at Eastern States Weekend (Rain Date: October 20) – CHAMPIONSHIP POINTS
Velocita South Region
Saturday, March 11 – Georgetown Speedway/Georgetown Del. – Melvin L. Joseph Memorial – WINNER: JIMMY HORTON
Sunday, April 23 – Bridgeport Speedway/Bridgeport, N.J. (Five-Eighths-Mile) – South Jersey Shootout (Rain Date: April 30) – WINNER: STEWART FRIESEN
Thursday, June 15 – Delaware International Speedway/Delmar, Del. – Diamond State 50 (Rain Date: TBA) – AMERICAN RACER CUP CHALLENGE EVENT
Sunday, July 16 – Big Diamond Speedway/Minersville, Pa. – 'Anthracite Assault' – COMBO (Rain Date: TBA)
Sunday, July 30 – Susquehanna Speedway/Newberrytown, Pa. – York County Nationals $10,000 to win (Rain Date: TBA)
Tuesday, August 29 – Georgetown Speedway/Georgetown, Del. – Blast at the Beach 4 (Rain Date: August 30)
Saturday, September 30 – Bridgeport Speedway/Bridgeport, N.J. (Three-Eighths-Mile) – Dirty Jersey (Rain Date: October 1)
Friday-Saturday, October 27-28 – Georgetown Speedway/Georgetown, Del. – Mid-Atlantic Championship (Rain Date: Oct. 29) – CHAMPIONSHIP POINTS