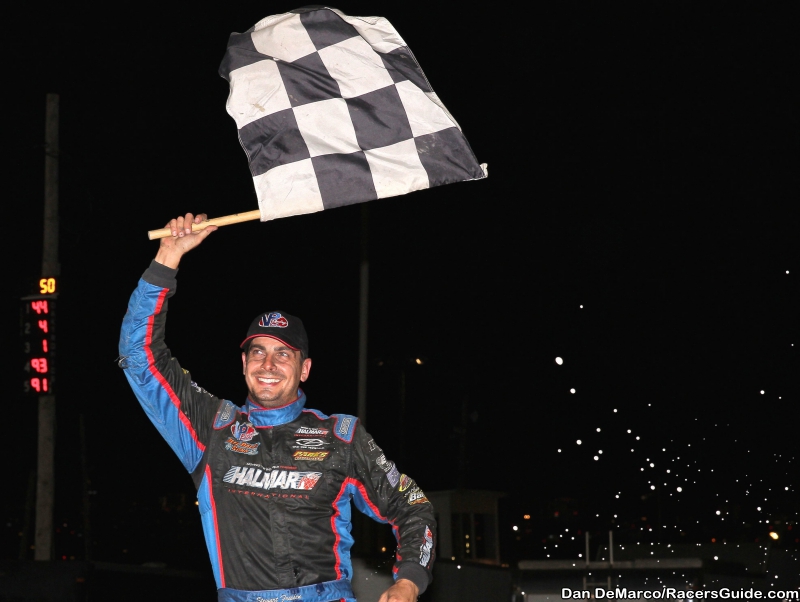 Stewart Friesen Wins Wild Behrent's Performance Warehouse 'Hard Clay Finale' At Orange County Fair Speedway; Andy Bachetti $12,500 Halmar North Region Champion
Story By: Brett Deyo/SSTS
Photos By: Dan DeMarco/RacersGuide.com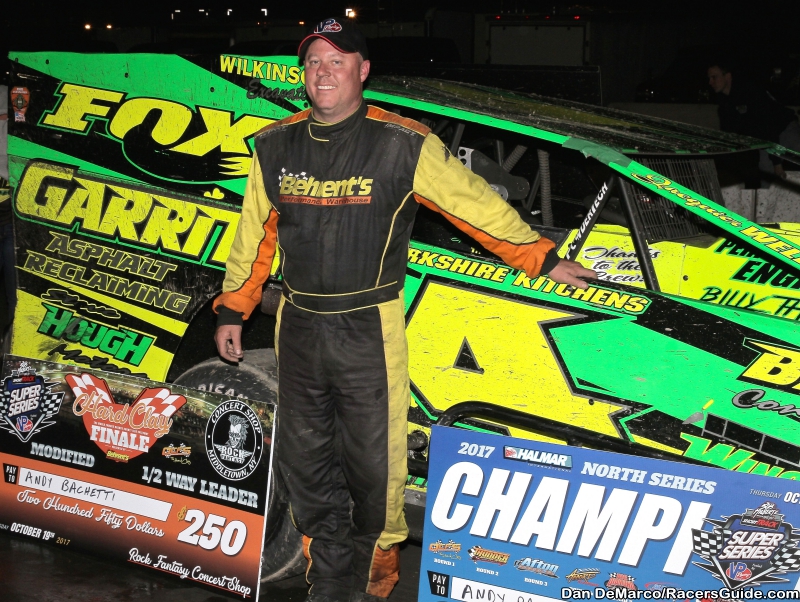 MIDDLETOWN, NY – In a wild, unpredictable main event, Stewart Friesen emerged victorious Thursday night at Orange County Fair Speedway.
The Sprakers, N.Y., driver pitted for a pair of fresh tires after slowing from the lead on the 38th circuit of the 50-lap event and was able to weave back through traffic to win the Behrent's Performance Warehouse 'Hard Clay Finale' at the five-eighths-mile oval.
Friesen earned $5,000 for his efforts, posting his 10th career Bob Hilbert Sportswear Short Track Super Series Fueled By VP big-block/small-block Modified victory.
"Wow, that was wild," Friesen said afterward. "We were able to pit at the right time to get back through. We brought the big-block tonight and it paid off. We weren't sure how it was going to be on tire wear, but in the end everybody's stuff was wore out.
"It's always exciting here, you never know!"
Thursday's event served as the ninth and final round of the STSS Halmar International North Region. Andy Bachetti of Sheffield, Mass., who finished second to Friesen, clinched the North Region title worth $12,500.
Via a redraw of top heat-race qualifiers, Bachetti led the 30-car field to the green flag. As Bachetti led, battles throughout the top-10 raged behind him. Mike Mahaney's Buzz Chew Motorsports No. 88 moved into second at lap four. Mahaney, and an emerging Friesen, battled nose-to-tail for the top spot at the halfway mark.
Mahaney was applying heavy pressure to the leader when disaster struck for the King Ferry, N.Y., driver on lap 29. While negotiating a lapped car, he spun in turn two.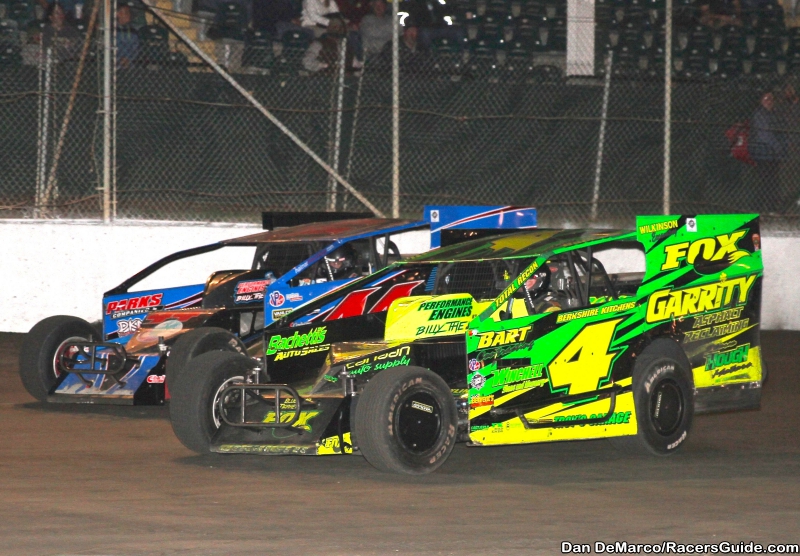 The complexion of the race would change dramatically after the yellow for Mahaney as tire wear became an issue.
On the 36th lap, Bachetti's right-rear tire went down in turn four. Friesen assumed the lead, but not for long. On lap 38, his right-rear tire went down, among three flats on the same lap.
New Jersey's Brandon Grosso was next to assume the lead. He paced one lap and his right-rear went down on the 42nd circuit.
Jerry Higbie's United Pump & Tank No. 48 led the field with Mike Ricci in tow. Friesen and Bachetti – racing back forward with fresh tires – were racing hard to move forward on a 42nd lap restart. A three-wide scramble sent Ricci around and ignited a multi-car tangle in turn two. Anthony Perrego's car overturned in the melee. No one was injured.
Bachetti surged into the top spot on lap 43, moments before Higbie's tire went flat.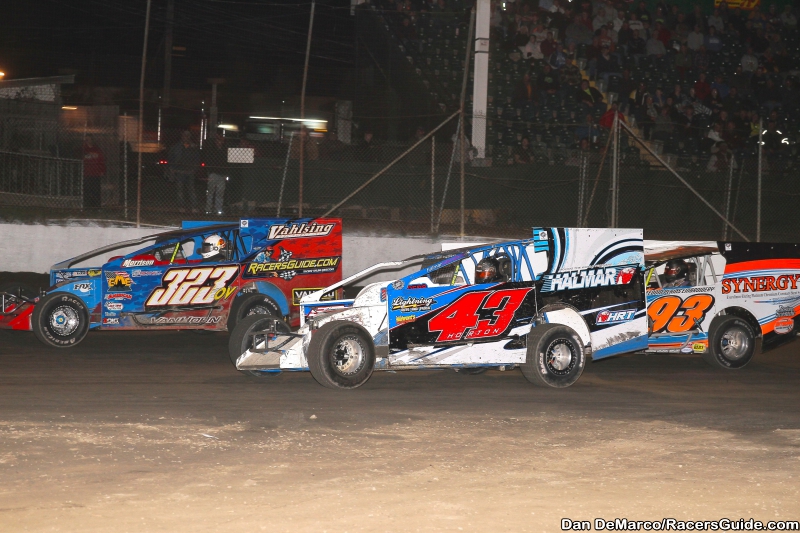 Friesen pulled alongside Bachetti for the double-file restart and surged ahead to take a lead he wouldn't relinquish on the 44th circuit.
"Bringing the big-block paid off for us on that last restart," Friesen explained. "I thought Bachetti kind of had it but we were able to get a good run there."
A final caution on lap 48 brought Bachetti to Friesen's back bumper. Bachetti chased Friesen across the line to clinch his third STSS Halmar North Region title in four years.
"I could have gotten more aggressive on that last restart, but I was 'big-picture' racing," Bachetti said. "I didn't know how much tire I had left. We came here tonight to win the championship first and we were able to do that.
"Thanks to the Short Track Super Series for an awesome series with the best money."
Bachetti's second-place finish was worth $4,000 plus $250 from Rock Fantasy as the race's halfway leader.
Rick Laubach of Hellertown, Pa., started 13th in Ryan Kerr's No. 1K and completed the podium in third. Laubach pitted for a tire on lap 39.
Track regular Craig Mitchell of Wappingers Falls, N.Y., recovered for a fourth-place finish after pitting on lap 38. Triangle, N.Y., driver Jeremy Smith placed fifth. Smith had been involved in a turn-four tangle with 11 laps remaining.
Smith received $500 cash from Grand Rental Middletown as the race's Hard Charger. Smith advanced from his original starting position of 28th on the grid.
Rounding out the top-10 were Tillson, N.Y.'s Ricci; Danny Creeden of Wurtsboro, N.Y., after running low on fuel on the final lap; Matt DeLorenzo of Cropseyville, N.Y., who also pitted for fuel; David Van Horn Jr. of Harmony, N.J., in Fred Vahlsing's No. 323ov (who also needed a fuel stop); and Belle Mead, N.J.'s Grosso.
Billy Decker, who crossed the line fifth, and Jerry Higbie in sixth, were both disqualified for weight infractions.
A massive field of 62 STSS Modified signed in for the inaugural event. Heat winners were Kirk Horton, Friesen, DeLorenzo, Perrego, Tyler Dippel and Bachetti. Three consolations set the remainder of the field. Consolation winners were Ric Hill, Matt Sheppard and Brian Krummel.
Kevin Skelly of North Branch, N.Y., topped a field of 28 Street Stocks to win the accompanying main event. Skelly was leading at lap 15 when a complete oil-down of the speedway prompted the checkered flag. Joel Murns, Charlie Donald, Tommy Pickles and Walt Henry were scored second through fifth, reverting to the last-completed lap.
HARD CLAY HAPPENINGS: The Orange County Fair Speedway pit area was literally overflowing with a season-high 62 STSS Modifieds registering for the program in addition to 28 Street Stocks….
Bachetti's No. 4 showed signs of smoke for much of the main event. Bachetti attributed the smoke to power steering issues….
The win for Friesen was his 10th in the 48-race history of the Short Track Super Series. It also marked his first checkered since switching to Integra Shocks late in the summer….
The field of STSS Modifieds included drivers from New York, New Jersey, Pennsylvania, Connecticut, Massaschusetts and the Canadian Province of Quebec….
Next up for the Bob Hilbert Sportswear Short Track Super Series Fueled By VP is the Mid-Atlantic Championship Weekend at Georgetown (Del.) Speedway featuring the Velocita-USA South Region finale: 40 laps, $5,000 to win, $1,000 for 10th and $400 to take the green flag. A full weekend of racing is on the docket, with a complete schedule online at www.thegeorgetownspeedway.com.
The Short Track Super Series Fueled By VP and BD Motorsports Media LLC can be found on the web at www.shorttracksuperseries.com or www.bdmotorsportsmedia.com. Brett Deyo can be reached by phone at 845.728.2781 or via e-mail: bdmotorsportsmedia@gmail.com. The series is also on Twitter @ShortTrackSS and Facebook under "Short Track Super Series."
The 2017 Short Track Super Series is presented by American Racer/Lias Tire, VP Racing Fuel, Bob Hilbert Sportswear, Halmar International, Allstar Performance, ATL Racing Fuel Cells, Behrent's Performance Warehouse, Bicknell Racing Products, Dirt Track Digest, Fast Axle, Fox Racing Shocks, Hig Fab, Henry's Exhaust, HyperCo, Keizer Wheels, Kirkey Racing Fabrication, K&N, QA1, Race Pro Weekly, Racing Optics, Speed51.com, Teo-Pro Car, Velocita, Weld & Wilwood.
BEHRENT'S PERFORMANCE WAREHOUSE 'HARD CLAY FINALE' RACE SUMMARY – ORANGE COUNTY FAIR SPEEDWAY OCTOBER 19, 2017
Bob Hilbert Sportswear Short Track Super Series Fueled By VP Halmar International North Region Event No. 9 Big-Block/Small-Block Modified Feature Finish (50 laps): STEWART FRIESEN, Andy Bachetti, Rick Laubach, Craig Mitchell, Jeremy Smith, Mike Ricci, Danny Creeden, Matt DeLorenzo, David Van Horn Jr., Brandon Grosso, Allison Ricci, Shane Jablonka, J.R. Hurlburt, Jimmy Horton, Anthony Perrego, Mike Mahaney, Billy Van Inwegen, Ryan Godown, Tommy Meier, Ric Hill, Joey Bruning, Nick Nye, Matt Sheppard, Kirk Horton, Brian Krummel, Craig Hanson, Tyler Dippel, Frank Cozze.
Disqualified (Weight Infractions): Billy Decker & Jerry Higbie
Did Not Qualify: Joey Bonetti, Gary Edwards Jr., Rich Ricci Jr., Ricky Davis III, Jeff Heotzler, Rich Eurich, Rob Rowe, Brett Tonkin, Heath Metzger, Roger Henion, Billy Pauch Jr., Rusty Smith, Brad Horton, Sean Mandel, Chris Stevens, Joe Judge, Joe Falanga, Yanick Mathieu, Tyler Treacy, Kurt Hundeland, Kenny Ferrier, Cole Hentschel, Frank Venezia, Sam Martz, Rich Eggers, Tyler Boniface, Billy Eggers, Cory Lowitt, Tom Hindley, C.G. Morey, L.J. Lombardo, Terry Arnold.
American Racer/Lias Tire Bonuses (FREE Tire): Matt DeLorenzo (eighth) & J.R. Hurlburt (13th)
ATL Fuel Cell Bonus ($200 Certificate): Jeremy Smith (fifth)
Behrent's Performance Warehouse Bonuses ($50 Gift Cards): Craig Mitchell (fourth) & David Van Horn Jr. (ninth)
Dewalt Tools Giveaways (Pre-Race): Billy Van Inwegen, Tyler Treacy & Kurt Hundeland
Fast Axle Bonus ($50 Certificate): Mike Ricci (sixth)
Grand Rental Station Middletown Hard Charger ($500): Jeremy Smith (28th to fifth)
Keizer Wheels Bonus (FREE Wheel): Craig Mitchell (fourth)
QA1 Hard Charger Bonus ($50 Certificate): Jeremy Smith (28th to fifth)
Rock Fantasy Halfway Leader ($250): Andy Bachetti
VP Racing Fuels Bonuses (second, 12th & 22nd): Andy Bachetti (second), Shane Jablonka (12th) & Nick Nye (22nd)
Weld Wheels Bonus ($50 Certificate): Mike Mahaney (16th)
Wilwood 'Lucky 7' Bonus ($50 Certificate): Danny Creeden (seventh)
Street Stock Feature Finish (20 laps): KEVIN SKELLY, Joel Murns, Charlie Donald, Tommy Pickles, Walt Henry, Ray Tarantino, Emerson Cargain, Ryan Brockner, Jim Hajkowski, John Hechinager, Bob Sleight, Ron Constable, Paul Harding, Mike Vigiletti, Wayne Taylor, David Cook, Jim Maher, Dan Maher, Joe Scheffole, Chris Murphy, Kyle Welsch, Kevin Corman, Livy Johnson, Jay Smalley, Shawn Maher.
Did Not Start: Larry O'Donnell, Matt Guadagno, Gary Gamble.