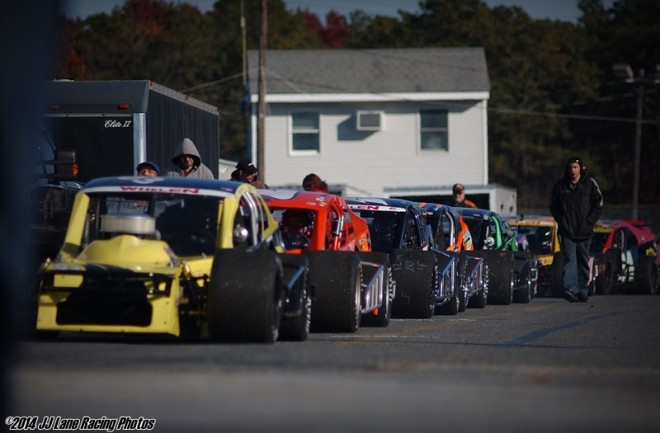 WALL TOWNSHIP, N.J. ~ Snap-on tools, famous for quality and innovative tools used by professional mechanics, will sponsor the Sportsman stock car division at Wall Stadium Speedway this season starting with the April 25 season opener and continuing through the entire campaign. Snap-on regional manager Ron Booth and speedway office administrator Diane Krause made the announcement recently.
"Ron has been involved with the sport for a long time and Snap-on is famous for their quality tools used by mechanics everywhere," Krause said. "That makes this sponsorship a perfect fit. I'm very excited about Snap-on's support of the speedway and I know the racers will be as well."
Booth seems eager for the season to begin.
"There is a lot of excitement for Wall Stadium's 2015 season and we are very excited to be involved," Booth said. "The Sportsman division at Wall Stadium offers excellent competition and we are proud to support it and the speedway. I have to thank our local franchisees, the people who visit all the professional repair shops, for their support of the program."
In addition to the Sportsman division at the speedway Snap-on also sponsors the No. 14 Sportsman car of Larry Thompson and the No. 02 Limited Late Model driven by Anthony Crimaldi. More information on Snap-on is available at snapon.com.
Although additional division sponsorships will be announced soon sponsorships for some divisional series are still available.
The 2015 weekly Saturday night campaign gets the green flag on April 25 but racers in all divisions will have the opportunity to test out their new and rebuilt equipment on the two Saturdays (April 11 and 18) leading up to the opener from 11:00 a.m. until 4:00 p.m. both days. In addition the pit area be open for tire purchases and technical inspection on April 4.
In honor of the 65th anniversary season Krause is asking all feature winners in the history of Wall Stadium to contact the speedway office so that they can be honored during the season.
The complete schedule is available at wallspeedwayracing.com as are the rules and regulations for all divisions.
Current plans call for Saturday evening stock car racing events to run until the end of September. Post-season events, the "Spooky Spectacular" in October and the Thanksgiving weekend "Turkey Derby," are also being planned.
More information on Wall Stadium and the 2015 Saturday night schedule can be obtained by visiting the website atwww.wallspeedwayracing.com.
Wall Stadium is located on Route 34 in Wall Township, N.J., just one mile north of Garden State Parkway exit 98 and Interstate 195 exit 35B. The speedway hotline number is 732-681-6400 and email address is CKMotorsports@aol.com.