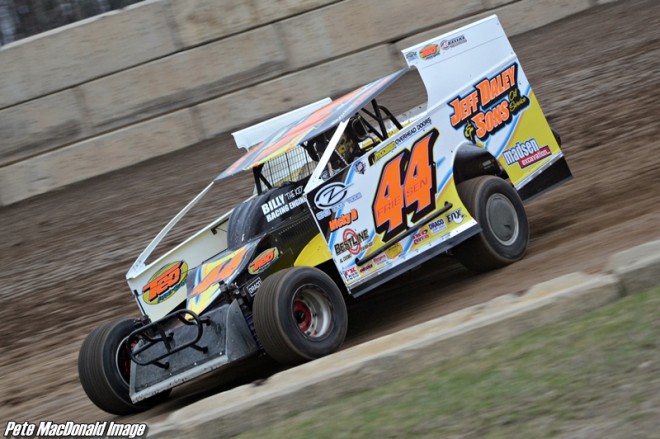 Slow Start, Fast Finish: Stewart Friesen Storms Through I-88 Speedway 'Crazy 8s Special' Field For $9,028 Short Track Super Series Fueled By Hi-Tek Triumph; Josh Keesey (GRIT Sportsman) & Brian Carber (XCel 600 Modified) Earn $1,000 Triumphs Before Packed House
AFTON, NY – Stewart Friesen started slow but stormed through the field to capture the richest event this season in the Southern Tier, the 'Crazy 8s Special' at I-88 Speedway, worth $9,028.
Friesen started 12th, dropped several spots in the early going of the 48-lap main, but rebounded quickly and rocketed through the field before passing I-88 regular Andy Bachetti with six laps to go. It was Friesen's second win of the five-race Short Track Super Series (STSS) Fueled by Hi-Tek Bob Hilbert Sportswear North Region.
"My car was incredible," Friesen proclaimed of his Billy the Kid-powered Teo-Pro Car. "This is an awesome old place to race at! How cool is it to see it packed to the gills with fans? I'm super proud of the team to win here."
The Sprakers, N.Y., driver replicated his finish from the 'Hard Clay Open' at Orange County (N.Y.) Fair Speedway, the season opener for the STSS North Region. This also marks the fourth top-two finish in the five North Region races for the Sprakers, N.Y. driver. The victory is Friesen's fifth BD Motorsports Media LLC promotion, the most all-time.
Friesen was eligible for the $2,000 Halmar International "Gambler's Challenge" by posting the $20 fee before the start of racing. That raised his base payout to $8,888 plus lap money and other incentives.
Bachetti led the star-studded field to the green flag and, after a few early-race cautions, built himself a solid lead by lap 10. Danny Johnson, the fifth-place starter, began his pursuit of Bachetti shortly thereafter, and as the two maneuvered through lapped traffic, Johnson took the top spot.
As Johnson and Bachetti swapped the lead multiple times, Danny Creeden was on the move from the 15th starting position. By lap 17, Creeden had pushed his nose to third with his sights set on the top two.
Creeden caught Johnson and Bachetti by lap 19, and the three engaged in a frenzied encounter, continuously interchanging lanes positions. The caution flag flew on lap 22 to calm the battle when Gary Tomkins, a top-five runner, lost a wheel after contact with the frontstretch wall.
After another quick caution on lap 23, Bachetti restarted in the lead with Creeden, Johnson, Billy Van Pelt and now Friesen rounding out the top five.
Creeden, driving the Smokers Choice No. 16X, resumed his challenge for the lead, edging aside of Bachetti as the two pulled away from the field. Behind them, a massive four-car battle ensued including Johnson, Van Pelt, Friesen and Jeff Heotzler, the 21st starter. Friesen dropped to sixth, but then drove by all three cars on the outside to reach third on lap 32.
"The tires came in late and I started rolling," Friesen noted in Victory Lane. "The top opened up and I used it to my advantage."
Meanwhile, Bachetti, of Sheffield, Mass., pulled away from Creeden through lapped traffic with Friesen really on the move behind them. By lap 39, Friesen had caught and passed Creeden for second and started catching Bachetti.
With just six laps to go, Friesen shot in between Bachetti and a lapped car to take the lead. A caution for a spinning Mike Mahaney with five to go set up a single-file restart.
"I didn't really want that caution at the end, but I just barely beat Andy (Bachetti) to the line," Friesen added.
From there, it was Friesen leading the final five laps and taking home the huge payday in the Jeff Daley-owned No. 44. Sheffield, Mass., driver Bachetti settled for second, an effort worth $3,388-plus lap money and a $200 bonus from Greg Page Construction as the highest-finishing speedway regular.
Wallkill, N.Y.'s Jeff Heotzler, the night's $288 Zubi's Racing Hard Charger, finished with a strong third after moving up 18 positions in the 48-lap feature with the Mel Schrufer No. 2A.
"I'm really happy with the finish," Heotzler said. "The car was better the longer it went. Stew just hit another gear there at the end."
Creeden finished fourth after battling for the lead for the middle part of the event. Wednesday night marked the best finish in the STSS North Region for the driver out of Wurtsboro, N.Y.
Jerry Higbie Jr., of Newburgh, N.Y., came home with a top-five result despite an eventful evening. Higbie qualified through the consolation and started 20th in the feature. He was involved in a pair of tangles that sent him to the tail. From the rear, Higbie pushed through once again to finish fifth with a $1,488-plus payday.
Finishing sixth through 10th, respectively, were: Van Pelt, of Westfield, Pa., after starting eighth and contending in the top-five all race; Rochester, N.Y.'s Danny Johnson was forced to settle for seventh in the Traction Grabber No. 27J; Tyler Siri, of Horseheads, N.Y., took home an eighth on a night where he captured one of the heat-race victories; Rich Ricci Jr. of New Paltz, N.Y., drove from 16th to a ninth-place finish; I-88 regular Mitch Gibbs, of North Norwich, N.Y., rounded out the top ten from the 17th starting position.
The field of 46 Modifieds, provided an unbelievable field of stars including drivers from New York, Pennsylvania, New Jersey, Maryland, Massachusetts and Connecticut.
Parks Companies LLC Modified heat winners, earning $88 each, were Cory Costa, Gary Tomkins, Rick Laubach, Billy Van Pelt and Tyler Siri.  The consolations were topped by Rich Ricci Jr., Mitch Gibbs and Jim Mahaney.
Josh Keesey of Savona, N.Y., pocked $1,000 as the winner of the 25-lap GRIT American Series Crate 602 Sportsman event. Keesey took advantage of a mid-race restart to press into the lead and drove on to the win. I-88 track regular Alan Barker placed second, ahead of Jake Dgien, Rocky Warner and Stacy Jackson. Matt Hitchcock, who dominated the first half of the main, finished seventh.
For the second time this season in a companion event with the STSS, Pipersville, Pa., driver Brian Carber was the XCel 600 Modified victor. Carber, a winner earlier this season on the inner quarter-mile oval at Bridgeport (N.J.) Speedway, earned a $1,000 payday in his first-ever visit to I-88. Carber bested Steven Sherwood, Will Eastman, Josh Pepe and Drew Fallis in the 20-lap event.
The STSS Bob Hilbert Sportswear North Region moves to Woodhull Raceway in Woodhull, N.Y., on Tuesday, August 11 (rain date: Aug. 12) for the 'Hustlin' the High Banks 51' paying $5,100 to win, $1,000 for 10th and $400 to take the green flag. This is a first-time event at the high-banked oval and the richest race in speedway history. The GRIT Crate 602 Sportsman and Quad C division complete the card.
To learn more about the Short Track Super Series or BD Motorsports Media LLC, visit www.shortttracksuperseries.com orwww.bdmotorsportsmedia.com, call 845.728.2781 or e-mail bdmotorsportsmedia@gmail.com.  "Like" Short Track Super Series on Facebook or follow @ShortTrackSS on Twitter.
I-88 AFTERTHOUGHTS: A huge crowd filled the Afton Fairgrounds oval with the traditional covered grandstands jammed to the max and overflow throughout the open bleachers. Some 91 race cars took part in the three-division program which was spun off in rapid fashion. The STSS Modified feature was completed minutes before 10 p.m. with only the Crate 602 Sportsman left to run….
Multi-groove racing was the norm throughout the main event, with passing prevalent across the speedway….
Jeff Strunk had driven from 20th to sixth in just 15 laps before breaking an axle, sending his Zubi's Racing No. 88 to the pits….
Tommy Meier made his first run in a brand-new Jeff Behrent-owned No. 3 completed just hours before leaving for the track. Tyler Dippel, likewise, was driving a fresh No. 1 in his return to STSS competition….
Stewart Friesen leads the series into Woodhull Raceway, a track where he has yet to turn a competitive lap in his career….
Alan Johnson picked up the ride in the Herb Wright No. 88 for the night but failed to qualify. Jimmy Horton was a surprise entrant in the Rocco Infante No. JR1 but couldn't recover from a poor draw and missed qualifying for the main….
A pre-race 'Fan Fest' on the horse track was well-attended by early arriving fans, with many of the competitors on hand displaying their cars….
Press Release prepared by Cody Manmiller
The Short Track Super Series is presented by Hi-Tek Race Fuel, American Racer/Lias Tire, Bob Hilbert Sportswear, Pioneer Pole Buildings Inc., Scotty's Speed & Diesel, East Coast Speed/ECS Auto, Behrent's Performance Warehouse, Allstar Performance, ATL Fuel Cells, Bicknell Racing Products, COMP Performance Group (COMP Cams, Driven Racing Oil & Quarter Master), Crane Ignition, Dirt Track Digest, Fast Axle, Fox Racing Shocks, Henry's Stainless Steel Exhaust, Hig Fab Chassis, Hyperco, Kirkey Racing Fabrication, Lineman Racing, Pilat Graphic Design, Race Pro Weekly, Racers Guide, S&D Bodyline, S&W Awards, Shiley Fabrication, Simplicity Design, Teo-Pro Car, Vahlco Wheels & VP Racing Fuel.
'CRAZY 8s SPECIAL' RACE SUMMARY – JULY 22, 2015
Short Track Super Series Fueled By Hi-Tek Bob Hilbert Sportswear North Region Event No. 5 Modified Feature Finish (48 Laps): STEWART FRIESEN ($9,028), Andy Bachetti, Jeff Heotzler, Danny Creeden, Jerry Higbie Jr., Billy Van Pelt, Danny Johnson, Tyler Siri, Rich Ricci Jr., Mitch Gibbs, Brett Tonkin, Shaun Walker, Jim Mahaney, J.R. Heffner, Jackie Brown Jr., Cory Costa, Mike Ricci, Tommy Meier, Rusty Smith, Mike Mahaney, Brian Malcolm, Rick Laubach, Michael Sabia, Tyler Dippel, Erick Rudolph, Gary Tomkins, Jeff Strunk, Anthony Perrego.
Did Not Qualify: Jamie Batzel, Ken Titus, Rich Ricci III, Jimmy Horton, Cory Pike, Shawn Ward, Ryan Darcy, Doug Manmiller, Alan Barker, Nick Mady, Colton Wilson, Alan Johnson, Randy Chrysler, Craig Hanson, Darwin Greene, Nick Nye, Donnie Lawson, Ryan Jordan.
'Crazy 8s Special' Lap Money Breakdown ($1,125 Total): Andy Bachetti ($240), Danny Johnson ($150), Danny Creeden ($125), Mike Mahaney ($110), Jeff Heotzler ($85), Billy Van Pelt ($80), Tyler Siri ($75), Mitch Gibbs ($60), Gary Tomkins ($40), Cory Costa ($40), Stewart Friesen ($40), Jerry Higbie Jr. ($20), Tyler Dippel ($20), Shaun Walker ($20) & Jeff Strunk ($20)
Allstar Performance Bonuses ($50 Certificates): Jeff Heotzler (third) & Tyler Siri (eighth)
American Racer/Lias Tire Bonuses (FREE Tires): Rich Ricci Jr. (ninth) & J.R. Heffner (14th)
ATL Fuel Cell Bonus ($100 Certificate): Jerry Higbie Jr. (fifth)
Behrent's Performance Warehouse Bonuses ($50 Gift Cards): Danny Creeden (fourth) & Rich Ricci Jr. (ninth)
Bob Hilbert Sportswear Bonuses ($100 Certificates): Andy Bachetti (second), Shaun Walker (12th) & Rick Laubach (22nd)
Fast Axle Bonus ($50 Certificate): Danny Johnson (seventh)
Greg Page Construction Top I-88 Speedway Representatives: Andy Bachetti ($200 – second) & Mitch Gibbs ($100 – 10th)
Halmar International "Gambler's Challenge" ($2,000): Stewart Friesen (winner)
NYSSCA Top Representative ($100): Stewart Friesen (winner)
Parks Companies Inc. Heat-Race Winners ($88 Cash each): Cory Costa, Gary Tomkins, Rick Laubach, Billy Van Pelt & Tyler Siri
S&W Awards Winner's Hardware (Custom Trophy): Stewart Friesen
Shiley Fabrication Hard Luck Award (Bumpers & Rubrails): Jeff Strunk (27th)
Trackside Products Halfway Leader ($100 Cash): Andy Bachetti
Vahlco Wheels Bonus (FREE Wheel): Jerry Higbie Jr. (fifth)
Zubi's Racing Hard Charger Award ($288 Cash): Jeff Heotzler (21st to third)
GRIT American Series Crate 602 Sportsman Feature Finish (25 Laps): JOSH KEESEY ($1,000), Alan Barker, Jake Dgien, Rocky Warner, Stacy Jackson, Frank Guererri, Matt Hitchcock, Casey Pavlick, Tyler Boniface, Ray Bliss Jr., Pat Jordan, Dale Welty, Gary Card Jr., Dustin Jordan, Bobby Peoples, Allison Ricci, Shea Montgomery, Brett Buono, Brandon Martin, Rick Powell, Dominic Roselli, David Doig Jr., Kenny Peoples.
XCel 600 Modified Feature Finish (20 Laps): BRIAN CARBER ($1,000), Steven Sherwood, Will Eastman, Josh Pepe, Drew Fallis, Mike Mahaney, Kyle Fallis, Kamdin Maby, A.J. Miller, Eric Boyd, Dana Davis, Aaron Bowes, Bobby Butler, C.J. Jochum, Doug Windhausen, Wyatt Harrar, Brian Blankenbiller, Bailey Boyd, Dylan McCrone, Shawna Schibilia.
Did Not Start: Paul DeRuyter, Dakota Anderson.
[xyz-ihs snippet="Posts-Ad"]
[xyz-ihs snippet="Posts-Ad"]