[xyz-ihs snippet="Posts-Ad"]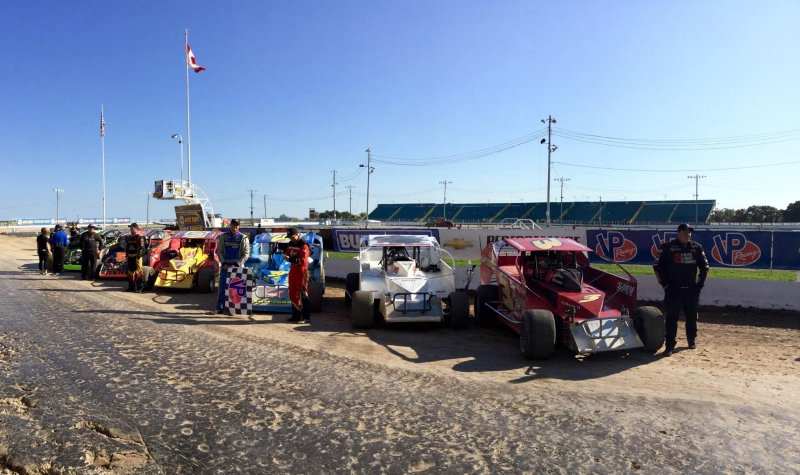 Sheppard Shoots to Oswego Pole
Story By: Pete MacDonald/RacersGuide.com – Photos By: Jay Fish/RacersGuide.com
Waterloo, NY's Matt Sheppard picked up the $1,000 prize by winning the pole for Sunday's Bud Light 300 being held at NAPA Super DIRT Week at the Oswego Speedway. Sheppard's lap time was 22.783, the only car in the 22-second bracket. It was "Super Matt's" second Super DIRT Week pole with the last coming in 2014. The Top-6 in today's Time Trials are locked into Sunday's Bud Light 300 at Oswego Speedway.
"I can't say enough about this race car, we got it about a month ago and it's been phenomenal. It's been fast since the second we unloaded it and it's been a pleasure to drive", said Sheppard. "Our guys have been working real hard and this definitely makes the week a lot nicer."
Watertown, NY's Tim McCreadie will be second quick and start on the outside pole on Sunday with a 23.124. Justin Haers who was fastest in Friday's practice was third running a 23.190 followed by Danny Varin (23.283), Carey Terrance (23.382) and Brett Hearn who tied seventh fast Tim Fuller clocking in at 23.425. The tiebreaker was whose second lap was faster in which Hearn's was faster.
Tim McCreadie is flying back and forth between Oswego and Pittsburgh, PA to race in the Pittsburgher 100 with the Lucas Oil Dirt Late Model Series.
Bicknell chassis and CC Performance motor's swept the front row with both McCreadie and Sheppard utilizing those chassis and power plants.
Friday at Super DIRT Week at will feature the Pro-Stock's and Sportsman hitting the track for the first time as well as the DIRTcar Future's events for drivers that have no qualified for a Super DIRT Week event in the past. Twin-25's for the 358 Modifieds, Triple-15's for the Sportsman and Triple-30's for the Super DIRTcar Series will be the highlight of the day starting at 7PM tomorrow night.
Tim Fuller set quick time for the Salute to the Troops 150 358 Modified event on Saturday at Oswego with a time of 22.829. Fuller took the Randy Slack owned No.3 utilizing a new spec 358 motor to the pole over Billy Dunn, Carey Terrance, Marc Johnson, Billy Decker, and Matt Sheppard.
62 Super DIRTcar Big Block Modifieds and 42 DIRTcar 358 Modifieds attempted to qualify.
I can be reached at racersguide@gmail.com or found on Twitter @PMacDonald51. Thanks for reading!
[xyz-ihs snippet="Posts-Ad"]