Schuchart Shines Bright in Charlotte ,Wins Third Outlaws Race of 2017
Story By: KAYLA MAY / WOO SERIES MEDIA
Photos By: RACERSGUIDE.COM PHOTO STAFF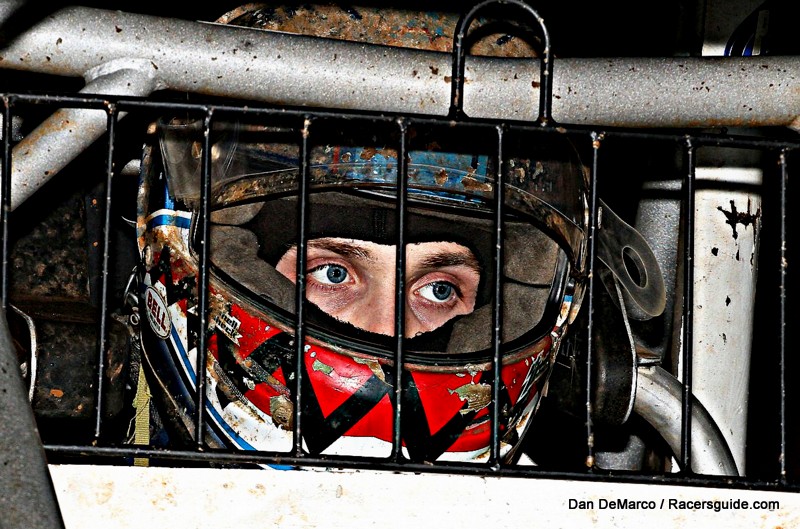 Charlotte NC- May 27, 2017- After starting in the third position for the Outlaw Showdown at The Dirt Track at Charlotte Motor Speedway for the 30-lap Feature event, Logan Schuchart had a scare just before the half-way mark of the race. When Schuchart he attempted a slide job on the leader Brad Sweet, he overshot the attempt, forcing him up to the wall. Still managing to continue on, Schuchart would get another opportunity as the field came to the white flag, Schuchart would slip by Sweet for the lead. The driver of the No. 1s machine would round the final circuit of the 4/10-mile clay-oval en route to his third win of the 2017 World of Outlaws Craftsman® Sprint Car Series season.
Earlier this week, the Shark Racing team of Logan Schuchart and Jacob Allen put out a cry for help on social media for the second time this season looking for a way to get their two-car operation to the racetrack. After getting help from the racing industry friends, the two-car team showed up at New Egypt Speedway just as the Heats were getting underway. Schuchart would eventually qualify for the Feature event through the Last Chance Showdown and go on to finish 12th from the 24th-starting spot.
"We got a lot of people that stand behind us and that put these racecars on the track," said Logan Schuchart. "I just have a lot to be thankful for just to be in this position, [to] race in Charlotte and with the World of Outlaws."
Fast forward three-days and the No. 1s of Logan Schuchart not only made it to Charlotte (thanks to the help from their newly-repaired toterhome) but he and the Shark Racing team ended the night by standing in Victory Lane, grabbing his third win of the 2017 season.
When the field got the green flag for the 30-lap Feature at The Dirt Track at Charlotte Motor Speedway, it was the Brad Sweet show looking to cap off the sweep, having won quick time, his Heat race and the Craftsman Club Dash. Rocketing out to a big lead, Sweet worked the top-groove as he caught the tail end of the 24-car field.
Schuchart would had started third in the Feature event threw a slide job in turns three and four on Kraig Kinser for second place as the field came to complete lap five. Schuchart would set his sights on the No. 49 NAPA Auto Parts entry of Sweet as they both picked their way through lap traffic. On lap 11, Schuchart attempted another slide job that failed to stick, causing him to tag the outside turn two wall.
"I thought we had a chance at Brad [Sweet] earlier in the race and I tried to slide him but my throttle stuck and ran me way too far into the corner," said Logan Schuchart. "We actually got into the wall and I think we bent a wheel."
Still able to continue, Sweet opened up the gap over Schuchart as the laps ticked away.
The Hanover, PA-driver made one-final attempt at Sweet as the two exited turn four; Schuchart made this attempt stick and would hold off Sweet and Daryn Pittman for his third win of the season.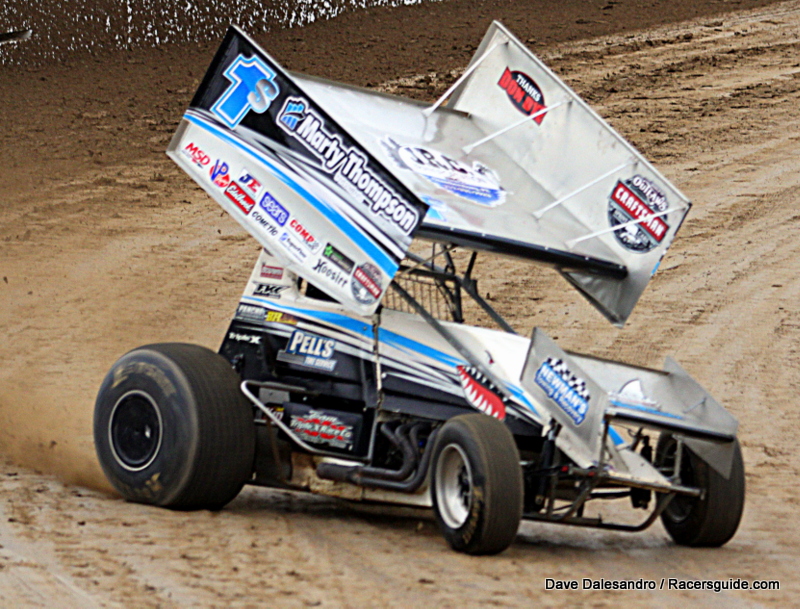 "Winning in Charlotte, North Carolina in front of all these fans, is what makes our sport," added Schuchart. "You fans in the stands is what make us come out and continue to do what we do, thank you," exclaimed Schuchart.
"Overall tonight was good for us," stated Brad Sweet who won quick time, his heat race and the Craftsman Club Dash. "I just got stuck behind those lap cars, that's where you win or lose these races. Hats off to that team; Logan drove a great race.
The 2016 Outlaw Showdown winner, Greg Wilson made up 10 position in the Outlaw Showdown Feature event to bring home another top-five at Charlotte and earn the KSE Hard Charger award.
Clyde Knipp had an impressive run at Charlotte, bringing his No. 13 machine home in 16th place, a career run for the California-MO driver.
Logan Schuchart's teammate, Jacob Allen gave Shark Racing two top-10 finishes on the evening by finishing in the ninth position.
The World of Outlaws Craftsman Sprint Car Series will make the trek north to Lawrenceburg, IN for a Memorial Day special on Monday, May 29 at Lawrenceburg Speedway. For tickets, visit WorldofOutlaws.com/Tickets
The Dirt Track at Charlotte Motor Speedway Results:
Feature (30 Laps) : 1. 1S-Logan Schuchart [3][$12,000]; 2. 49-Brad Sweet [1][$5,700]; 3. 9-Daryn Pittman [4][$3,500]; 4. 15-Donny Schatz [6][$3,000]; 5. W20-Greg Wilson [15][$2,600]; 6. 11K-Kraig Kinser [2][$2,400]; 7. 2-Shane Stewart [5][$2,300]; 8. 5-David Gravel [11][$2,200]; 9. 1A-Jacob Allen [8][$2,150]; 10. 93-Sheldon Haudenschild [7][$2,100]; 11. 49X-Tim Shaffer [10][$1,600]; 12. 19-Brent Marks [19][$1,350]; 13. 22-Cole Duncan [13][$1,300]; 14. 41-Jason Johnson [9][$1,200]; 15. 7K-Cale Conley [12][$1,100]; 16. 13-Clyde Knipp [21][$1,000]; 17. 44-Trey Starks [20][$900]; 18. 17-Joey Saldana [14][$850]; 19. 7S-Jason Sides [18][$800]; 20. 4S-Danny Smith [23][$800]; 21. 47-Eric Riggins [22][$800]; 22. 71M-Dave Blaney [16][$800]; 23. 4-Paul McMahan [17][$800]; 24. 1-Zach Ames [24][$800]; Lap Leaders: Brad Sweet 1-28, Logan Schuchart 29-30; KSE Hard Charger Award: W20-Greg Wilson[+10]
The World of Outlaws Craftsman® Sprint Car Series is brought to fans across the country by many important sponsors and partners, including: Craftsman (Official Tool), Arctic Cat (Official Side-by-Side Recreational Vehicle), Extended Stay America (Official Hotel), Hoosier Racing Tire (Official Tire), Morton Buildings (Official Building), Sears (Official Home Store), The Kenny Wallace Dirt Racing Experience (Official Racing Experience) and VP Racing Fuels (Official Racing Fuel); in addition to contingency sponsors, including: Cometic Gasket, COMP Cams, Edelbrock, JE Pistons, KSE Racing Products, MSD, Penske Shocks, and Superflow Dynos; along with manufacturer sponsors, including: Impact Racing Products, Intercomp, Racing Electronics, and TNT Rescue.
Founded in 1978, the World of Outlaws®, based in Concord, N.C., is the premier national touring series for dirt track racing in North America, featuring the most powerful cars on dirt, the World of Outlaws Craftsman Sprint Car Series and the World of Outlaws Craftsman Late Model Series. Annually, the two series race nearly 140 times at tracks across the United States and Canada. CBS Sports Network is the official broadcast partner of the World of Outlaws. DIRTVision® also broadcasts all World of Outlaws events over the Internet to fans around the world. Learn more about the World of Outlaws.