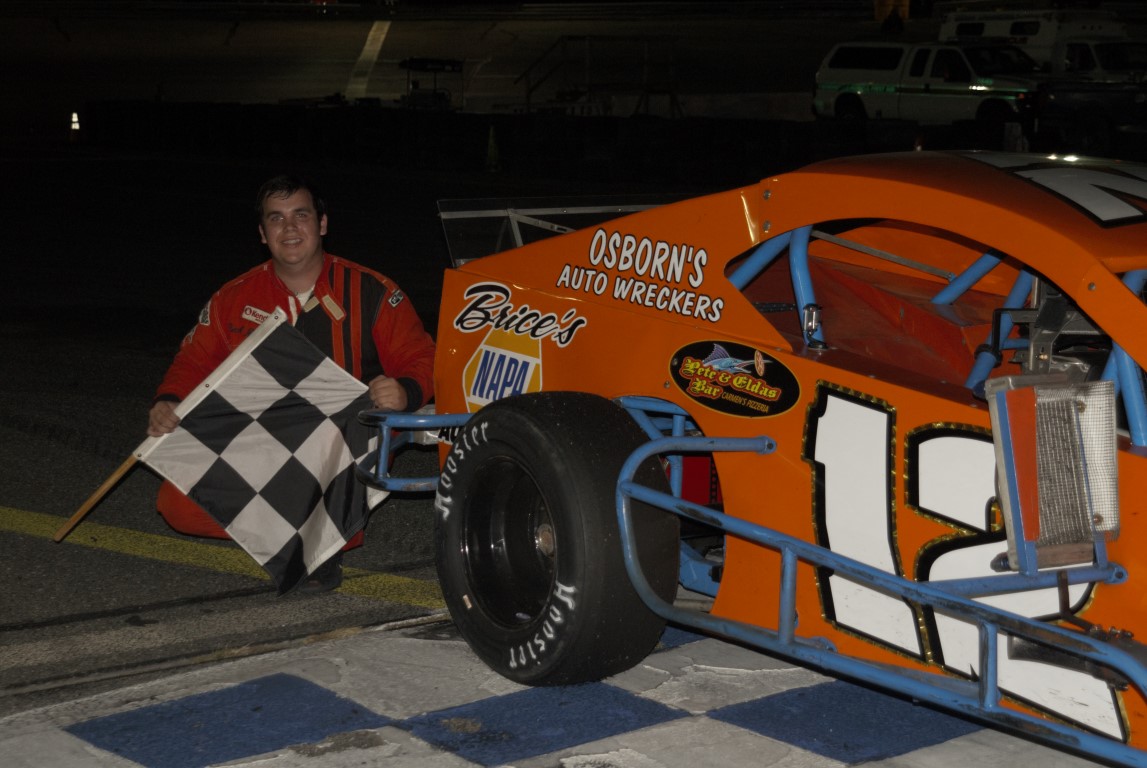 SCISCO TAKES 3RD WIN IN WALL SPORTSMAN RACE
Story By: Jeff Gravatt/Wall Stadium Speedway
Photos By: John John Lane/RacersGuide.com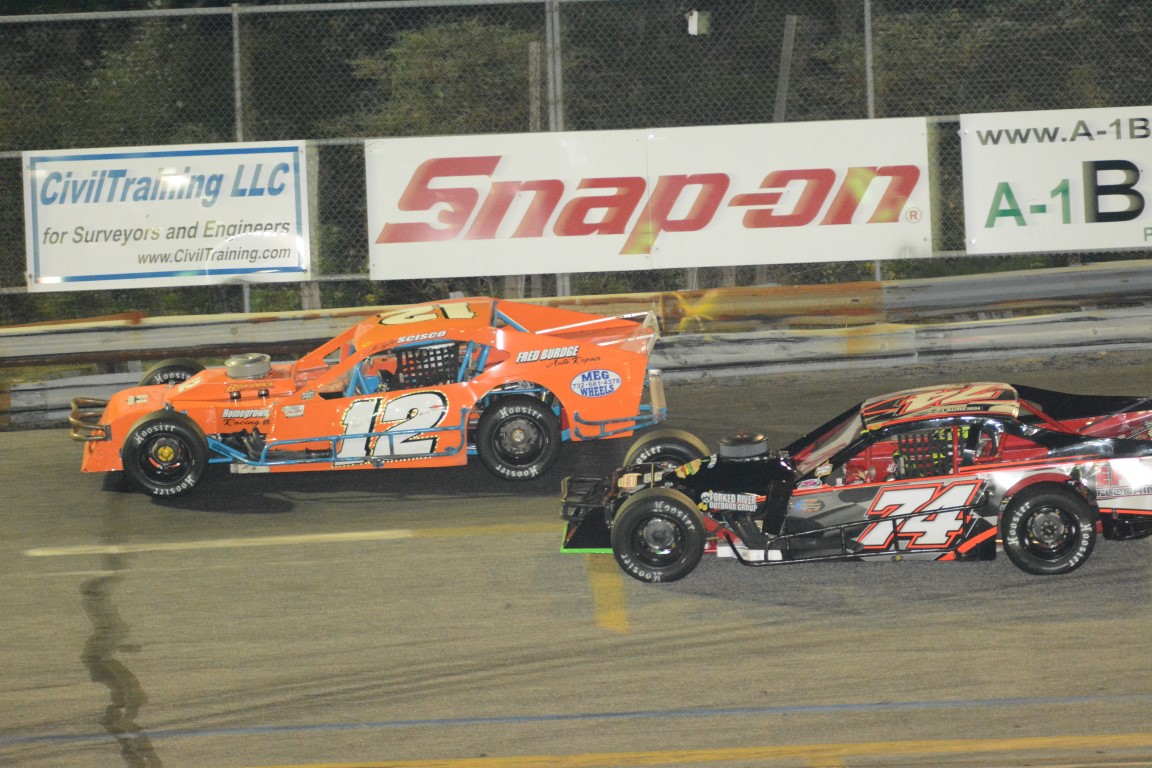 WALL TOWNSHIP, N.J. ~ Kyle Scisco continued an outstanding rookie season in the Snap On Tools Sportsman division by winning the 25 lap main event during Saturday's "Pack the Track" festivities at Wall Stadium Speedway. The win was the third of the season for the Jackson resident.
Brick's Mike Tidaback was the early leader of the contest before Howell's Eric Lane took over on lap nine. Scisco soon completed his run to the front of the 17 car field and took the lead for good on a lap 13 restart. From that point on it was all Scisco although Jonathan Laureigh of Lanoka Harbor was there to challenge in the closing laps. Jake Nelke of Manahawkin, Tidaback and Farmingdale's Kenny Green wrapped up the top five.
"This season has been better than I ever thought it could be," Scisco said. "I knew that my mom and dad would be big supporters of this and I knew that the guys working on this car were very talented. Still, to win three feature races is kind of overwhelming."
Brian Osborn of Howell, who shares shop space with Scisco, made it a perfect night for the pair by winning the companion Surfside Collision 4 Cylinder Stock 25-lap feature race. Osborn battled his way through the pack to arrive in second spot by the halfway mark. Osborn soon throttled to the outside lane to take the lead but was forced to battle traffic in the final five laps before taking the checker flag. Early leader TJ Graves of Wall was the close runner-up, while Jackson's Darren Burdge, Fred Cannock of Port Monmouth and Chris Silvestri completed the top five
Mike Montano of Fort Myers, Fla. took the lead on lap four and raced to victory in the O'Shea's Auto Repair Factory Stock 25 lapper. Elliott Wohl of Beachwood, Union's Joey Helberg and Manchester's Scott Riggleman, all of whom snaked through a lap two crash on the backstretch, were second through fourth. Neil Rutt III was fifth.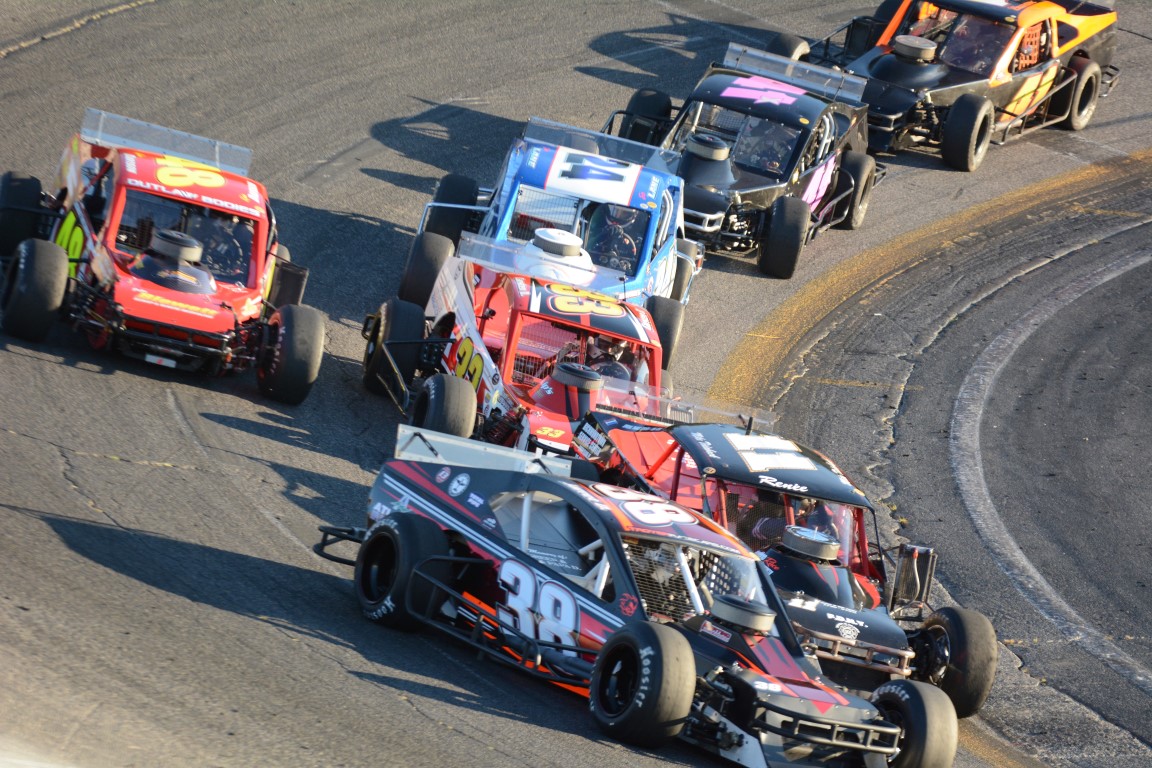 Mike Alcaro of West Milford made it six wins in six tries by taking the victory in the Green Flag Driving Experience Legend Cars 25-lapper. Early leader Richie Davidowitz was the runner-up and former champion Robert French of Howell was third. Nick Van Wickle of Edgewater Park and Vinny Troia of Browns Mills were fourth and fifth.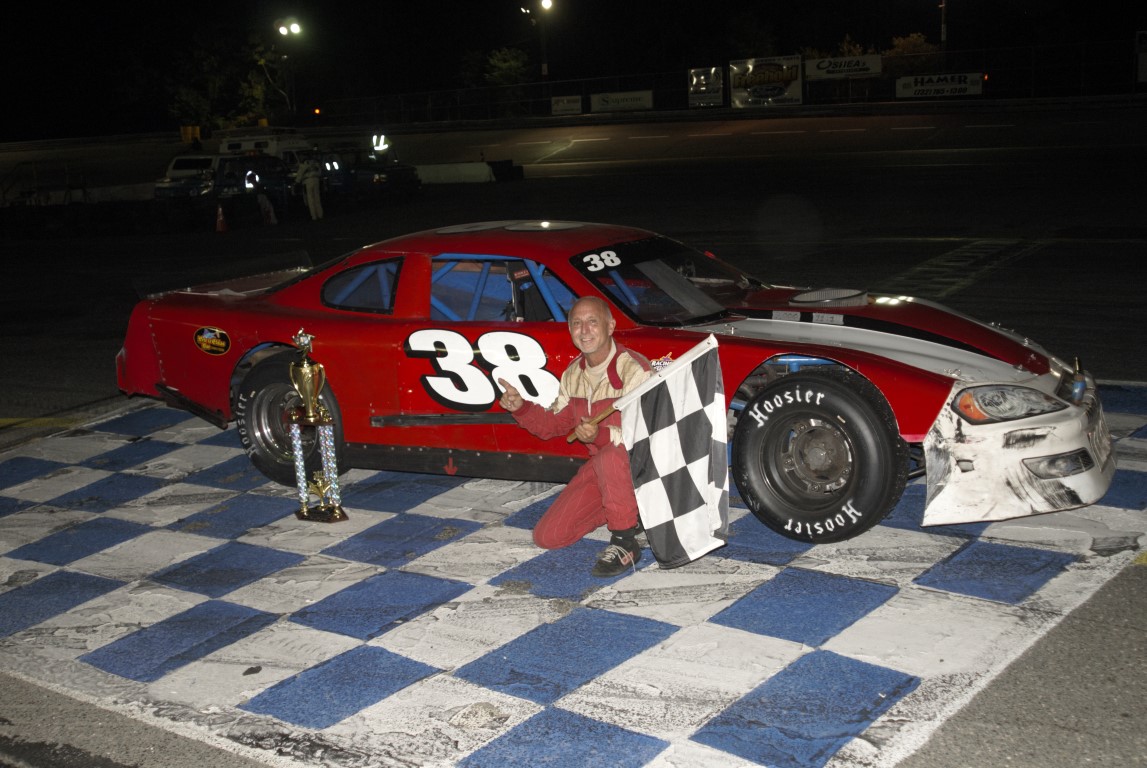 Harry Schaeffer of Carteret won is first feature in over a year in the 25-lapper for the Elite Maintenance Limited Late Models while Wall's Cole Ormsbee was the second place finisher. Brian Doyle of Ronkonkoma, N.Y., Greg Miranda of Hazlet and Jackson's Glen Conk completed the top five.
Chris Klotz of Bordentown won the scheduled 4 Cylinder car Demolition Derby while Norm Lane, Sr. of Howell won the crashfest for 8 Cylinder cars.
The 2017 Saturday night regular season concludes this Saturday evening with the running of "Champion's Night." The Freehold Ford Modifieds, Sportsman cars, Factory Stocks, 4 Cylinder Stocks, Legend Cars and the Limited Late Models will all see feature race action with double championship points offered in each division. The pit area will open at 1:00 p.m. with practice running from 3:00 p.m. until 5:00 p.m. Grandstands will open at 5:00 p.m. Qualifying starts at 5:45 p.m. and main event action starts at 7:00 p.m.
More information on Wall Stadium and the 2017 post season schedule which includes the "Spooky Spectacular" on October 21 and the Thanksgiving weekend "Turkey Derby" can be obtained by visiting the website at wallspeedwayracing.com.
Wall Stadium is located on Route 34 in Wall Township, N.J., just one mile north of Garden State Parkway exit 98 and Interstate 195 exit 35B. The speedway hotline number is 732-681-6400 and email address is CKMotorsports@aol.com.
SPORTSMAN FEATURE – 25 Laps – 1. KYLE SCISCO, JACKSON, 2. Jonathan Laureigh, 3. Jake Nelke, 4. Mike Tidaback, 5. Kenny Green, 6. Matt Langbein, 7. Kevin Davison, 8. John Blewett IV, 9. Jarret DiGiantomasso, 10. Nick Shaw, 11. Tyler Truex, 12. Joe Cocca, 13. Eric Lane, 14. Carsten DiGiantomasso, 15. Larry Thompson, 16. Howie Conk, 17. Chris Oswik
4 CYLINDER STOCKS – 25 Laps – 1. BRAIN OSBORN, HOWELL, 2. TJ Graves, 3. Darren Burdge, 4. Fred Cannock, 5. Chris Silvestri, 6. Jay Conrad, 7. Darianne McLaren, 8. JC Duvall, 9. Mike Lavery, 10. Jennifer Schultz, 11. Joe Barbaria, 12. Frank Ciancitto, 13. Bill Schwarz, 14. Chuck McDonald, 15. Matt Malachatka, 16. Doug Ashford, 17. Jeff Loesch, 18. Nicole Razzano, 19. Brian DeSarno
FACTORY STOCK FEATURE – 25 Laps – 1. MIKE MONTANO, FT. MYERS, FLA., 2. Elliott Wohl, 3. Joey Helberg, 4. Scott Riggleman, 5. Neil Rutt III, 6. Bob Haberstick, 7. Matt Badessa, 8. Bob Ptaszynski, 9. Theresa Collins, 10. Tom Rajkowski, 11. Tony Bartone, 12. Nancy Riggleman, 13. Whitey Miller, 14. John Bowers, 15. Tim Majek, 16. Bryan O'Shea
LEGEND CARS FEATURE – 25 Laps – 1. MIKE ALCARO, WEST MILFORD, 2. Richie Davidowitz, 3. Robert French, 4. Nick Van Wickle, 5. Vinny Troia, 6. Louie Keraitis, 7. Luke Marzano, 8. Chris Gall, 9. DJ Doyle, 10. Tony Hodgson, 11. Kevin Nowak, 12. Roger Nickerson, 13. Joe Fresco
LIMITED LATE MODEL FEATURE – 25 Laps – 1. HARRY SCHAEFFER, CARTERET, 2. Cole Ormsbee, 3. Brian Doyle, 4. Greg Miranda, 5. Glen Conk, 6. Jim Moorman, 7. Anthony Crimaldi, 8. Mike Tillett, 9. Greg Gastelu, 10. Bill Vanderveen