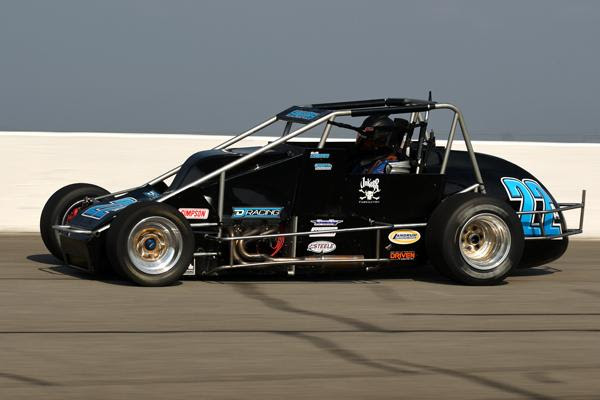 SANTOS' SILVER CROWN RESURGENCE ROLLS INTO OHIO FRIDAY FOR TOLEDO'S 50TH USAC EVENT
Story By: Richie Murray/USAC Media
Photos By David Nearpass/USAC Racing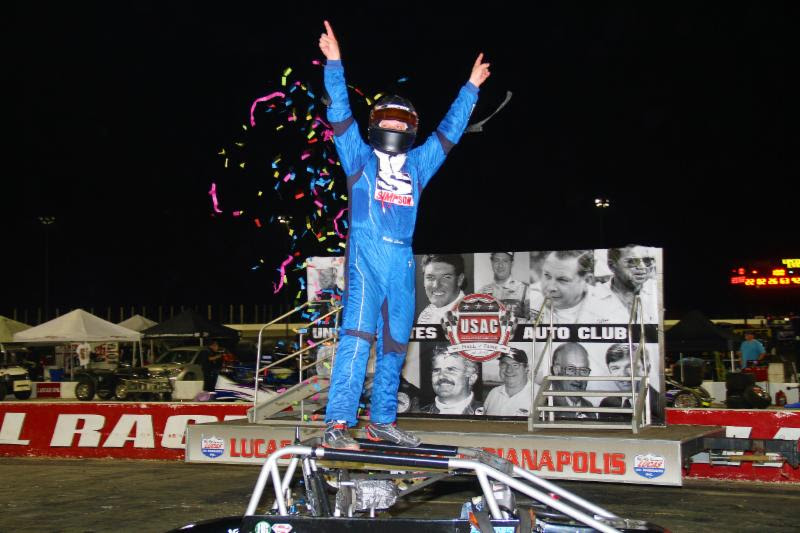 Toledo, Ohio has been a home to USAC racing dating back to the club's inception in 1956. Over the past six decades, no driver has won more USAC races in the "Glass City" than did hometown hero, Rollie Beale, who won five USAC Sprint Car races on the half-mile, high-banked paved oval between 1971 and 1976.
However, this Friday night, July 28, at Toledo's Hemelgarn Racing/Super Fitness "Rollie Beale Classic," one driver has an opportunity to do something not even the great Beale was able to accomplish, nor anyone else for that matter.
Bobby Santos snagged a USAC National Sprint Car victory in 2006 and a National Midget win in 2009, but another checkered flag this Friday would send him into a stratosphere of his own. A win would make him the only driver to win in all three USAC National divisions at Toledo.
The Franklin, Massachusetts native has two Silver Crown starts at Toledo, including a 3rd place run in 2012 and a 16th in 2015 after being involved in an early race accident. Santos has seen a major resurgence in 2017 after not seeing USAC victory lane for two years. He has two victories this season at Phoenix Raceway in April and just last Thursday at Lucas Oil Raceway in Brownsburg, Ind. His only finish outside the "top-one" was a 2nd at LOR in May.
In fact, Santos' recent hot streak included a stop at Toledo last Friday where he was victorious in the 40-lap King of the Wing Sprint Car Shootout.
The last time USAC was on hand at Toledo, Tanner Swanson walked away from a vicious turn one crash while leading at the halfway mark. Older brother Kody Swanson of Kingsburg, California carried on after the incident to nab his second win there following his 2011 triumph. The current Silver Crown point leader has already scored on the pavement once this season at LOR in May. One more win would prove to be historic, though, as that would move him past Brian Tyler for second all-time in career Silver Crown wins with 18.
Tucson, Arizona's Jerry Coons, Jr. has been "Mr. Consistency" throughout his career, but especially in his previous four trips to Toledo where he's been 1st, 4th, 1st and 4th. If you're a fan of mathematical sequences and patterns, then you'll certainly love the USAC Triple Crown champ's chances for victory in this Friday in the 100-lapper.
Additional expected entrants who have previous Toledo Silver Crown experience include Shullsburg, Wisconsin's David Byrne, who led 69 of the 100 laps at Phoenix before finishing 3rd. Byrne is a veteran of two Silver Crown starts at Toledo – a 12th in 2011 and a 6th in 2015.
Muncie, Indiana's Aaron Pierce has one start and one top-five finish at Toledo – a 5th in 2015. The driver who owns the fastest official lap in Silver Crown racing history is coming off a strong 3rd place result at LOR last Thursday.
Jacob Wilson of Crawfordsville, Indiana has yet to compete on the pavement this season with the Silver Crown Series, but the two-time Little 500 champ and Joe James/Pat O'Connor Memorial winner will certainly be a threat as evidenced by his runner-up finishes in a National Sprint race in 2009 and the series' most recent Silver Crown meeting at Toledo in 2015.
Chris Windom of Canton, Illinois is the defending Silver Crown champion, but has yet to turn a wheel in Silver Crown competition at Toledo in his career. Although, he has made a pair of sprint car appearances (24th in 2007 & 3rd in 2011) and a single midget start (13th in 2007).
Beale, the late 1973 USAC National Sprint Car champ and series official will be remembered as the Silver Crown cars take on Toledo Speedway for the event that bears his name. Pits open at 1:30 with two sessions of Silver Crown practice scheduled from 4:30-5pm and 5:25-5:45pm. Silver Crown ProSource Qualifying is set for 6:45 while the night's racing program will get underway at 7:30pm (Times Subject to Change).
Advance adult tickets are just $20, but $25 if purchased on the day of the event. Advance sales end at 5pm Thursday, July 27. Children Age 6-12 can receive admission for $3. Children 5 & Under are FREE! (All seating is general admission). Pit passes are $30 for USAC members and $35 for non-members.