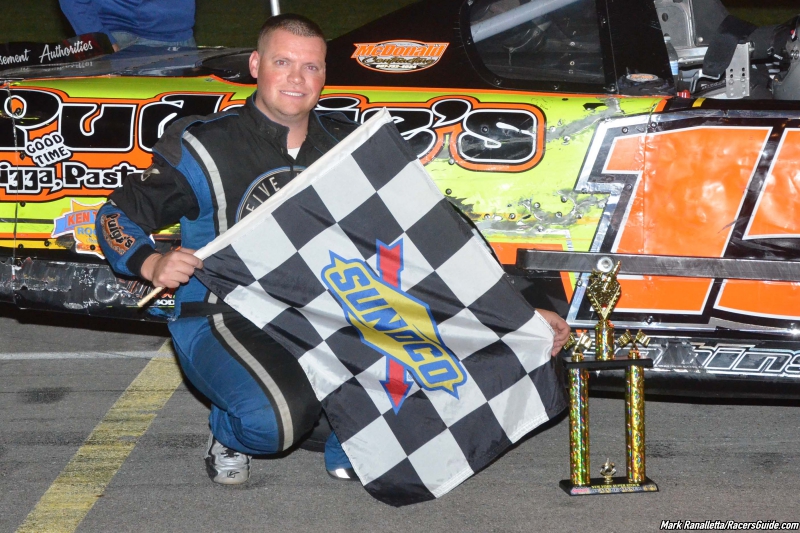 Robinson Out Maneuvers Finocchario For The WIN at Spencer
Story By: Shylo Fuchs/NYSS
Photos By: Mark Ranalletta/RacersGuide.com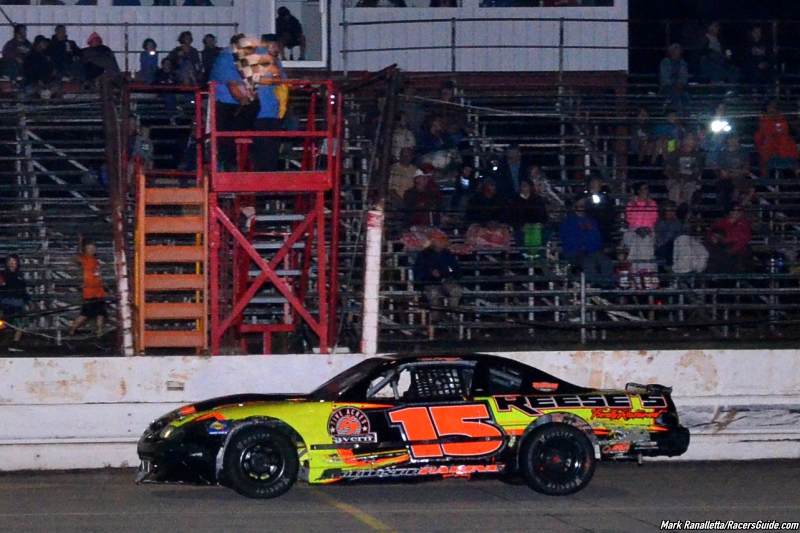 The #94 of Billy Coyle and the #90 of Nate Peckham would bring the field of 26 Sunoco New York Super Stocks by Insinger Performance to the green on a beautiful 75 degree evening in Williamson, NY. The #94 would take the early lead but the #90 would stay close behind challenging until he would finally take the lead on lap 4.
The #15 of Robinson would be coming from his 10 place starting position, climbing fast through the field looking to get to the lead before the #8 of Finocchario and the #75 of Willis. Robinson would say in post race interview that "once you are out front it's easier to stretch your legs." And stretch his legs he would starting on lap 7 when he was able to take the lead from Peckham but, Finocchario and Willis who had started 9th and 11th on the inside row were slowly working their way through the field.
One by one Finocchario and Willis were forced to out drive and out smart the best of the best that race with the New York Super Stocks. Previous race winner #40 Jason Dinzler and constant front runners #87 of Mike Hyman and #38 Shaun Frarey being the hardest obstacles.
A caution on lap 19 for a spun car would set Finocchario and Willis on the second row for the restart giving them hope for victory. But Robinson would get the drop on Hyman, Finocchario and Willis and pull out in front yet again. He would out maneuver Finocchario at every turn for the remaining 6 laps and take the checkered with Chris Finocchario and Zach Willis coming in behind him.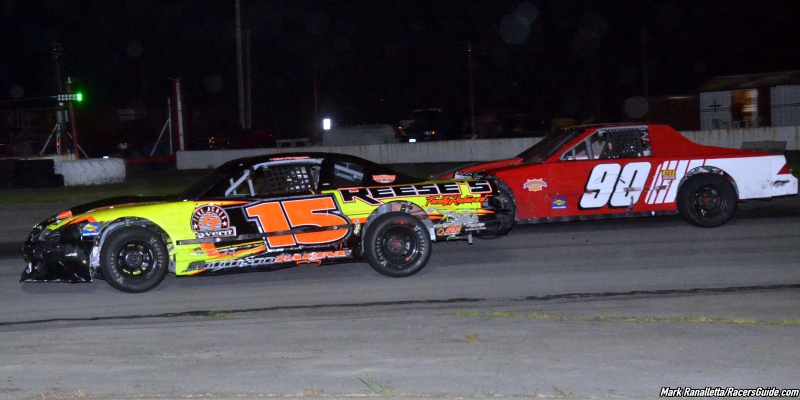 Robinson would say that "Anytime you can get a win with these guys, you're doing something right." This win makes two in a row for Robinson going into the Dave London Memorial Race on Friday August 24th, can he make it three in a row?? Or will it be Finocchario who has five wins at Spencer under his belt this season?? Maybe it will give Zach Willis who says "always a bridesmaid never a bride" referring to his 4 runner up finishes and this third place finish a chance to come out on top. With 50 cars already pre-registered for the DLM it could be anyone's race. Hope to see you there!!
Thank you to C & D Automotive for their sponsorship of the evening.
Heat Winners: #87 Hyman, #84 Schoonmaker, #90 Peckham, #61 Steffenhagen Jr.
B Main Finish: #11 Hawkins, #41 Gavette, #10 Larner, #77 Helt, #7 Hunter, #14 Flye, #99 Ripley, #30 Roycroft, DNS #6 G. Miller
Feature Finish: #15 Robinson, #8 Finocchario, #75 Willis, #87 Hyman, #90 Peckham, #40, Dinzler, #51 Vogler, #71 Hadley, #84 Schoonmaker, #5 Rotunda, #25 Gleason, #17 VanOrden, #64 S. Dinzler, #37 Petrie, #41 Gavette, #12 Larrivee, #99 Ripley, #14 Flye, #94 Coyle, #7 Hunter, #30 Roycroft, #03 Lazzaro, #77 Helt, #38 Frarey, #11 Cheetham, #10 Larner, DNS #61 Steffenhagen Jr