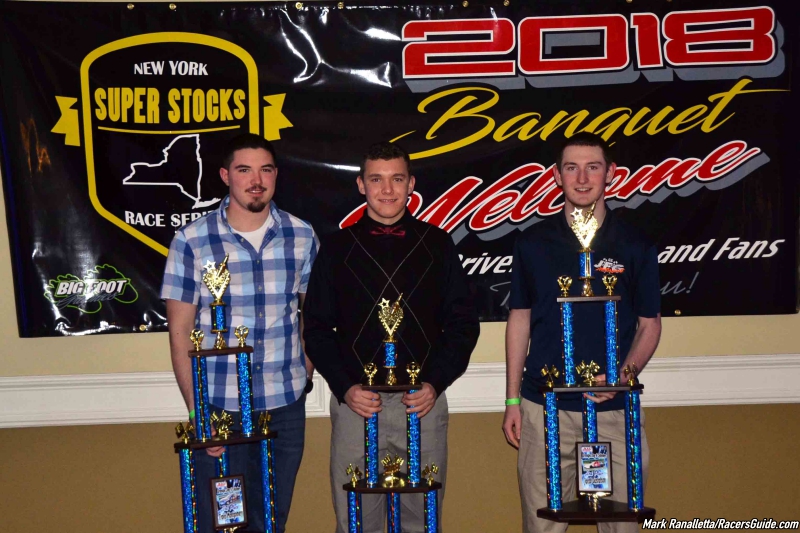 Robinson Crowned '18 NYSS Champion
Story By: SHYLO L. FUCHS/NYSS
Photos By: Mark Ranalletta/RacersGuide.com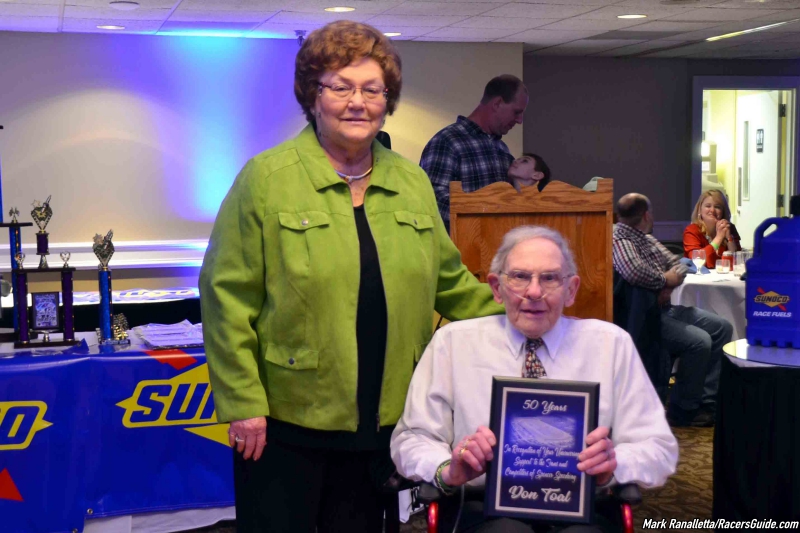 The NYSS Banquet was held Saturday evening at the Webster Golf Club. The evening started with its annual Rules and Registration meeting. There were a lot of important issues discussed including the new tentative schedule for 2019, rule changes for the New Year and changes that will be taking effect in order to better the series.
Raffles were being given out left and right before and after the buffet dinner was served. Among the prizes were Castle product sets, Sunoco Race Fuel jugs and a MYLAPS transponder with 1 year MYLAPS subscription. Scott Wylie was the winner of the transponder and there were several other repeat winners.
Even with the impending snow storm there was an excellent turn out with only 7 people not being able to attend.
Chris Vogler started the banquet out with a very special award for Don Toal who had been active at Spencer Speedway since 1969. He started at the track as the pace car driver with racers like Richie Evans, then began doing interviews of drivers after the races and most recently moved into the tower to run the scoreboard up until the middle of the season this past year. He was brought up front with a standing ovation to receive a plaque of recognition for his 50 years of dedication to racing at Spencer Speedway.
Jay Trainer took to the mike to remind everyone in attendance of some of the highlights from this season. Averaging 25 cars per race and visiting tracks all across New York and even traveling into Pennsylvania. Running a total of 13 races with 7 different winners.
Series sponsors included Midstate Basement Authorities, F/A Products, Aratari Auto Color, Rapid Express (Shawn & Becky), Lazzaro Performance (Kevin & Kristina), Computers by JD (Josh & Donna), Big Time Service (Lee Hicks), C & D Automotive (Dean Demaree) and Tom Burns.
Thanks was also given to Jody London for his work bringing us the Dave London Memorial, Ray Marshall for the Gary Marshall Memorial, Dale Shoemaker for Sleepy's Shootout and Chris Vogler for the Sandra Vogler Memorial Race.
Series Rookie of the Year was Steve Vassey's #17 driven by Amber VanOrden.
Tenth place went to #64 Scott Dinzler, ninth place was #84 Josh Schoonmaker, eighth place went to the #8 of Chris Finocchario, 7th place was #17 Amber VanOrden, sixth place #90 Nate Peckham.
As an aside Bobby took over the microphone to show off the contents of a box that mysteriously showed up at his house full of bumper stickers that say "It's Jason's fault" and "Dinzler did it" a long running joke for the series. A good laugh was had by all and then Jay continued to award fifth place to Jason Dinzler.
The #38 of Shawn Frarey was given third place and was left speechless. Second place was given to #25 Joel Gleason he expressed thanks to his team and said that he learned a lot this year.
Nick Robinson with his #15 would come out on top of the New York Super Stocks series for the
2018 season. Nick would thank his father, his crew, his sponsors, Pudgies Pizza and Five Acres Tavern, and Monica his fiancé. Nick also expressed thanks to the series for having a great series to run with.
The evening was concluded with music, good camaraderie and the conclusion of the raffles.
Sunoco New York Super Stocks Tentative Schedule 2019
– Saturday ​June 8th ​Oswego 30 Laps
– Friday June 21st ​ Chemung 50 Laps Gary Marshall Memorial​ -Saturday ​July 13th ​Evans Mills 50 Laps
– Saturday ​August 3rd ​Hillside 50 Laps
– Friday ​August 16th ​Chemung 30 Laps
– Friday ​August 30th ​Oswego 50 Laps Dave London Memorial
– Saturday September 21st ​ ​Adirondack 50 Lap Cream Cheese Festival weekend
-Saturday ​October 5th ​WCIS 50 Laps Sandra Vogler Memorial
Dates and times are subject to change.