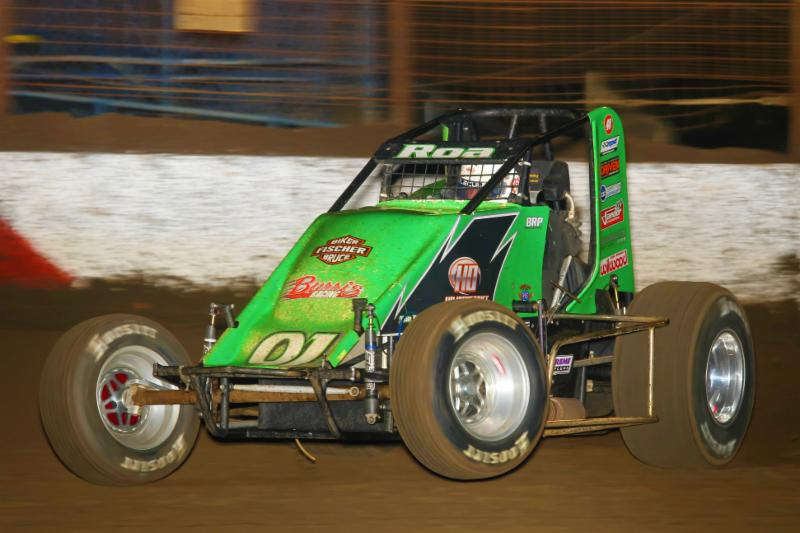 ROA RACKS WIN #1 ON "OVAL NATIONALS" NIGHT 2
Story By: Richie Murray/USAC Media
Photos By: Mike Grosswendt & Rich Forman/USAC Racing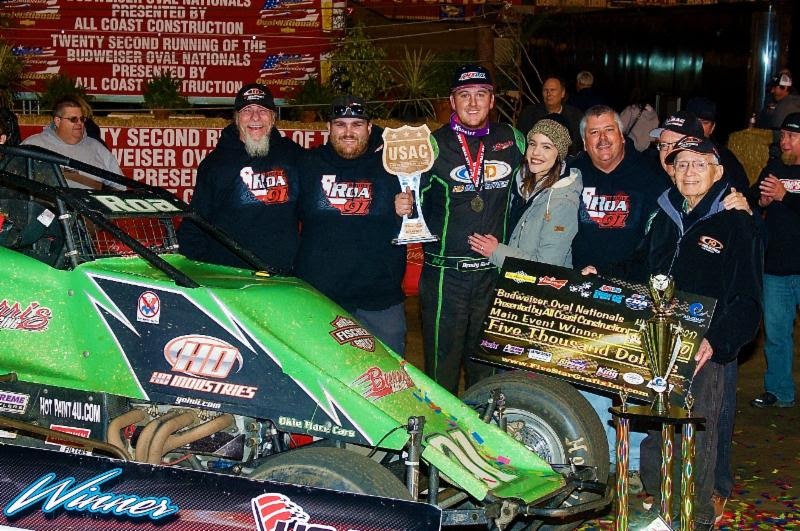 Perris, California………Following his career-best third-place finish the previous night, Brody Roa stated that, just a year and a half ago, he would've been laughing had you told him he was going to be on the podium at the "Oval Nationals."
One night later, the question had to be asked. Who's laughing now?
"I'm still laughing, just for a different reason," Roa exclaimed. "This is, by far, the biggest one. To do it at Perris, a track I grew up at and have always wanted to win at, and to do it during 'Oval Nationals' weekend, even if it's on a prelim night, it's against all the same guys we're running against tomorrow."
The Garden Grove, California native led all 30 laps Friday night to capture his first career USAC AMSOIL National Sprint Car feature victory on night two of the Budweiser "Oval Nationals" presented by All Coast Construction. In doing so, he became the first driver to break into the win column for the first time in his career during the 2017 season, the latest in the year the series has had a first-time winner emerge.
An all CRA front row held down the front row when the green flag waved for the start of the 30-lap feature in memory of Evelyn Pratt. Roa wasn't content to bide his time and fall into line. He went on the attack, first sliding the now six-time CRA champ Damion Gardner for the advantage in turn one. Gardner quickly countered underneath Roa off turn two to retake the lead momentarily as Roa reached into his back pocket, pulled out the slingshot, and aimed his BR Performance/HD Industries – Burris Racing/Maxim/Shaver Chevy to the bottom of three before sliding back into the top spot.
By the fifth lap, Roa ran the fastest lap of the race on his way to constructing a half-straightaway lead over new second-place combatant Chad Boespflug. Roa's lead continued to grow ever larger to three-quarters of a straightaway when, on lap 13, Logan Williams climbed the turn two wall before coming back to earth on all four wheels to bring out the race's first caution.
From that point, Roa was in the midst of stop signs and red lights at seemingly every corner with a succession of incidents disrupting the rhythm of the race just on the other side of the halfway mark.
Stevie Sussex got upside down on lap 16, Austin Liggett found himself backward against the wall on lap 19, then ninth-running R.J. Johnson tagged the turn four wall with his right rear tire and tumbled over as Justin Grant, involved in a tight USAC National Sprint Car points race, barely escaped trouble. All drivers were uninjured.
On the restart with ten laps remaining, it became a battle between the green of Roa and the Mean Green of Boespflug. On prior restarts, Boespflug tested the waters with attempted sliders tossed at Roa to no avail as Roa kept his right foot glued to the throttle and powered away on the razor's edge of a cushion.
"On that first restart, I got a good enough start to where Chad showed me a nose, but he could never get there," Roa recalled. "I just kept trying to do the same thing over-and-over again. I knew our car had good forward bite and I could get down to turn one quickly. I just had to get to the center quick enough to where they couldn't slide me."
"I put it on the cushion getting into turn one on the restarts," Roa continued. "I think I had my left eye closed. If a slider was coming, I wasn't going to lift. I was going to drive around it. I didn't want to see it coming and screw up all my momentum. I tried not to look down the whole race. I just tried to keep my eye on my line and running the cushion around it. It was tough tonight, especially at the end, when it started taking rubber, I think. It started getting a little left rear tight on the cushion. A couple times off turn four, I jumped over it and I was just waiting for it coming down into one and it never happened."