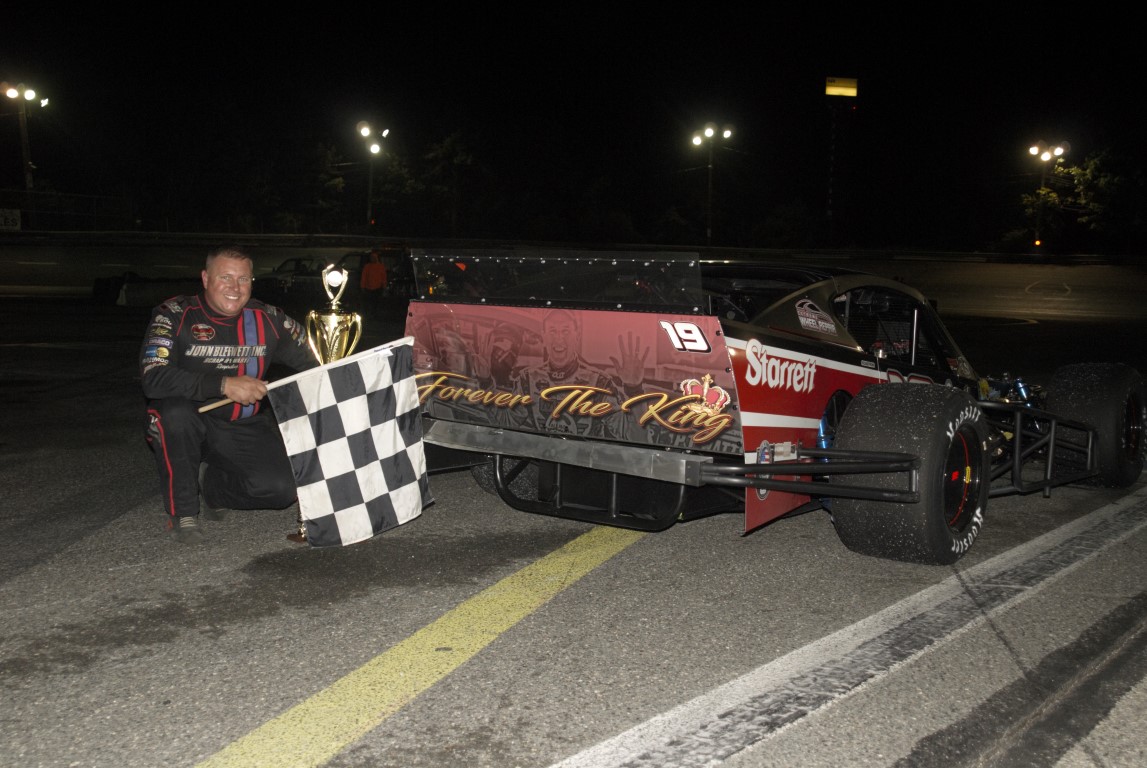 REED WINS FEATURE; BLEWETT WINS WALL MODIFIED TITLE SATURDAY
Story By: Jeff Gravatt/Wall Stadium
Photos By: John John Lane/RacersGuide.com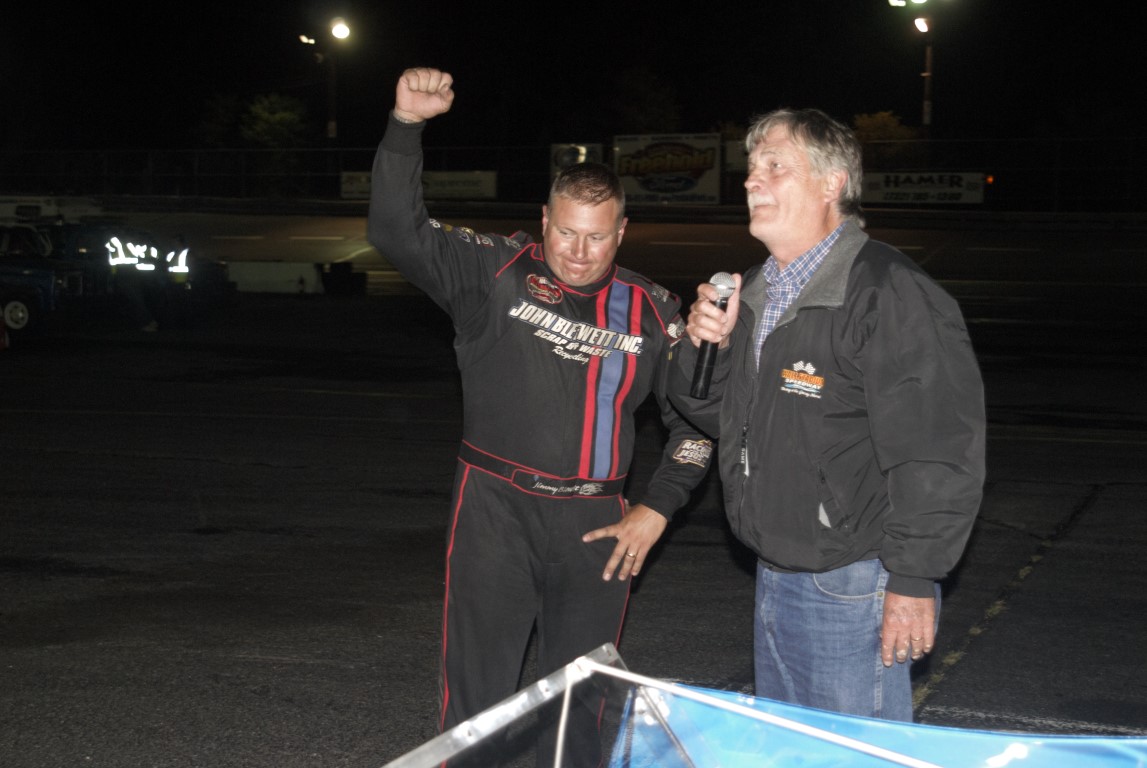 WALL TOWNSHIP, N.J. ~ Steven Reed won the final battle of the Freehold Ford Modified regular season at Wall Stadium Speedway Saturday night, but a third place finish by Jimmy Blewett earned him the 2017 season-long driving championship. For Howell's Blewett it was his third driving crown at the track.
Blake Barney of Jackson jumped into the lead at the outset of the 40-lap race with Jason Treat of Jackson streaking into the lead on lap eight. Treat led the way through the halfway mark as Blewett, Jackson's Reed and Andrew Krause of Holmdel snaked their way to the front of the field. Blewett was able to race into the lead on a lap 21 restart with Reed and Krause close behind. The turning point in the race came in the closing laps when Blewett and Reed, racing side-by-side, touched exiting turn four. At this point Reed was able to slip into the lead with Krause following him through for second.
Reed, Krause and Blewett then raced in a tight top three formation to the checker flag with Treat and Howell's Eric Mauriello completing the top five. With both the champion and the race winner directed to the winner's circle on "Champions' Night," Reed and Blewett celebrated together in victory lane.
"Our car was real good tonight and that let me make that move," Reed said. "It took us the first part of the season to get the car how we wanted it. I have to thank my dad and the crew for their hard work."
"I have to thank (car-owner) Rob Ormsbee and my grandfather for this championship, among a lot of people including my family, friends and sponsors," Blewett said. "This all came together when Rob asked me if I wanted to team up with him and go racing. It has been a lot of fun."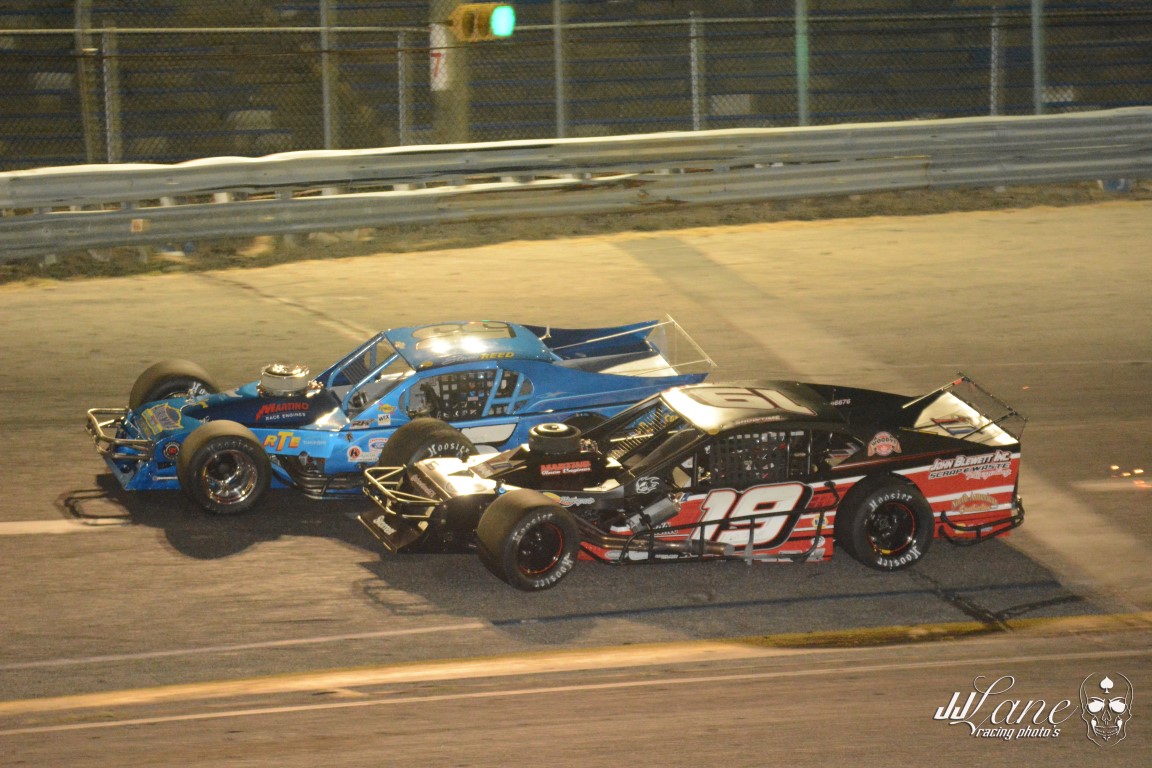 The chase for the Snap-on Tools Sportsman crown was decided by a tie-breaker as contenders Tyler Truex of Mayetta and Kevin Davison of Howell ended up tied in points on the final night. Truex won the title due to his three feature race wins during the season. In the final regular season race Howell's Eric Lane took his first win of the year over Jarret DiGiantomasso of Jackson. Davison was third with Nick Shaw of Warren and Jonathan Laureigh of Lanoka Harbor finishing fourth and fifth. Truex limped his car home twelfth after suffering a broken axle early in the race.
Scott Riggleman of Manchester won the driving championship in the O'Shea's Auto Repair Factory Stocks taking second place in the final regular season 25-lapper Saturday night behind Union's Joey Helberg. It was Riggleman's third career crown. Beachwood's Elliott Wohl, Tom Rajkowski of Fords and Jamesburg's Whitey Miller completed the top five.
Wall's TJ Graves crossed the finish line first in the Surfside Collision 4 Cylinder Stocks 25-lapper, but when his car failed post race tech Fred Cannock of Port Monmouth took down the win. Brian Osborn of Howell used a season finale third place finish to wrap up his first ever driving crown. Chris Silvestri of Hazlet was second in the race and Christian LaCicero of Lavalette and Neptune City's Jeff Loesch were fourth and fifth.
Mike Alcaro of West Milford won his seventh 25-lapper for the Green Flag Driving Experience Legend Cars in seven starts, but Howell's Robert French crossed the finish line second which was more than enough for him to win his second crown. Kevin Nowak of Medford, N.Y., Louie Keraitis of Toms River and Nick Van Wickle of Edgewater park wrapped up the top five finishers.
Brian Doyle of Ronkonkoma, N.Y. won his third career Elite Maintenance Limited Late Model championship by winning the night's 25-lapper. Harry Schaeffer of Carteret crossed the finish line first but his car failed a post race inspection. Greg Miranda of Hazlet, Jackson's Greg Gastelu, Anthony Crimaldi of Port Monmouth and Wall's Cole Ormsbee wrapped up the top five.
Buddy Sload won the main event for the touring TQ Midgets.
With the Saturday night regular season now complete officials are focusing on the annual "Spooky Spectacular" racing event scheduled for the day time hours on Saturday, October 21. Details will be announced soon. The 2017 post season will then conclude on Friday, Saturday and Sunday of Thanksgiving weekend with the running of Turkey Derby XLIV.
More information on Wall Stadium can be obtained by visiting the website at wallspeedwayracing.com.
Wall Stadium is located on Route 34 in Wall Township, N.J., just one mile north of Garden State Parkway exit 98 and Interstate 195 exit 35B. The speedway hotline number is 732-681-6400 and email address is CKMotorsports@aol.com.
RACE RESULTS
MODIFIED FEATURE – 40 Laps – 1. STEVEN REED, JACKSON, 2. Andrew Krause, 3. Jimmy Blewett, 4. Jason Treat, 5. Eric Mauriello, 6. Derek Hopkinson, 7. Shaun Carrig, 8. Adam LaCicero, 9. Ken Woolley, 10. Chas Okerson, 11. Blake Barney, 12. Kenny Van Wickle, 13. Ed DeLage, 14. Ricky Collins, 15. Tom Catanzaro, 16. Jason Hearne
MODIFIED CHAMPION: JIMMY BLEWETT
SPORTSMAN FEATURE – 25 Laps – 1. ERIC LANE, HOWELL, 2. Jarret DiGiantomasso, 3. Kevin Davison, 4. Nick Shaw, 5. Jonathan Laureigh, 6. Kyle Scisco, 7. Larry Thompson, 8. Todd Dige, 9. Carsten DiGiantomasso, 10. Stefan Nikolof, 11. Joe Cocca, 12. Tyler Truex, 13. Mike Tidaback, 14. Jake Nelke, 15. Mike Carpenter
SPORTSMAN CHAMPION: TYLER TRUEX
FACTORY STOCK FEATURE – 25 Laps – 1. JOEY HELBERG, UNION, 2. Scott Riggleman, 3. Elliot Wohl, 4. Tom Rajkowski, 5. Whitey Miller, 6. Ray Fattarusso,, 7. Bill Stockert, 8. Bob Ptaszynski, 9. Bryan O'Shea, 10. Nancy Riggleman, 11. Eric Bodenschatz, 12. Neil Rutt, 13. Tony Bartone, 14. Theresa Collins, 15. Tim O'Shea, 16. John Bowers, 17. Matt Badessa, 18. Mike Montano, 19. Waylon Spear, 20. Bob Haberstick, 21. Terry Cain, 22. Tim Majek
FACTORY STOCK CHAMPION: SCOTT RIGGLEMAN
4 CYLINDER STOCKS – 25 Laps – 1. FRED CANNOCK, PORT MONMOUTH, 2. Chris Silvestri, 3. Brian Osborn, 4. Christian LaCicero, 5. Jeff Loesch, 6. Chuck McDonald, 7. Jennifer Schultz, 8. Darianne McLaren, 9. Nicole Razzano, 10. Darren Burdge, 11. Frank Ciancitto, 12. JC Duvall, 13. Matt Malachatka, 14. Bill Schwarz, 15. Stan Patterson, 16. Mike Lavery, DQ TJ Graves
4CYLINDER CHAMPION: BRIAN OSBORN
LEGEND CARS FEATURE – 25 Laps – 1. MIKE ALCARO, WEST MILFORD, 2. Robert French, 3. Kevin Nowak, 4. Louie Keraitis, 5. Nick Van Wickle, 6. Chris Gall, 7. Vinny Troia, 8. Richie Davidowitz, 9. Joe Fresco, 10. Joe McGrath, 11. Luke Marzano, 12. DJ Doyle, 13. Roger Nickerson
LEGEND CARS CHAMPION: ROBERT FRENCH
LIMITED LATE MODEL FEATURE – 25 Laps – 1. BRIAN DOYLE, RONKONKOMA, N.Y., 2. Greg Miranda, 3. Greg Gastelu, 4. Anthony Crimaldi, 5. Cole Ormsbee, 6. Jim Moorman, 7. Michelle Moorman, 8. Glen Conk, 9. Mike Tillett, 10. Andy Gamble, DQ Harry Schaeffer
LIMITED LATE MODEL CHAMPION: BRIAN DOYLE