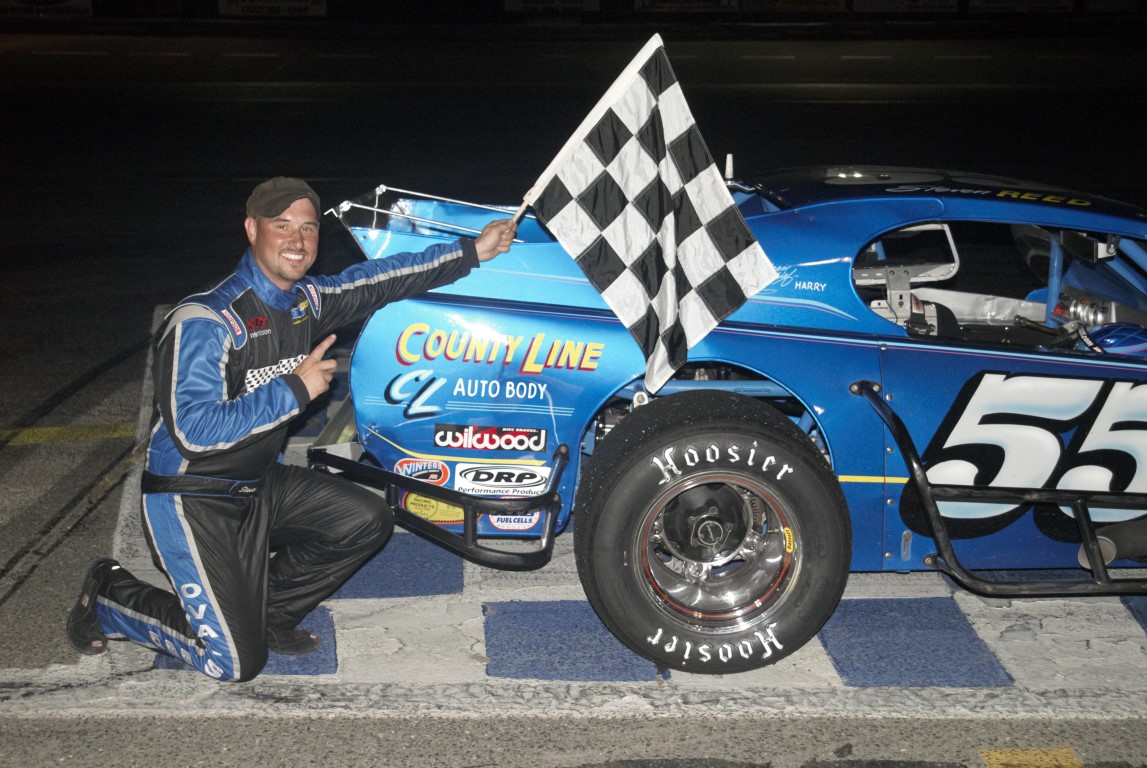 REED TAKES WALL MODIFIED WIN IN CLOSING LAPS
Story By: Jeff Gravatt/Wall Stadium
Photos By: John John Lane/RacersGuide.com
WALL TOWNSHIP, N.J. ~ Defending Freehold Ford Modified driving champion Steven Reed took a late race win in the 40-lap main event at Wall Stadium Speedway Saturday night. It was the third win of the year for the Jackson resident and his second victory in a row.
Ricky Collins of Willow Grove, Pa. was impressive as he rocketed to the lead at the outset. With no cautions to slow the race Collins stretched an impressive lead as Reed, point leader Jimmy Blewett of Howell and others worked their way to the front. The complexion of the race began to change in the final quarter as lapped cars came into play. As Collins wrestled with the lapped cars trying to get by Reed and Blewett quickly gained ground and closed in. Then with just two laps to go Collins went spinning from the top spot in turns one and two and Reed was able to slip by and race on for the win.
Blewett was second at the stripe with Holmdel's Andrew Krause, Derek Hopkinson of Toms River and Shaun Carrig of Little Falls wrapping up the top five. Collins recovered quickly for sixth.
"I think his car might have gone away from in in the closing laps," Reed said after the race. "He is a good driver. He will get his share of wins."
Like many at the track Reed was obviously thinking about race driver Ted Christopher who passed away in a plane crash earlier in the day.
"I feel like many of us tonight. Ted Christopher was a hero to me," said Reed. "He would race anything anywhere. I'd like to dedicate this win to Ted."
Jake Nelke of Manahawkin raced to his first ever Snap On Sportsman win in his rookie season on Saturday night holding off two time champion Kevin Davison of Howell for the honor. Hard luck driver Kenny Green of Farmingdale actually led the race in the middle laps before a flat tire spoiled his night. Current point leader Tyler Truex of Mayetta was third at the stripe with Howell's Eric Lane and Kyle Scisco of Jackson completing the top five.
Wall's Bob Haberstick raced to his third win of the campaign in the 25-lapper for the O'Shea's Auto Repair Factory Stocks. Mike Montano of Fort Myers, Fla. moved into second in the closing laps with point leader Scott Riggleman of Manchester, Union's Joey Helberg and Elliott Wohl of Beachwood finishing third through fifth.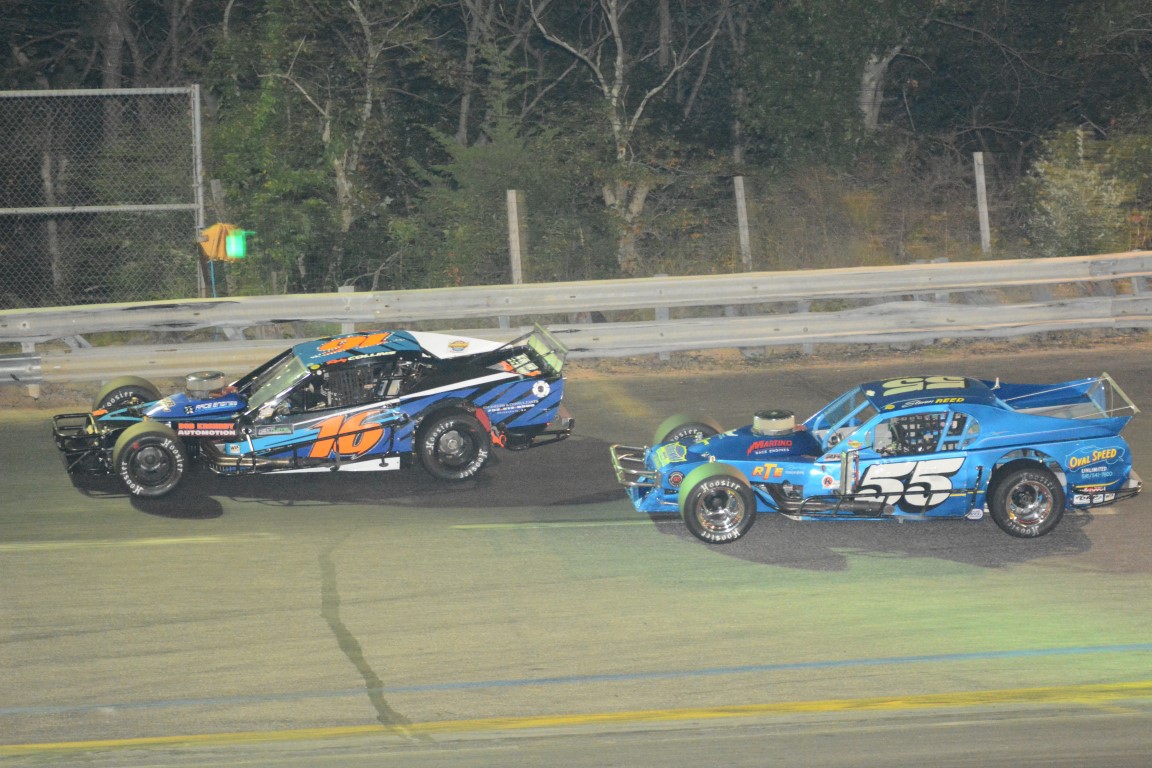 Point leader Brian Osborn of Howell grabbed win number four on the year in the 25-lapper for the Surfside Collision 4 Cylinder Stocks moving to the front with ten laps remaining. Jeff Loesch of Neptune City, Wall's TJ Graves, Darren Burdge of Howell and early leader Darianne McLaren of Edison completed the top five finishers.
Brian Doyle of Ronkonkoma, N.Y. extended his point lead by winning the 30-lapper for the Elite Maintenance Limited Late Models. Doyle dove to the inside lane and into the lead for good with six laps remaining. Defending champ Mike Tillett of Bayville was second, with Jackson's Glen Conk third, Anthony Crimaldi of Port Monmouth fourth and Bill Vanderveen of Toms River fifth.
Racing returns this Saturday night September 23 with "Pack the Track" action on tap with adult admission just $10. The Snap On Sportsman cars, Factory Stocks, 4 Cylinder Stocks, Legend Cars and the Limited Late Models will all see feature race action. A Demolition Derby will also be contested and fans can enjoy carnival games in the grandstand midway during the evening. The pit area will open at 1:00 p.m. with practice running from 3:00 p.m. until 5:00 p.m. Grandstands will open at 5:00 p.m. Qualifying starts at 5:45 p.m. and main event action starts at 7:00 p.m.
More information on Wall Stadium and the 2017 Saturday night schedule can be obtained by visiting the website at wallspeedwayracing.com.
Wall Stadium is located on Route 34 in Wall Township, N.J., just one mile north of Garden State Parkway exit 98 and Interstate 195 exit 35B. The speedway hotline number is 732-681-6400 and email address is CKMotorsports@aol.com.
RACE RESULTS
MOFIEID FEATURE – 40 Laps – 1. STEVEN REED, JACKSON, 2. Jimmy Blewett, 3. Andrew Krause, 4. Derek Hopkinson, 5. Shaun Carrig, 6. Ricky Collins, 7. Blake Barney, 8. Ken Woolley, 9. Marc Rogers, 10 Jason Treat, 11 Tom Catanzaro, 12. Shanon Mongeau
SPORTSMAN FEATURE – 50 Laps – 1. JAKE NELKE, MANAHAWKIN, 2. Kevin Davison, 3. Tyler Truex, 4. Eric Lane, 5. Kyle Scisco, 6. Nick Shaw, 7. Jonathan Laureigh, 8. Matt Langbein, 9. Mike Tidaback, 10. Jarret DiGiantomasso, 11. John Blewett IV, 12. Carsten DiGiantomasso, 13. John McCormack, 14. Stefan Nikolof, 15. Larry Thompson, 16. Kenny Green
FACTORY STOCK FEATURE – 25 Laps – 1. BOB HABERSTICK, WALL, 2. Mike Montano, 3. Scott Riggleman, 4. Joey Helberg, 5. Elliot Wohl, 6. Bryan O'Shea, 7. Whitey Miller, 8. Tom Rajkowski, 9. Matt Badessa, 10. Tim Majek, 11. Waylon Speer, 12. Bill Stockert, 13. Nancy Riggleman, 14. Robert Ptaszynski, 15. John Bowers, 16. Richie Byrne, 17. Tony Barton, 18. Theresa Collins, DQ Gerry Koenig
4 CYLINDER STOCKS – 25 Laps – 1. BRIAN OSBORN, HOWELL, 2. Jeff Loesch, 3. TJ Graves, 4. Darren Burdge, 5. Darianne McLaren, 6. Chris Silvestri, 7. Jay Conrad, 8. Joe Barbaria, 9. JC Duvall, 10. Frank Ciancitto, 11. Jennifer Schultz, 12. Nicole Razzano, 13. Heidi Shaw, 14. Stan Patterson, 15. Max Montijo
LIMITED LATE MODEL FEATURE – 25 Laps – 1. BRIAN DOYLE, RONKONKOMA, N.Y., 2. Mike Tillett, 3. Glen Conk, 4. Anthony Crimaldi, 5. Bill Vanderveen, 6. Cole Ormsbee, 7. Jim Moorman, 8. Greg Miranda