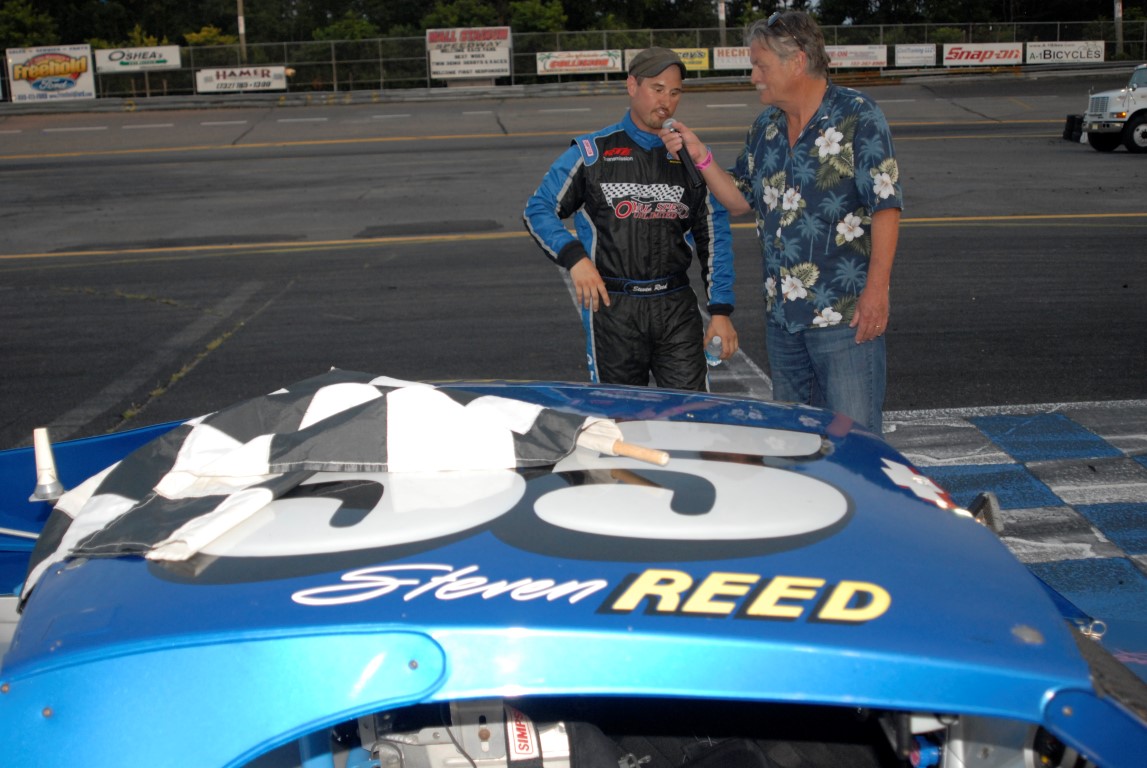 REED AND RAIN TOP WALL STADIUM TWIN MODIFIED RACES SATURDAY
Story By: Jeff Gravatt/Wall Stadium
Photos By: John John Lane/RacersGuide.com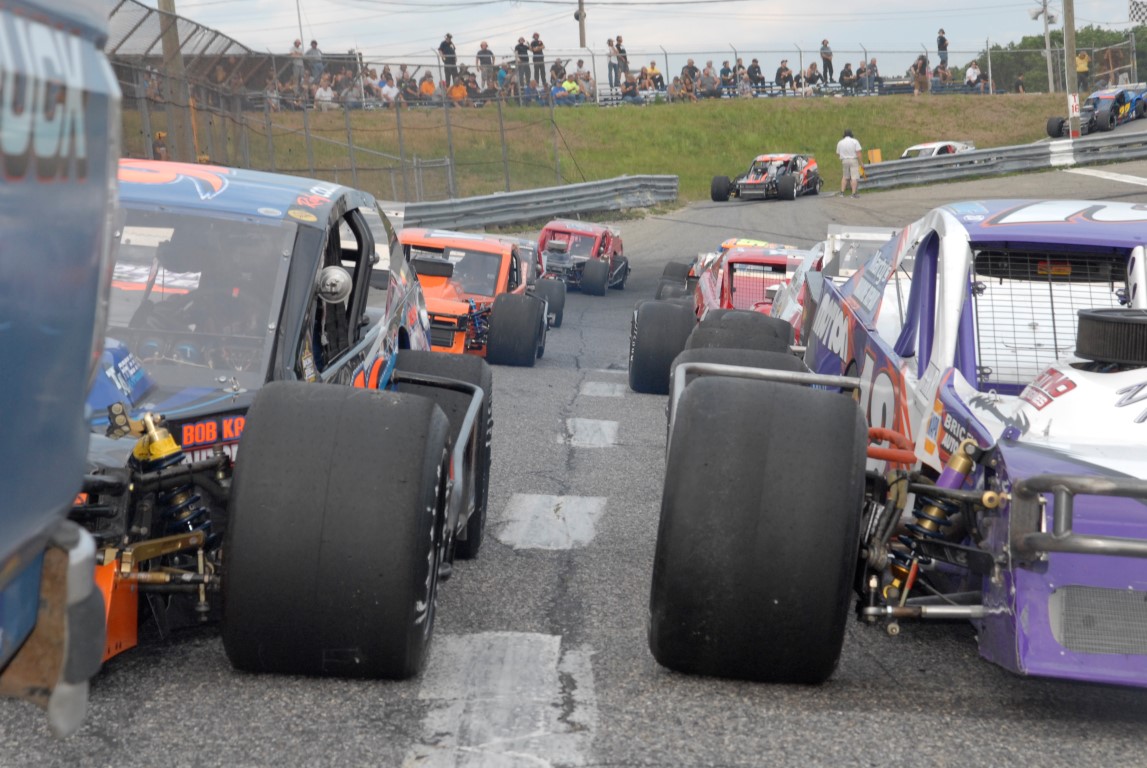 WALL TOWNSHIP, N.J. ~ Two time and defending Freehold Ford Modified stock car driving champion Steven Reed of Jackson and a sudden downpour later in the evening topped the scheduled Twin 35 lap Modified main events at Wall Stadium Speedway Saturday night. The rain, which suddenly began falling just after 9:00 P.M., also claimed a companion 25-lapper for the O'Shea Auto Repair Factory Stocks.
In a Modified main event that suffered many early caution flags New Egypt's Jason Hearne was the early before spinning in turn two in an incident that also involved point leader Jimmy Blewett of Howell and Shanon Mongeau of Manchester. Andrew Krause of Holmdel took command at that point and held his ground until Trevor Alspach of Willingboro moved to the front just past the lap 20 mark. Reed was right on Alspach's rear bumper.
For the remainder of the race Reed looked high and low for a path to race into the lead. With just two laps remaining Reed powered to the outside lane in turn two before the duo tangled to draw a caution. Officials then ruled that, in their opinion, Alspach contributed to the mishap and he was told to head to the pit area.
Reed then raced on to the emotional win with Modified Rookie Blake Barney an impressive second. Jackson's Jason Treat, who recovered from an early race pit stop, was impressive in finishing third with Shaun Carrig of Little Falls and Mongeau wrapping up the top five.
"It is real tough to win here," Reed said after his initial win of the season. "This is for everyone who kept asking when we would get our first win. I appreciate you coming to the track and if you keep coming back we'll keep trying to get wins."
Kyle Scisco of Jackson took the lead early and raced to victory in the companion 25-lapper for the Snap On Sportsman cars. In just his rookie Sportsman season the Jackson resident fought off several veterans to claim top prize. Tyler Truex of Mayetta was the runner-up with Matt Langbein of Laurence Harbor, Jarret DiGiantomasso of Jackson and Howell's Eric Lane wrapping up the top five.
Taking the lead on the sixth lap Mike Alcaro of West Milford won the 25-lap feature race for the Green Flag Driving Experience Legend Cars. Louie Keraitis of Toms River, Howell's Robert French, Nick Van Wickle of Edgewater Park and Artie Pedersen of Center Moriches, N.Y. completed the top five.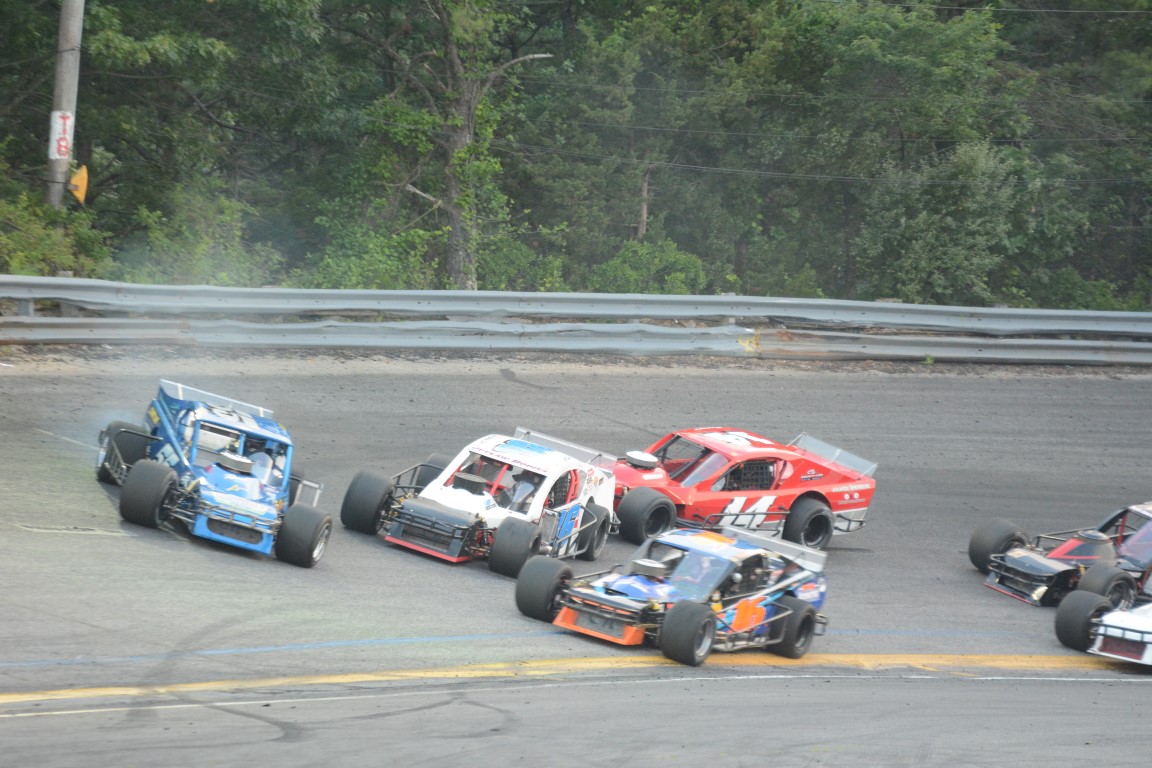 Keraitis was victorious in a 15-lapper for the visiting Micro Stocks. The Factory Stock race was stopped with nine laps complete by the sudden downpour.
Racing returns this Saturday night. The July 15 Saturday night card will feature the Factory Stocks in a 50-lap main event while the Snap-on Sportsman cars, the Elite Maintenance Limited Late Models, the Factory Stocks, the Surfside Collision 4 Cylinder Stocks and the Legend Cars all race in 25-lap main events. A Demolition Derby is also on the slate and his "Pack the Track Night" will feature a $10 adult admission.
More information on Wall Stadium and the 2017 Saturday night schedule can be obtained by visiting the website at wallspeedwayracing.com.
Wall Stadium is located on Route 34 in Wall Township, N.J., just one mile north of Garden State Parkway exit 98 and Interstate 195 exit 35B. The speedway hotline number is 732-681-6400 and email address is CKMotorsports@aol.com.
RACE RESULTS
1ST MODIFIED FEATURE – 35 Laps – 1. STEVEN REED, JACKSON, 2. Blake Barney, 3. Jason Treat, 4. Shaun Carrig, 5. Shanon Mongeau, 6. Ricky Collins, 7. Ron Frees, 8. Derek Hopkinson. 9. Andrew Krause, 10. Adam LaCicero, 11. Trevor Alspach, 12. Vinny Marone, 13. Kenny Van Wickle, 14. Joey Merlino, 15. Jonathan Mandato, 16. Jason Hearne, 17. Jimmy Blewett, 18. Dom Fattarusso, 19. Tom Catanzaro, 20. Zack Alspach, 21. Ed DeLage, 22. Shawna Ingraham
2ND MOFIFIED FEATURE – 35 Laps – Rained out
SPORTSMAN FEATURE – 25 Laps – 1. KYLE SCISCO, JACKSON, 2. Tyler Truex, 3. Matt Langbein, 4. Jarret DiGiantomasso, 5. Eric Lane, 6. Kevin Davison, 7. Robby Walton, 8. Carsten DiGiantomasso, 9. John McCormick, 10. Mike Tidaback, 11. Nick Shaw, 12. Todd Dige, 13. Jake Nelke, 14. Jonathan Laureigh, 15. Roland DeMartino, 16. Joe Cocca
LEGEND CARS FEATURE – 25 Laps – 1. MIKE ALCARO, WEST MILFORD, 2. Louie Keraitis, 3. Robert French, 4. Nick Van Wickle, 5. Artie Pederson, 6. Peter Bruno, 7. Chris Gall, 8. Danny Doyle, 9. Steve Woytysiak, 10. Roger Nickerson, 11. Matt Evans
STREET STOCK FEATURE – 25 Laps – Rained out