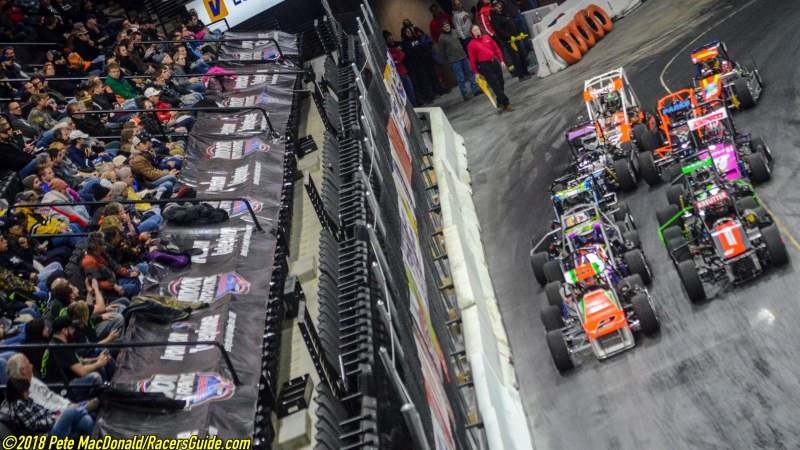 THREE QUARTER (TQ) MIDGETS, SLINGSHOTS, CHAMP KARTS READY TO USHER IN NEW YEAR OF RACING IN DOWTOWN ALLENTOWN, PA JANUARY 4-5 WITH RUNNING THE IRONTON TELEPHONE INDOOR RACE PRESENTED BY BELFOR
Story By: Ernie Saxton/Indoor Auto Racing Championship
Photos By: Pete MacDonald/RacersGuide.com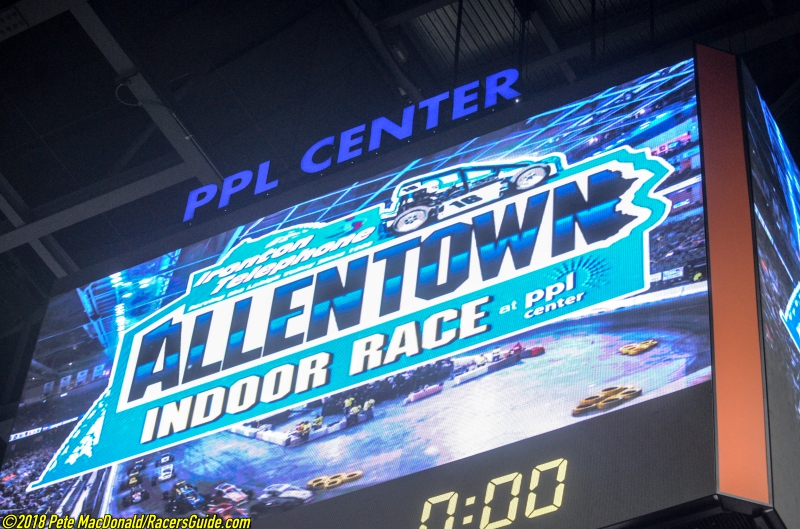 ALLENTOWN, PA December 27, 2018 . . . The Indoor Auto Racing Series Fueled By VP Race Fuels is ready to roll in the first race of the New Year! The PPL Center in downtown Allentown, PA will be the site, on Friday and Saturday, January 4-5, 2019, for the running of the Ironton Telephone Indoor Race Presented By BELFOR.
Two complete racing programs on back-to-back nights include qualifying and feature events headlined by the powerful TQ Midgets. They will be joined by the Champ Karts on Friday night's card and the Slingshots on Saturday.
Nearly 40 TQ Midget drivers and teams have already entered the two day race weekend, including past event winners Erick Rudolph, Ransomville, NY; Justin Bonsignore, Holtsville, NY; Ryan Flores, Cornelius, NC; and Scott Kreutter, Buffalo, NY.
Rudolph, Bonsignore and Flores will be driving cars built by Mark Lafler, Ransomville, NY, while Kreutter will wheel the same Trey Hoddick-built car in which he scored a popular win last year.
Bonsignore and Kreutter were the 2018 Allentown race winners. Bonsignore parlayed his PPL Center win into a successful run at the lucrative The Indoor Auto Racing Series Fueled By VP Race Fuels championship. Bonsignore then went outdoors and won of eight of 16 NASCAR Whelen Modified Tour races and that championship as well.
Though past TQ Midget race winners have been from outside the Lehigh Valley, PA area, a strong contingent of Eastern PA drivers have filed entries for this year's race.
Among them are rising star Briggs Danner, Allentown, PA; reigning ATQMRA Midget outdoor champion Matt Janisch, Nazareth, PA; multi-time past ATQMRA outdoor champion Ryan Tidman, Holland, PA; perennial Indoor contender Tim Buckwalter, Douglassville, PA; and TQ veteran Matt Roselli, Brodheadsville, PA.
Other Eastern Pennsylvania drivers who have entered The Ironton Telephone Indoor Race Presented By BELFOR events are Pat Bealer, Lehighton, PA; Steve Craig, Levittown, PA; Chad Jones, Quakertown, PA; and Kyle Lick, Lehighton, PA.
Joe Toth, Upper Makefield, PA, who won several outdoor dirt Sportsman features this past season, will be making his first TQ Midget start in this race as a teammate to former winner Mike Iles.
Dirt Sportsman racer Craig Whitmoyer, Hamburg, PA, is one of the local pre-race favorites in the Slingshot event. Whitmoyer, the winner of the recent East Coast Indoor Dirt Nationals in Trenton, NJ on dirt in a Slingshot, hopes to add a win on the concrete floor in Allentown to his growing resume.
Jared Silfee, Saylorsborg, PA, Anthony Raisner and Kurt Bettler, both of Hellertown, PA, Cody Kline, Bangor, PA, Dylan Hoch, Mertztown, PA, and Adam and Steve Svanda, both of Allentown, are among other prominent greater Lehigh Valley area entrants in the Slingshot division. Brian DeCosta, Lehighton, PA, and Matt Andrews, Woodlyn, PA, are among the regional favorites in the Champ Kart event.
The Allentown races are the first of a three state 2019 'concrete track' Indoor Auto Racing Series Fueled By VP Race Fuels season. Following the Ironton Telephone Presented By BELFOR Allentown Indoor weekend, racing shifts to N.J.'s Atlantic City for the 17th running of NAPA Auto Parts Weekend, highlighted by the running of the prestigious TQ Midget Gamblers Classic. Event dates are Friday and Saturday, January 25-26, 2019. The final event of the series takes place at a new venue, the New York State Fairgrounds Exhibition Center in Syracuse, NY. on Friday and Saturday, March 8-9, 2019.
The Allentown event is supported by Ironton Telephone Company, BELFOR Property Restoration, Doggy Style Hot Dogs & More, Future Homes, Ironton Auto Body, Leindecker Racing Engines, Action Track USA, Precision Concrete Coatings, Bob Hilbert Sportswear, Pocono Raceway, All American Property Maintenance, Pioneer Pole Buildings, S&S Speedways and Star Auto Mall. Additional sponsorship opportunities are available by contacting Danny Sammons at danny@aarn.com.
Information for all Indoor Auto Racing Series events including a link for tickets, is available at indoorautoracing.com. Tickets for Allentown Indoor race are available daily and on the day of the events the PPL Center box office. Tickets are also available by calling 610-347-TIXX.