Rahal Takes Texas Victory With Last Lap Charge
Story By: MITCH ROBINSON / INDYcar SERIES MEDIA
Photos By: CHRIS OWENS/ INDYcar SERIES PHOTO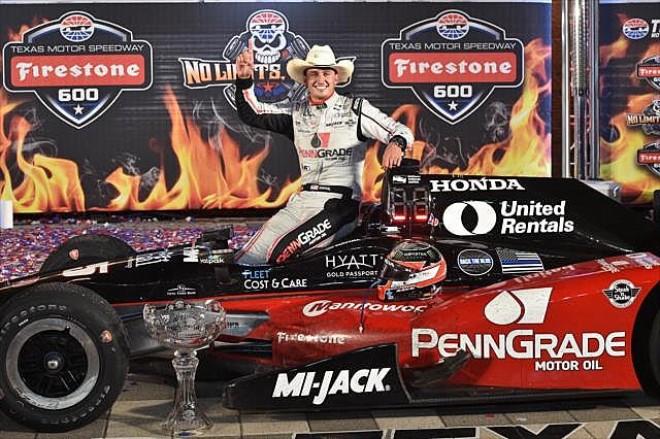 FORT WORTH, Texas – It came two months after initially scheduled, but those in attendance at Texas Motor Speedway and watching on TV were treated to one of the most exciting finishes in Indy car history, as Rahal Letterman Lanigan Racing's Graham Rahal edged Schmidt Peterson Motorsports' James Hinchcliffe to the checkered flag by 0.0080 of a second, the fifth-closest finish in series history and tightest finish in the track's 20-year history.
The Firestone 600, begun on June 12 but paused after heavy rainfall, resumed Saturday night after a 76-day postponement with Hinchcliffe (No. 5 Arrow Electronics Honda) leading the field to the restart on Lap 74. The remaining 174 laps provided an absolute thrill show as Hinchcliffe and Rahal (No. 15 Rahal Letterman Lanigan Racing Honda) duked it out to the checkered flag, with Rahal sweeping past Hinchcliffe in Turn 3 on the final lap that gave him the advantage to earn his fourth career win in electrifying fashion.
"I had to set that up," an elated Rahal said in victory lane, his first win since Mid-Ohio in 2015. "We just kept our nose clean, generally, and got to the end. We had a hole underneath Hinch we had to take there, and I had to set him up, make him think that I was going high, then cut across and get under him."
Including the first 71 laps run June 12, the Firestone 600 featured 14 lead changes and an exhilarating battle for the win that Texas has become famous for since it opened in 1997. This year's race was the 28th Verizon IndyCar Series event on the high-banked 1.455-mile oval.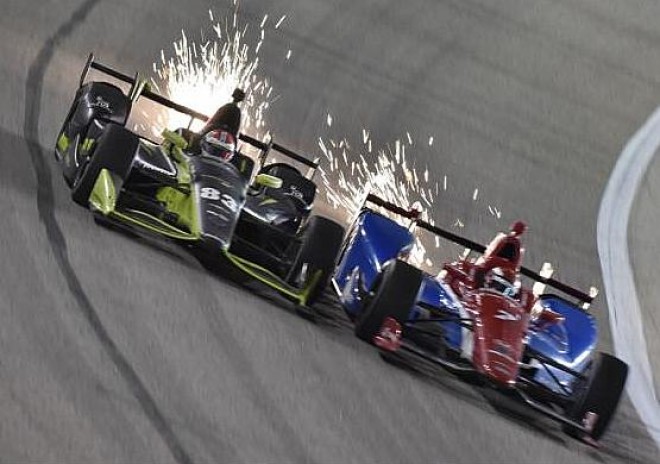 "It was pretty intense," Rahal said of the side-by-side action. "But I'll tell you, if Texas Motor Speedway fans didn't love that, then they don't love racing because that was by far the best thing we've ever seen here."
Hinchcliffe scored his best finish of 2016, but with victory eluding him by mere inches, there was little that could be done to remedy the frustrations of losing out on victory.
"There's no describing (the feeling)," said Hinchcliffe. "To lead all day … our pit stops were clean, our out laps were clean, we were good in traffic. I mean, the car was a rocket ship. Those yellows at the end just killed us."
Hinchcliffe was routinely able to run longer stints on tires than the rest of the leaders and built a lead that left only five cars on the lead lap at the checkered flag. But a flurry of late cautions gave Rahal and others a fighting chance.
"I think where we made it work today was on the long runs," said Hinchcliffe, who led a combined 188 laps between June 12 and the completion. "Huge credit to TK (Kanaan) and congrats to Graham, that was a great race. TK is one of the best guys to race with, (but) I just hate it, man. We led them all. We led them all except the one that mattered. It's tough to be this disappointed with our best finish of the season."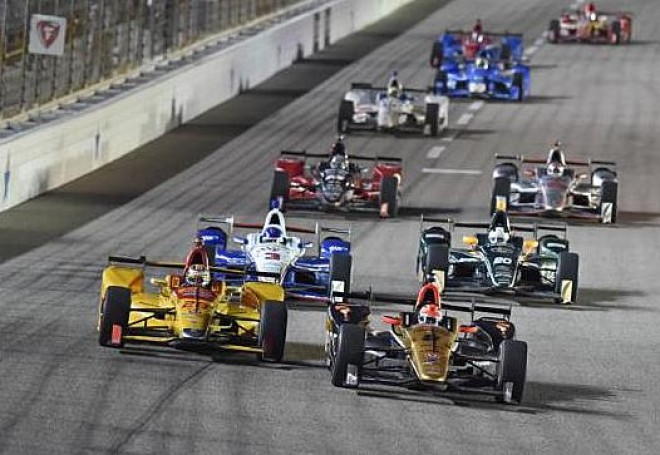 After nearly 140 laps of continuous green-flag racing following the Lap 74 restart of the race, the caution came out on Lap 213 when Ed Carpenter (No. 20 Fuzzy's Vodka Chevrolet) and Chip Ganassi Racing's Scott Dixon (No. 9 Target Chevrolet) collided on the front straightaway, sending Dixon into the Turn 1 SAFER Barrier while Carpenter continued on in second place.
Carpenter's luck was short-lived, as he crashed on Lap 224. A later incident when Mikhail Aleshin (No. 7 SMP Racing Schmidt Peterson Motorsports Honda) spun and collected Jack Hawksworth (No. 41 ABC Supply AJ Foyt Racing Honda) on Lap 232 brought out the final caution, setting up a Lap 240 restart and nine-lap sprint to the checkered flag.
The last restart featured Hinchcliffe in front with Kanaan, Rahal and championship leader Simon Pagenaud (No. 22 Hewlett-Packard Enterprise Chevrolet) fighting all around him. Kanaan and Hinchcliffe battled wheel-to-wheel for a majority of the final five laps, but as the two separated slightly at the white flag, Rahal snuck around the outside of Kanaan in Turn 2 and dove to the inside of Hinchcliffe entering Turn 3. Rahal held that line and the slightest lead as the two crossed the finish line with the American just a nose ahead.
"That was a great show," said Rahal, who led one lap on the night, the final one. It marked the 14th time that an Indy car race winner led only the last lap and the first time since Hinchcliffe won at Sao Paulo, Brazil, in 2013.
"We appreciate all the fans that came out tonight," Rahal added. "I hope you guys all go home and talk about how great Indy car racing is because that's as good of a show as you're going to get."
Kanaan finished third in the No. 10 NTT Data Chevrolet. Pagenaud finished fourth and opened a 28-point lead in the title chase over Team Penske teammate Will Power, who finished eighth. Nine drivers remain mathematically alive for the championship with two races remaining.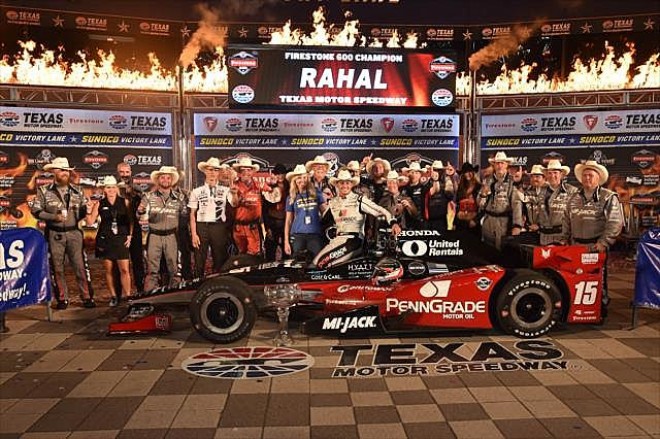 The Verizon IndyCar Series returns to the track next weekend at one of the country's most historic circuits, Watkins Glen International. The INDYCAR Grand Prix at The Glen is set for Sept. 4, with coverage beginning at 2 p.m. ET on the Advance Auto Parts INDYCAR Radio Network and NBCSN.