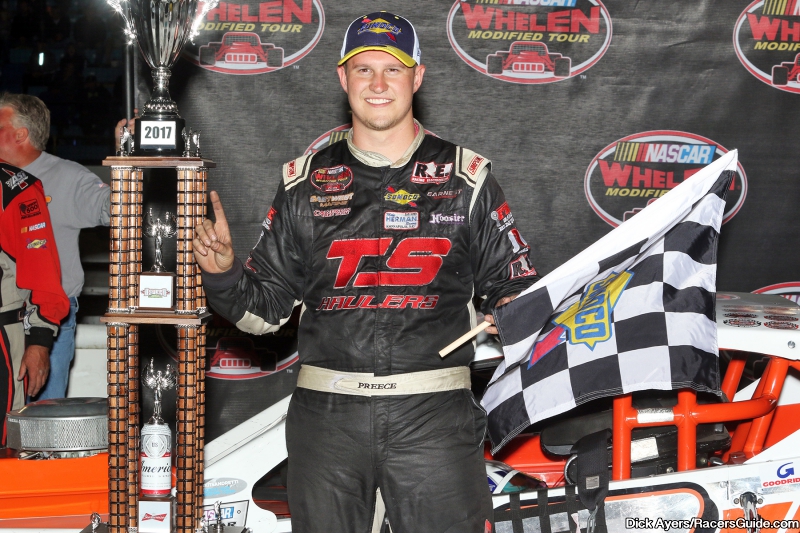 Ryan Preece Claims First Oswego Victory in NASCAR Whelen Modified Tour Toyota Mod Classic 150
Story By: Camden Proud/Oswego Speedway
Photos By: Dick Ayers/RacersGuide.com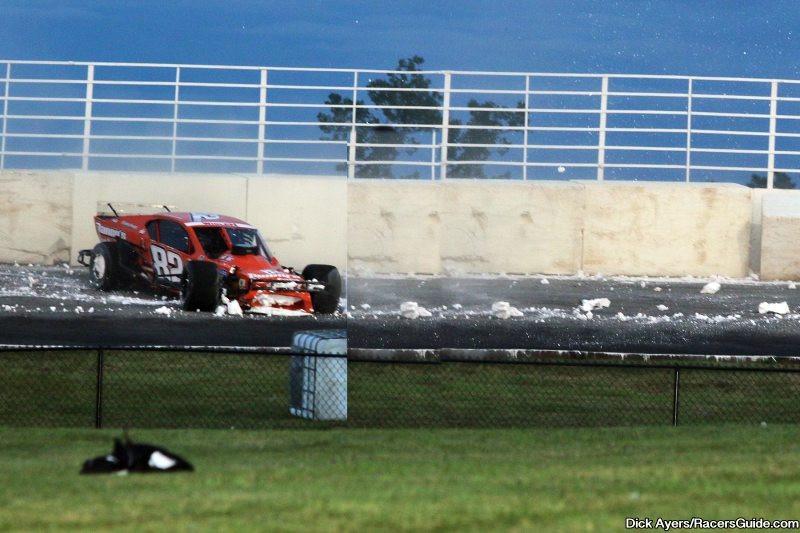 OSWEGO, NY (September 2, 2017) – NASCAR Whelen Modified Tour points leader Ryan Preece etched his name into Oswego Speedway's history books as a winner this past Saturday night in the second annual NASCAR Whelen Modified Tour 'Toyota Mod Classic' 150 presented by McDonald's.
Preece, a recent first time winner on the NASCAR Xfinity Series trail, qualified fourth with the TS Haulers, Maynard Troyer Tribute No. 6 and it showed in the early stages of the event that he was an immediate threat to win, quickly driving around Timmy Solomito to pull in behind the original front row of Matt Hirschman and Patrick Emerling on lap 2.
"I've been here at Oswego before, but never in victory lane," Preece commented. "This really is pretty cool and a special one to me. The other one I want to win is the Race of Champions so hopefully I can come back for that one day and get here again. We just want to keep on winning."
Less than ten laps after moving into third, Preece made his jump to the second spot under Emerling as 'Big Money Matt' was the early leader with Preece, then Solomito, Emerling and defending event winner Doug Coby leading the way at lap ten.
Hirschman hit traffic by lap 16 and the top five remained tightly knit until the yellow flag came out on lap 38 for a slowing Kyle Ebersole with Hirschman still in front as Preece, Solomito, Emerling, Coby, Pennink, Lutz, and Bonsignore continued to trail.
The green flag was back in the air six laps later for a lap 44 restart which saw Hirschman take off again despite a valiant effort by Preece to challenge him on the top side.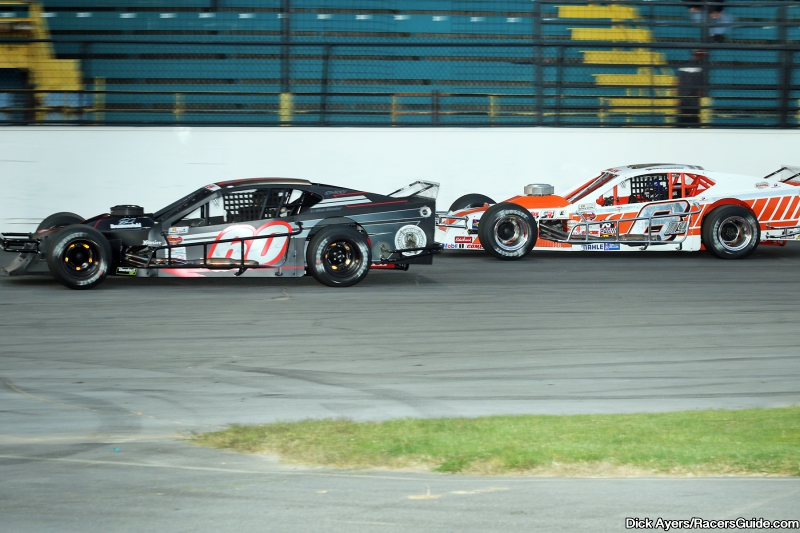 With 100 laps to go, Hirshman continued his dominance, at one point opening up a half staightaway advantage on the No. 6 of Preece. That was all put to rest when the competition caution was thrown on lap 75, allowing all drivers to head pitside for fuel and tires, which set up a perfect second half strategizing opportunity for the Preece team.
Unfortunately for Emerling, who had 'home track advantage' as far as the tour is concerned with several victories under his belt at Oswego, the Buffalo Auto Auction No. 07 was forced pitside on lap 86 with handling issues. This was the only major shakeup in the top five as Hirschman still continued to lead, Preece, Solomito, Coby and the 46 of Craig Lutz at lap 100.
The lone crash of the race occurred on lap 107, when the No. 82 driven by pavement star Ted Christopher made heavy contact into the turn three foam with something apparently breaking on that car. Christopher was done for the night.
It turned out to be the lap 112 restart after the track was cleared that set Preece up for victory as he took the top spot on lap 114, inching by Hirschman at the entrance of turn three after yet another solid pitstop for the Ed Partridge owned machine.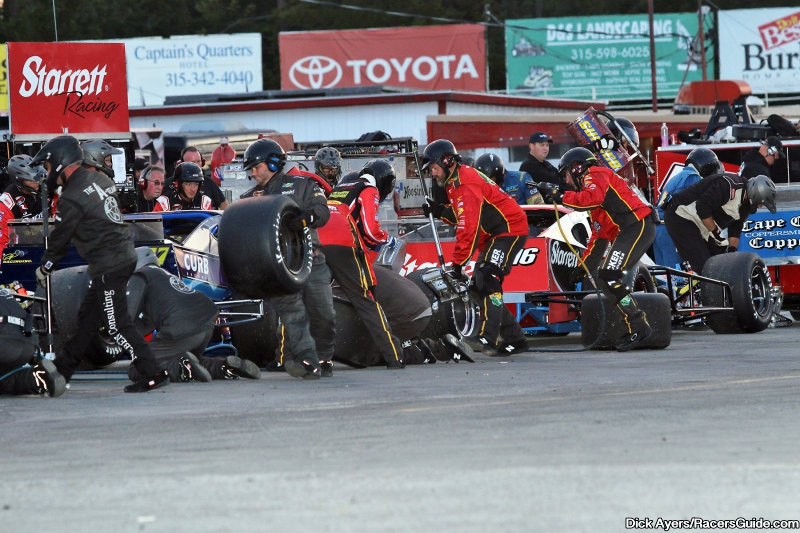 The other car on the move after the restart was that of Bonsignore, who had restarted way back in the seventh spot before working his way by Luts to take fifth, but he didn't stay there as everything went in Eric Goodale's favor after his late-race pitstop, allowing the No. 58 to go from eighth to fifth on the final green flag run, impressively working by Max Zachem, Lutz and Bonsignore all on the top side to take the final spot wiithin the top five with just over ten laps to go.
Preece had never won at Oswego prior to Saturday night, but that sure didn't show as he went on to dominate Hirschman in the closing stages as the two led Solomito, Coby, and Goodale to the checkered flag with with Bonsignore, Lutz, Zachem, Dave Sapienza and Rowan Pennink completing the top ten.
Hirschman, a former Race of Champions 250 winner at Oswego, felt he had the car to win, but the Pee Dee Motorsports team came up just a little bit short in their second NASCAR start of the 2017 season.
"We had a good run tonight," Hirschman offered. "The car was really good the first half to stay ahead of (Ryan) Preece but not in the second half. He's got the late race pit stops figured out and we just missed a little. We were pretty equal the first half but he was better the second half. Hopefully they have us back next year so we can do this again."
Solomito was happy as well, coming home third in just his second career start at the 'Steel Palace.' He is now fourth in points heading into the next NASCAR Whelen Modified Tour event at Riverhead Raceway.
"We had a real solid car lately and tonight we have continued our momentum," he stated. "We were in the points race all through last week but had a couple bad nights, so this should put us back in it. I think we will be alright and it's nice to podium at Oswego."
The Mod Squad appears at Riverhead for it's second consecutive stop in New York State on Saturday, September 16th.
Classic Weekend action concludes at Oswego Speedway concludes on Sunday with the 61st Budweiser International Classic 200 for Novelis Supermodifieds plus the Bud Light Classic 75 for Pathfinder Bank SBS. Tickets remain available for the most prestigious Supermodified race in the world and can be purchased at the track or by phoning a box office representative at (315)-342-0646.
For more information on Oswego Speedway, be sure to visit online at OswegoSpeedway.com. You can also FOLLOW on Twitter @OswegoSpeedway or LIKE on Facebook at Facebook.com/OswegoSpeedway.
Toyota Mod Classic presented by McDonald's (150-laps): 1. 6 Ryan Preece, 2. 60 Matt Hirschman, 3. 16 Timmy Solomito, 4. 2 Doug Coby, 5. 58 Eric Goodale, 6. 61 Justin Bonsignore, 7. 46 Craig Lutz, 8. 20 Max Zachem, 9. 36 Dave Sapienza, 10. 3 Rowan Pennink, 11. 64 Rob Summers, 12. 89 Matt Swanson, 13. 21 Ronnie Williams, 14. 77 Gary Putnam, 15. 39 Calvin Carroll, 16. 33 Wade Cole, 17. 82 Ted Christopher, 18. 07 Patrick Emerling, 19. 78 Walter Sutcliffe Jr, 20. 5 Kyle Ebersole, 21. 01 Melissa Fifield
Time Trials: 1. 60 Matt Hirschman – 17.640, 2. 07 Patrick Emerling – 17.662, 3. Timmy Solomito – 17.673, 4. 6 Ryan Preece – 17.709, 5. 2 Doug Coby – 17.720, 6. 3 Rowan Pennink – 17.836, 7. 51 Justin Bonsignore – 17.837, 8 46 Craig Lutz – 17.839, 9. 36 David Sapienza – 17.884, 10, 64 Rob Summers – 17.906, 11. 5 Kyle Ebersole – 17.918, 12. 58 Eric Goodale – 17.932, 13. 89 Matt Swanson – 18.012, 14. 77 Gray Putnam – 18.012, 15. 20 Max Zachem – 18.013, 16. 21 Ronnie Williams – 18.062, 17. Ted Christopher – 18.362, 18. 39 Calvin Carroll – 18.548, 19. 01 Melissa Fifield – 18.889, 20. 33 Wade Cole – 19,229, 21. 78 Walter Sutcliffe Jr. – 20.63
About Oswego Speedway: Oswego Speedway, a sports entertainment company, is a 5/8 mile semi-banked pavement racing oval located off the shores of Lake Ontario in scenic Oswego, NY. Oswego Speedway has been a continuously run weekly racing venue since August, 1951. The premier open-wheel pavement short track cars in the world, Supermodifieds, run weekly at Oswego Speedway making Oswego the only weekly Supermodified racing venue in the world. The Small Block Supermodifieds accompany the full blown Supers on a weekly Saturday night schedule which runs from May through September. Oswego Speedway is mentioned in racing circles as the "Indy of the East," as no fewer than a dozen past and present competitors have competed at the famed Indianapolis Motor Speedway including Mario Andretti, arguably the greatest driver of all time, two-time Indy 500 champion Gordon Johncock, along with former International Classic Champions Bentley Warren, Joe Gosek, and Davey Hamilton.